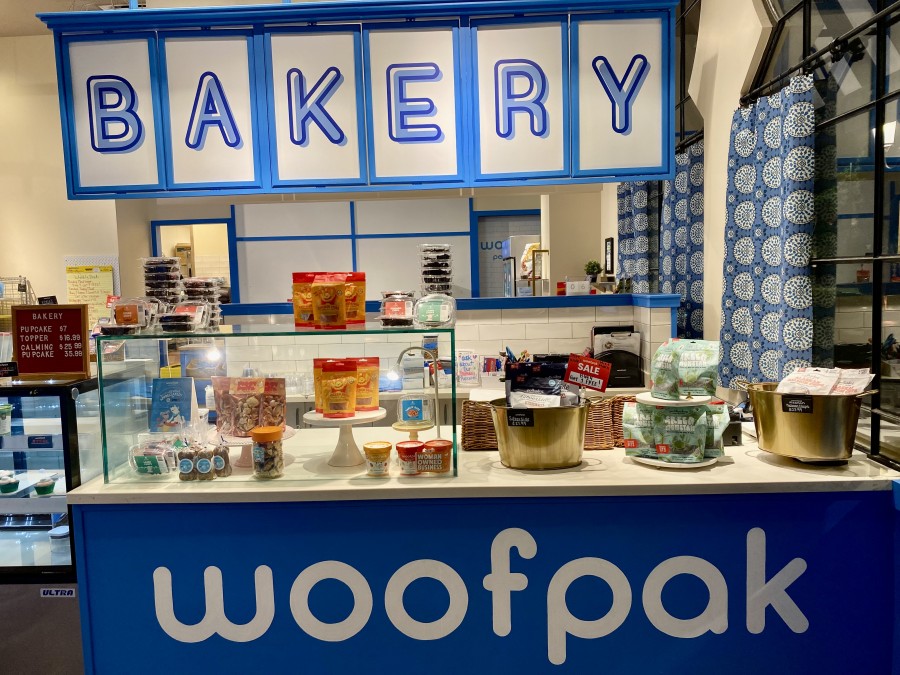 Introducing Woofpak Pet Kitchen – a dedicated restaurant for your furry friend, offering farm-to-bowl food and treats. This is one of California's top destinations for healthy pet food, complete with the convenience of fresh milk on tap!
Who are The Founders of Woofpak?
The key figures at Woofpak are: Gina Shlopak (Owner), Michael Murphy (Chief Executive Officer) and Nikko, the beloved dog (Director of Tasting). Woofpak's journey began in 2018, when they took their passion for pets and transformed it into high-quality feed. Armed with just a mixer and a stove, they started cooking up delicious meals in a small but dedicated kitchen.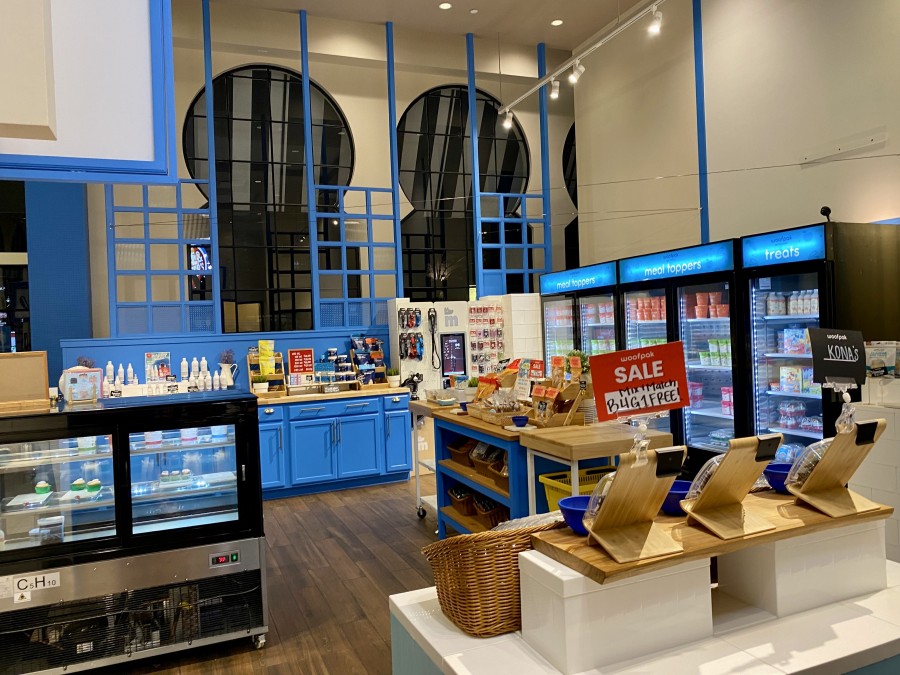 How Many Locations Does WoofPak Have?
Today, the company has 2 local stores in California – in Irvine and San Diego.
WoofPak  Irvine
Irvine Spectrum Center – 771 Spectrum Center Dr, Irvine, CA 92618 | (949) 932-0565
It's their flagship location boasts a full pet bakery and kitchen, offering a wide selection of all natural treats for your furry friend. This store hosts special events for four-legged furries throughout the year.
WoofPak San Diego
Westfield UTC Shopping Center (2nd floor) – 4545 La Jolla Village Dr, San Diego, CA 92122 | (858) 800-3692;
This is a recently opened store, but despite this, it has a fairly large assortment of products for pets. When you visit this location, be sure to ask about their new doggie day spa, "The Mudroom" at Westfield UTC.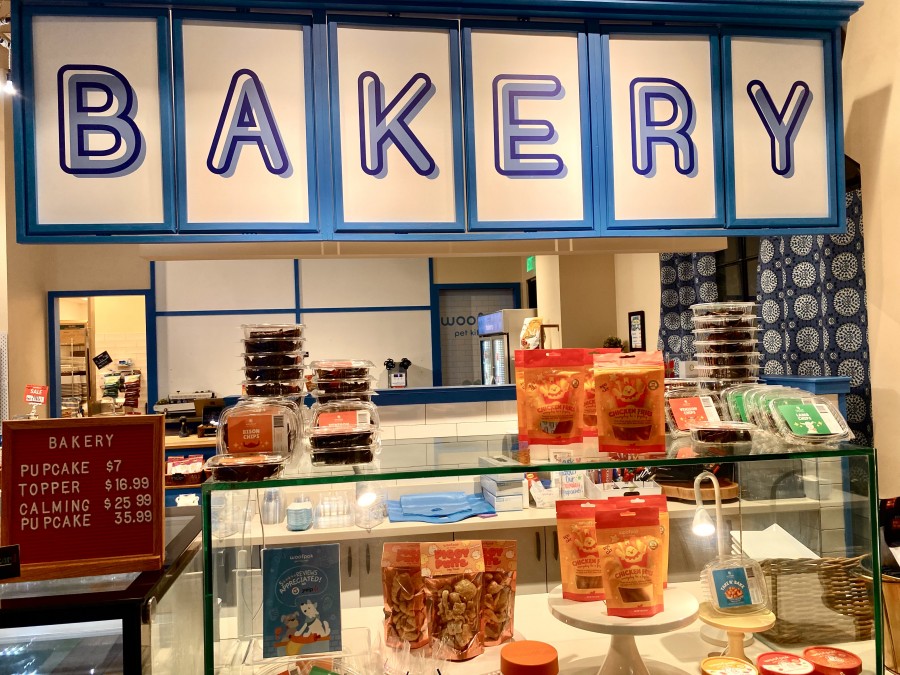 What Does Woofpak Offer?
For your four-legged friends, Woofpak offers food and treats that are made with simple, all-natural ingredients. These include fresh dog food, pet baked goods, dog birthday cakes, dog donuts, kebab sticks, meal toppers, and frozen treats.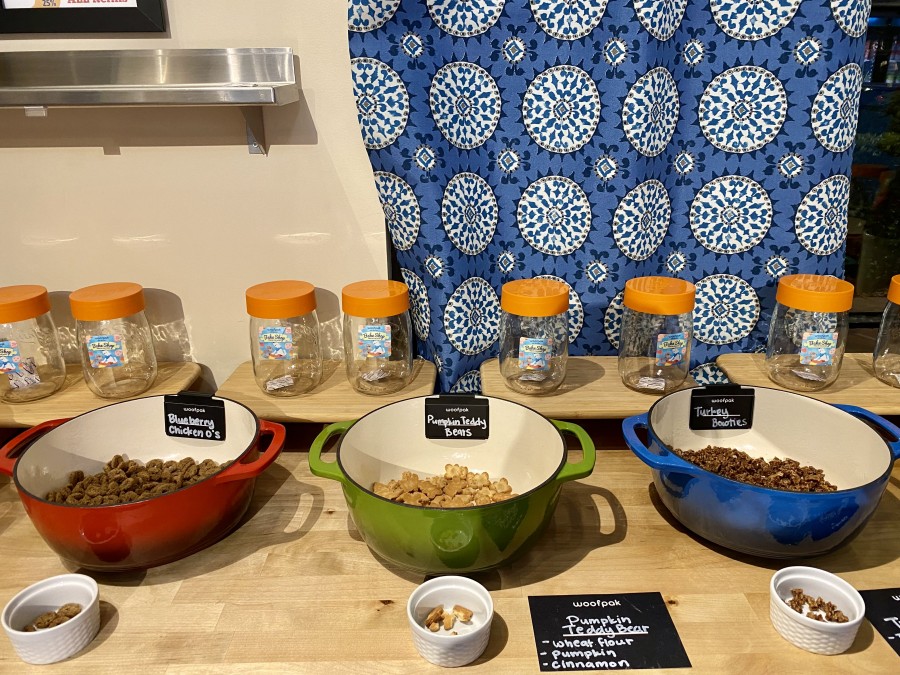 Woofpak Meal Toppers
Boost your dog's health with protein-packed food. Protein is critical for healthy muscles, skin and coat, so food supplements are a great way to provide the extra protein your dog needs. Additionally, food fillers also help create a better feeding schedule by keeping your dog on track with meal times and feeding routines.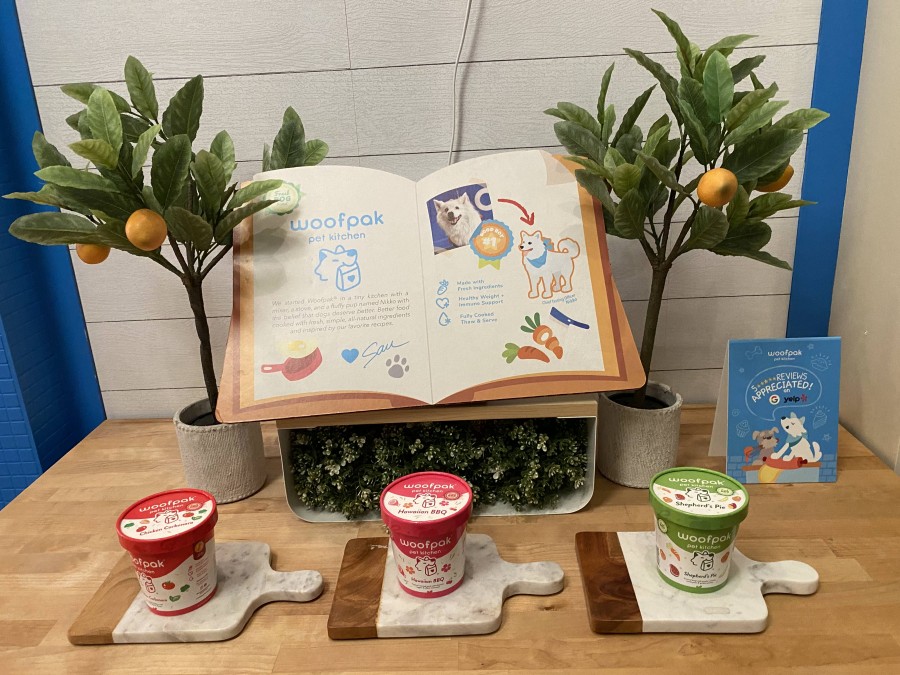 There are 5 options of Meal Toppers:
Shepherd's Pie (Beef);
Chicken Pot Pie;
Hawaiian BBQ (Pork);
Chicken Carbonara;
Poké Bowl (Salmon).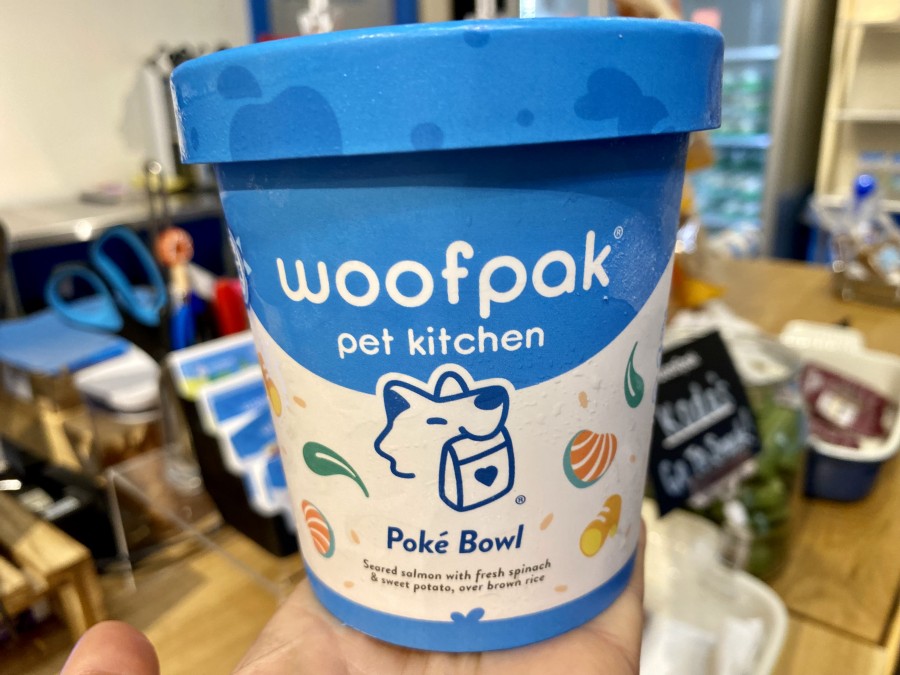 Method of serving: for optimal serving, it is recommended to store the product in the freezer, and to defrost it in the refrigerator before use. Simply add a spoonful or two to your pet's favorite food or serve a delicious portion on its own as a nutritious and filling treat!
Ingredients: ground beef/pork or chicken or salmon, potato, sweet potato, brown rice, peas, carrots, pumpkin, egg, mushroom, vinegar, bone broth, apple cider vinegar, and Woofpak® vitamin mix.
Nutritional Facts: Calories (ME) 17-23 kcal per tbsp.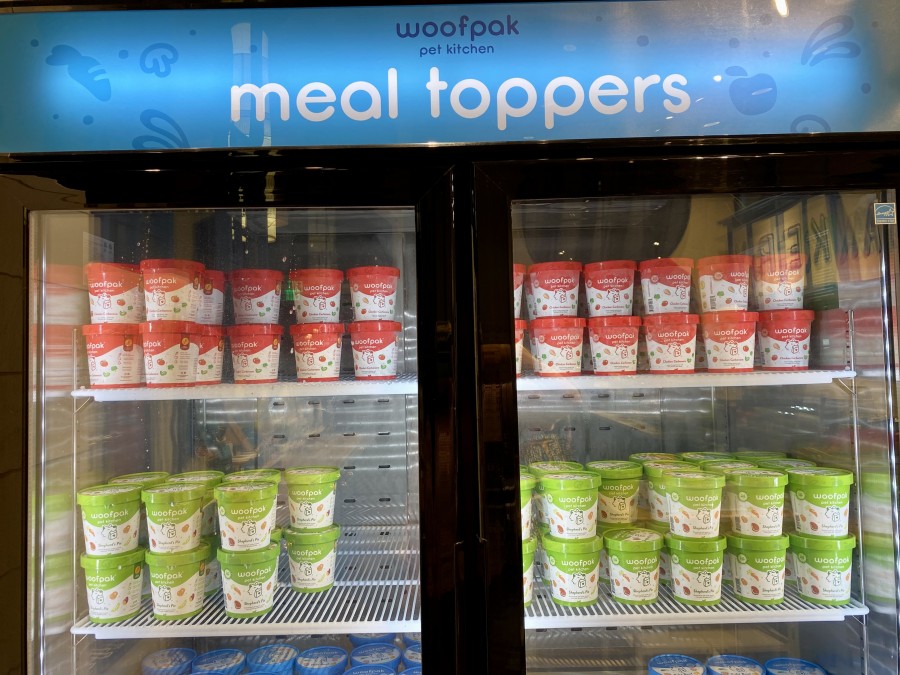 Woofpak Bakery
Introducing Woofpak's pupcakes, a delectable treat designed for dogs of all sizes. Available in mini and large sizes, these pupcakes feature their signature pumpkin cake base topped with creamy cream cheese. Not only do they provide your pet with a nutrient-dense and delicious snack, but they also boast soothing ingredients.
However, we advise consulting your veterinarian before incorporating any new dietary substances into your furry friend's diet.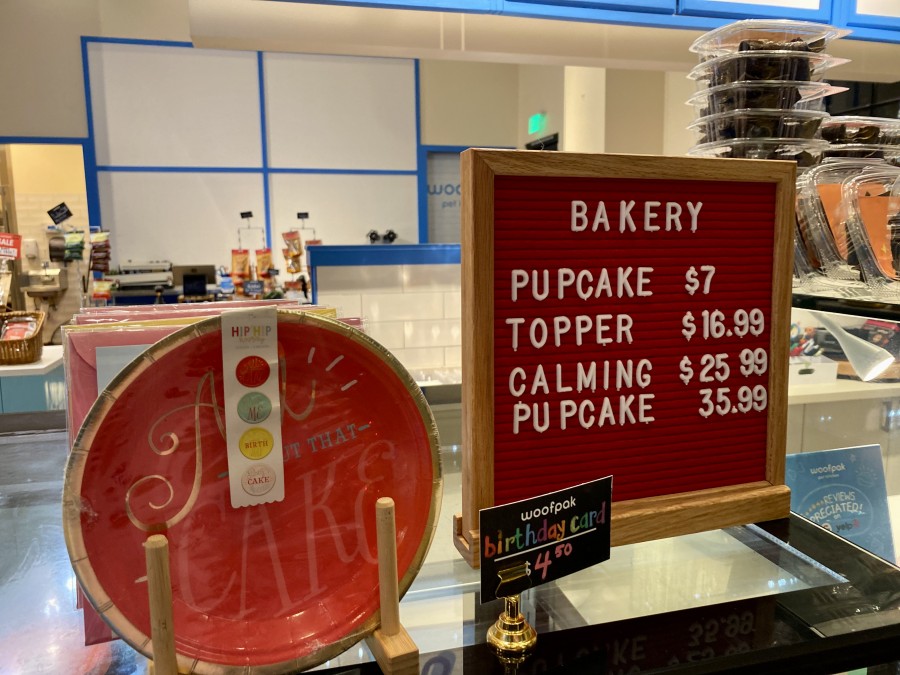 Woofpak Barkuterie
These include 100% healthy pet treats like cod twist, braided bully, cheese collagen, kebab stick, piggy puffs, cow ear, and yak milk chew.
These high-quality polykani treats will improve the general well-being of your pet. Packed with amino acids, they not only support brain health, but also improve body and coat health. In addition, its prolonged chewing action helps maintain optimal dental hygiene, promoting healthy teeth and gums.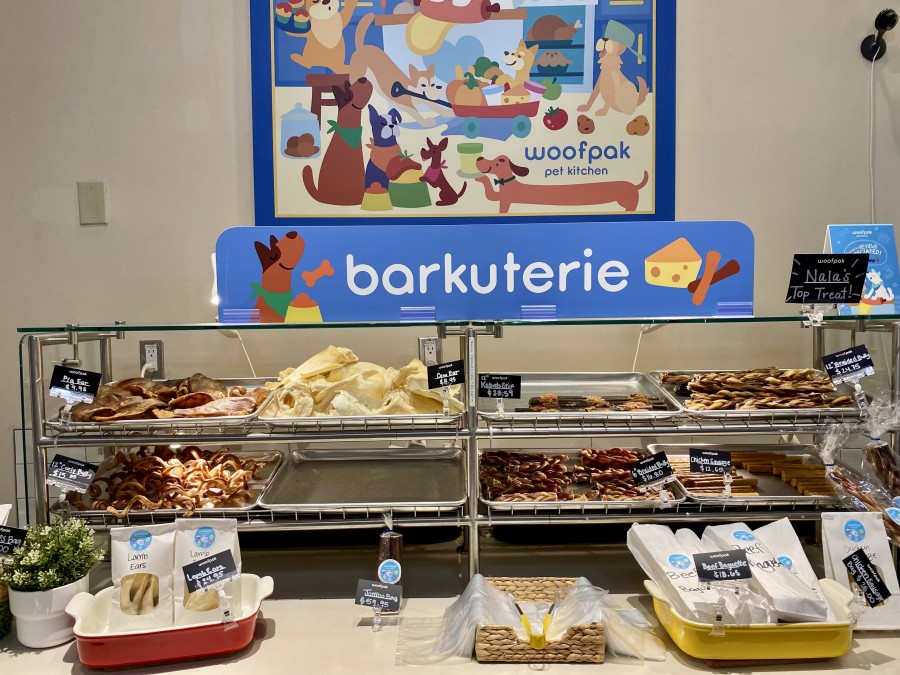 Woofpak Barkuterie Key Benefits:
made from high-quality raw materials;
easily assimilated;
have a high protein content and low fat content;
without additives, fillers, hormones, chemicals or preservatives.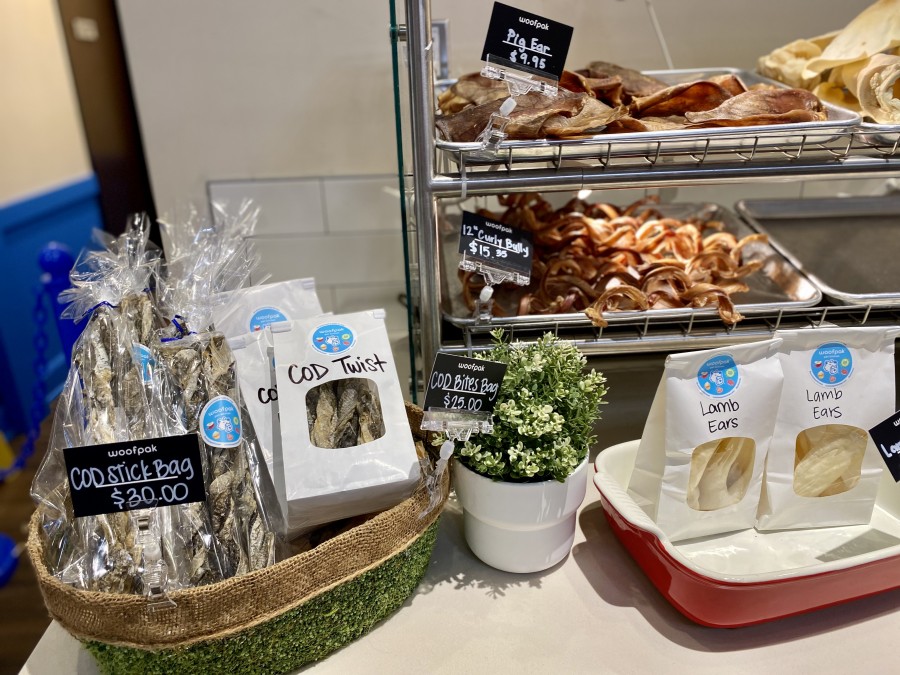 Woofpak Frozen Treats
The products of this department are represented by ice cream and camel milk. It is the perfect addition to your pet's diet.
Woopak Ice Cream is a delightful indulgence designed to be enjoyed as a special treat or added supplement to your diet.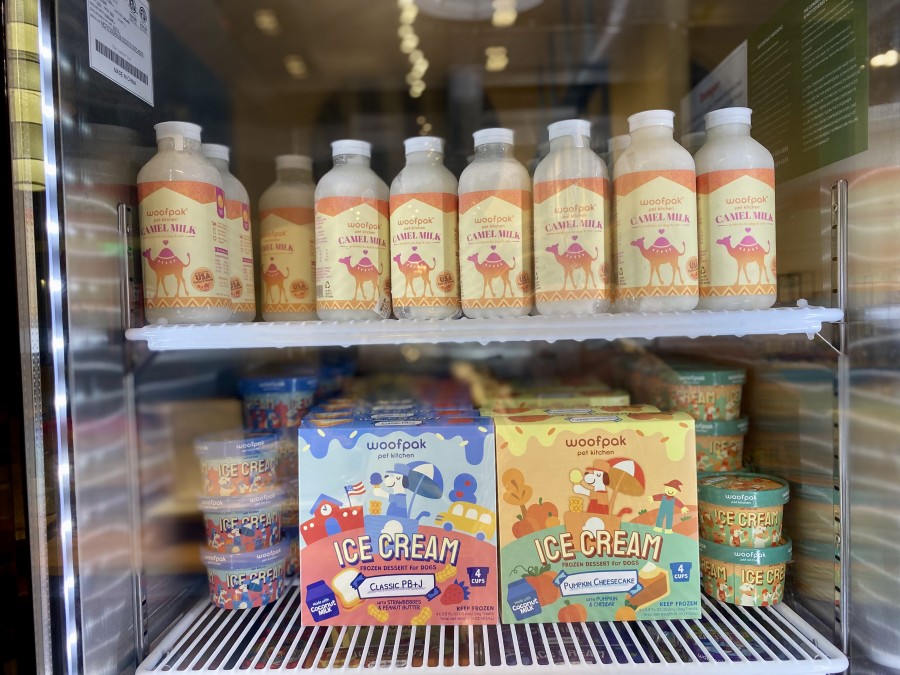 Flavors: Pumpkin Cheesecake, Pancake Breakfast, and Classic PB+J.
Method of serving: Effortlessly present the cup and allow your furry friend to enjoy a few licks, or scoop in a spoonful or two into their preferred meal.
Ingredients: oat milk, organic agave, coconut oil, applesauce, canola oil with low erucic acid content, spices, lecithin, sea salt, acacia gum, guar gum, natural flavoring, locust bean gum.
Nutritional Facts: Calories (calculated) M.E.: 142 kcal per cup.
Woofpak Frozen Treats Key Benefits:
natural;
gluten-free;
rich in nutrients;
has a low lactose content.
Woofpak Camel Milk is nutrient-dense and low in lactose, making it a healthier, lower-fat alternative to traditional milk.
Method of serving: Simply thaw and serve a few ounces daily.
Does Woofpak Offer Free Shipping?
To make shopping even more convenient, Woofpak Pet Kitchen offer free local shipping on orders over $75. The minimum order amount is $29 ($8.99 delivery fee). No-contact delivery is also available.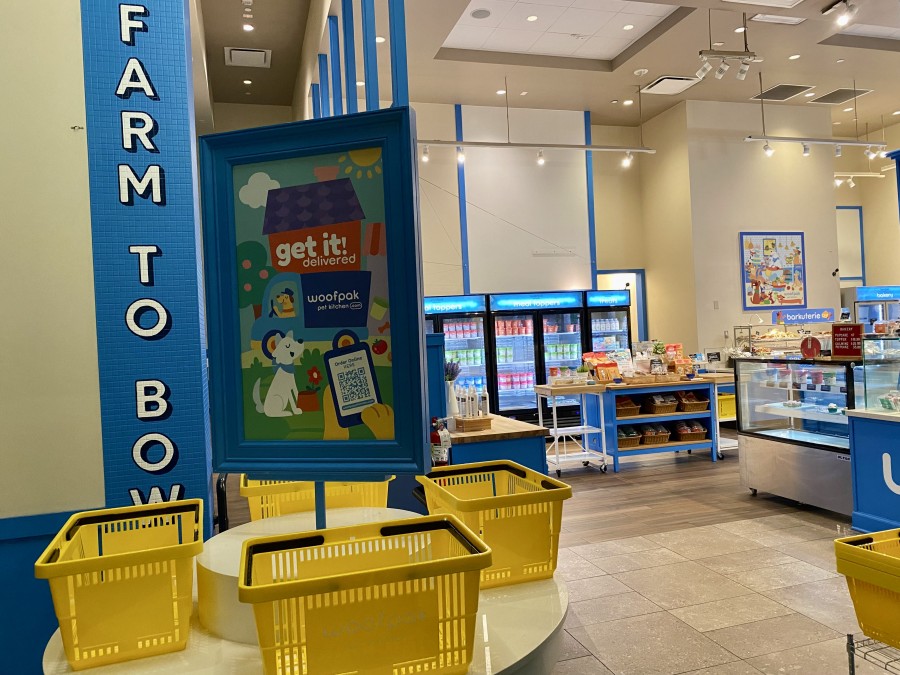 Does Woofpak offer a loyalty program?
Yes, sign up now to earn loyalty points and receive exclusive coupons. You'll be rewarded 1 point for every $1 you spend.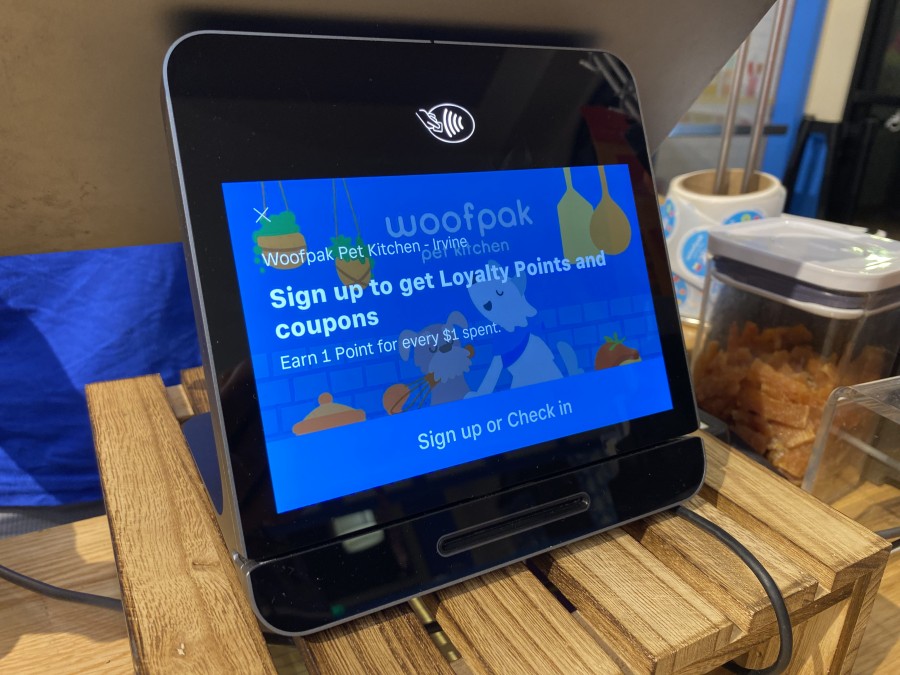 Why should you like Woofpak Pet Kitchen?
Woofpak is one of the few pet stores that offers free samples for your dog! It's very convenient, you don't have to spend money on treats that your picky pup won't like. Let your dog decide for himself with this exclusive offer from Woofpak.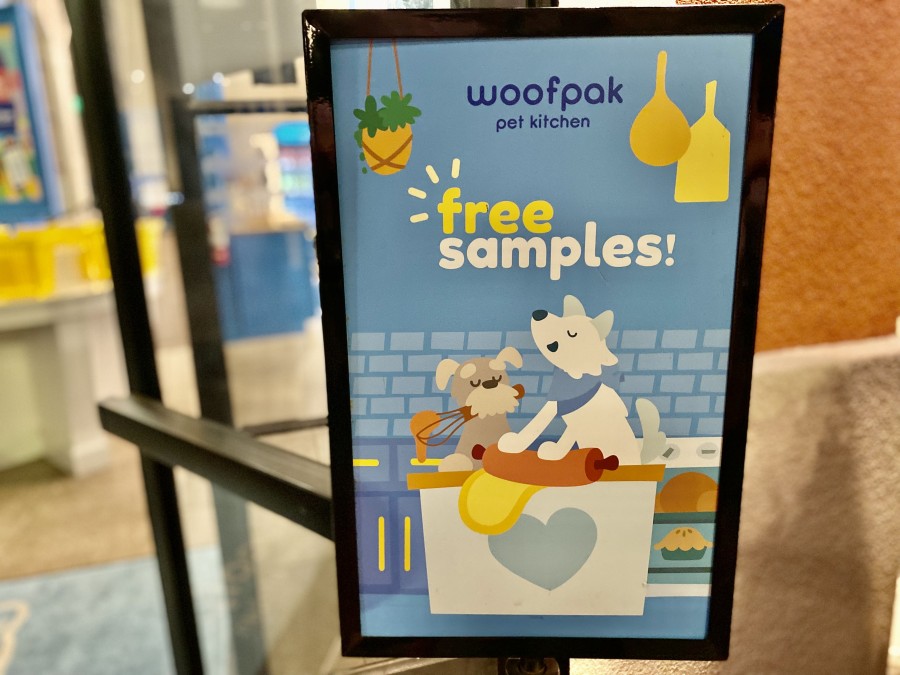 In addition to free samples, the store hosts weekly sales. During such sales, you can buy your favorite products for less, or even get tasty and useful gifts.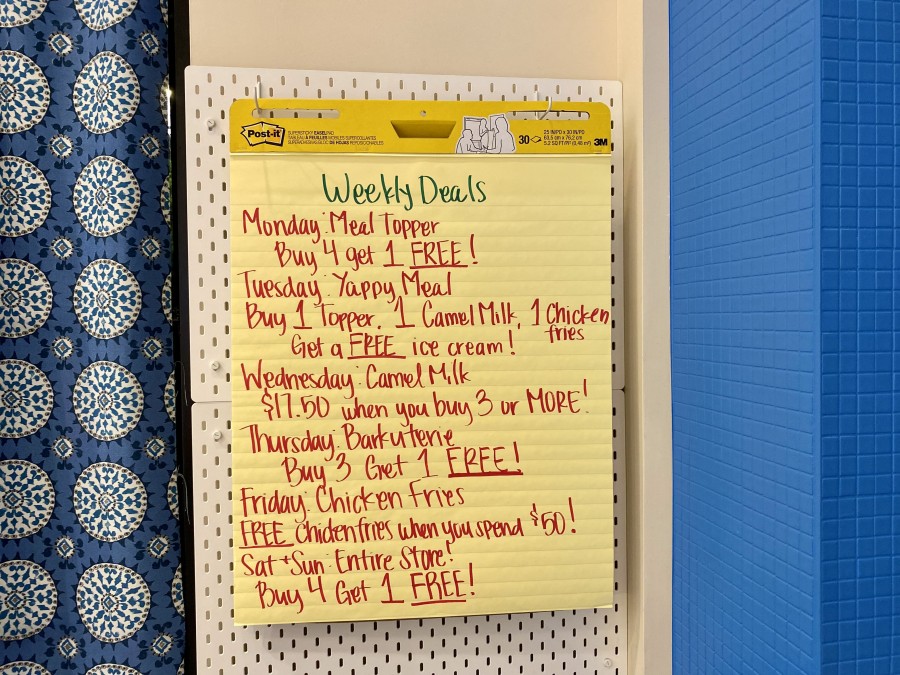 Another update to the store is the vending machine from MyFamily. With its help, you can create a pet id tag from an NFC microchip that is inserted into a collar, belt and leash, after which the chip can be connected to your smartphone. With it, your dog will never get lost!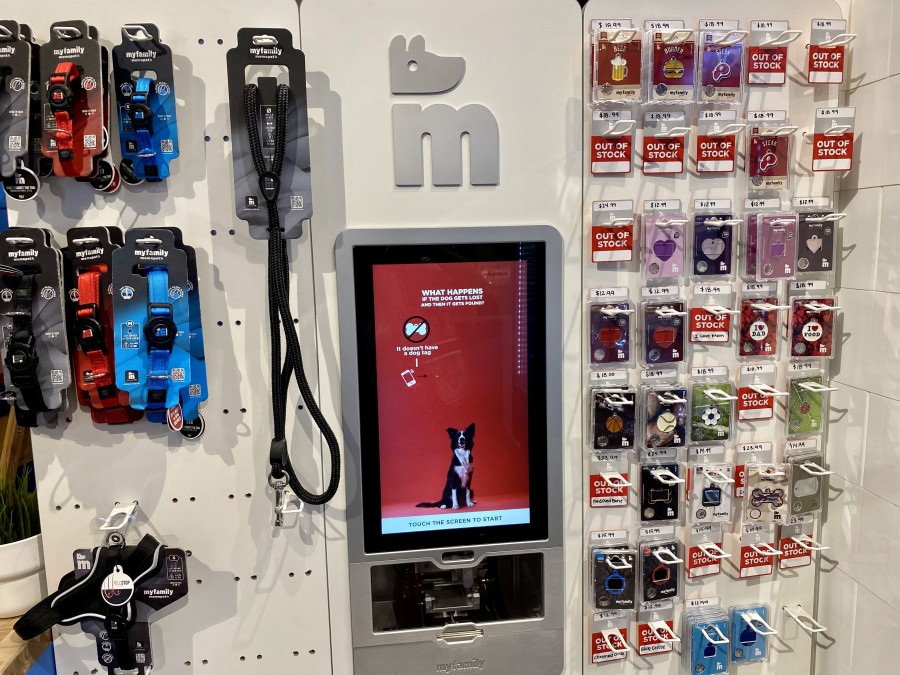 Why you might not like Woofpak Pet Kitchen?
As we mentioned above, today the company has only two stores. Not very convenient if you live hours away from them. Therefore, most customers will probably choose one of the giants in the pet industry, for example Petco (which only has about 20 stores in California)
Another equally important fact is the price of their products. It is higher than prices from large retailers like Chewy or PetSmart. But this is explained by the more natural composition and freshness of their products.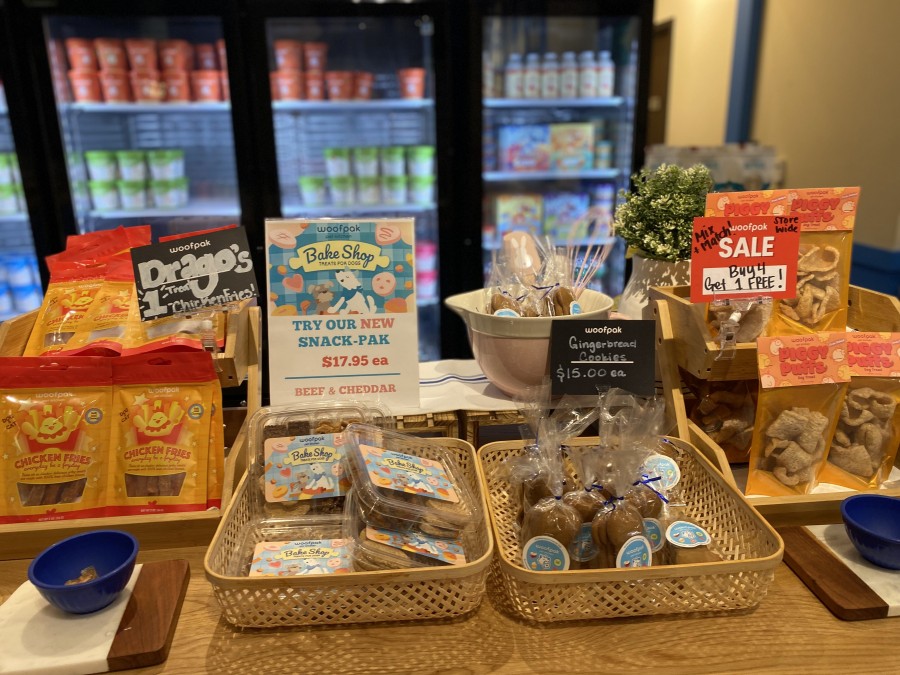 Woofpak Pet Kitchen is truly revolutionizing the way pets eat. By introducing high-end food products for pets, they are showing that pet nutrition doesn't have to be just about kibble and canned food. I can definitely say that as a pet parent, I feel more confident in knowing I am able to give my furry family members the diet and nutrition they deserve with Woofpak's line of natural, organic foods.