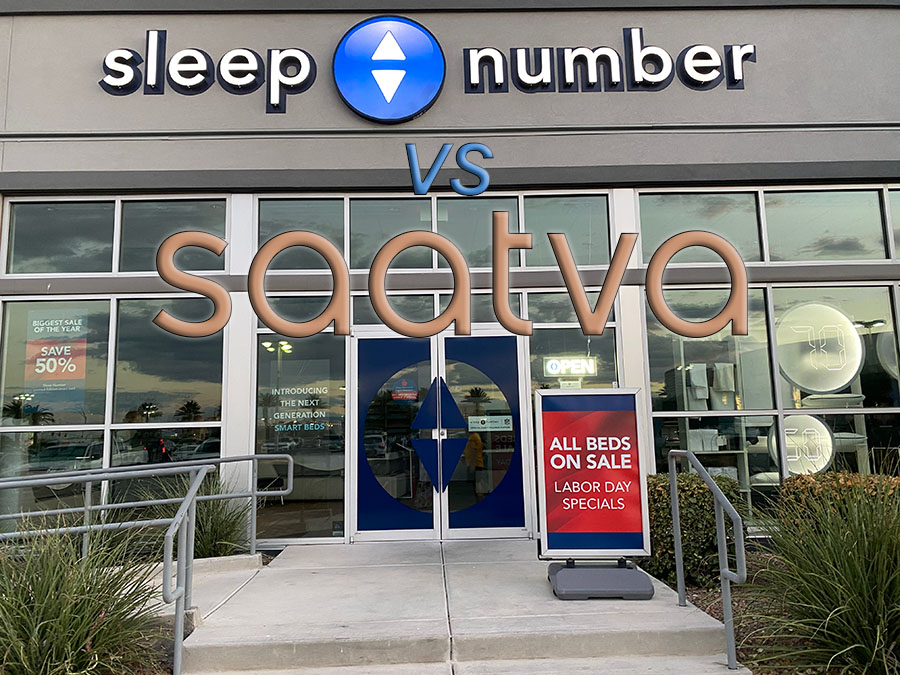 Discover the leaders in the sleep industry – Sleep Number and Saatva. Sleep Number is famous for its adjustable air beds, while Saatva is a top online mattress company.
When it comes to customizable comfort, Sleep Number is the go-to brand. They revolutionized the mattress industry with their innovative adjustable air beds and continue to expand their selection.
But here's a secret: Saatva, the luxury online mattress retailer, also offers fantastic air beds. Introducing the Solaire, their first-ever adjustable mattress. Get ready to experience personalized sleep like never before.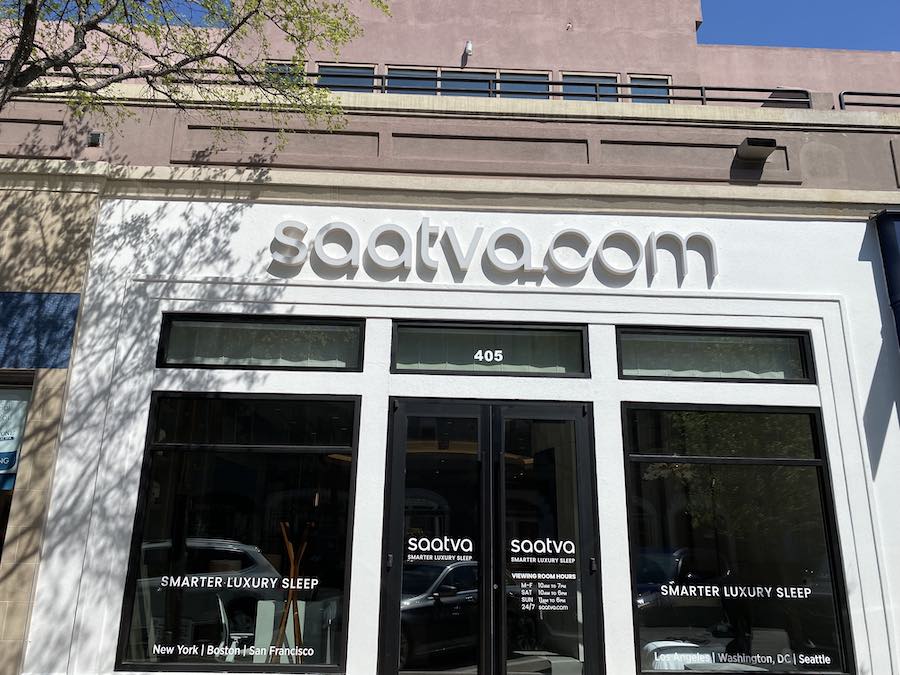 If you're in need of a new mattress, now is the time to start looking for one as Labor Day is right around the corner! This is one of the main trade events, during which companies offer the best deals on home goods, namely: furniture, mattresses, household appliances and more.
Read on to discover the key similarities and differences between the Saatva Solaire and Sleep Number mattresses.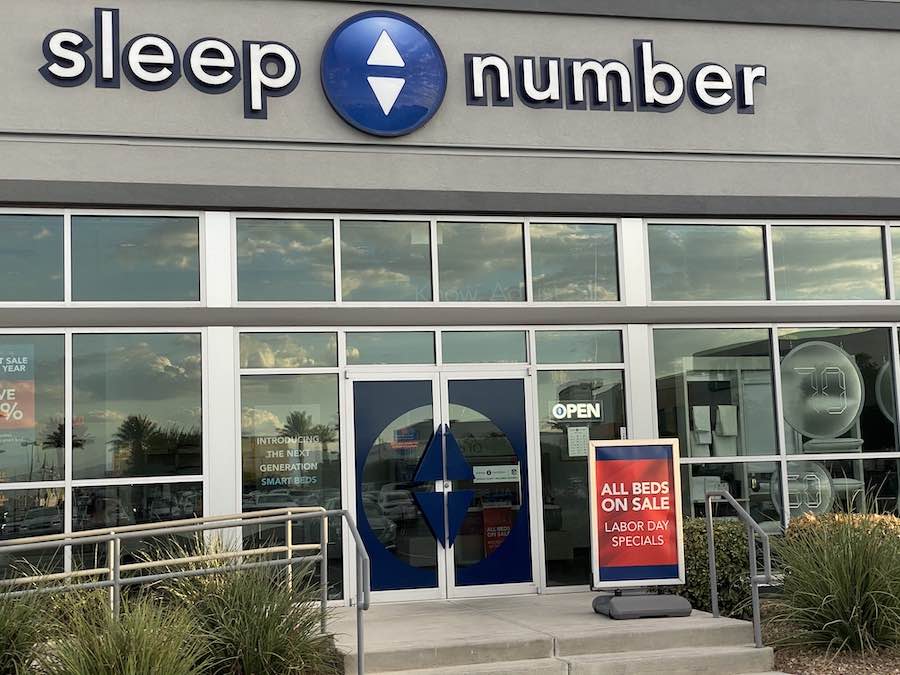 Saatva Solaire vs Sleep Number: Which is better for your perfect sleep?
Sleep Number
Experience the ultimate sleep that can be customized with Sleep Number adjustable air beds. With just one push of a button on the remote control, you can personalize the firmness and support of your bed to suit your needs. Their range consists of four exceptional series, starting with the classic series and ending with the innovative 360 Smart Beds. Who are more suitable for Sleep Number mattresses? It's for budget-conscious buyers looking for customizable mattresses and prefer to sleep on their backs.
Let's Consider the Sleep Number 360 i8 Smart Bed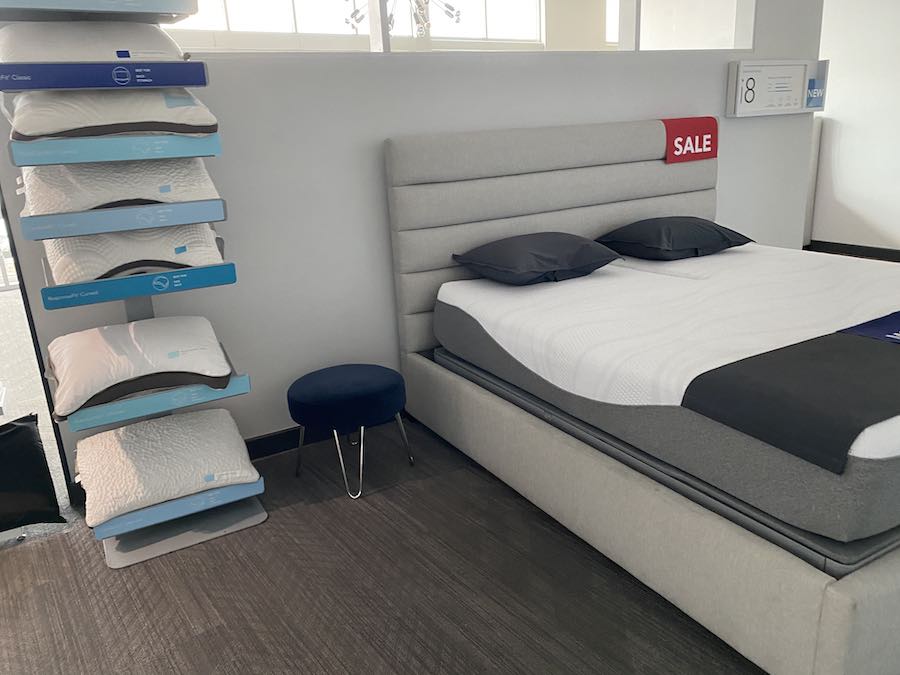 With 20 adjustable firmness levels, you can find the perfect setting for your preferred sleep position – whether it's on your side, stomach, or back. From a firmness scale of 5 to 8, the i8 Smart Bed offers a range of options to suit your needs. Plus, you can target specific problem areas with different settings – firmer for lumbar support or softer for pressure relief in sensitive pressure points.
Not only is the sleep number 360 i8 a game-changer in comfort, but it also excels in motion isolation. Testers rave about how they sleep soundly, even if their partner's movements vary throughout the night.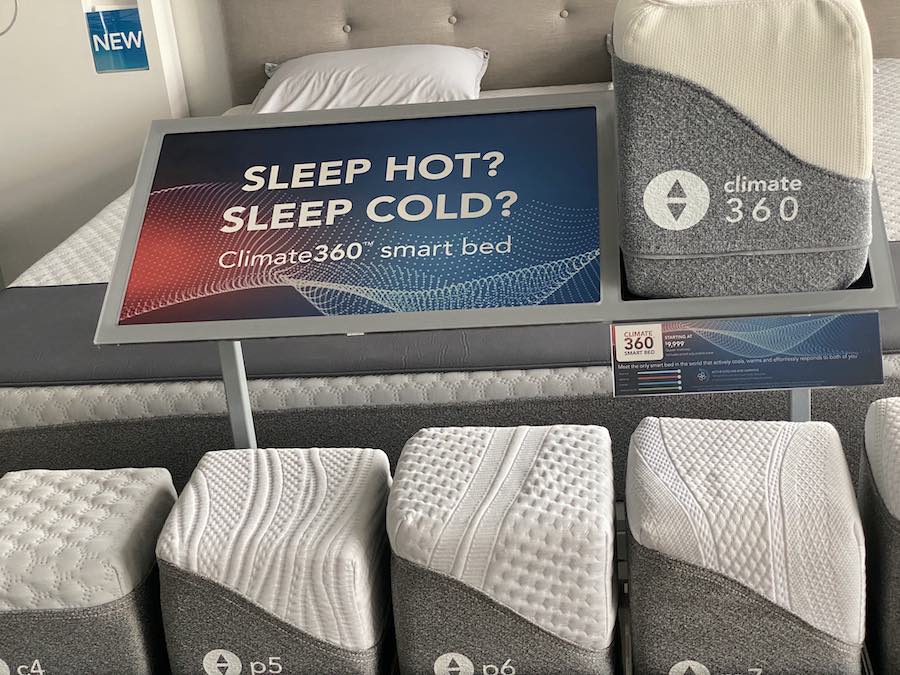 And when it comes to edge support, the sleep number doesn't disappoint. You can comfortably sleep on the side of the mattress without worry. However, if edge support is your top priority, Saatva takes the crown.
Saatva
Saatva is a pioneer in online mattress stores, distinguished by its commitment to delivering mattresses that are never compressed into flimsy cardboard boxes. Among Saatva's impressive range of mattresses, the Saatva Solaire stands out as the ultimate adjustable mattress, offering a remarkable alternative to Sleep Number's offerings. Who is more suitable for the Saatva Solaire mattress? In our opinion, it is for those who like to sleep on their side, or hot sleepers.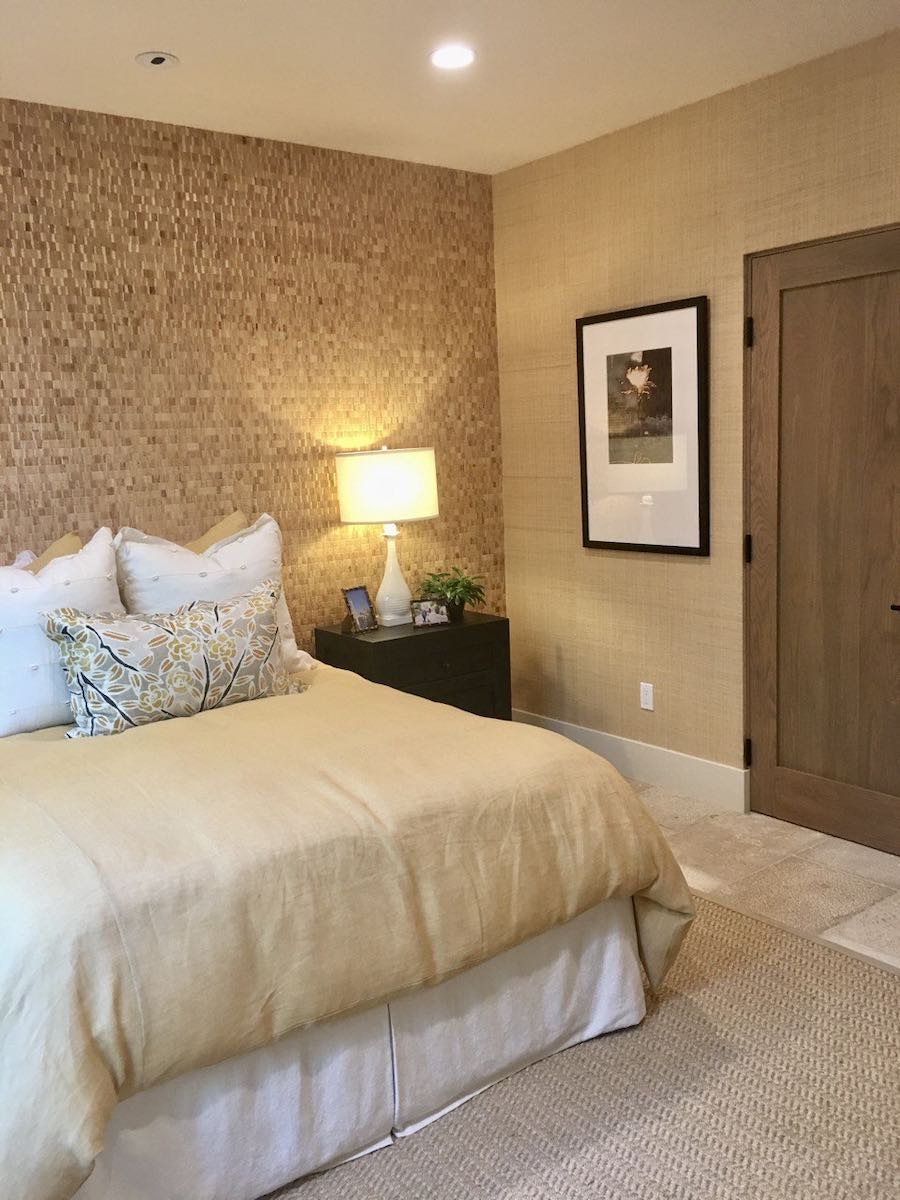 Let's Consider the Saatva Solaire
Experience customizable comfort like never before with the Saatva Solaire, the bed with 50 firmness levels. From a luxurious softness of 4 to an ultra firmness of 8, find your perfect sleep position on the firmness scale. No matter if you're a side sleeper, back sleeper, or stomach sleeper, the Solaire has you covered. For side sleepers, we recommend a setting in the 20s, while back sleepers will love a level between 30 and 35. Stomach sleepers should opt for a setting in the 40 to 50 range.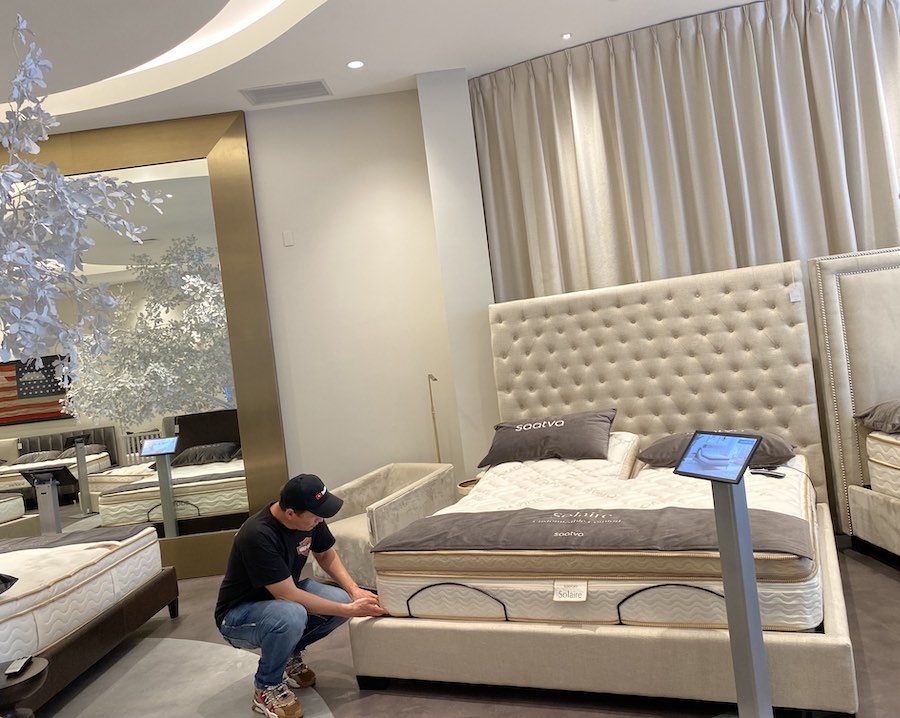 But that's not all – the Solaire is perfect for couples too. With air chambers on both sides of the mattress, each person can enjoy their own personalized firmness level. The Solaire excels in our motion transfer test, meaning you'll hardly feel a thing. Say goodbye to sleep disruptions.
Not only does the Solaire provide unparalleled comfort, but it also boasts impressive edge support. Thanks to a high density poly foam layer surrounding the air chambers, this mattress offers exceptional durability and edge support. Saatva mattresses with this advanced edge support technology are among the best in the market.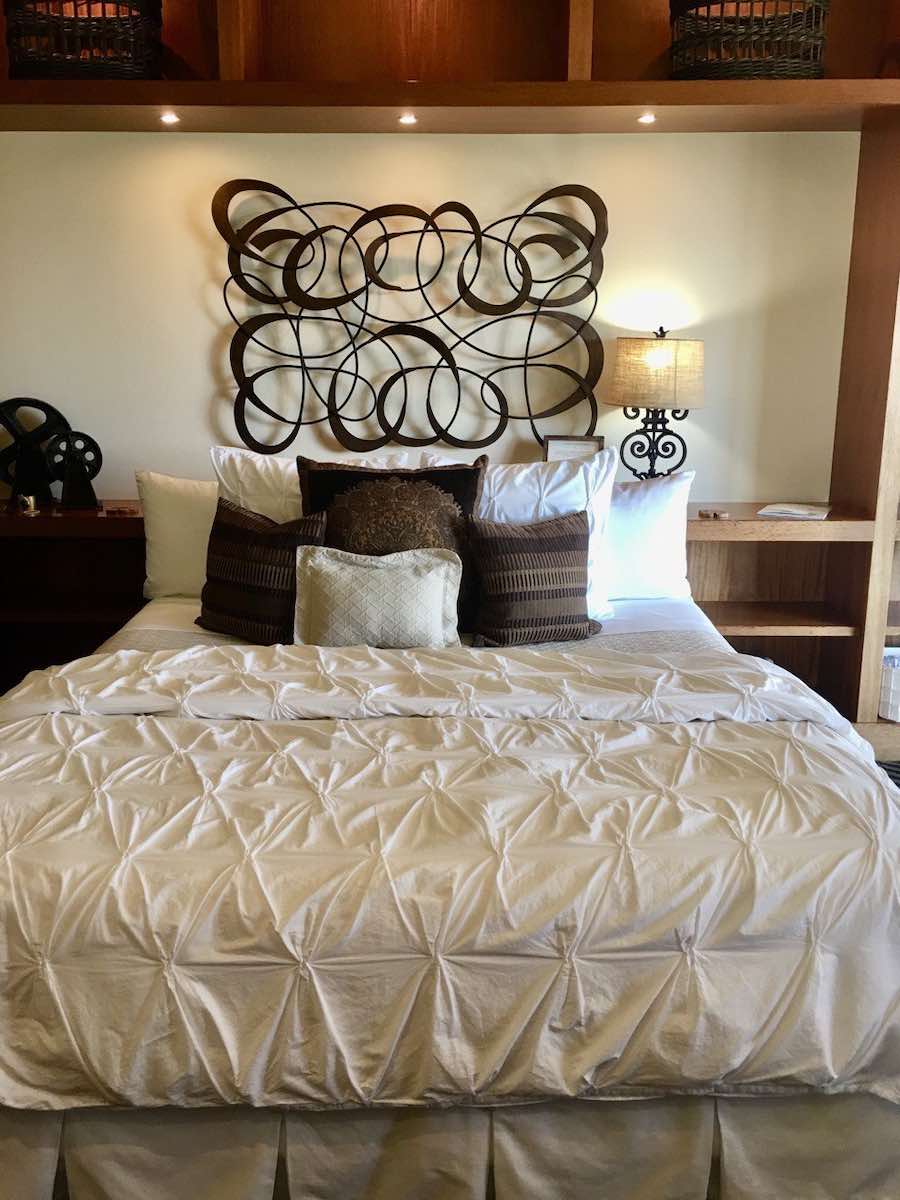 Saatva vs. Sleep Number: Fascinating Similarities and Surprising Differences
Mattress Similarities:
Customizable Comfort: Easily adjust the firmness of these mattresses with air chambers using a phone app or remote control;
Stay Cool and Comfortable: Experience excellent airflow with air bed construction and enjoy the added benefit of breathable, cooling materials;
Suitable for All Sleep Positions: Unlike other air beds, the Solaire and Innovation Series offer the perfect support for back, side, and stomach sleepers alike;
Motion Isolation: Say goodbye to disturbance from your partner's movements with the dual air chamber construction and foam comfort layers;
Perfect for Couples: Cater to individual firmness preferences with the ability to customize firmness on each side. Ideal for couples with different sleep needs.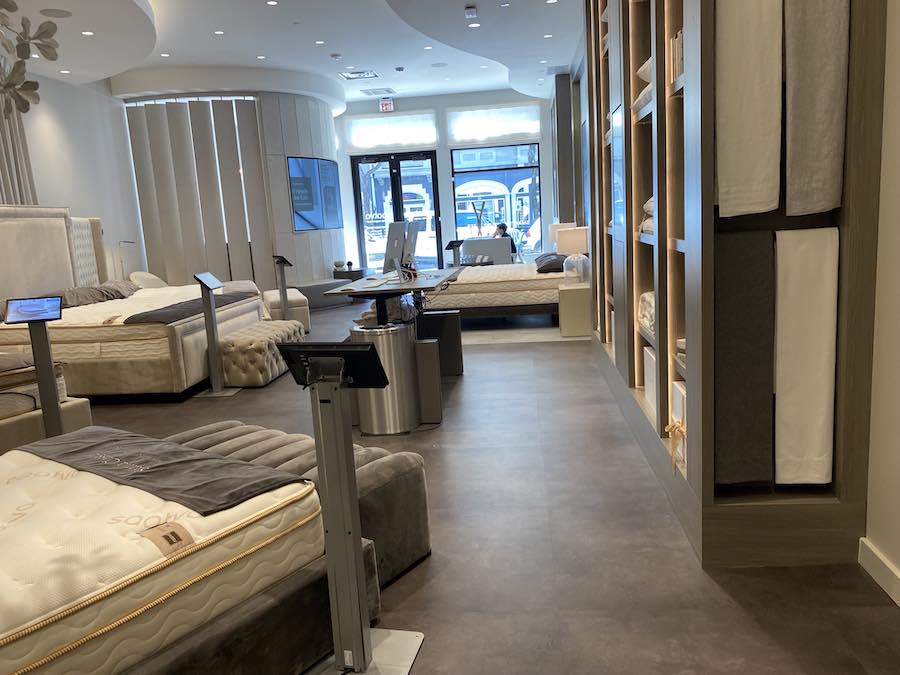 Mattress Differences:
Innovation: Experience revolutionary sleep-tracking technology and a unique "Responsive Air" feature that adjusts to your movements for optimal support. The Saatva Solaire lacks these cutting-edge capabilities;
Durability: With top-notch materials and a reinforced base, the Saatva Solaire is built to last. Sleep Number may falter in this area, but their outstanding customer service makes up for it;
Superior Edge Support: Say goodbye to sagging edges with the Solaire's impressive edge support. Sleep Number users often face this issue, posing a problem for those who rely on stability near the edge of the bed;
Hassle-Free Returns: While both companies have return policies, Saatva offers a more cost-effective solution. With Sleep Number, prepare to pay a non-refundable $249 for setup and a $199 return fee, whereas Saatva only charges a $99 return fee and provides free setup;
Extended Sleep Trial: Enjoy the luxury of a full 365 nights to test out the Saatva, one of the most generous sleep trials in the market. Sleep Number's 100-night trial is decent, but pales in comparison.
Related: Choosing the Perfect Mattress: Casper or Saatva?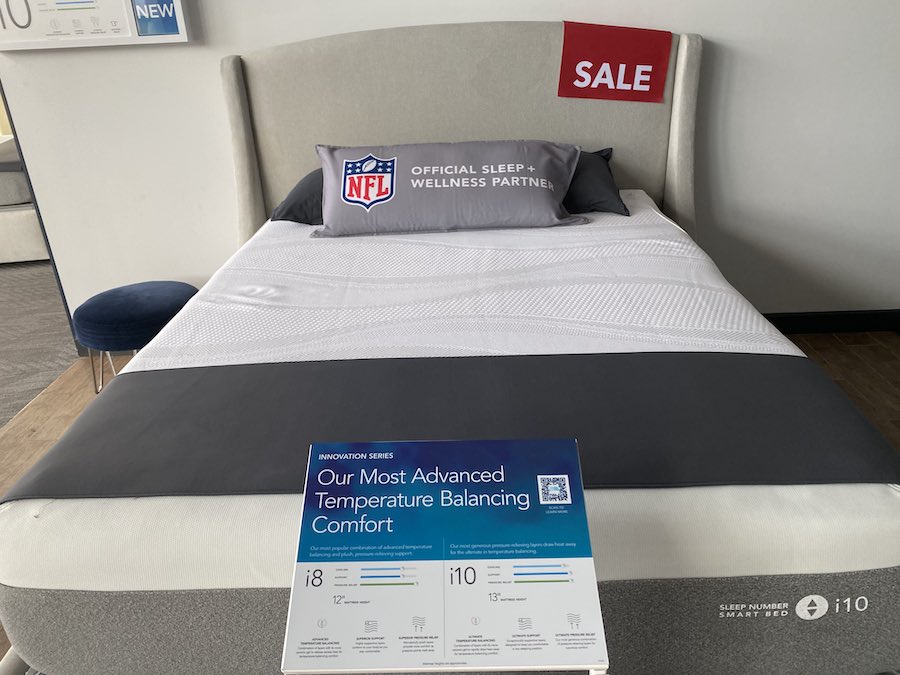 Saatva Solaire vs Sleep Number: Which Mattress Materials is Best?
Discover the distinctive materials of Solaire and Sleep Number adjustable air beds that differentiate them from hybrid and memory foam mattresses. Let's dive into the breakdown to reveal the key differences between these two brands.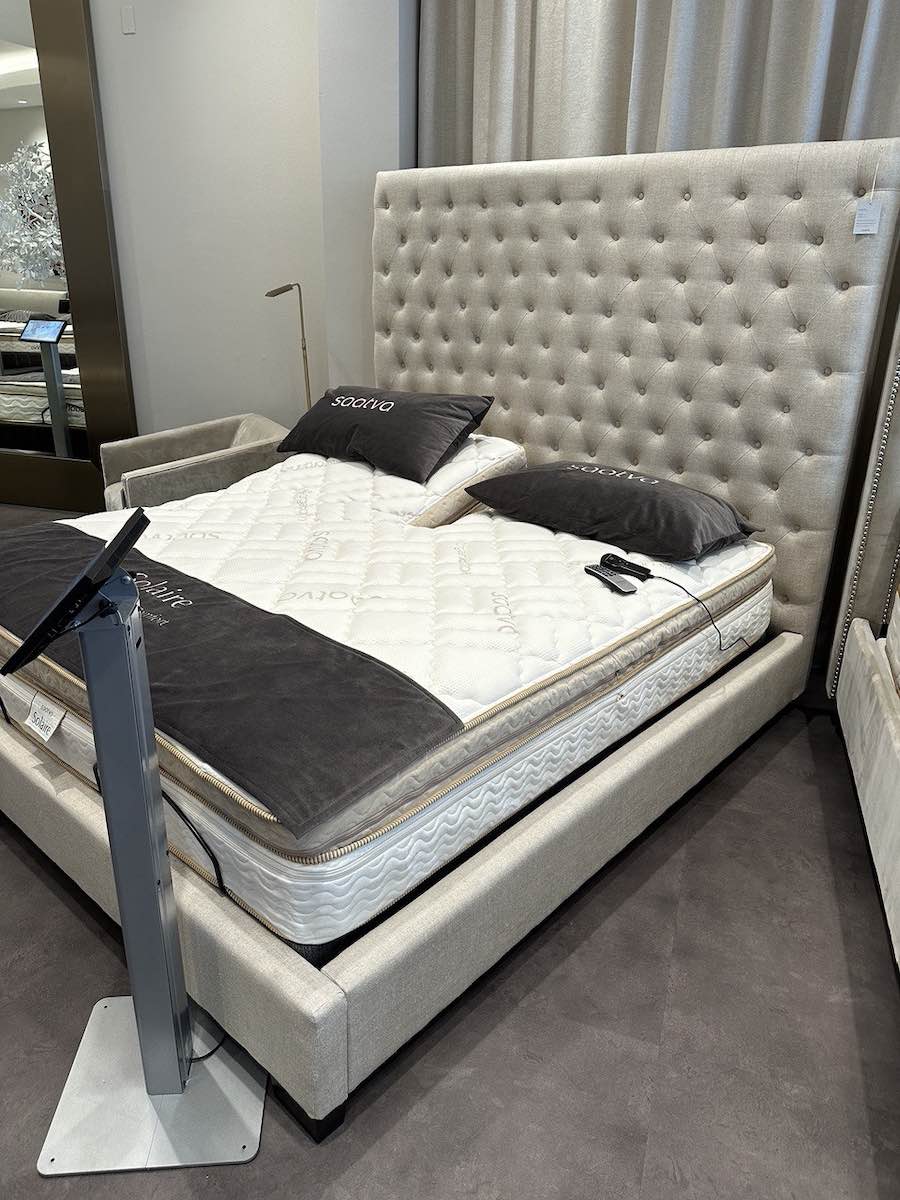 Saatva Solaire
Cover Material: Experience ultimate comfort with the Solare mattress. Its organic cotton cover is quilted with memory foam for a touch of pressure relief;
Comfort Layer: Stay cool and supported with the gel-infused memory foam in the comfort layer. This foam contours your body and sleeps cooler than traditional memory foam. Plus, it's certified free from harmful chemicals;
Transition Layer: Get the perfect balance of bounce and support with the all-natural Talalay latex in the transition layer. And don't worry about condensation – there's a moisture barrier for extra protection;
Support Layer: The Solaire mattress features vulcanized air chambers that can be easily adjusted using a remote control. Enjoy personalized comfort on each side of the bed;
Main Layer: Rest easy knowing that the high-density poly foam base layer provides exceptional edge support. Sleep soundly on the Solare mattress.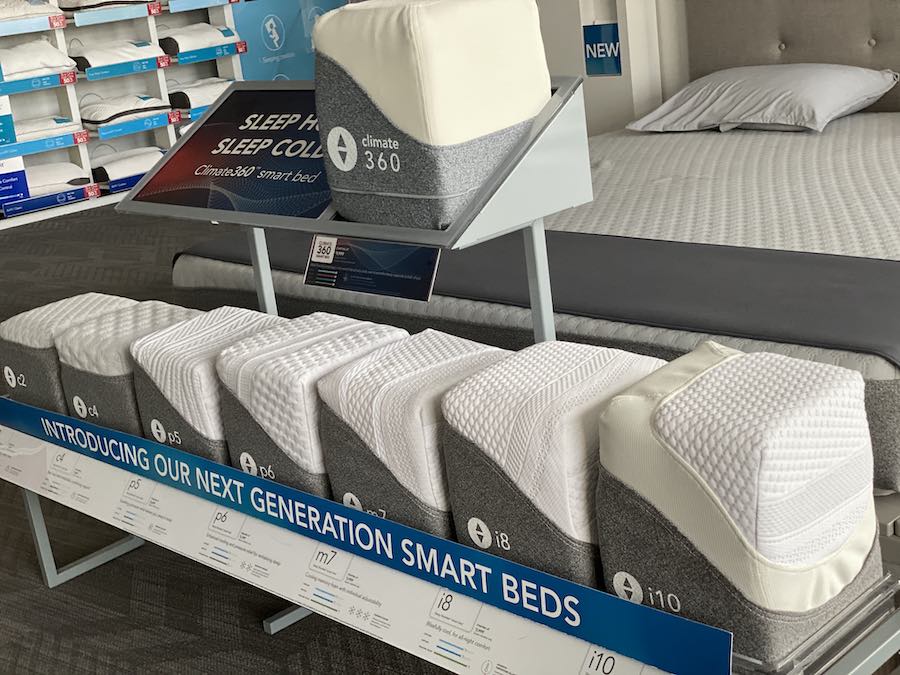 Sleep Number 360 i8 Smart Bed
Cover: The Sleep Number mattress features a temperature-balancing Smart 3D fabric cover that absorbs and releases body heat for a cool sleeping experience;
Comfort Layer: Enjoy the comfort of a 6-inch layer of cushioning and pressure relief foam, made from two different types of foam for ultimate relaxation;
Support Layer: The Sleep Number mattress utilizes air chambers for support. With full-size or larger beds, you'll experience the innovative DualAir technology, allowing you to manually adjust the chambers or let them automatically adapt to your movements and weight;
Main Layer: While the Sleep Number base is sold separately, the recommended FlexFit™ Adjustable Base offers the convenience of raising the head or foot of the mattress for reading or watching TV in bed. Alternatively, the more affordable Sleep Number Modular Base or a basic platform base are also options. It is advised not to use a slatted bed frame or traditional box spring with this mattress according to Sleep Number.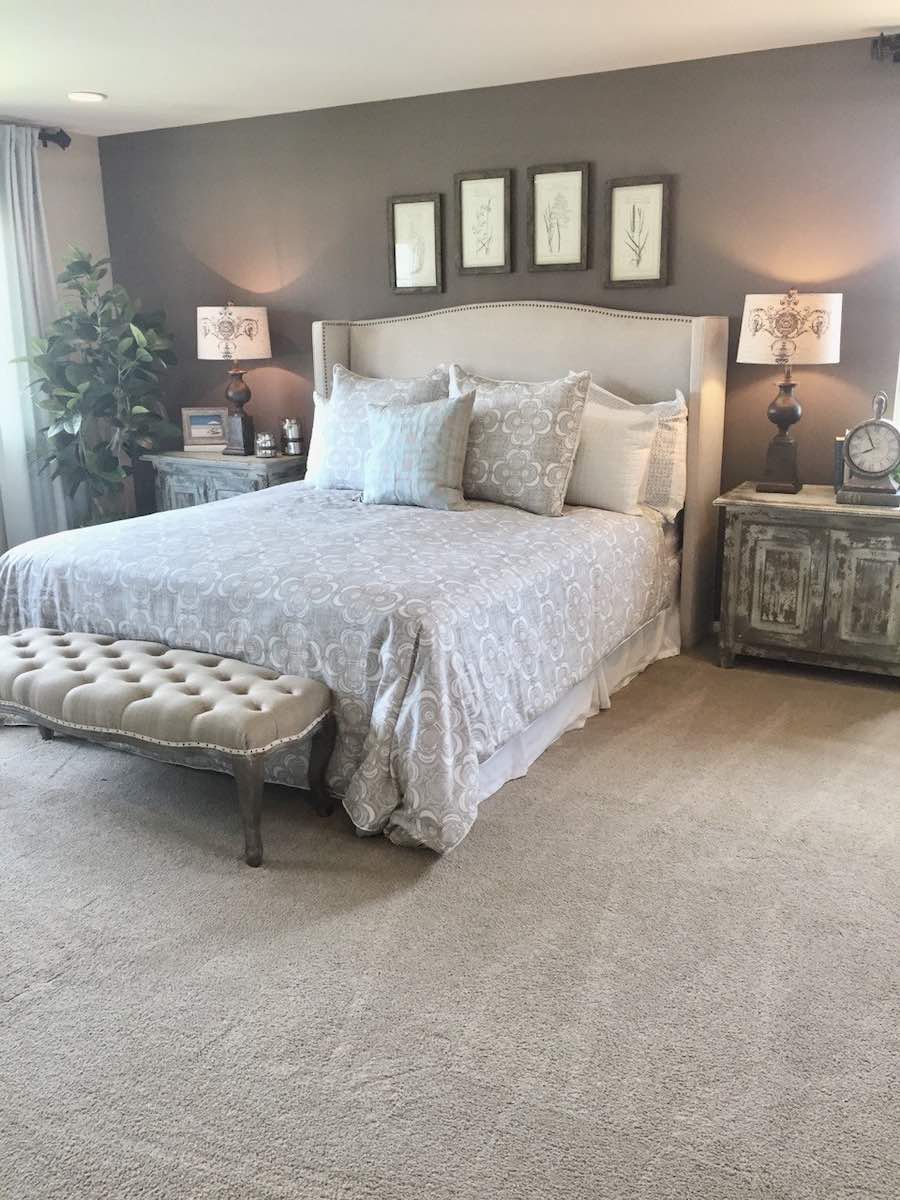 Saatva Solaire and Sleep Number Size Options, Prices
Available in standard sizes, both mattress companies also offer the option of a flexible top. This innovative feature allows you to adjust the height of the head, no matter which side of the partner you're on when using an adjustable base. Enjoy this customization with Saatva Queen and King mattresses, as well as King and California Sleep Number beds.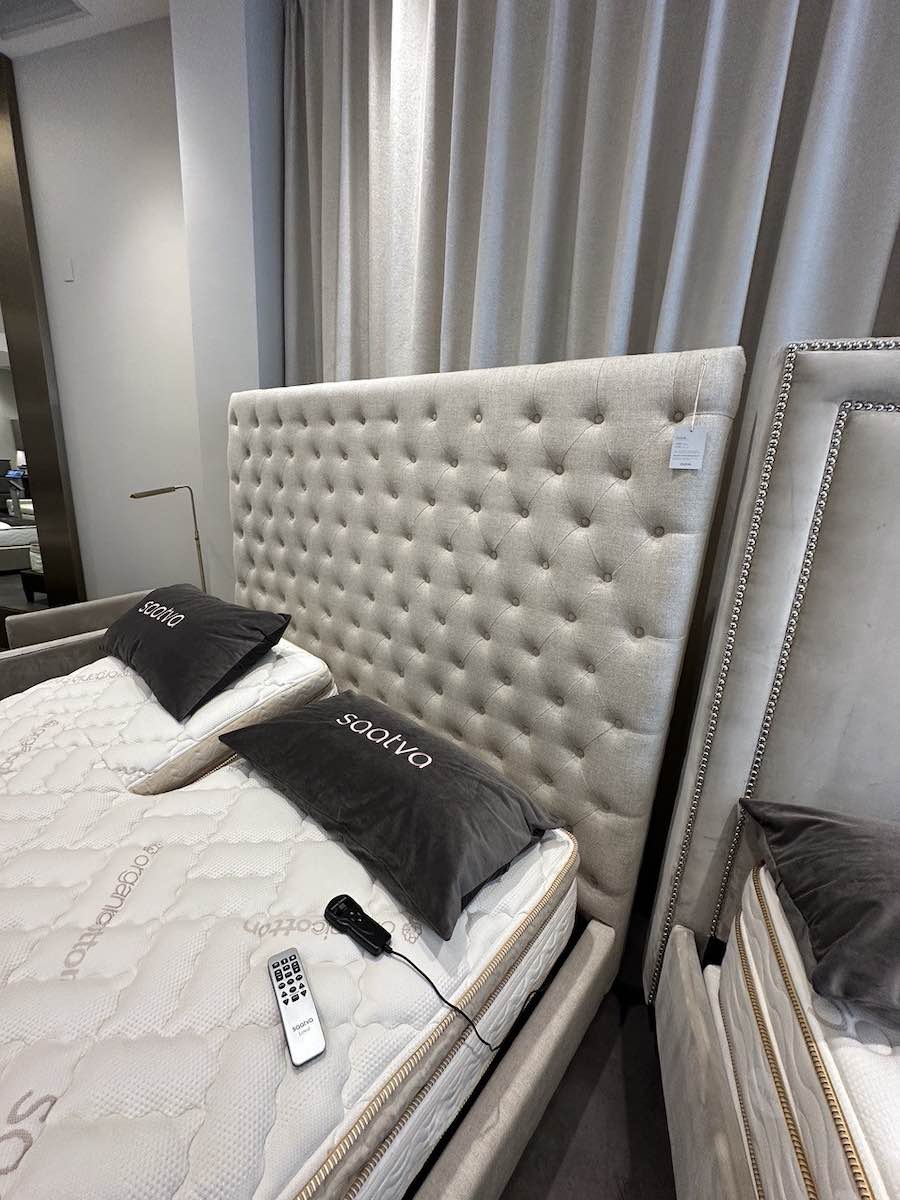 Below we will consider the prices of matrices of two manufacturers, depending on the size. Price may vary slightly from store and website prices due to Labor Day. In the days leading up to the holidays, you can find incredible deals on expensive products, namely mattresses.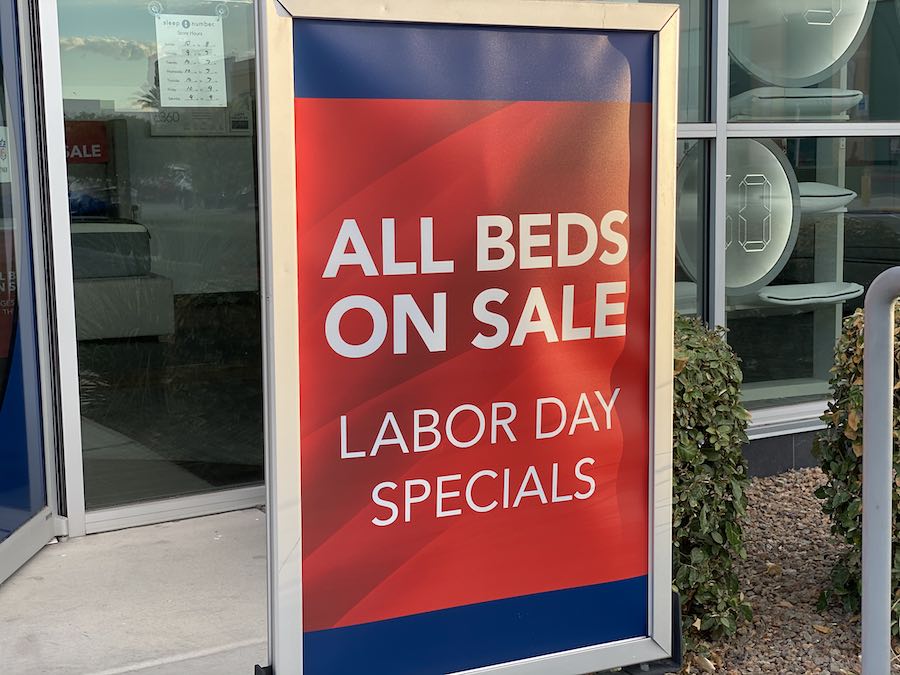 | | | |
| --- | --- | --- |
| Size | Sleep Number | Saatva Solaire |
| Thickness | i8 and iLE 12"; i10 13" | 13" |
| Twin XL 38″ x 80″ | $3,449 | $2,595 |
| Full 54" x 75" | $3,724 | $3,395 |
| Queen 60″ x 80″ | $3,899 | $3,745 |
| King 76″ x 80″ | $4,599; $6,099 | $4,395 |
| Split King 38″ x 80″ X2 | $5,699; $7,299 | $5,190 |
| California King 72″ x 84″ | $4,599; $6,099 | $4,395 |
As we wrote, these prices are not final, especially during big sales. For example, right now with Saatva's discounts you can save up to $600 on their mattresses. Whereas Sleep Number is offering over 20% off all smart beds. Both companies have their exclusive offers. Therefore, carefully consider both products.
Saatva vs Sleep Number: Your Burning Questions Answered
Get answers to your most commonly asked questions about the Sleep Number and the Saatva mattress before we wrap up.
Do Saatva and Sleep Number offer free shipping?
Yes, Saatva and Sleep Number offer free shipping and customization. This also applies to all bedding orders (only Saatva ships via FedEx, Sleep Number via UPS).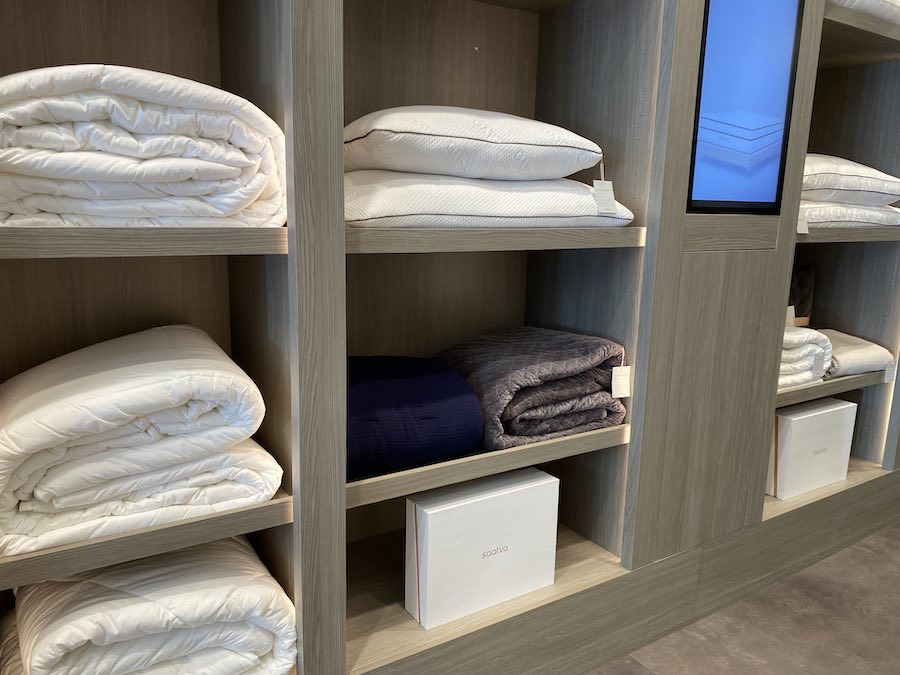 Which is the best mattress, Sleep Number or Saatva?
Tailor your mattress choice to your personal preferences. If you tend to sleep hot, the Saatva Solaire is your ideal match. Or, if affordability is key, consider the Sleep Number mattress for a bit less cost.
Which mattress will last longe, Sleep Number or Saatva Solaire?
Get the most out of your sleep with these durable mattresses that are designed to last for 10 years! Rest assured knowing that these high-quality beds are designed to provide you with maximum comfort and support for many restful nights.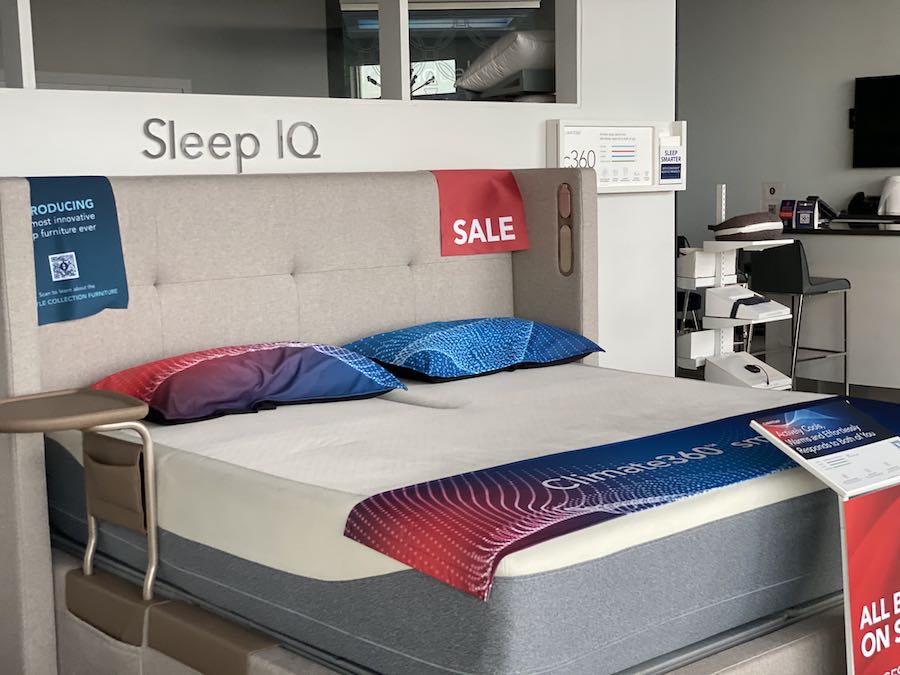 Can Sleep Number or Saatva Solaire mattresses be turned over?
Sorry, but you can't flip these beds. They have air chambers on the bottom that let sleepers adjust the firmness. Flipping any mattress would be incorrect.
What does "Responsive Air" Technology Mean on Sleep Number bed?
This advanced technology automatically adjusts your mattress when you get into bed, ensuring a luxurious and comfortable night's sleep. And if you ever feel like your bed needs a little tweaking, it could be because of extra weight or pressure that has triggered our intuitive system.