WHAT IS THRIVE MARKET?
Thrive Market is an online grocery store that sells a wide range of food and other natural products. Customers should get their membership first in order to take advantage of wholesale prices on a variety of organic produce and healthy food from the popular brands you grew to love.
HOW MUCH DOES MEMBERSHIP COST?
There are several Thrive Market membership options you can choose from: the annual Thrive Market which requires $59.95 of annual fee and a monthly payment of $12 if you are not sure you are going to buy Thrive Market products throughout the year.
HOW DOES THRIVE MARKET MEMBERHIP DIFFER FROM THAT OF COSTCO?
In fact, Thrive Market works as Costco membership, except for the way you buy products: Thrive Market purchases are made only online. And there is a big advantage to this. Now you can order all your pantry must have products at wholesale prices from the comfort of your home.
ARE THERE FREE SHIPPING COUPONS?
You don't need any special coupon to get free shipping at Thrive Market. Every order over $49 is shipped free, and it's very easy to meet this.
DO FIRST TIME CUSTOMERS HAVE A SPECIAL DISCOUNT?
Yest, you qualify for 30% off or $20 off maximum with your first online order at Thrive Market. This discount is applied automatically, no special coupon code is needed.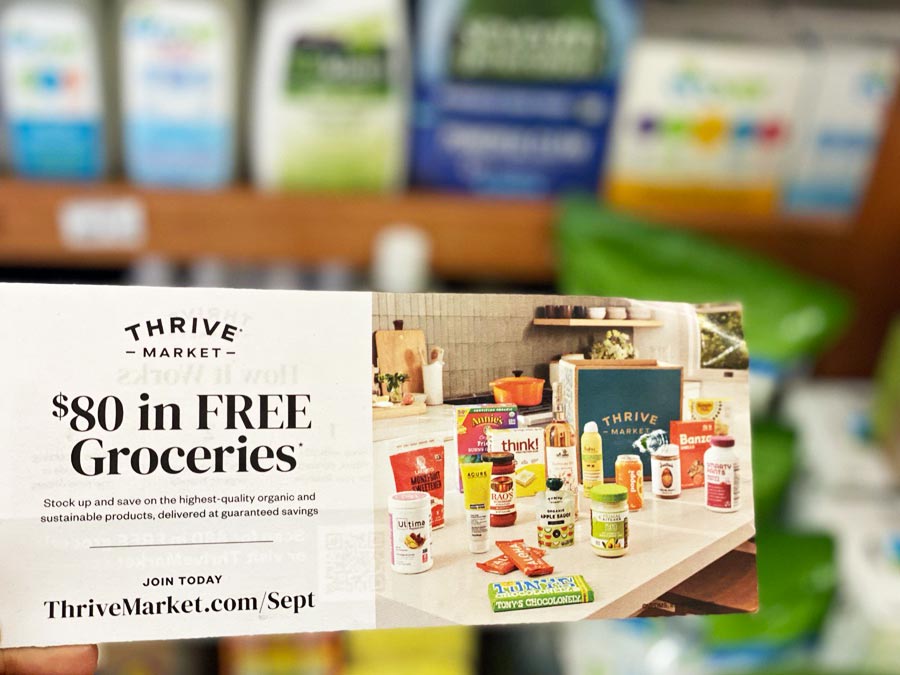 ARE THERE FREE GIFTS WITH PURCHASE AT THRIVE MARKET?
Yes, there are many free gifts with purchase offers at Thrive Market, so you often get freebies in your shopping cart.
CAN I GET A FREE MEMBERSHIP AT THRIVE MARKET?
Yes, students and low-income family can get free membership at Thrive Market. If you qualify for free Thrive Market membership you need to apply for a membership waiver. If you are a student, you will need to provide your student ID for verification. If you are receiving benefits from county social services, they will also verify this information.
Nurses can get free Thrive Market membership with ID. me verification required.
Also, you can ask for a membership fee refund if you are not happy with your Thrive Market shopping experience.
ABOUT THRIVE MARKET
Dive into the world of wholesome goodness with Thrive Market, your one-stop online shop for top-notch health products, eco-friendly cleaning supplies, and sustainably-sourced foods from a plethora of brands. Serving the entire U.S. with a mission to make healthy living accessible, Thrive Market offers premium goods at bargain prices, allowing you to save cash while investing in a healthier lifestyle. And hey, don't forget to explore the numerous Thrive Market deals for some extra discounts on your purchases-because who doesn't want to grab awesome stuff while keeping their wallet happy?
| | |
| --- | --- |
| 📆 Today Coupons and Deals | 9 |
| ✅ Promo Codes that Work | 0 |
| 🎓 Student Discount | 30% |
| 🎖️ Military Discount | $60 |
| 🚚 Free Shipping | 1 |
| 🎫 Most Popular Coupon Code | |
MOST USED THRIVE MARKET COUPONS AND OFFERS
| Description | Deal Type | Verified On |
| --- | --- | --- |
| Get Your Free Gift (up to $60) + 30% Off Your First Order at Thrive Market | Deal | September 23 |
| Limited Time Offer! Get $60 in Free Groceries at Thrive Market | Deal | September 23 |
| Save 30% on All Your Healthy Essentials at Thrive Market | Deal | September 23 |
| Enjoy weekly sales for even more savings and FREE gifts with qualifying purchase at Thrive Market | Deal | September 23 |
| Save 58% with Annual Membership at Thrive Market | Deal | September 23 |
EXPIRED THRIVE MARKET COUPON CODES THAT MAY STILL WORK
CAN I GET ONLY FOOD PRODUCTS AT THRIVE MARKET?
Not only food products are offered for sale at Thrive Market. In fact, you can purchase a great variety of products in several categories, including Food, Frozen, Wine, Vitamins & Beauty, Babies & Kids, Home & Pet.
SHOULD I SHOP THROUGH THRIVE MARKET WEBSITE OR THEIR APP
You can get $10 Thrive Cash on your first $49 + Thrive Market purchase through their app, other than that there is no difference in prices or special offers.
WHAT IS THRIVE MARKET AUTOSHIP?
If you need recurrent orders on pantry staples, for example, you can get it automatically shipped every month or every week. Just choose how often you want your order delivered. You can easily update your Autoship information, removing or adding some products easily.
CAN I FIND THRIVE MARKET DEALS BY FOLLOWING SOCIAL MEDIA?
Yes, when you follow Thrive Market on Facebook or Instagram you will be among the first to learn about all the current promotions, flash sales and today's deals.