DOES HICKORY FARMS HAVE FREE SHIPPING?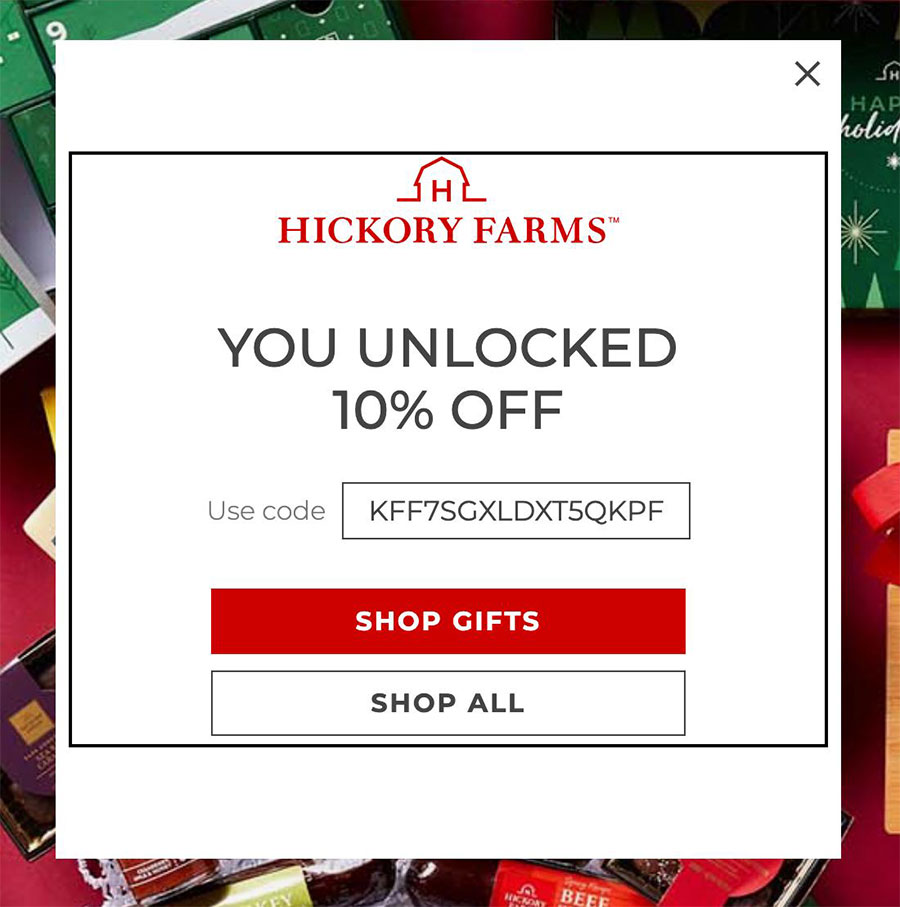 Normally Hickory Farms doesn't offer free shipping, but it may offer it as part of their promotions. Make sure you check Hickory Farms website to learn about current free shipping offers. Also, you can look for Hickory Farms free shipping coupons at the couponing websites, such as supermall.com.
HOW CAN I EASILY FIND HICKORY FARMS COUPON CODES?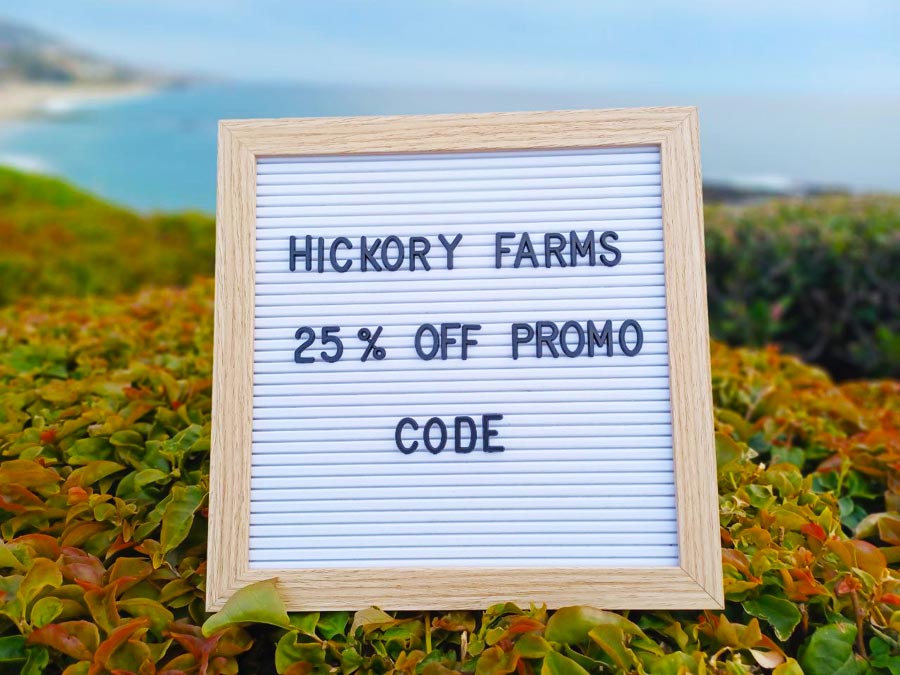 To be the first to know about the current Hickory Farms deals and special offers make sure you sign up for text notifications or emails with promotional offers. Plus, you will get 10% off your order when you sign up for texts or promotional emails. Following Hickory Farms on your favorite social media is also a good idea to stay informed about the current sale offers.


Another way to quickly find all currents deals and promotions is to check supermall.com. Here you will get all working coupon codes you can use to obtain a discount on your Hickory Farms purchase. It's very convenient to see all the deals gathered on one page so it's easy to pick the offer that will benefit you the most.
WHAT ARE THE CURRENT COUPONS FOR HICKORY FARMS?
The maximum discount you can get with Hickory Farms Coupon Code is 20% off with LUV23AF code on orders of $99 or more.
With EMLWEL22 or PP21HF you can save 10% on select delicious gifts at Hickory Farms.
To save 15% on your Hickory Farms purchase consider trying HICKORY15 coupon code or VOLUME to save up to 17% on select Hickory Farms gift baskets.
HOW CAN I GET A DISCOUNT ON MY NEXT ORDER?
You can get a 10% discount when you sign up for promotional emails.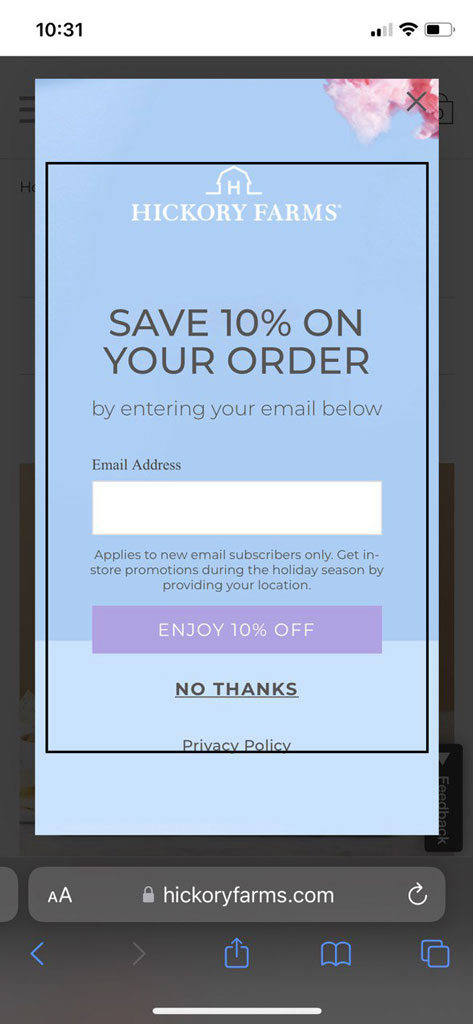 Enter your email address and you can get 10% off your next order. When you enter your email, you will start getting newsletter but you can stop it at any time.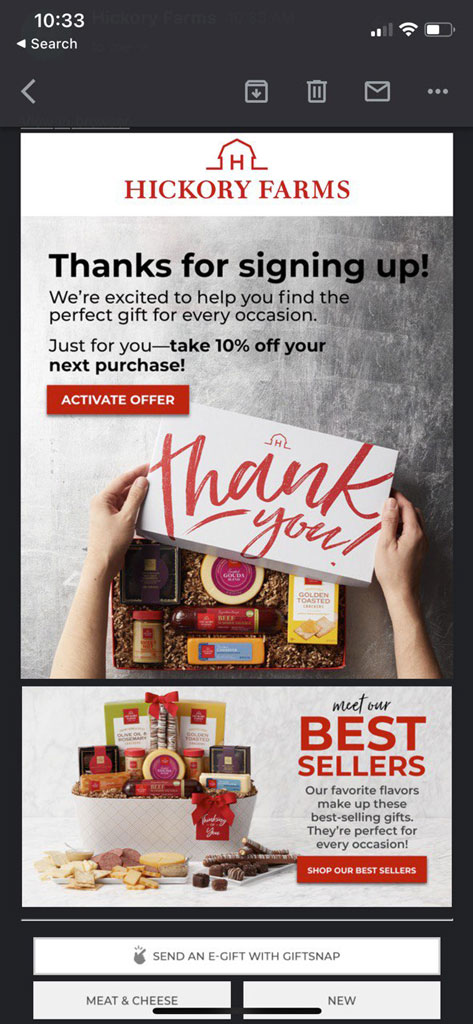 After registration, you will receive a coupon code that you can use for your next order.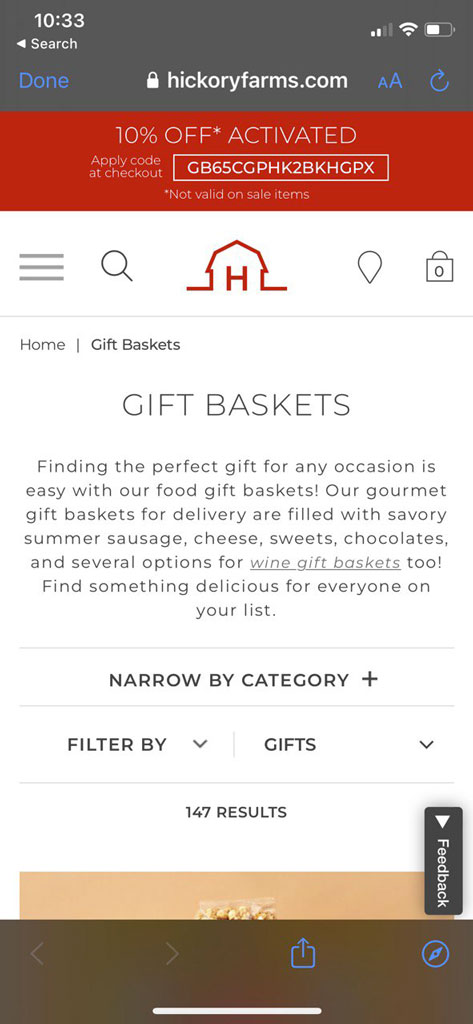 WHAT STORES SELL HICKORY FARMS?
You can find Hickory Farms products at Target and Walmart, but the select in of products they offer is very limited. You may expect to find more Hickory Farms products in seasonal products section of these stores before major holidays like Christmas or Easter.
For a wider assortment of Hickory Farms gourmet gifts consider checking out Amazon and eBay. Here you will find a nice selection of Hickory Farms gift baskets for a variety of occasions. But the largest selection of Hickory Farms foods and treats is available at their official website, plus you can take advantage of Hickory Farms sales and discounts offered there.
ABOUT HICKORY FARMS
For over half a century, Hickory Farms has been the holiday gifting destination for celebrating families across America. Make any special occasion memorable with their selection of gourmet foods – from baskets and boxes full of savoury meats & cheeses to indulgent wine gifts. Get creative and give your loved ones something unique that will tantalize every taste-bud! Shop now with Hickory Farms coupons & offers found at SuperMall.com
| | |
| --- | --- |
| 📆 Today Coupons and Deals | 13 |
| ✅ Promo Codes that Work | 5 |
| 🎓 Student Discount | 10% |
| 🎖️ Military Discount | Free Shipping |
| 🚚 Free Shipping | 2 |
| 🎫 Most Popular Coupon Code | EMLWEL22 |
MOST USED HICKORY FARMS COUPONS AND OFFERS
| Description | Deal Type | Verified On |
| --- | --- | --- |
| Take 10% off select products at Hickory Farms | Coupon | December 11 |
| Flash Sale. Receive 20% Off Gifts + Free Shipping on select Gifts at Hickory Farms | Deal | December 11 |
| Take an Extra 10% off qualifying orders at Hickory Farms | Coupon | December 11 |
| Take 10% Off $500 - $1,999 Order at Hickory Farms | Coupon | December 11 |
| Take 15% Off Orders from $2,000 - $4,999.99 at Hickory Farms | Coupon | December 11 |
EXPIRED HICKORY FARMS COUPON CODES THAT MAY STILL WORK
CAN I FIND A HICKORY FARMS STORE NEAR ME?
Hickory Farms stores open in major shopping malls before Christmas, but they will close right after the holiday. For example, if you live in Orange County visit Tustin Market Place located by the address: 2802 El Camino Real, Tustin, CA, 92782. Here you will find a huge assortment of Hickory Farms gourmet foods as delicious gifts for everyone on your gift list.
HOW CAN I CONTACT HICKORY FARMS?
The best way to get prompt service is email Hickory Farms at cserv@hickoryfarms.com
Customer service, Phone: +1-800-753-8558
Where to Buy Hickory Farms?
You can purchase Hickory Farms products at their official stores, including their online site. Additionally, you can find Hickory Farms items on popular retail platforms such as Amazon, Walmart, Target, Costco, and Kohl's.
When Does Hickory Farms Open in the Mall?
To find a Hickory Farms store near you and learn about their opening hours, you can check their official website. They may also have pop-up stores or kiosks in malls during the holiday season.
Where to Buy Hickory Farms Summer Sausage?
You can buy hickory farms summer sausage at Target in November. See more here.
Does Hickory Farms cheese need to be refrigerated?
Soft cheeses like cream cheese, cottage cheese, shredded cheeses, and goat cheese should be refrigerated. However, hard cheeses such as cheddar, processed cheeses (like American cheese), and both block and grated Parmesan generally do not require refrigeration for safety. Refrigeration can extend the shelf life of hard cheeses.
Does Target sell Hickory Farms?
Yes, Target offers a wide assortment of Hickory Farms products. You can choose from Same Day Delivery, Drive Up, or Order Pickup. They may also have free standard shipping with a certain order value, such as $35.
Where to Buy Hickory Farms Gift Boxes?
Hickory Farms gift boxes are available at various locations, including the official Hickory Farms site, Amazon, Walmart, Target, Costco, and Kohl's.
Where Can I Find Hickory Farms Products?
You can find their products at Hickory Farms stores, the official Hickory Farms website, as well as popular retailers such as Amazon, Walmart, Target, Costco, and Kohls. Enjoy the convenience of choosing from different platforms to get your favorite Hickory Farms treats.
What Happened to Hickory Farms Beef Stick?
Hickory Farms, once known for its delicious beef sticks, underwent changes around 2000, shifting away from year-round mall-based locations to focus on internet and catalog sales. This resulted in the closure of year-round mall stores. While Hickory Farms still operates pop-up stores and kiosks during the holiday season, their product line has evolved to include gift boxes, baskets, wine gifts, chocolates, and charcuterie gifts, with a diminished focus on the iconic beef sticks.