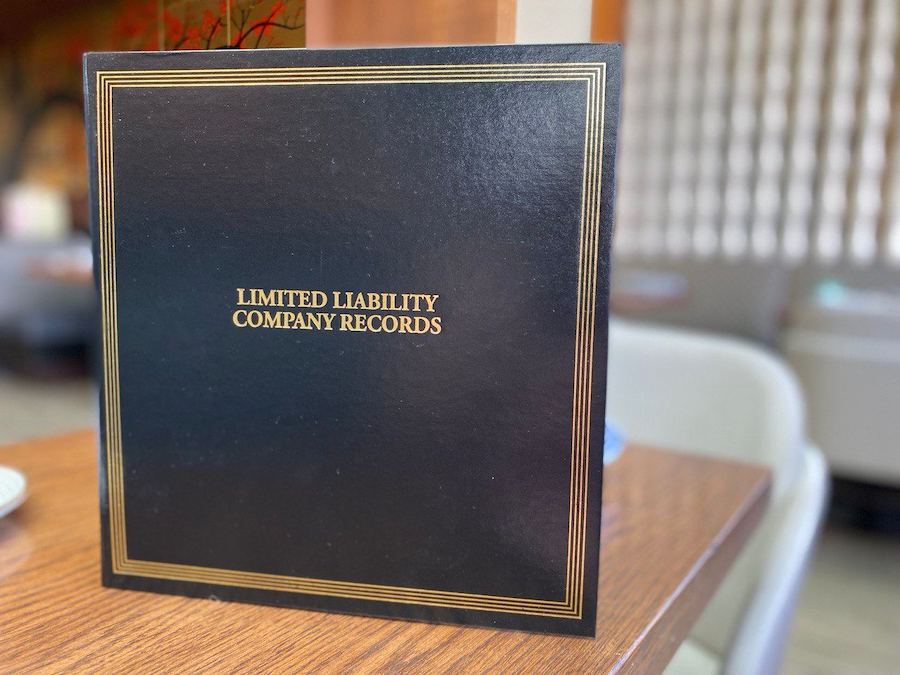 When it comes to finding a dependable registered agent service, LegalZoom is one of the leading contenders in the online legal services arena. Their registered agent services offer many benefits, such as compliance monitoring, document handling and forwarding, and simplified business filing procedures. However, it's equally important to weigh the limitations of these services, such as the higher costs associated with LegalZoom compared to other providers, and the inevitable upsells and add-ons that can drive up the price. For businesses looking for a more budget-friendly solution, there are plenty of cost-effective alternatives that still offer quality service and reliability. Before finalizing your decision, it's essential to conduct thorough research around your business needs and expectations. With careful consideration and a little bit of legwork, you can find a registered agent service that best fits both your budget and your business goals.
What are the offerings and pricing of LegalZoom?
LegalZoom, established in 2001, is a public company that specializes in providing online legal services tailored to assist small businesses in their formation processes. Their formation packages commence at $149, catering to companies that seek to kick-start their operations on the right legal footing.
For their registered agent services, LegalZoom charges a substantial $299 annually per state where your business operates. While this service includes essential features like service of process for legal documentation, it's important to consider the associated costs and benefits before committing to their offerings.
Where are LegalZoom's registered agent services available?
If you're a business owner in need of a registered agent, you'll be pleased to know that LegalZoom provides this service in all 50 states and the District of Columbia. That's right, no matter where your business is located, LegalZoom has got you covered. While some of its competitors may offer registered agent services in Puerto Rico and the U.S. Virgin Islands, LegalZoom's nationwide availability is definitely a perk. And if you're looking for discounts, be sure to keep an eye out for promotional codes or special offers that LegalZoom may have.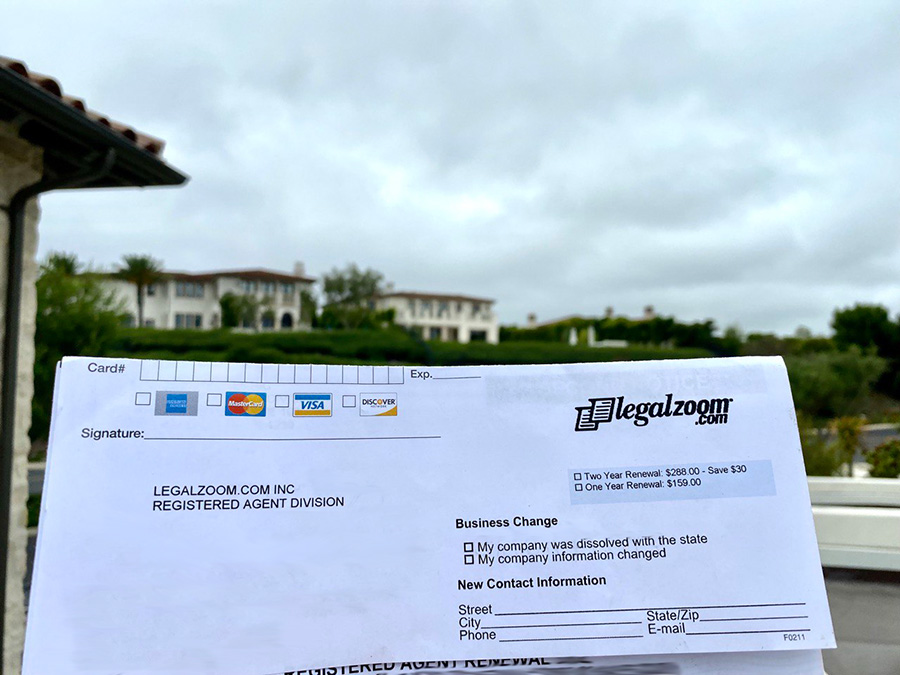 What are LegalZoom's Pros and Cons?
Pros:
1. Unlimited Cloud Storage: LegalZoom offers unlimited cloud storage, ensuring secure storage of your important business documents.
2. Trusted Brand: LegalZoom has established itself as a reputable and trusted brand in the legal service industry.
3. Access to Legal and Tax Professionals: Subscribers gain access to legal and tax professionals, providing expert advice to address queries and concerns.
Cons:
1. High Price: LegalZoom's registered agent services are relatively expensive compared to competitors in the market.
2. Exclusion from Other Plans: Registered agent services are not included in LegalZoom's other plans, such as business formation packages, potentially leading to higher overall costs.
3. Mixed Customer Service Reviews: While LegalZoom boasts high ratings from organizations like the Better Business Bureau (BBB), some customer reviews mention confusion about pricing and slow service.
Comparing Pricing
How much does it cost to have a registered agent? When considering registered agent services, it's essential to evaluate the pricing and features offered by different providers. Buffalo Registered Agents LLC, for instance, offers a competitive $49 annual fee for their services, presenting a more budget-friendly alternative.
| | |
| --- | --- |
| Company | Cost Per Year |
| Buffalo Registered Agents LLC | $49 |
| BetterLegal | $90 |
| Harbor Compliance | $99 |
| Incfile | $119 |
| Northwest Registered Agent | $125 |
| InCorp | $129 |
| Rocket Lawyer | $150 |
| Sundoc Filings | $159 |
| Inc Authority | $179 |
| Swyft Filings | $199 |
| ZenBusiness | $199 |
| Incorporate.com | $235 |
| LegalZoom | $299 |
What are LegalZoom's key features and services?
LegalZoom's registered agent services encompass critical features such as service of process and document scanning. However, there are some notable differences compared to other providers. For example, while LegalZoom offers email or SMS alerts for compliance deadlines, some competitors offer same-day document delivery, ensuring timely communication.
Customer Support and Experience
LegalZoom provides customer support through phone and live chat on weekdays and weekends. While their support availability is commendable, it's essential to gauge your business's operational hours to determine the significance of weekend support.
The LegalZoom website is user-friendly, offering informative articles that guide small business owners through various legal aspects. It's worth noting that while LegalZoom has a mobile app, its registered agent services are not addressed within the app.
Alternatives to Consider
When comparing LegalZoom to competitors like Northwest Registered Agent and Buffalo Registered Agents LLC, pricing and bundled services emerge as key differentiators.
While LegalZoom's registered agent services are priced at $299 per year, Northwest Registered Agent offers the same service at $125 per year. Additionally, Northwest provides discounts for multiple states and even offers free registered agent services for the first year if you use their business formation services.
LegalZoom vs. Buffalo Registered Agents LLC:
While LegalZoom may be a popular option, you may be missing out on some added benefits that can save you money and protect your privacy. This is where Buffalo Registered Agents LLC comes in. For only $49 annually, Buffalo offers security, privacy, and even mail forwarding, ensuring that your documents and information are kept safe and confidential. Plus, with their affordable rates, you won't have to break the bank to get the services your business needs to thrive.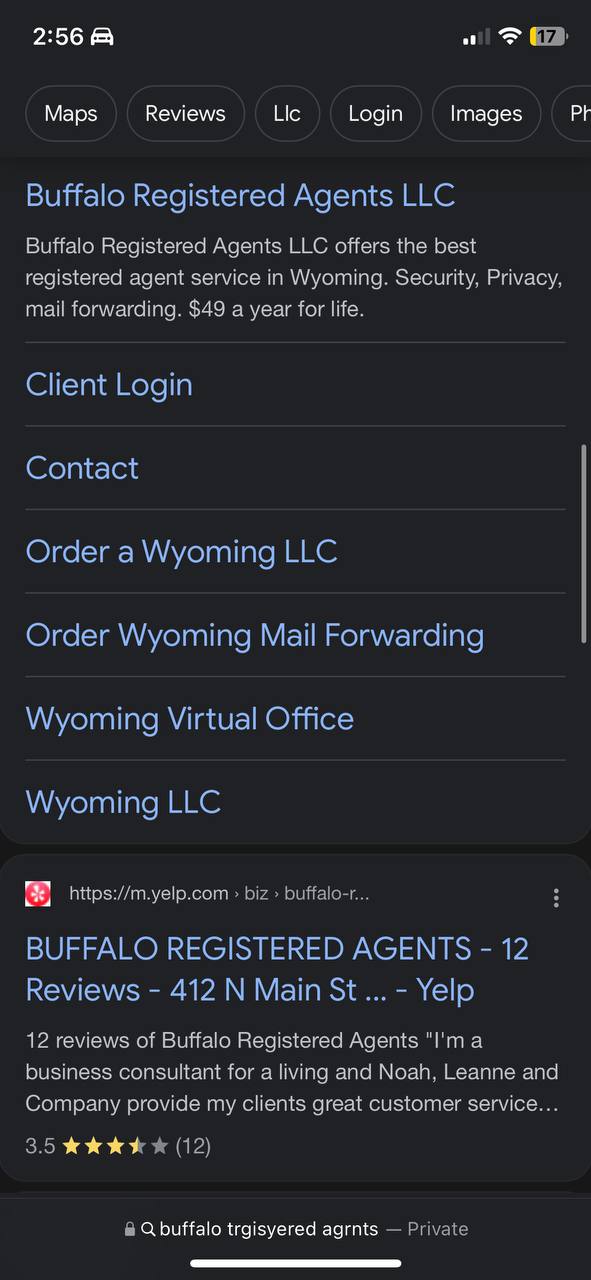 Ultimately, your decision should align with your business's needs and financial considerations. Remember that in the realm of registered agent services, a thoughtful selection can have a lasting impact on your business's legal compliance and operational efficiency.
Choosing a registered agent service is a pivotal step in ensuring legal compliance and smooth business operations. While LegalZoom offers a reputable brand and various features, its higher pricing may deter some small businesses. Exploring alternatives like Buffalo Registered Agents LLC or Northwest Registered Agent can lead to more cost-effective solutions without compromising on essential services. Your business's unique needs and budget should guide your decision as you navigate the complex landscape of registered agent services.