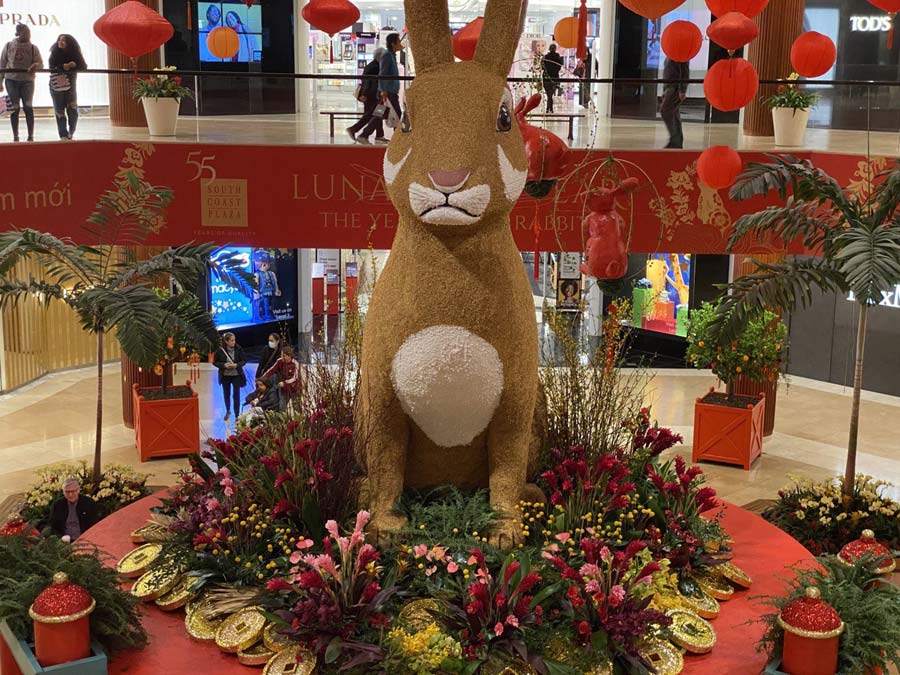 If you feel sad that Christmas holidays and decorations are over don't despair as the Lunar Near Year Celebrations offer a chance to experience New Year fun once again. One of the most luxury places to celebrate Chinese New Year is South Coast Plaza (3333 Bristol St, Costa Mesa, CA 92626).
This upscale shopping mall is lavishly decorated with red and golden colors and features traditional attributes of the coming year of the Rabbit. Plus the store offers some promotions to celebrate the festivities. Here is what you will find at South Coast Plaza at the start of the Year of the Rabbit.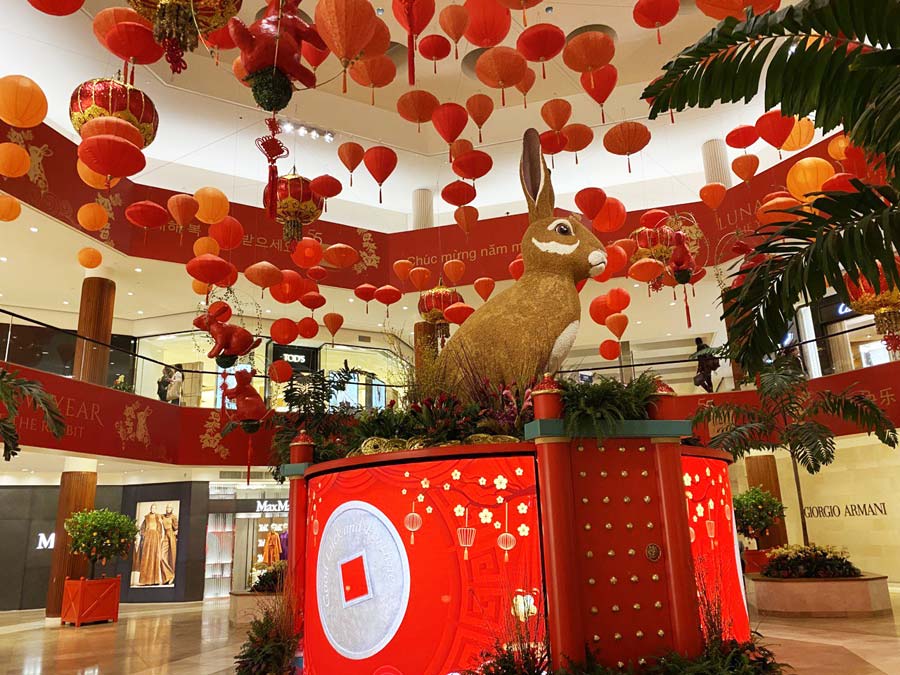 The towering Christmas Tree you could see before Christmas has given its place to a magnificent Lunar Year installation with the giant figure of the Rabbit in the center. Since January 19 till February 5 South Coast Plaza features Chinese New Year celebrations and events.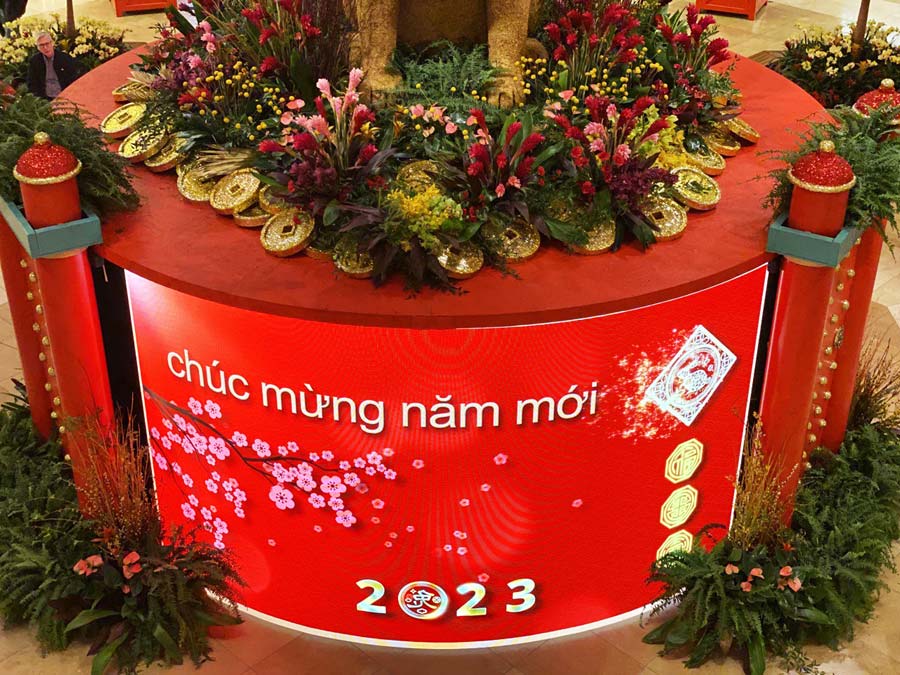 You can find the symbol of the year here and there in the shopping mall, but the major holiday installation can be found at the place where Christmas tree had been installed. The giant Rabbit mounts on the red pedestal and is surrounded by beautiful flowers. Golden coins and ingots can be found near the symbol of the year too. Th flowers in the min garden and golden coins symbolize the beginning of spring revival and good fortune.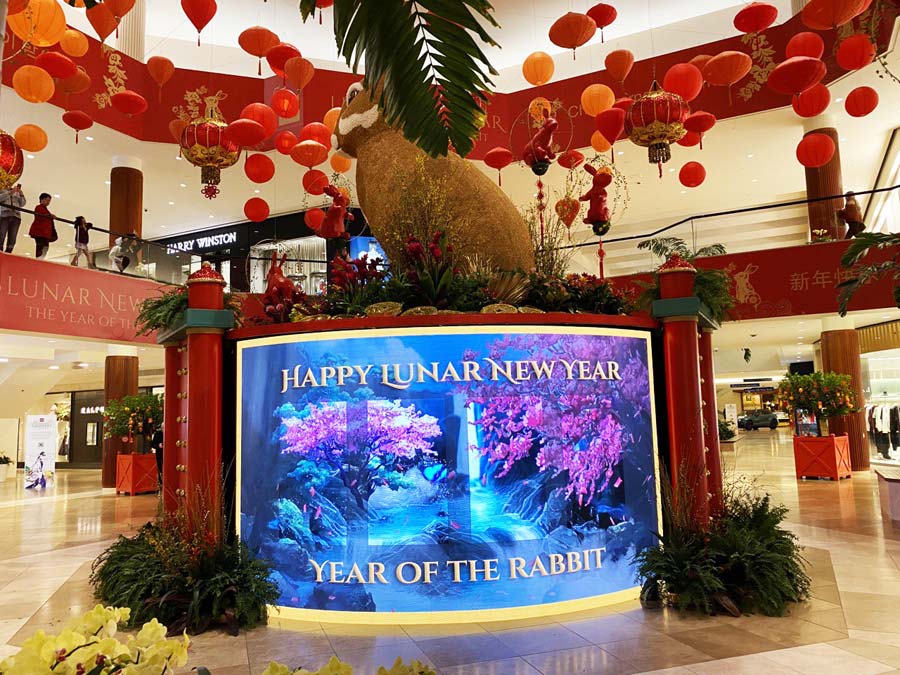 The Lunar Year display comes equipped with LED screens that provide a 360-degree view of a 3D animation. The display features several levels with lucky lanterns and hanging orbs. The Chinese lanterns are believed to bring luck and prosperity. This installation is the larges in the mall, but it is not the only one.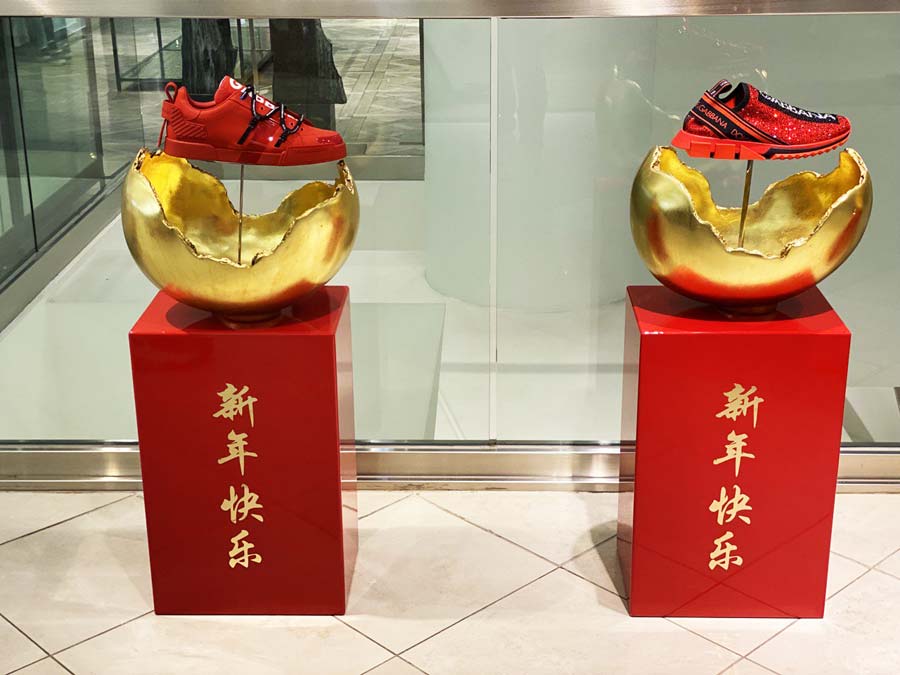 You will spot more symbols of the year throughout the mall, and even some stores demonstrated their products on special stands decorated in the Chinese style. I am a big fan of Doce & Gabbana shoes and I've added this model to my wish list.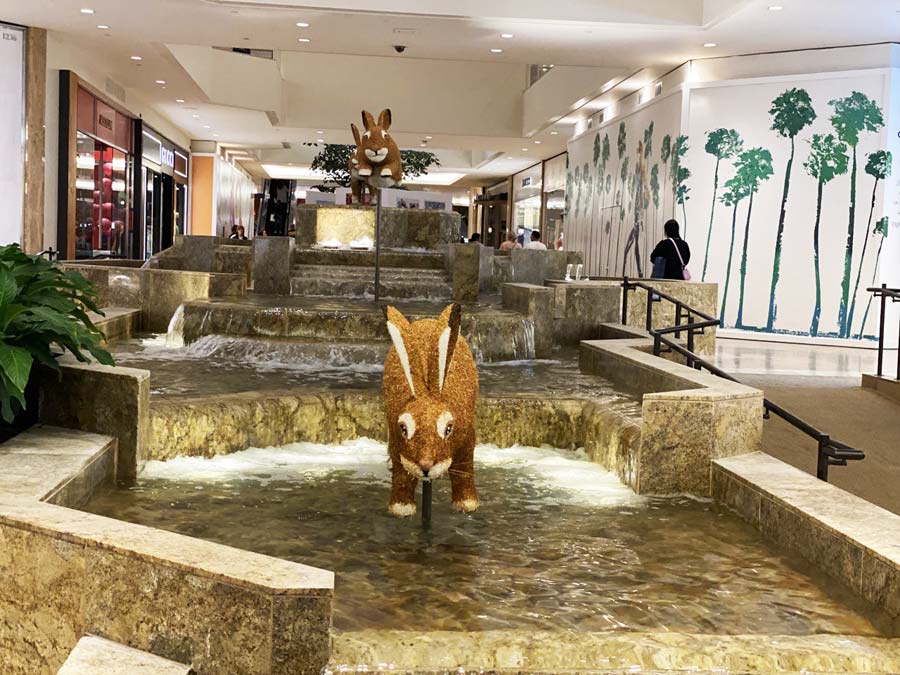 The running symbol of the new Year of the Rabbit appears in the fountain new Tiffany and Co. store.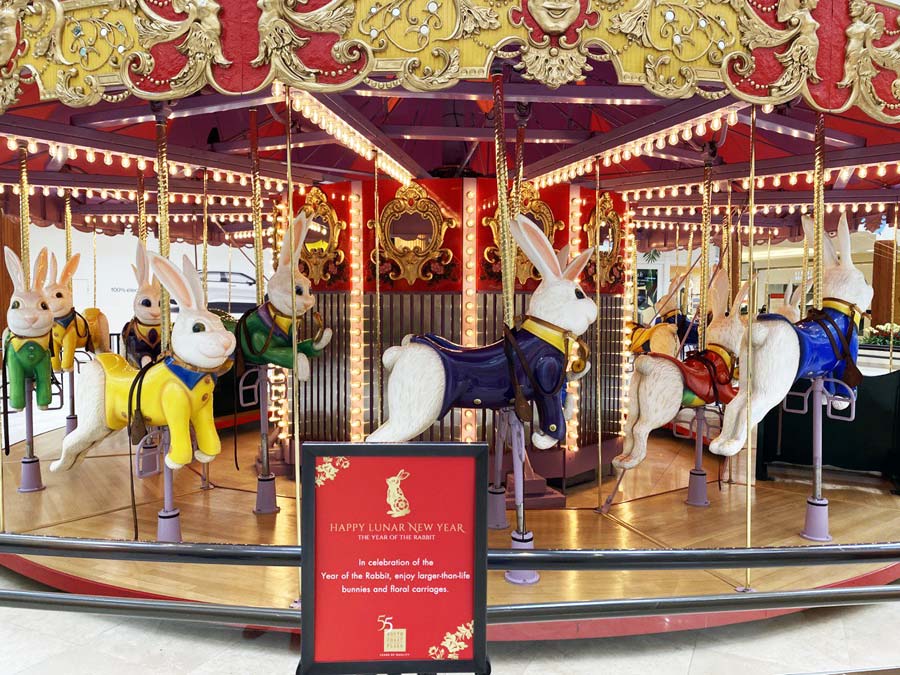 And the horses in the carousel have been replaced by the rabbits. That's so cute!
Mandarin trees at South Coast Plaza are all decorated with circle New Year ornaments and small lanterns.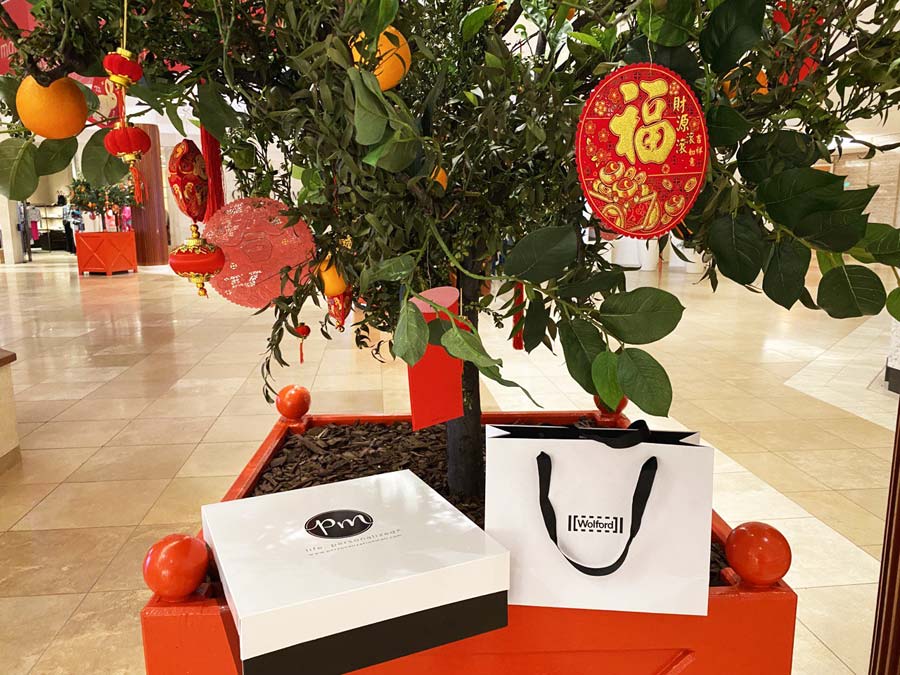 Under such a tree I found a gift from my husband that he prepared for the Lunar New Year.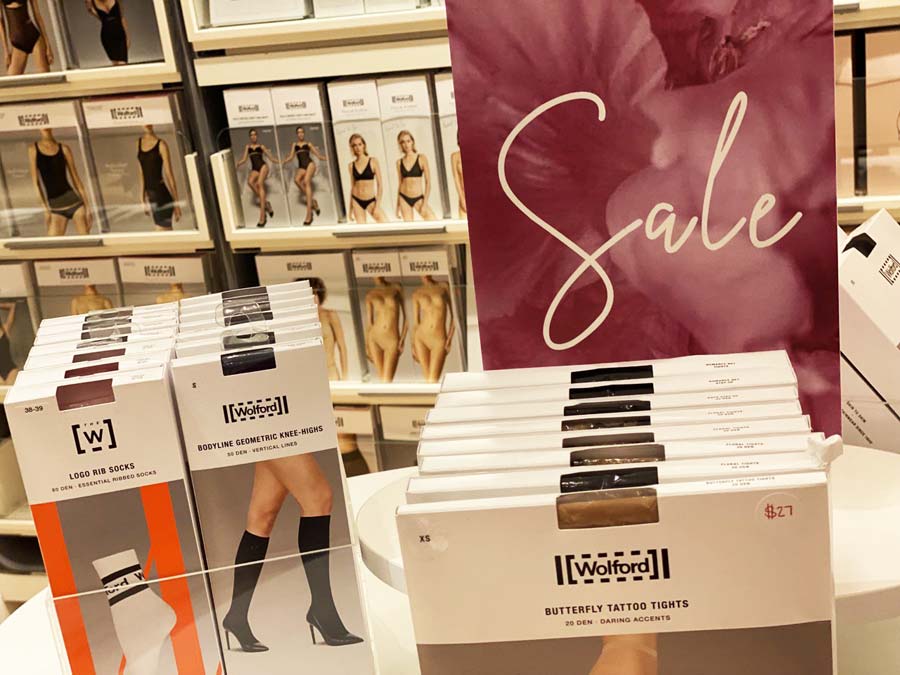 It was my favorite Wolford tights and something for the Lunar Year party.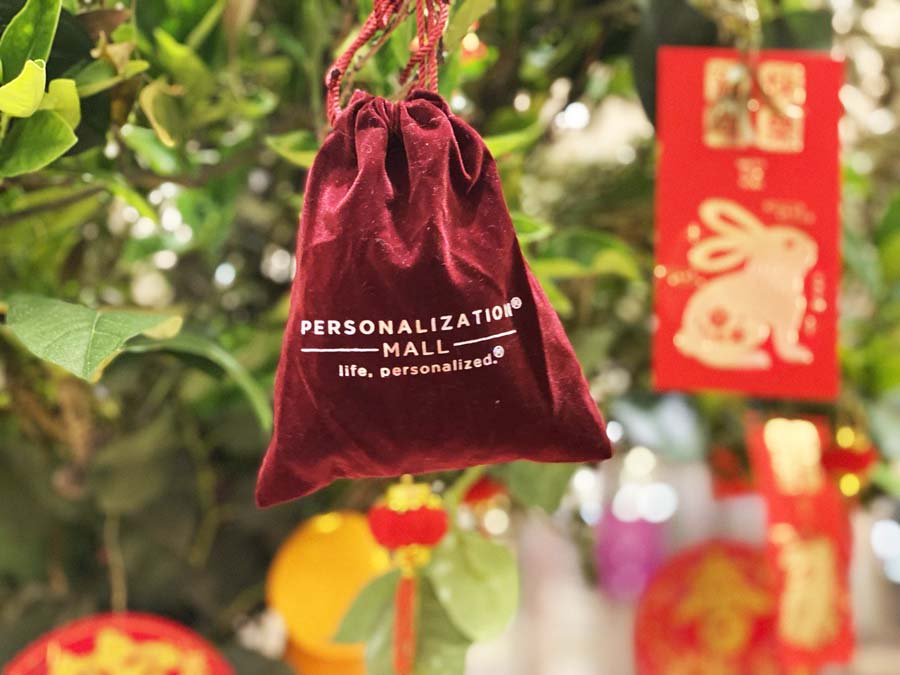 I didn't know what was inside, but it turned out that it was a gift from Personalization Mall – engraved personalized glasses.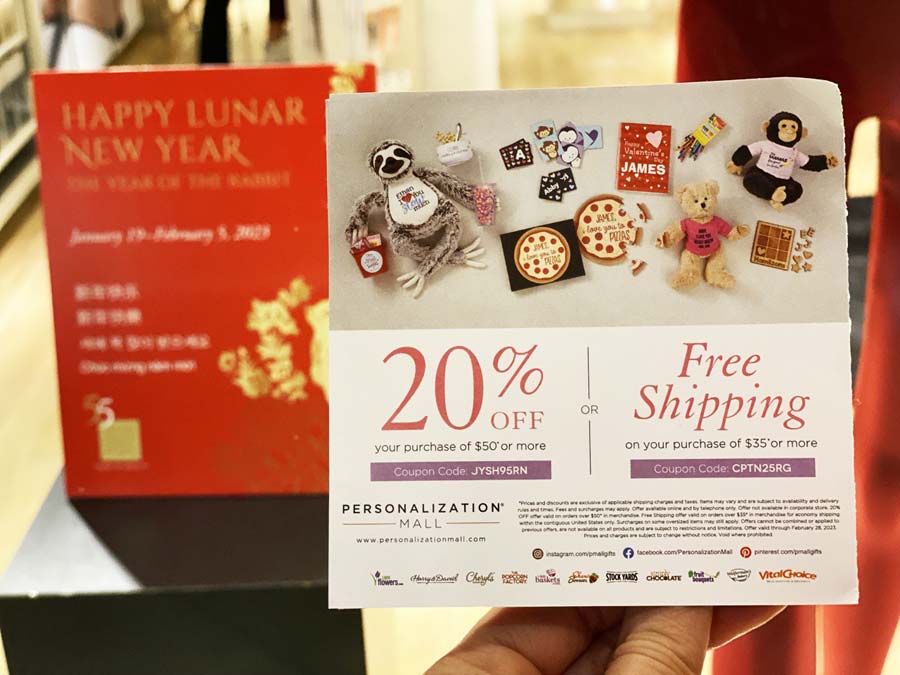 There was Personalization Coupon Code inside I might use for the next purchase: a 20% discount on my next order of $50 or more or free shipping on the purchase of $35.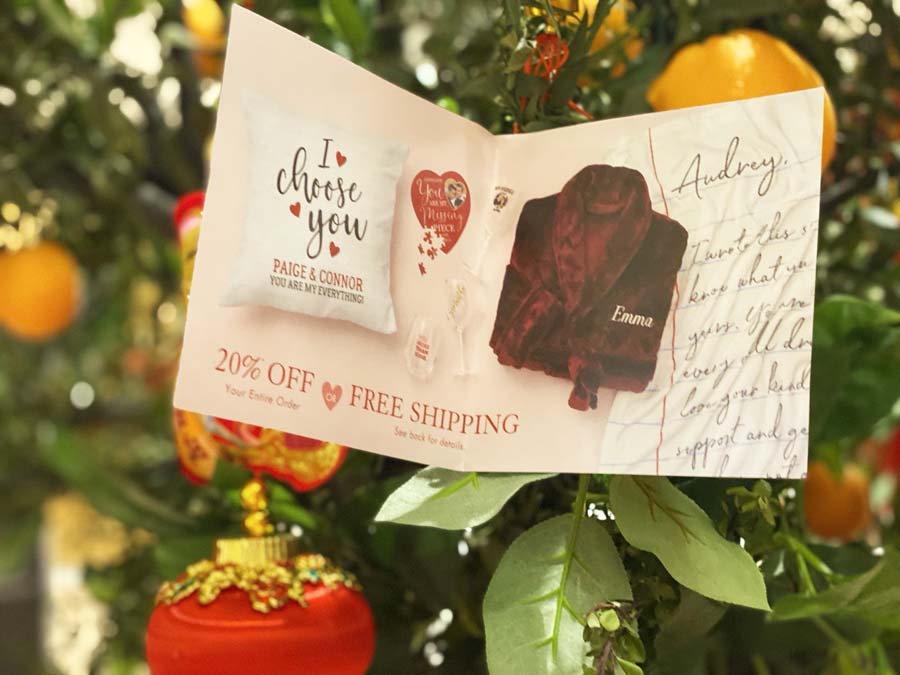 Well, I will probably use it to buy a birthday gift for my husband which will be in spring.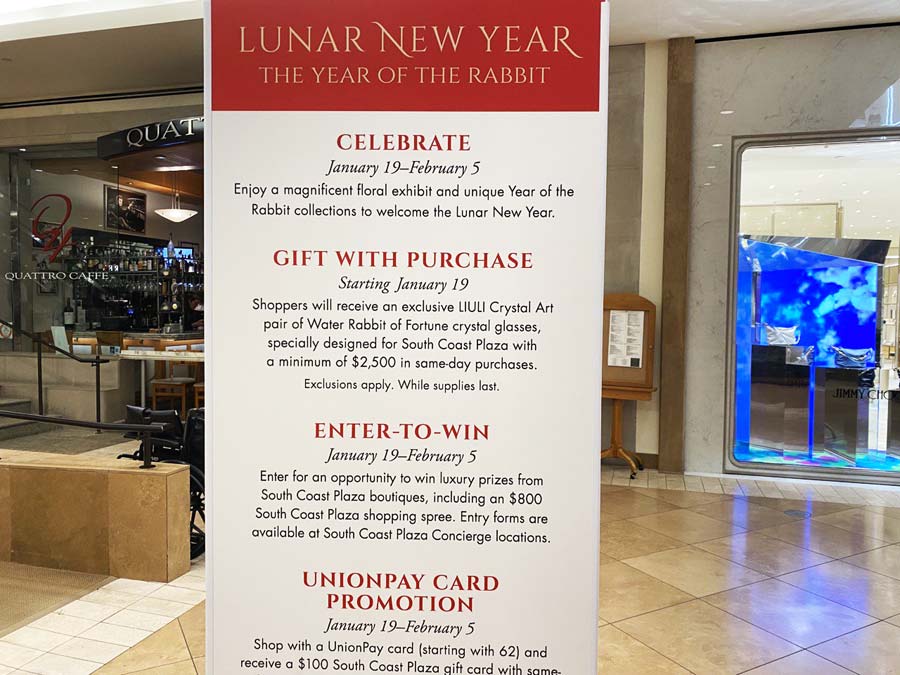 Speaking about gifts, South Coast Plaza offers nice gifts with purchase to commemorate the Lunar New Year. For example, customers will get an exclusive pair of Christal glasses with minimum $2,500 in same-day purchases.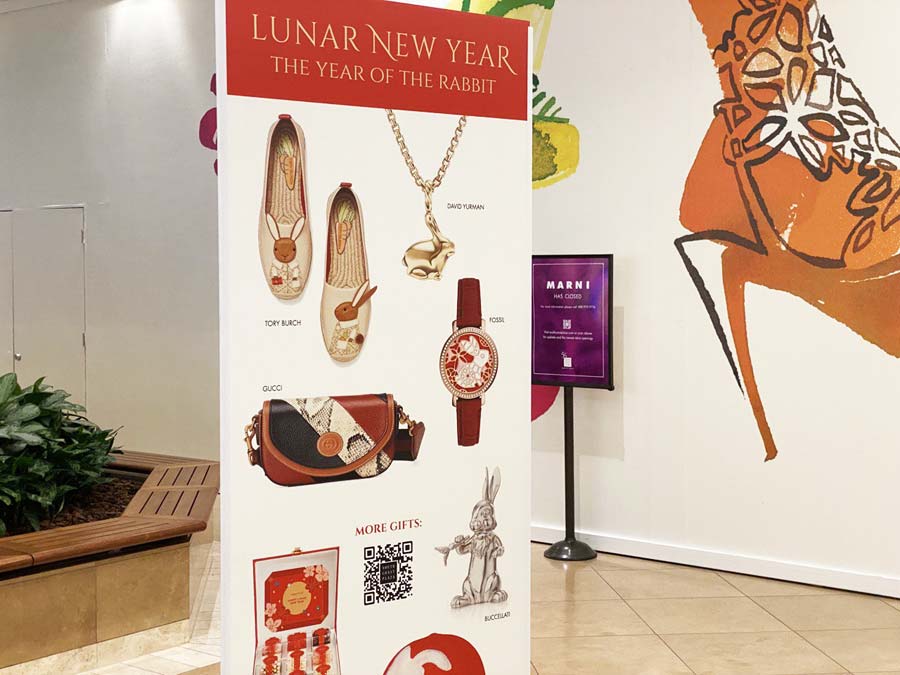 In fact, you will find a variety of gifts offered by different brands at South Coast Plaza these days.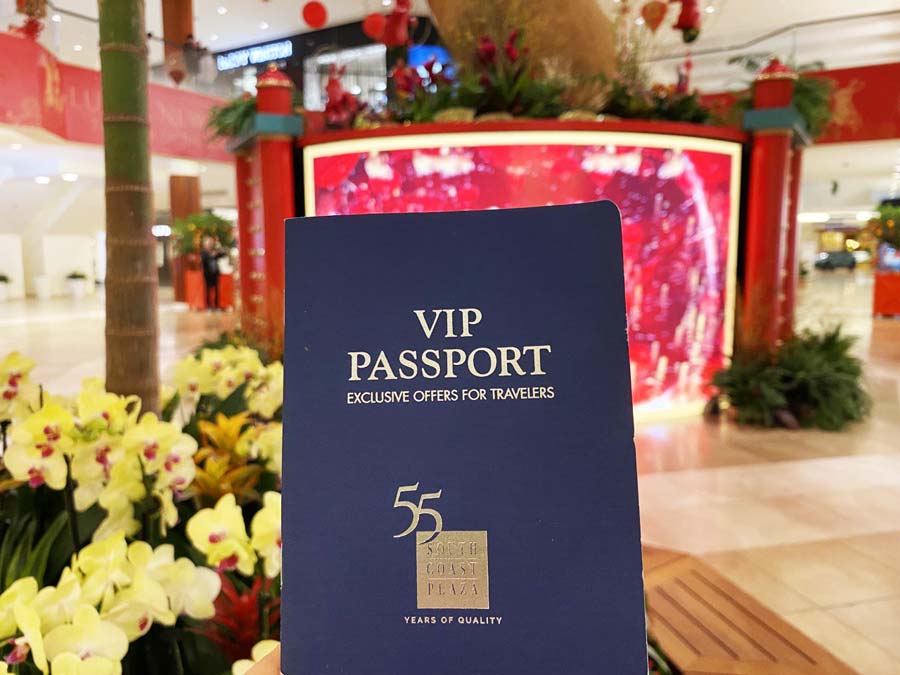 Well, we didn't get glasses, but we did have a nice shopping spree with my VIP passport. I grabbed it with me knowing that I'm going to check my favorite stores Macy's and Bloomingdale's.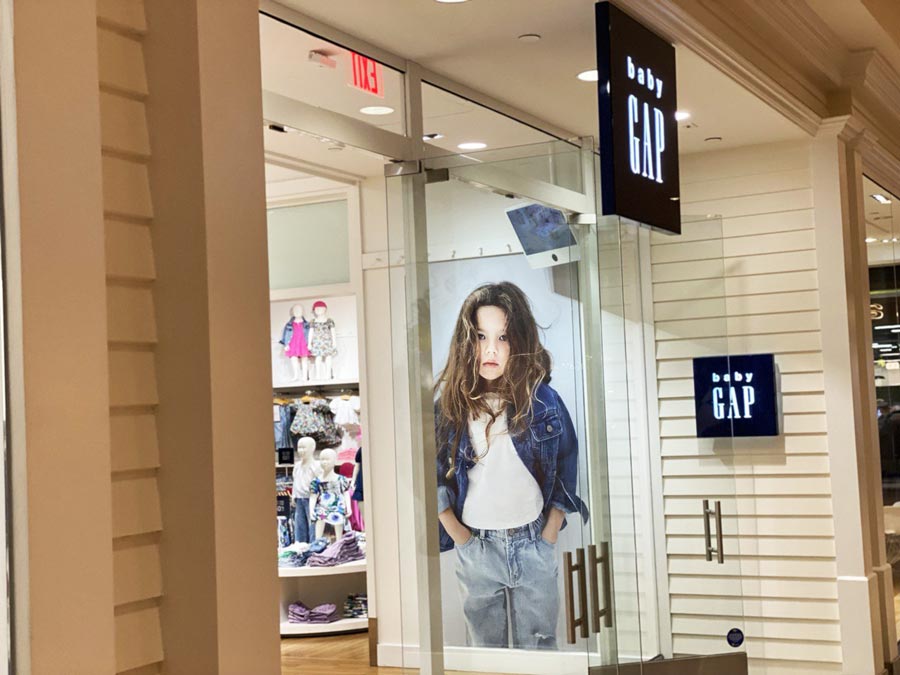 Plus, I wanted to upgrade my son's wardrobe with spring items, so I visited Baby Gap as well.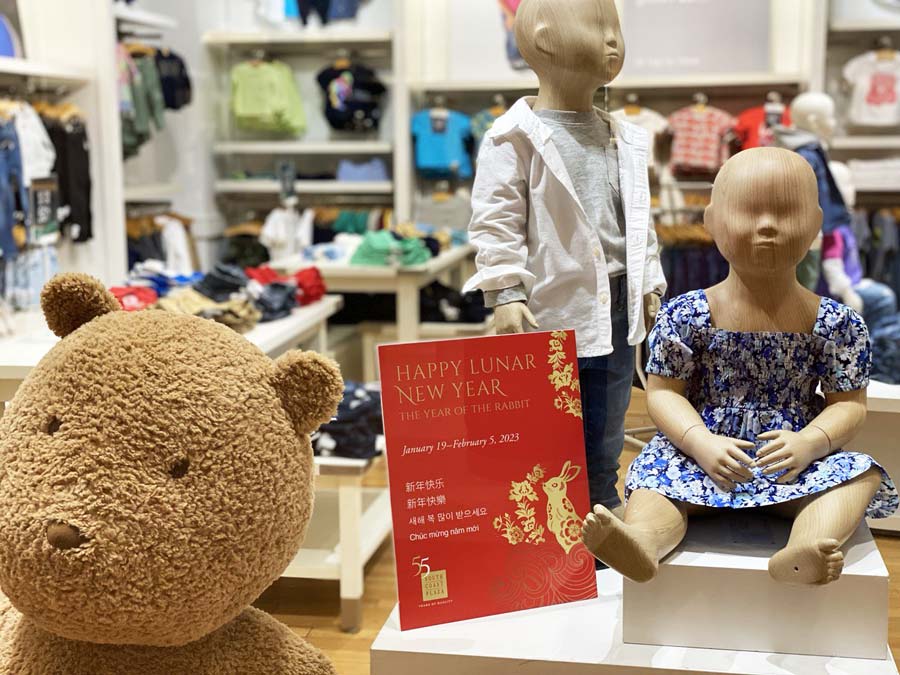 There is a nice spring collection there and the quality is great as usual.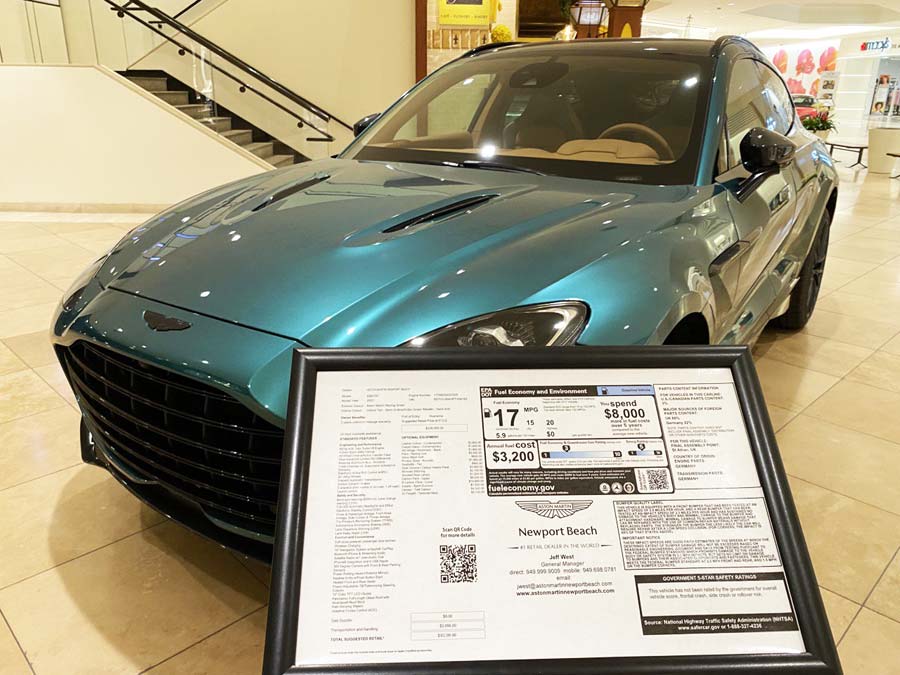 My husband longed to see a new Aston Martin model demonstrated at the showroom. This model comes with fuel economy features and looks just awesome! This car reminded about preparing for Valentine's Day and choosing gifts for the loved ones.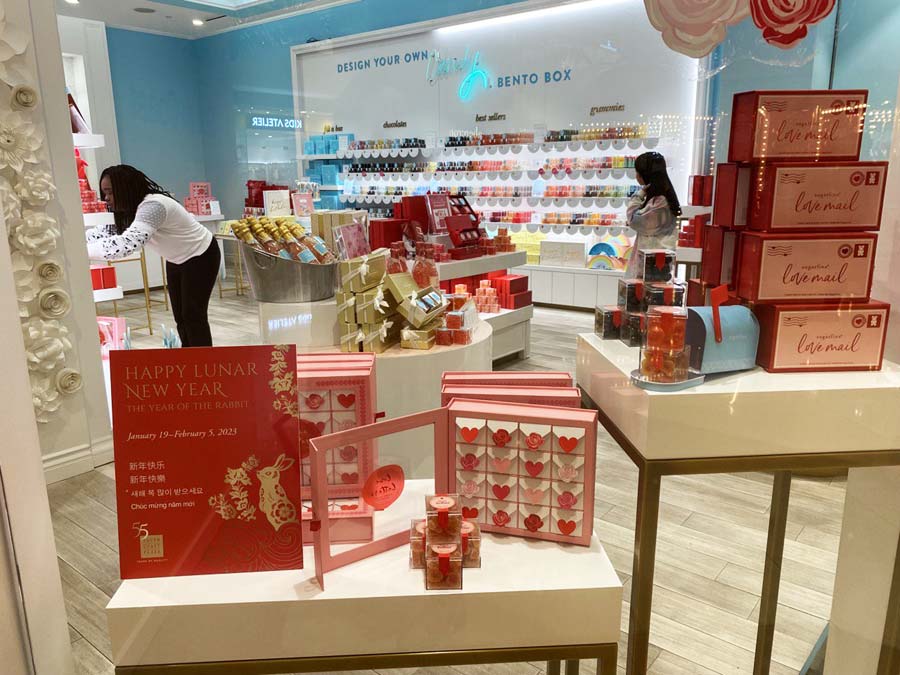 St. Valentine's Day is just round the corner and it's time to stock up on treats for my family and friends. I usually present some nice chocolate or candy, and this time I decided to splurge on Sugarfina Love Mail Bento box. I purchased one for my mom and the other one for my best friend.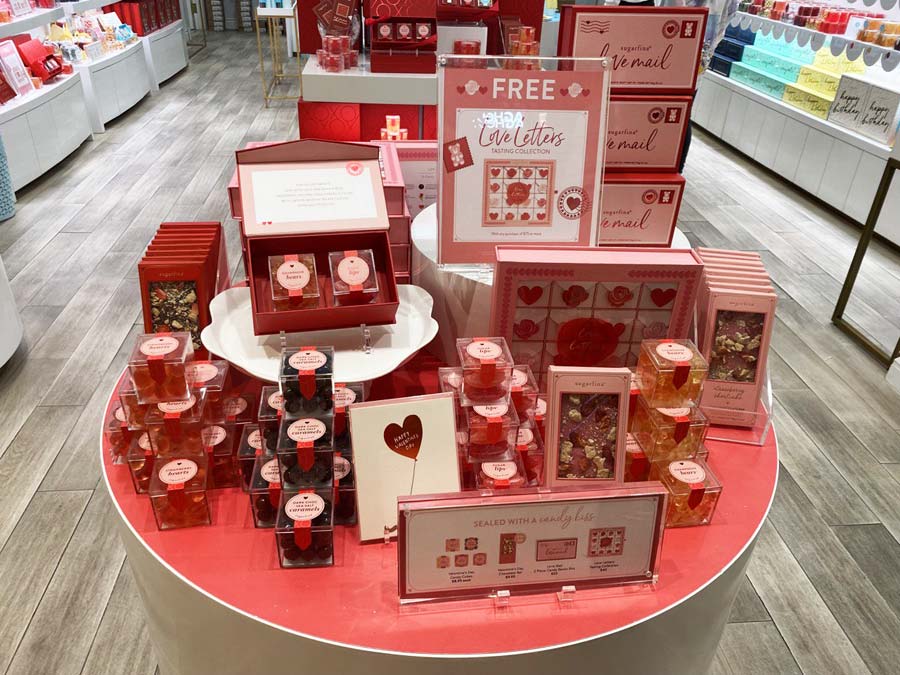 I love Sugarfina candy cubes very much, and my son adores gummy bears. But since it's Valentine's Day I bought heart-shaped candy this time. My husband doesn't eat sweets so I will give him something less traditional, but it's a top secret now.