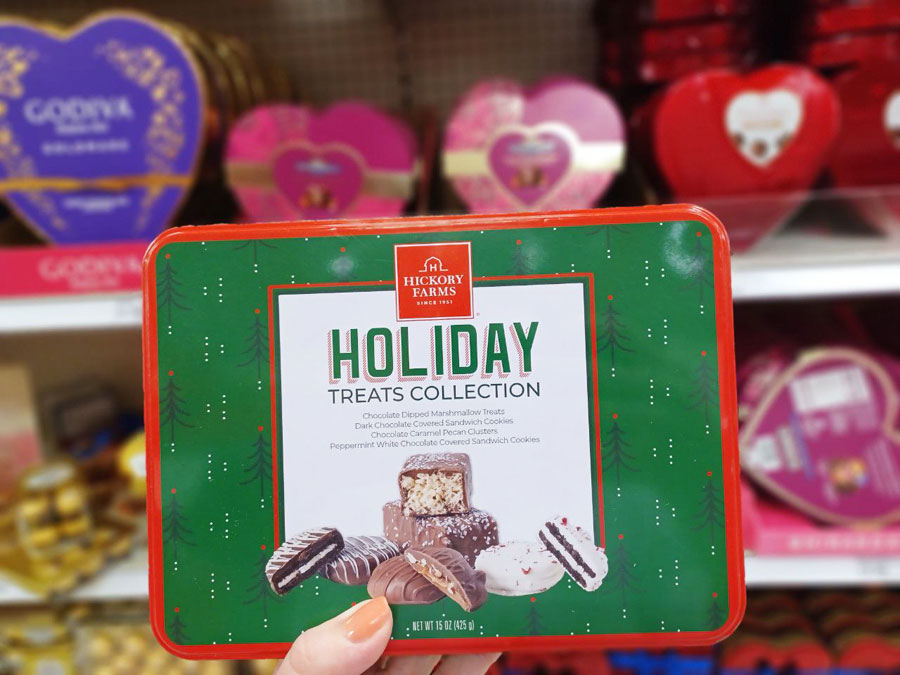 You can't go wrong with chocolate as Valentine's Day gift, but still the gift has to be unusual, not something your loved one has got used to. If you want to surprise your babe with something truly delicious Hickory Farms gift basket or just Hickory Farms gourmet treat is a nice option to consider as a romantic gift. Hickory Farms Holiday Treats Collection is my top pick. If you have never tried it, here is my honest review.
Hickory Farms is known for its gourmet gift baskets and other delicious treats. Hickory Farms meats and cheeses, Hickory Farms wine gift baskets, sweet gifts and more are available in various Hickory Farms stores and online. Plus, they can be offered for sale as seasonal products at Target, Walmart and other grocery retailers. But I prefer to order Hickory Farms treats online. I am a frugal shopper and rarely pay the full price. I usually save with Hickory Farms coupon. Hickory Farms free shipping is very rare, but if it is offered by the store other discounts can't be applied on top. So just visit their website and browse the wide assortment of products they are offering. Make sure you pay attention to various sales and special offers currently available.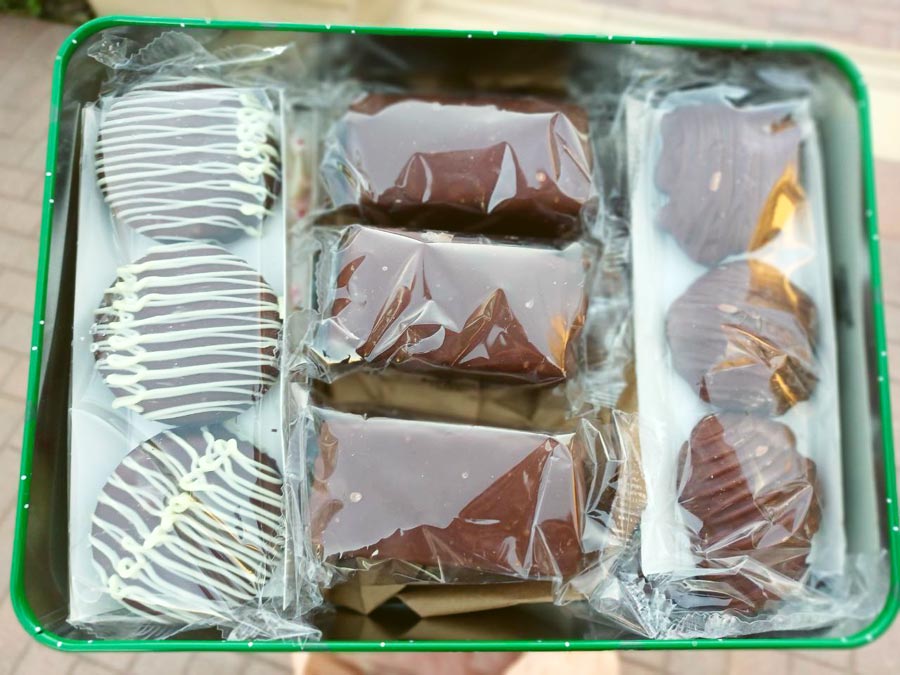 I love chocolate treats with nuts, so I thought that Hickory Farms Holiday Treats Collection should be a great gift for me. The box is pretty large and weighs 425 g, so you can be sure that the treat will last for some time. Holiday Treats Collection box is of green color with red trimming. It can serve as an awesome Christmas, New Year or Valentine's Day gift.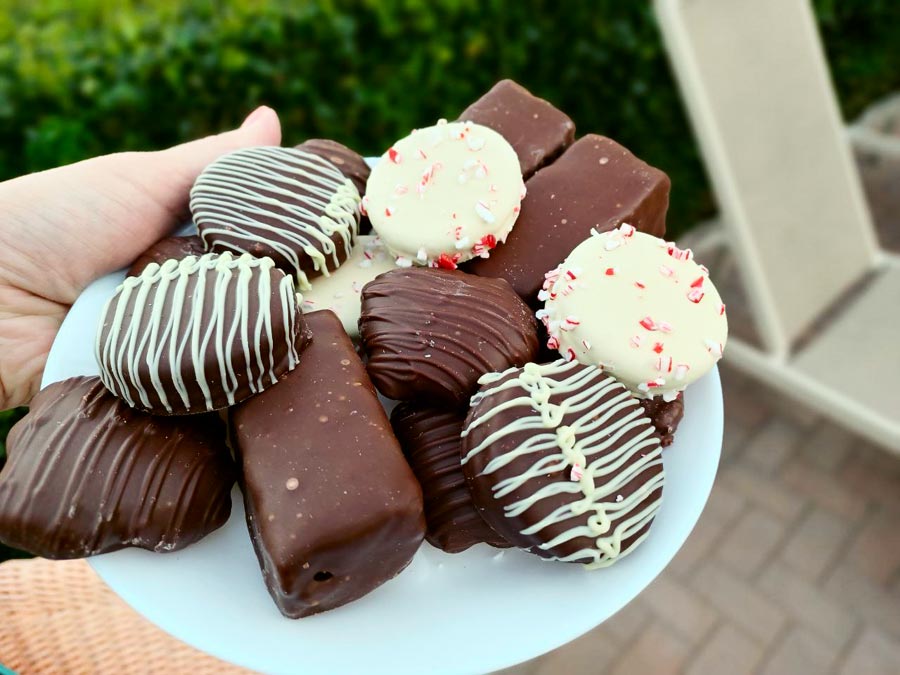 The box features 4 types of chocolate candy: 3 Chocolate Dipped Marshmallow Treats, 3 Dark Chocolate Covered Sandwich Cookies, 6 Chocolate Caramel Pecan Clusters and 3 Peppermint White Chocolate Covered Sandwich Cookies. It costs $34.99 on the website, but I saved 15% on my purchase with Hickory Farms Coupon Code.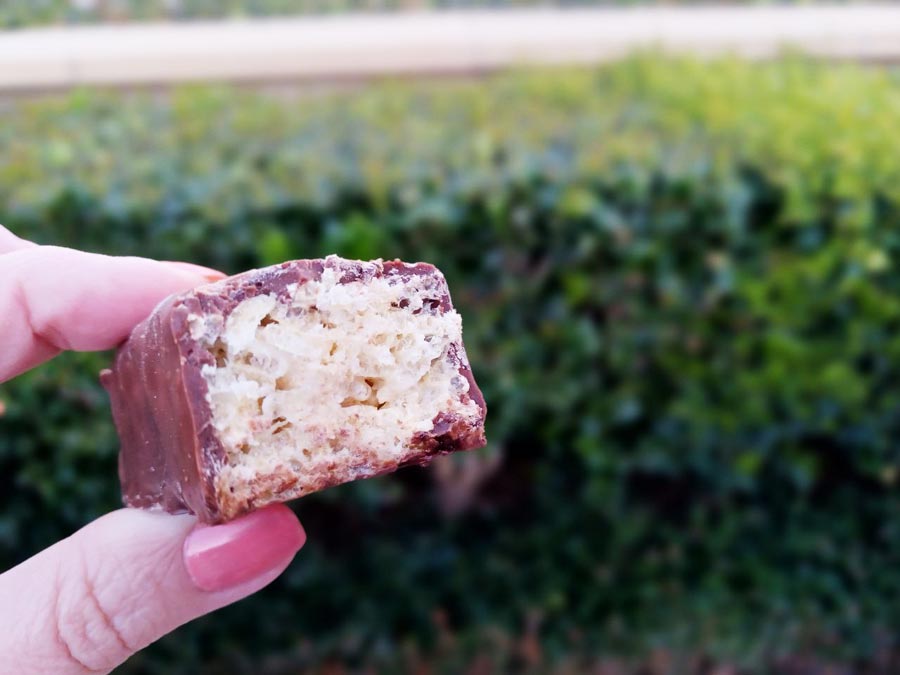 Chocolate Dipped Marshmallow Treats are the largest treats in the collection. It's toasted rice cereal in confectionary coating and dipped in milk chocolate. The treats are quite large and will go with tea perfectly. They are crispy and taste great!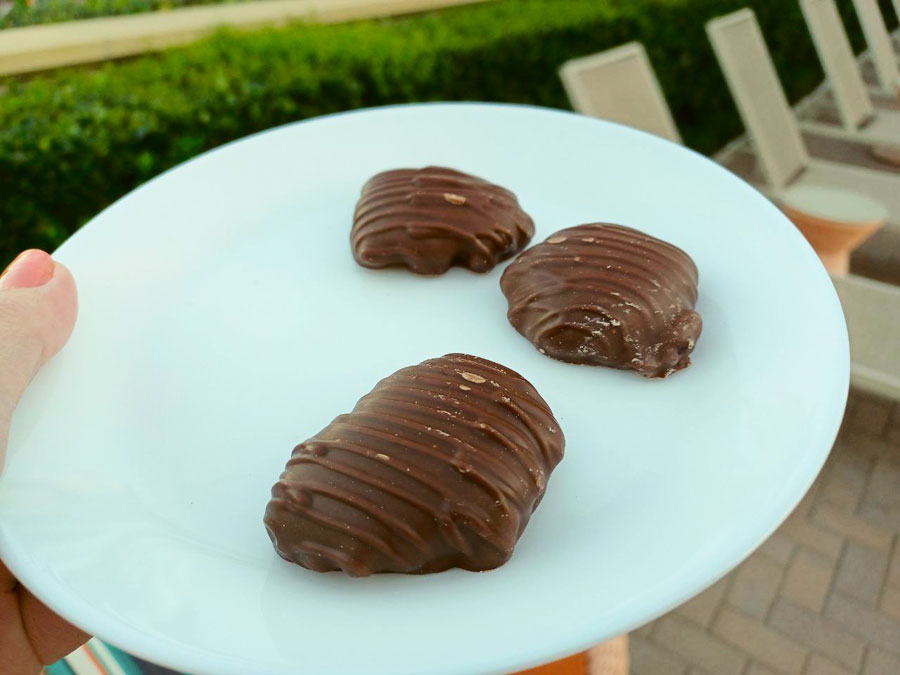 There are Chocolate Caramel Pecan Clusters in the box, but they turned out my least favorite. They are pecans in caramel dipped in milk chocolate.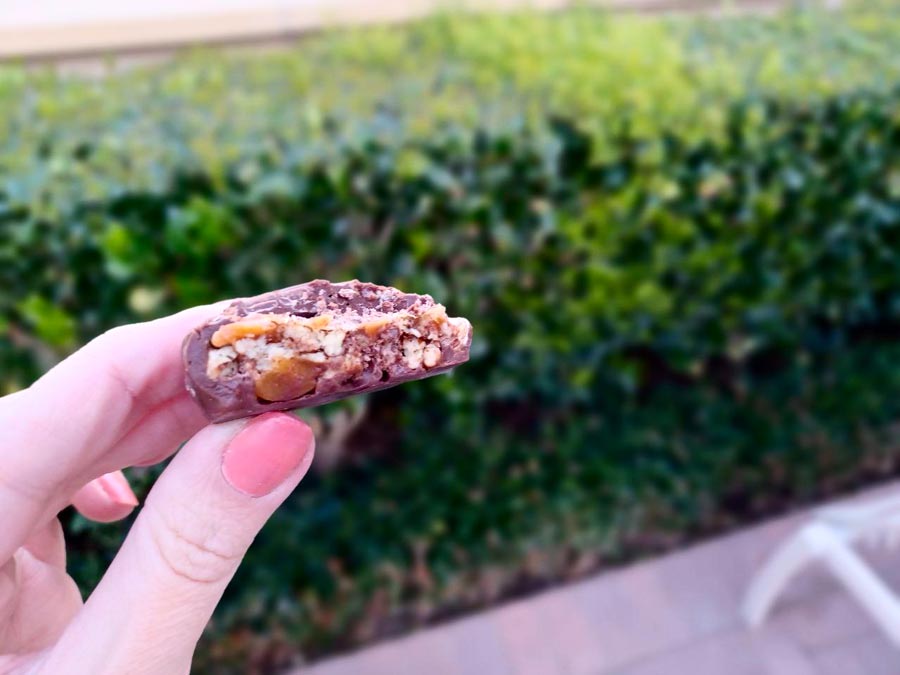 For me they are too hard and I nearly broke my tooth when I first tried to bite them. In fact, these were the first treats from the box that I tried. So next time I tried another treat I bit carefully, but all other treats were much softer. The treats are tasty, but I don't like rock hard candy. These are definitely not my favorite, but it's a matter of personal preferences.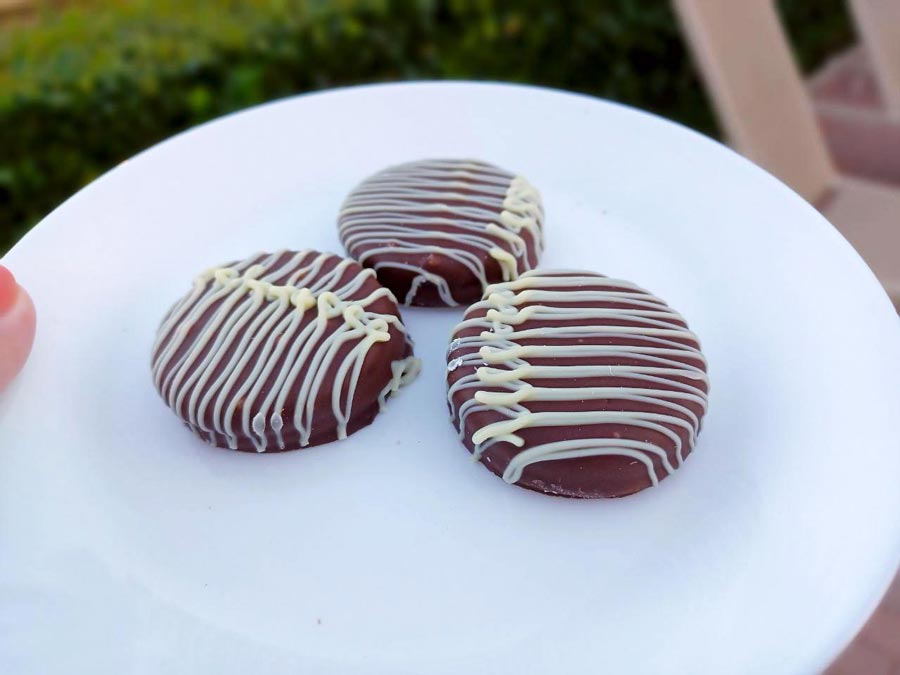 Dark Chocolate Covered Sandwich Cookies are yummy and crispy.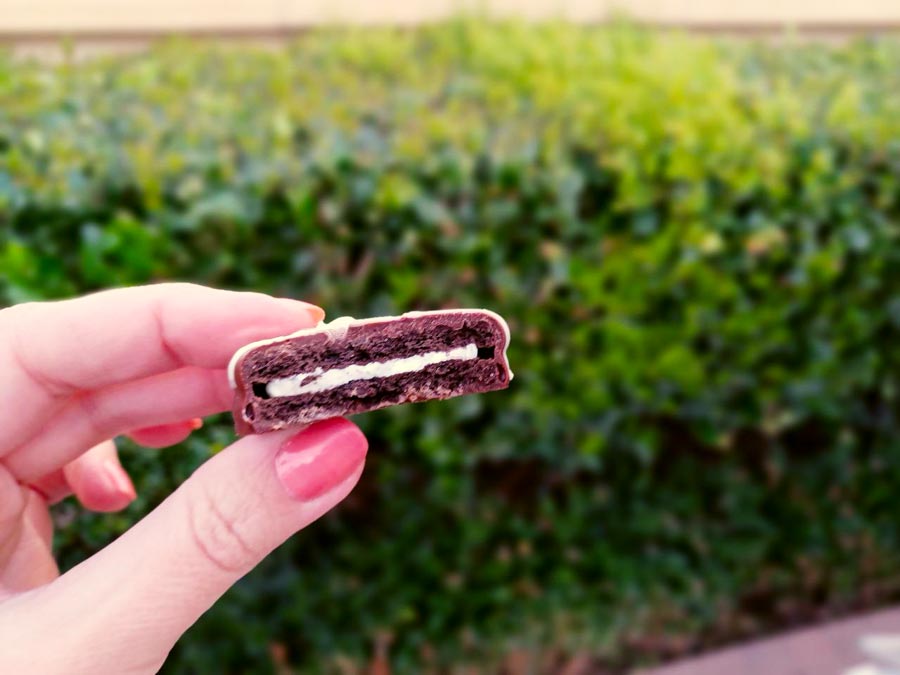 It's a cacao sandwich cookie with cream inside dipped in dark chocolate. It's sweet, but there is some nice bitterness you tend to taste eating quality dark chocolate. I loved it very much!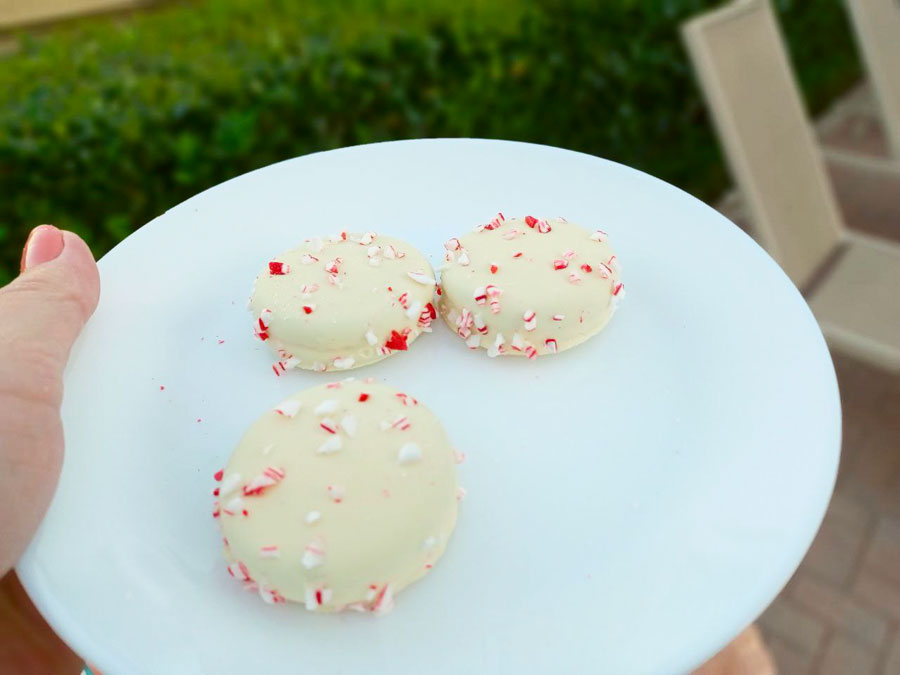 And now come my favorite Peppermint White Chocolate Covered Sandwich Cookies. They the most delicious treats in the tin box and are just out of this world.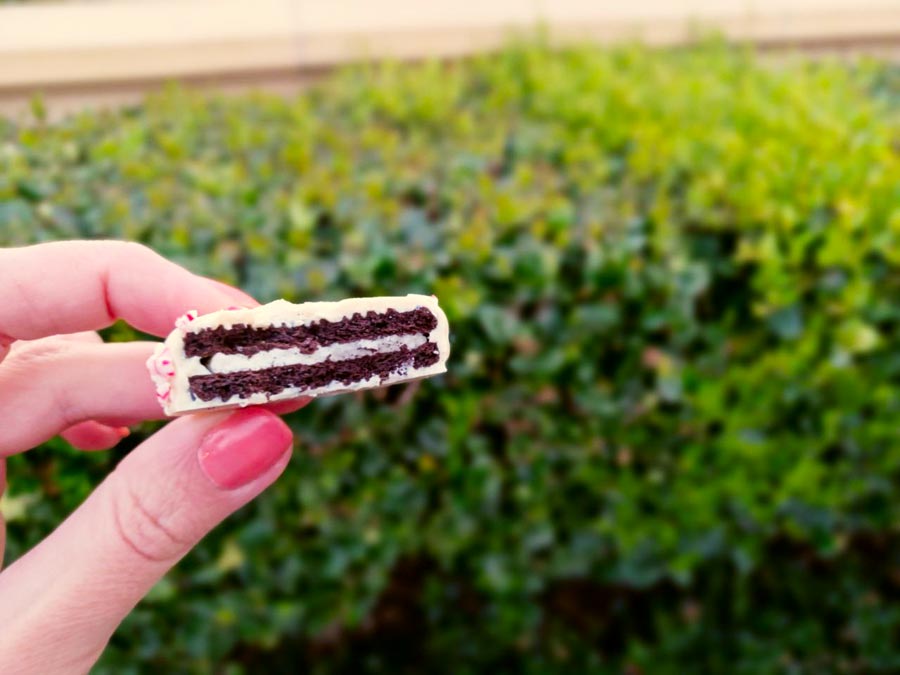 To be honest I would rather get the whole box of treats filled with only peppermint cookies because they are super yummy. Unfortunately, these cookies are not available for purchase separately and only come inside the Hickory Farms Holiday Treats Collection.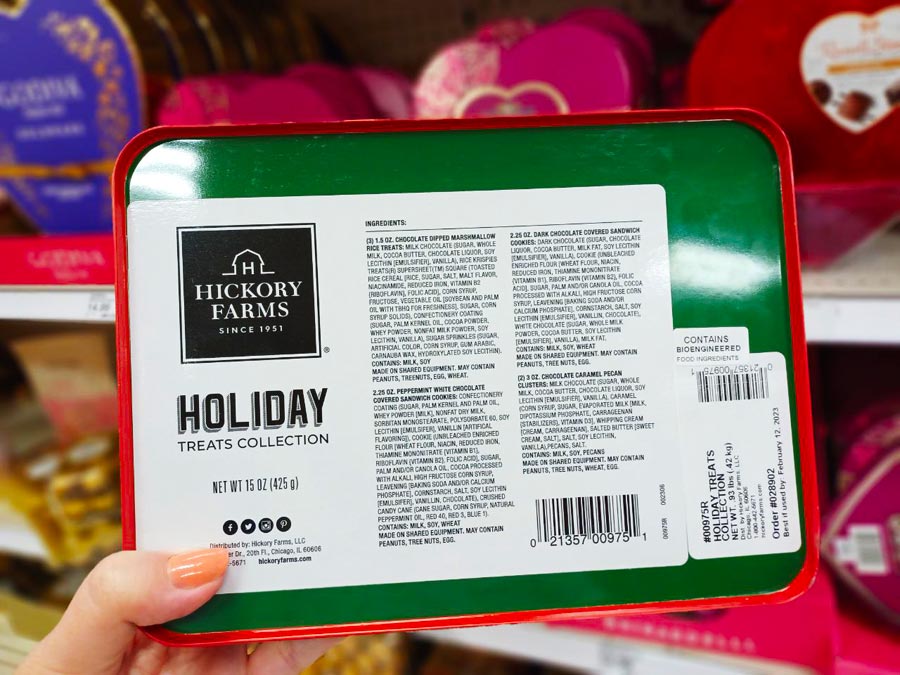 Hickory Farms Holiday Treats Collection is a nice gift for those who love chocolate cookies. The tin box is filled with a variety of premium sweets which are delicious and of the highest quality. The ingredients are standard for confectionery items, the chocolate is first grade. I found my favorite cookies – Peppermint White Chocolate Covered Sandwich which are worth purchasing the whole box.