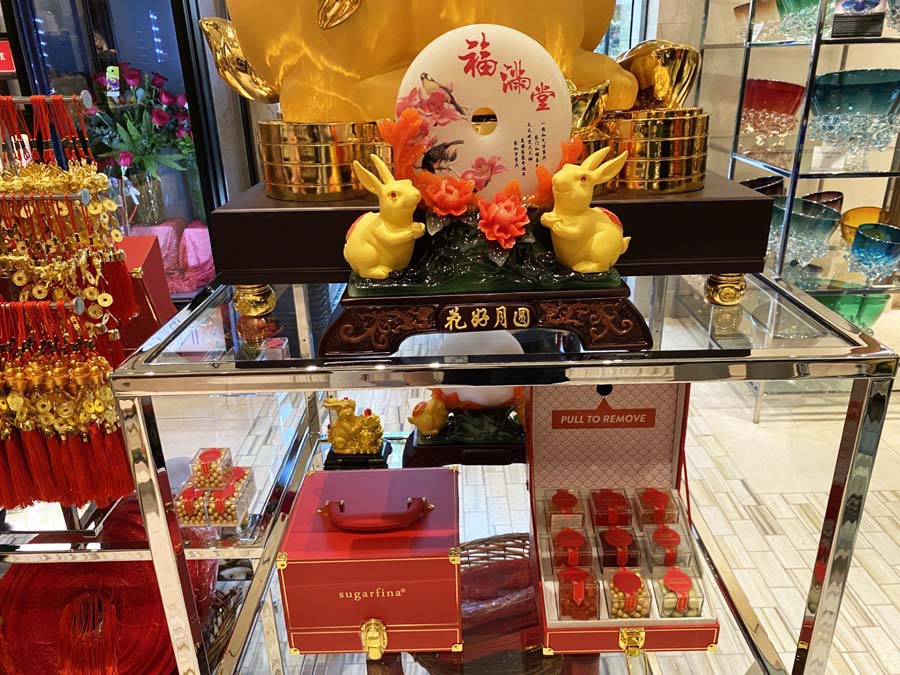 There is no better place to celebrate the Lunar New Year than Las Vegas. The Entertainment Capital of the World boasts lavish decorations and bright illuminations all over the city and each hotel works hard to impress its visitors with beautiful decorations symbolizing the animal of the coming year – the Rabbit.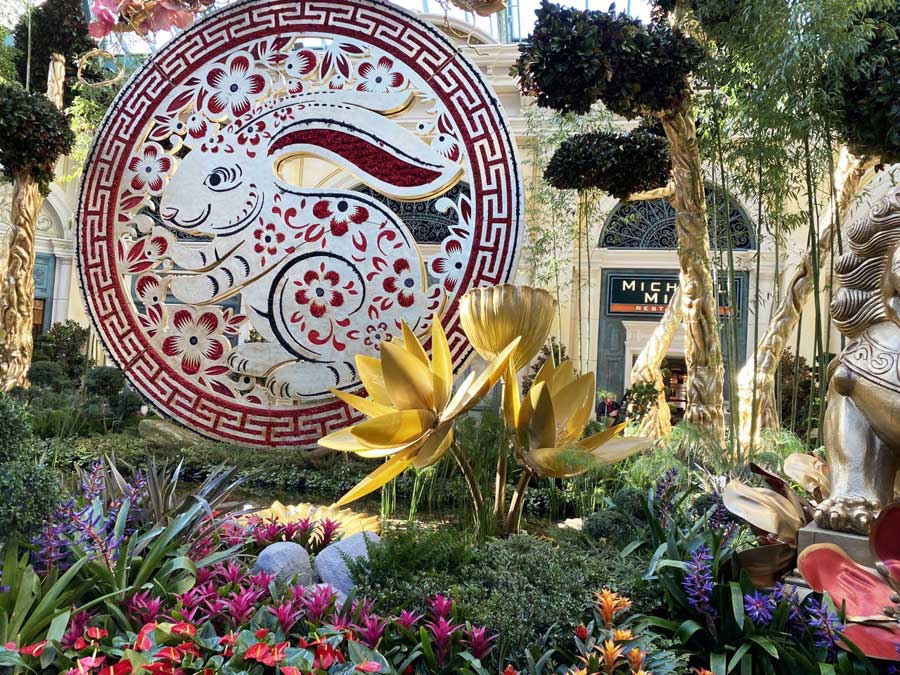 Knowing that it's going to be a spectacular event in Las Vegas we decided to book three nights in Bellagio and celebrate the Lunar New Year there. Why Bellagio? It is famous as one of the best hotels with the most beautiful luxury decorations in Las Vegas. And we were right. Everywhere in the hotel we saw the images of the Rabbit, and a number of Chinese symbols.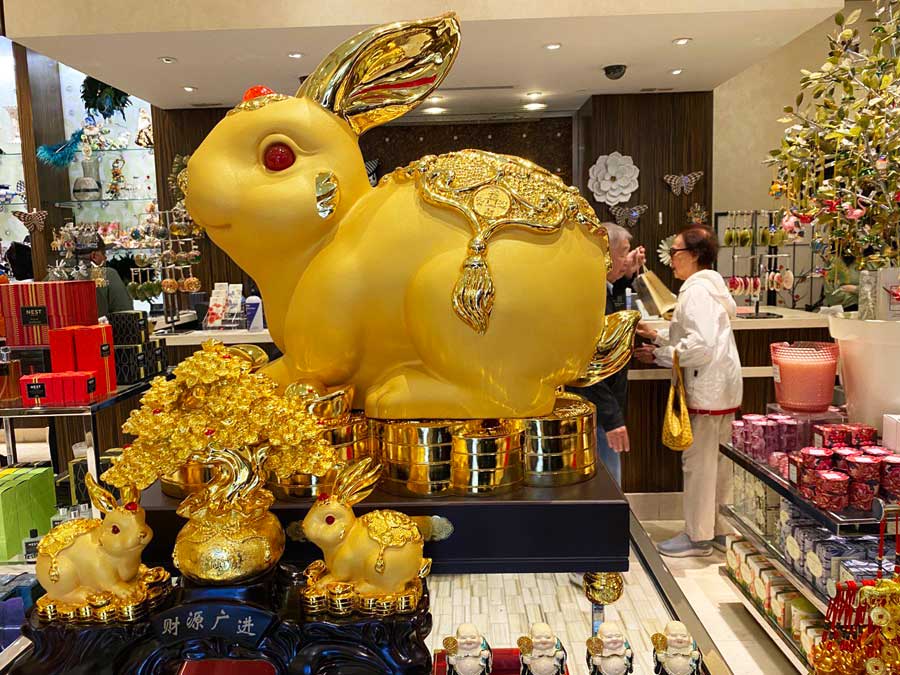 And in the hotel gift store we saw traditional gifts typically associated with New Year, from scented candles like Next and Voluspa to golden rabbits, statues of Chinese gods that bring luck and Sugarfina candy.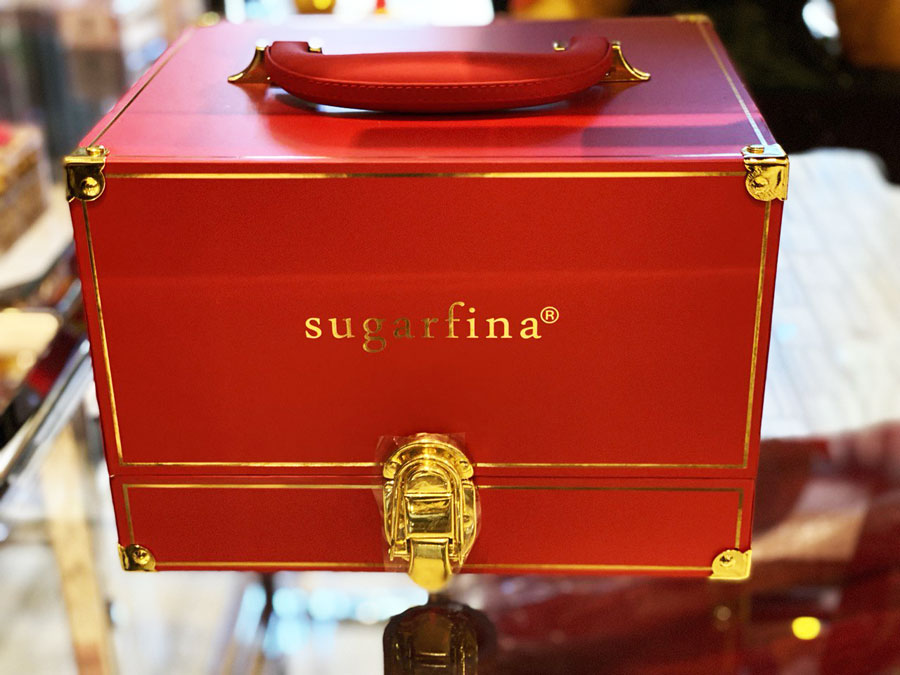 Candy deserves a special mentioning as it makes a perfect gift for family and friends. And Sugarfina gift box will be a great gift for your sweetheart too. Here we saw some items from Sugarfina new candy collection and the Sugarfina 9 Piece Mini Trunk caught my eye.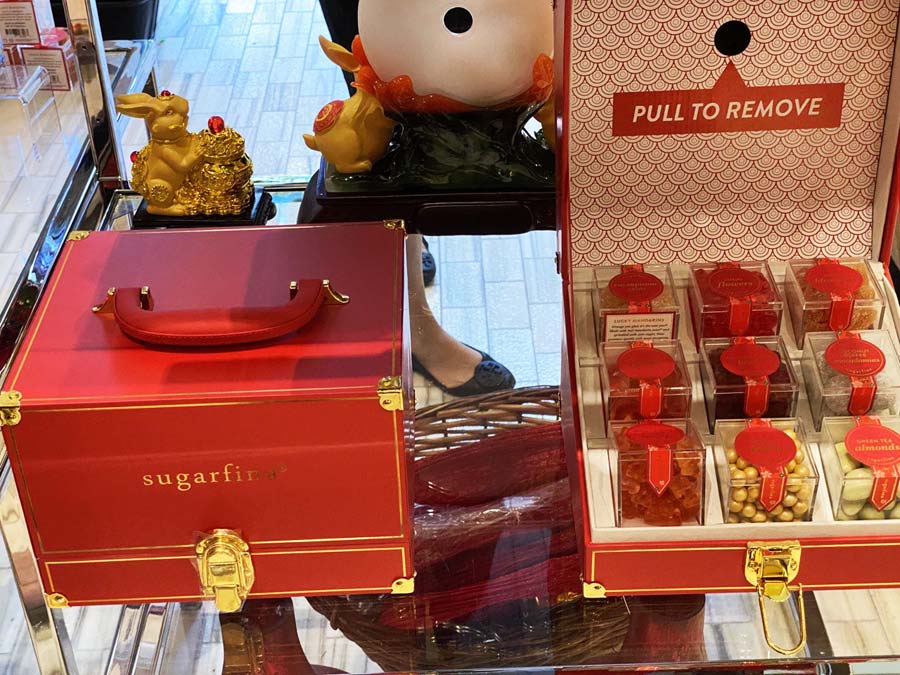 In fact, I have wanted to purchase Sugarfina Peach Blossom 9 Piece Mini Trunk online, but it was quickly sold out. It's a limited-edition candy truck of bright red color with gold accents. I couldn't believe my luck. You see, I collect Sugarfina exclusive candy gift boxes. I already have two Sugarfina mailboxes and a beautiful red trunk is sure to become a valuable addition to my existing collection. Of course, I couldn't ignore such a rare find and bought it with pleasure.
Inside the Sugarfina mini trunk there is a bunch of candy cubes with candy of different shapes and flavors. In addition to all time favorites like gummy bears (Pomegranate Bears and Pink Citrus Ginger Bears are included in this holiday trunk) you will also find flavors associated with Lunar New Year and Chinese culture specifically.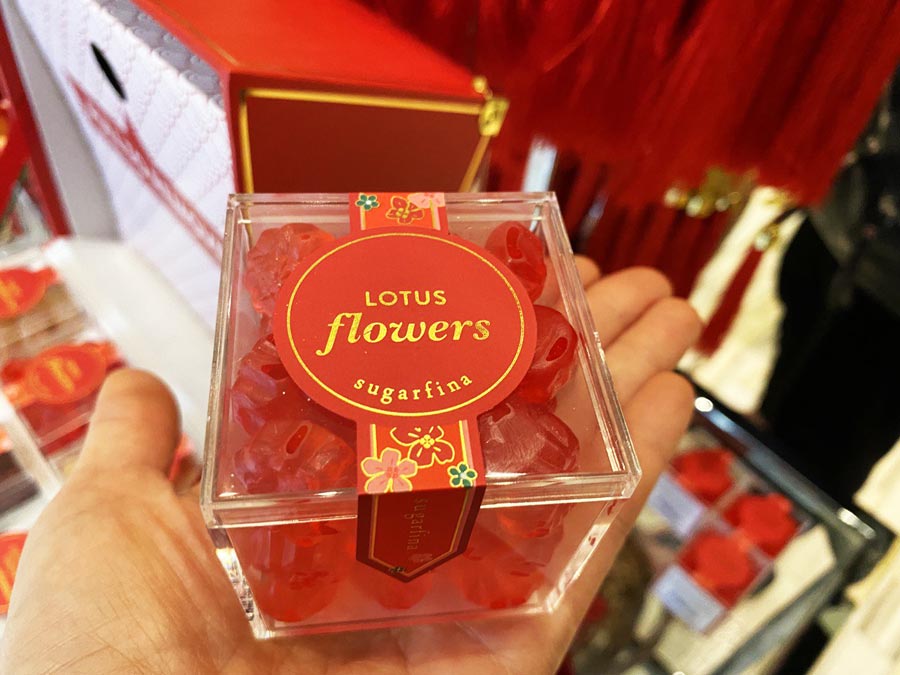 Here is a cube with Sugarfina Lotus Flowers of red color that is new. Lucky Mandarins and Peach Blossoms are also about celebrating Chinese New Year. No New Year celebration is complete without mandarins and peach blossoms that traditionally symbolize China. It's the peach blossom that appears first after severe winter and means rebirth and the beginning of the new year. It is the ancient symbol of luck and long life.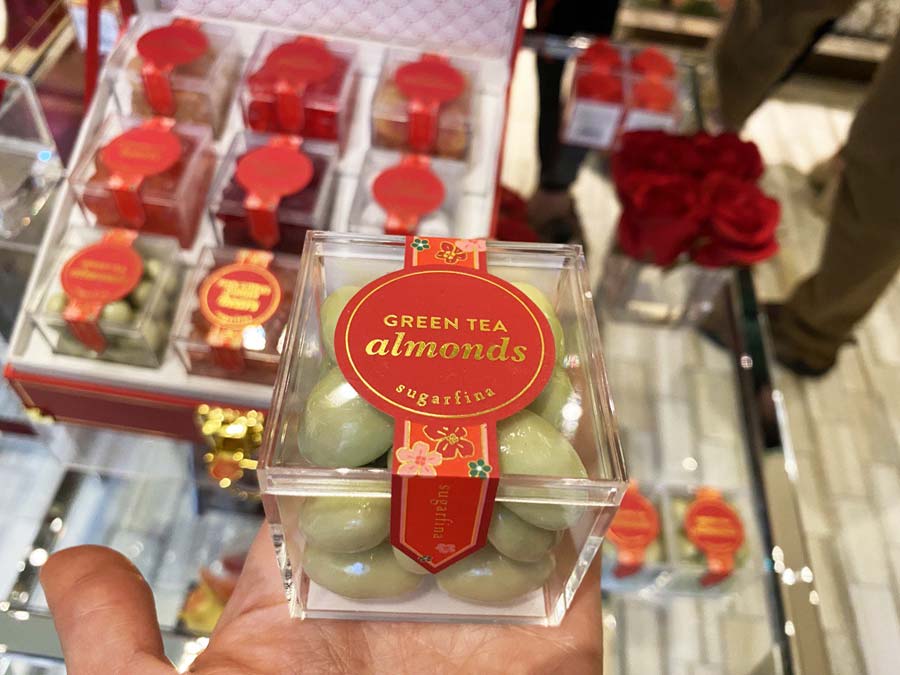 Sugarfina Green Tea Almonds are my favorite of this candy gift box. I love their delicate and sophisticated flavor.
Of course, most candy you will find in Sugarfina Mini Trunk are connected with Chinese culture. Green tea, peach blossoms and mandarins are Chinese staples that people present to each other and are indispensable part of Chinese traditions. Sugarfina Gold Pearls symbolize wealth and is something everyone would love to get as a gift.
If you like me failed to get Sugarfina Peach Blossom 9 Piece Mini Trunk online and can't find it in store either consider getting other Sugarfina candy boxes, such as Lion Dance 8 Piece Candy Bento Box. It also features most of the candy from the Mini Trunk box, plus now it is offered at 50% Off. In addition to sales prices you can save even more with Sugarfina Coupon applied at checkout. Even if Lunar New Year is gone why not to enjoy the gourmet candy at such a great price!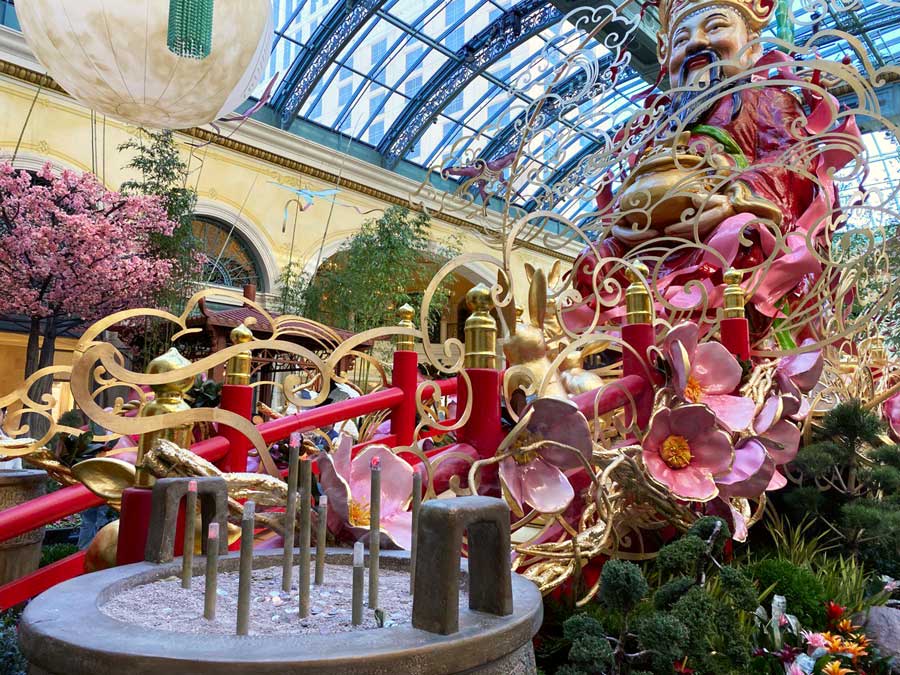 Another symbol of wealth and prosperity was waiting for us in the hotel garden. Set among blooming peach trees is the statue of Chinese God of Wealth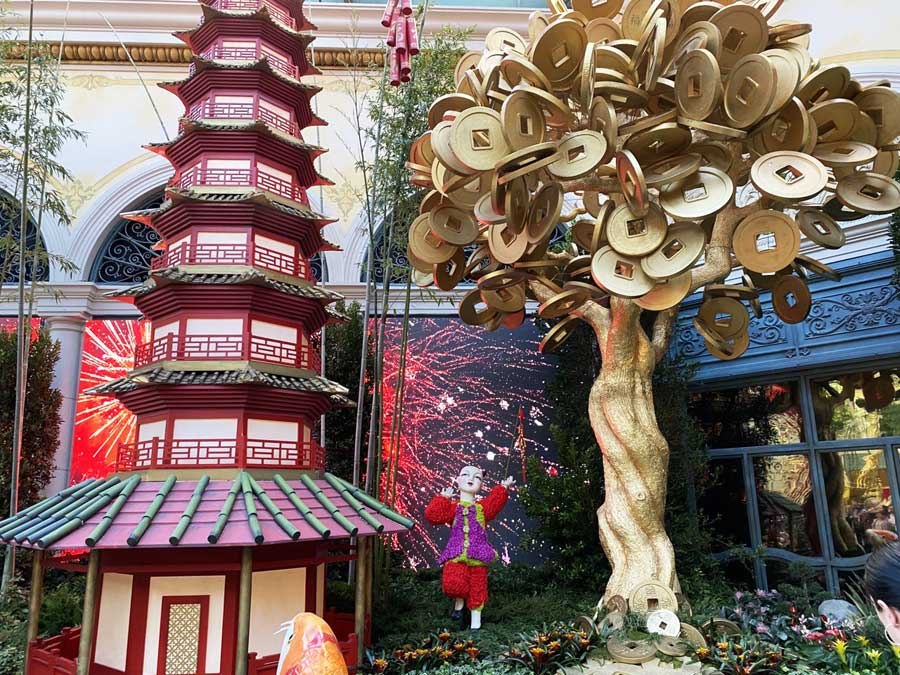 Huge golden coin tree mounts nearby. It promises riches and abundance.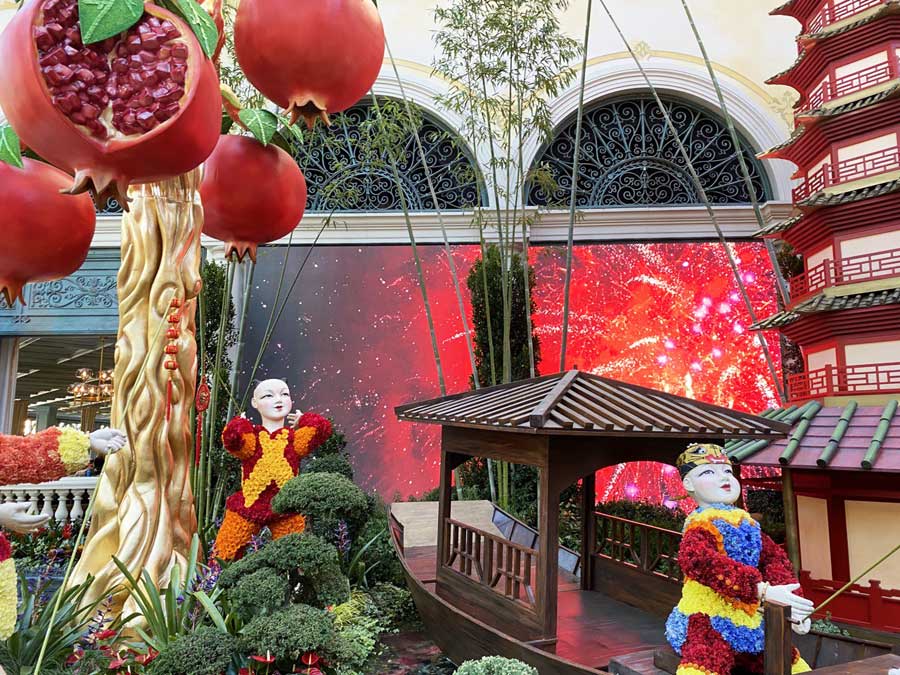 And so does Pomegranate tree symbolizing fertility, numerous offspring and blessed and happy future.
Celebrating the Lunar New Year in Bellagio, Las Vegas is a once in a lifetime experience. It's a luxury retreat, but life is worth celebrating.