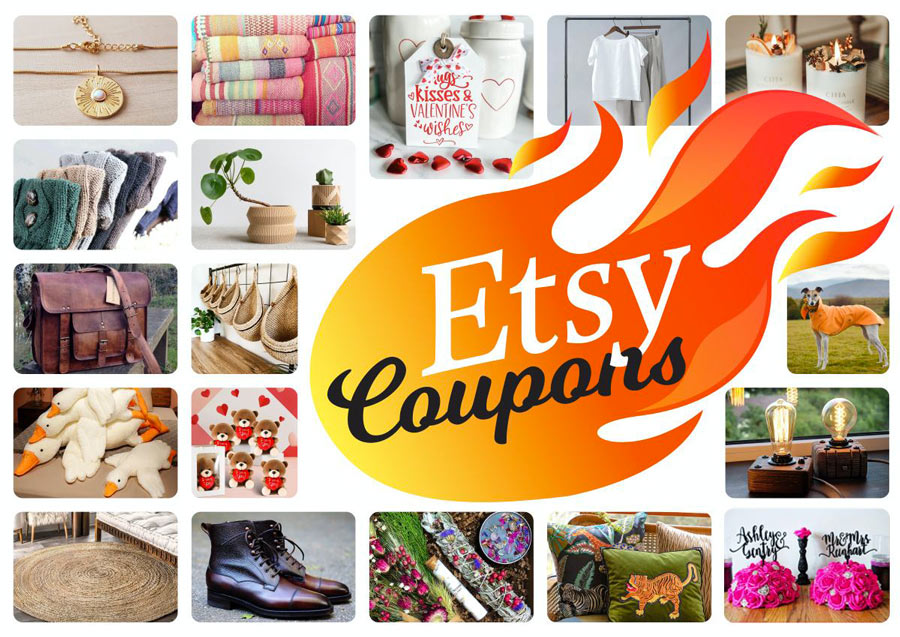 Are you an Etsy enthusiast on the lookout for some saving strategies? Look no further, as I have some valuable tips for you. For those unfamiliar with Etsy, it's an online marketplace packed with a plethora of unique products from creators, artisans, and vintage sellers. While Etsy may not be known for budget shopping, it is an ideal platform for finding one-of-a-kind, handmade items. Whether you're seeking gifts from Utah, Hindu-inspired items, or surfing-themed treasures, Etsy has an extensive selection. From handmade pottery to vintage jewelry and personalized surf art, you'll find something special for every occasion on Etsy. Luckily, there are some wallet-friendly ways to shop on Etsy. From coupon codes to filtering by price, these money-saving tips will make your shopping journey a little more affordable. So, let's dive into my review of some effective strategies to ensure you save money on Etsy!
One trick I've recently discovered is favoriting items and adding them to my cart without checking out right away. Why? Because some sellers will send discount codes directly to customers who have shown interest in their products. This is a subtle way to request a lower price without feeling pushy or rude. Of course, not all sellers participate in this tactic, but it's definitely worth a shot next time you're browsing Etsy and adding items to your wishlist. Plus, you might just discover some new favorite shops along the way.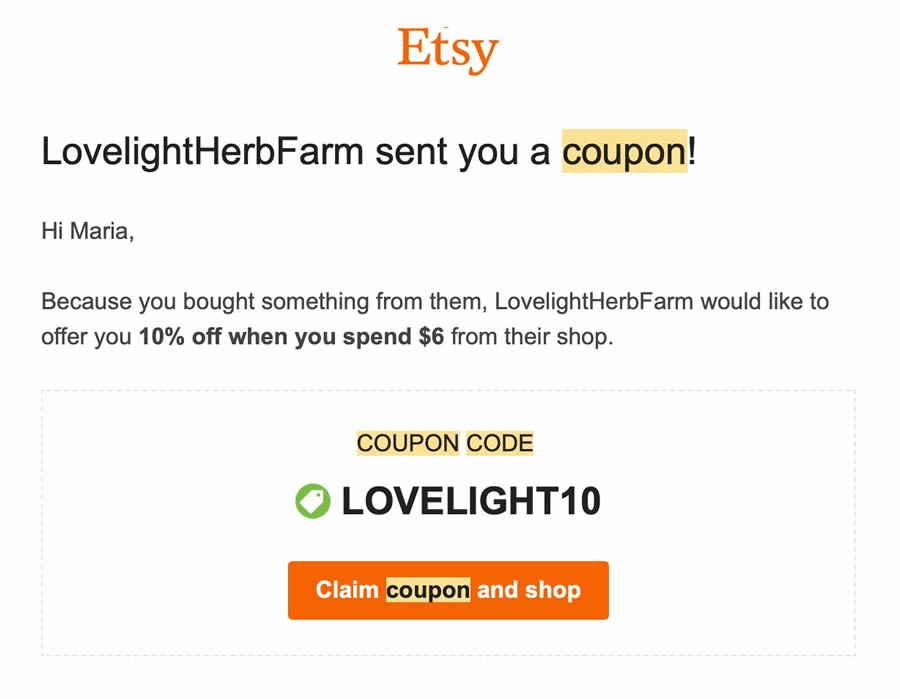 Searching for bulk discounts on Etsy is an effective way to save money when purchasing larger quantities of unique items. Instead of paying retail price for multiple items, checking Etsy for shops that offer discounts on bulk orders can yield significant savings. To find these bulk discount listings, simply use Etsy's search bar and enter the name of the item you want followed by 'bulk discount,' such as 'gemstones bulk discount' or 'vintage buttons bulk discount'. This will filter the results to show only shops that advertise lower prices for wholesale or bulk orders of your desired product. With a wide array of handcrafted and artisanal goods, Etsy is an ideal marketplace to find bulk discounts on one-of-a-kind items
Subscribing to your favorite Etsy sellers' mailing lists can unlock great discounts and promo codes. If you find yourself constantly favoriting items from a particular Etsy shop, it's worth reaching out to the owner and joining their mailing list. These newsletters often contain exclusive promo codes and keep you informed about any ongoing sales. Let's explore some of the enticing offers available.
Various Etsy sellers offer enticing discount coupons for shoppers. Ordicle provides a "Welcome 10% OFF" coupon originally priced at $1,000.00, but instead of purchasing the specific listing, customers are encouraged to subscribe. By subscribing, they receive an exclusive promo code via email, granting them a one-time 10% discount on their first purchase (excluding final sale items) and access to exclusive sale offers and newsletters. CanvasTravelMaps offers a 15% discount on any order from their Etsy shop, priced at $15.00. However, customers are reminded not to buy the specific listing, considering it as an advertisement rather than an immediate purchase incentive.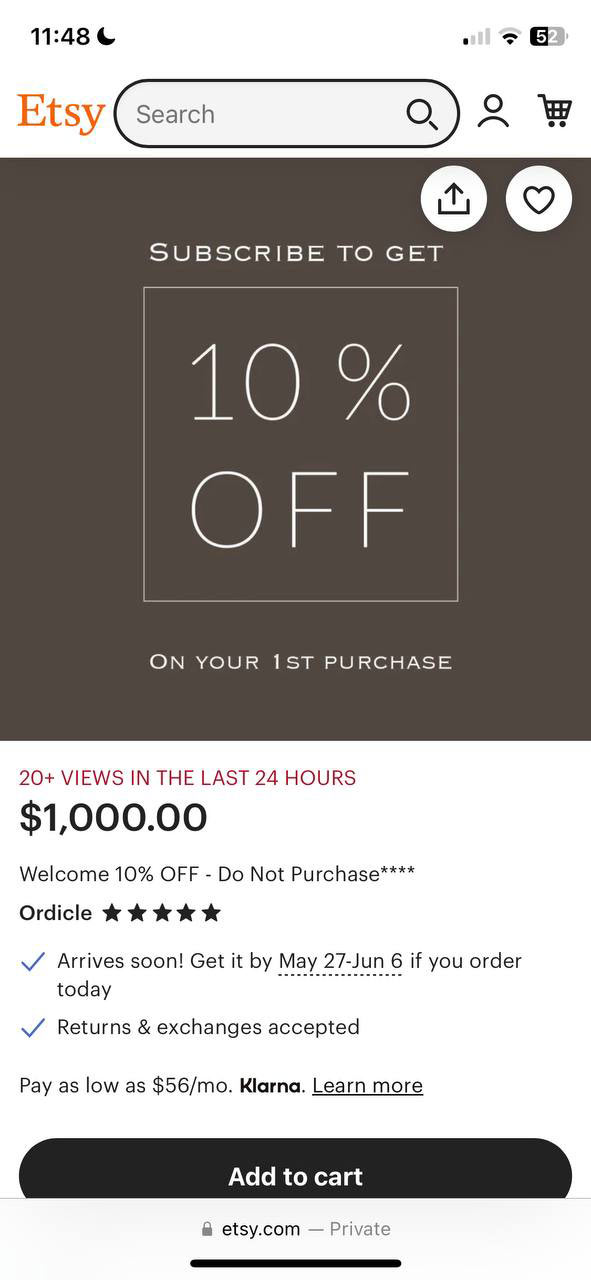 Blossompaperart tempts shoppers with a 30% OFF coupon for purchases totaling $60 or more, using the code "BLOSSOM30". The associated listing is marked as "Please Do not purchase this listing," indicating that customers should subscribe and use the coupon code during checkout on relevant items.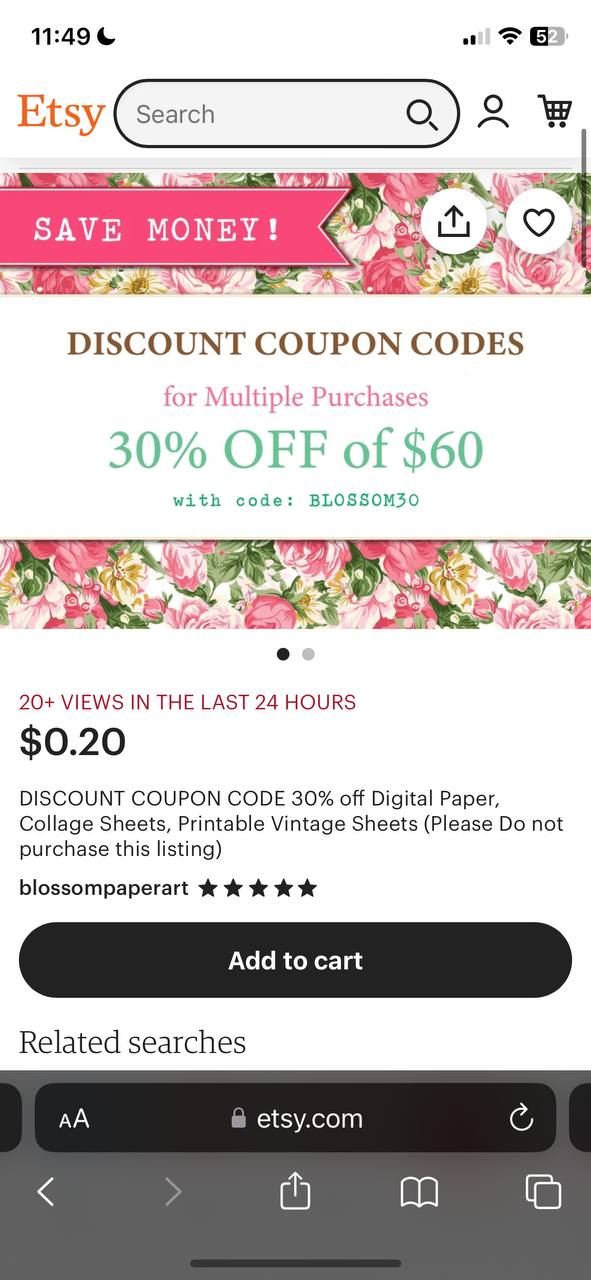 OceanStudioFL presents a coupon code, "SAVE15", offering a 15% discount on orders. While the price is listed as $110.00, customers are informed that there's no need to buy the specific listing but can save by purchasing three or more items from the shop.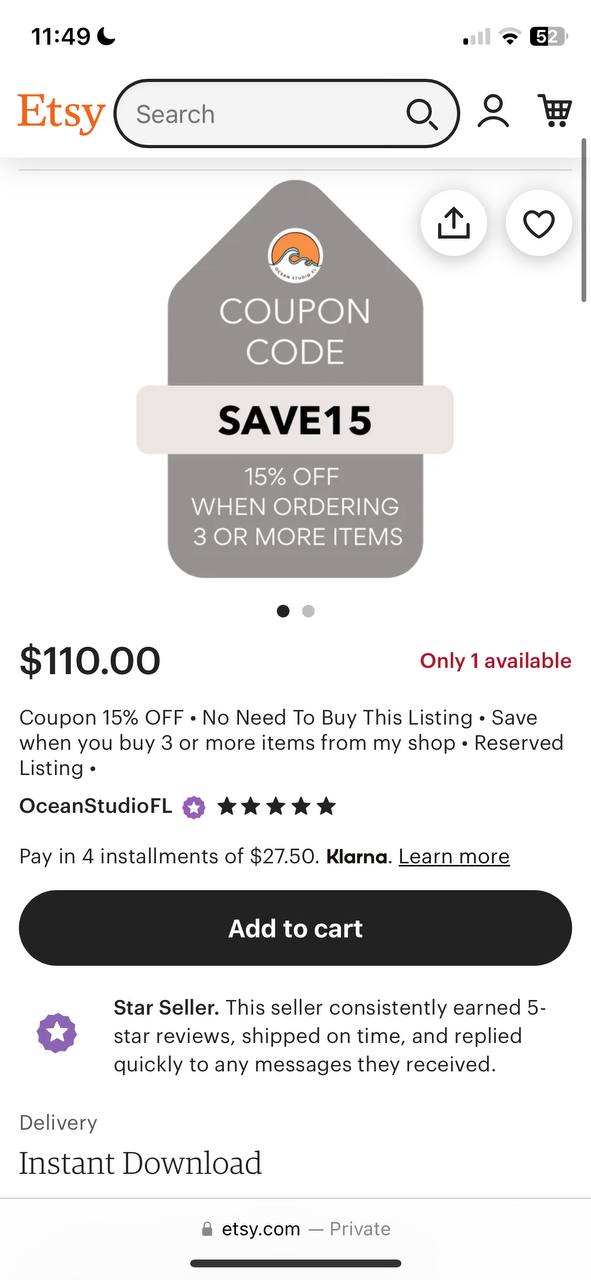 As a token of appreciation for your previous purchases, sellers like ConnectCo and summersweetboutique have sent you coupons. ConnectCo offers a 10% discount with the code "THANKYOU", and summersweetboutique extends a generous 15% off using the code "SWEET15".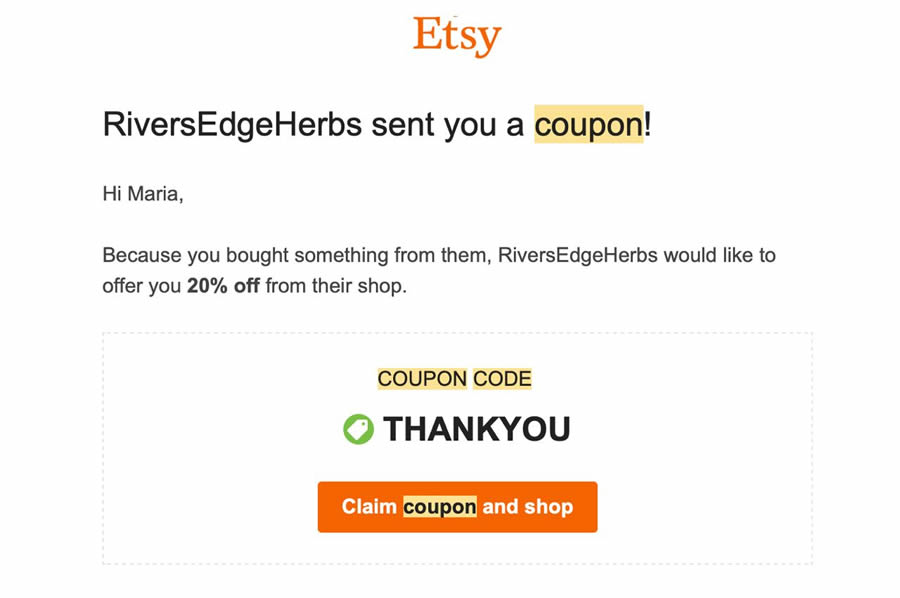 Both sellers invite you to claim the coupons and enjoy the discounted prices while shopping in their respective shops.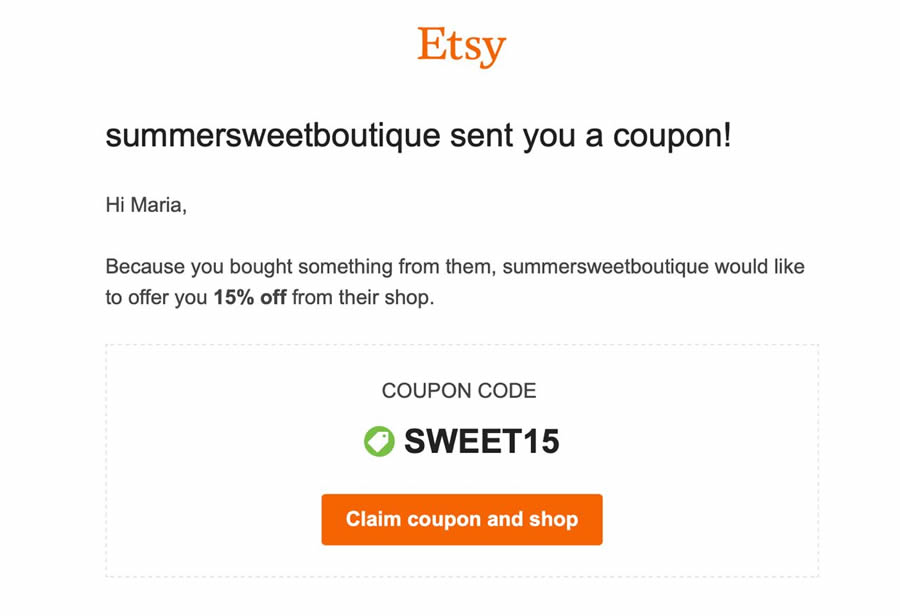 To find Etsy coupon codes and savings, it pays to utilize social media. Many Etsy sellers share special promotions and discounts with their followers on platforms like Instagram and Facebook. By following your favorite Etsy shops, you'll be among the first to know about sales and have access to exclusive coupon codes. While Etsy does offer "On sale" and "Free shipping" search filters, these don't always lead to the lowest prices. Some sellers increase prices to offset free shipping or sales costs. For the best deals, follow Etsy sellers on social media and compare prices across listings rather than relying solely on the built-in Etsy filters. With a little extra effort, you can uncover significant savings on unique handcrafted goods.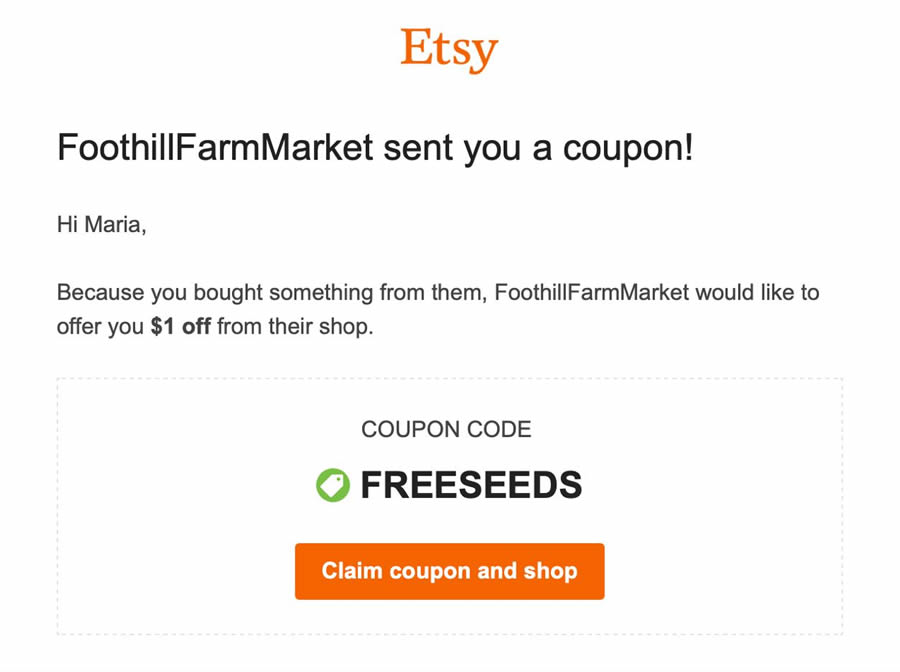 To save on shipping costs when shopping on Etsy, consider ordering multiple items from a single shop. Certain Etsy shops may offer discounted shipping rates when you purchase multiple items at once since they can ship the goods together in one package. Search for local Etsy shops using the standard filters and reach out to the sellers to inquire about adjusted shipping fees given your local status. Also, check the shop's homepage for any ongoing sales before completing your purchase. Some shops run shop-wide sales that could save you money if buying more than one item. Buying multiple items from a single Etsy shop and taking advantage of sales and shipping discounts is an easy way to reduce your overall costs when shopping on the handmade goods marketplace. When shopping on Etsy, it's important to confirm the policies of each individual shop. Not all Etsy shops accept the same forms of payment, like Etsy gift cards, so check the shop's main page or product listings for details on what they accept. Similarly, return and refund policies vary from shop to shop. While some shops may not offer returns or refunds at all, most do have their own unique policies regarding time limits, original packaging, and more. Reading through the policies of a shop before making a purchase can help avoid any confusion or issues down the line.