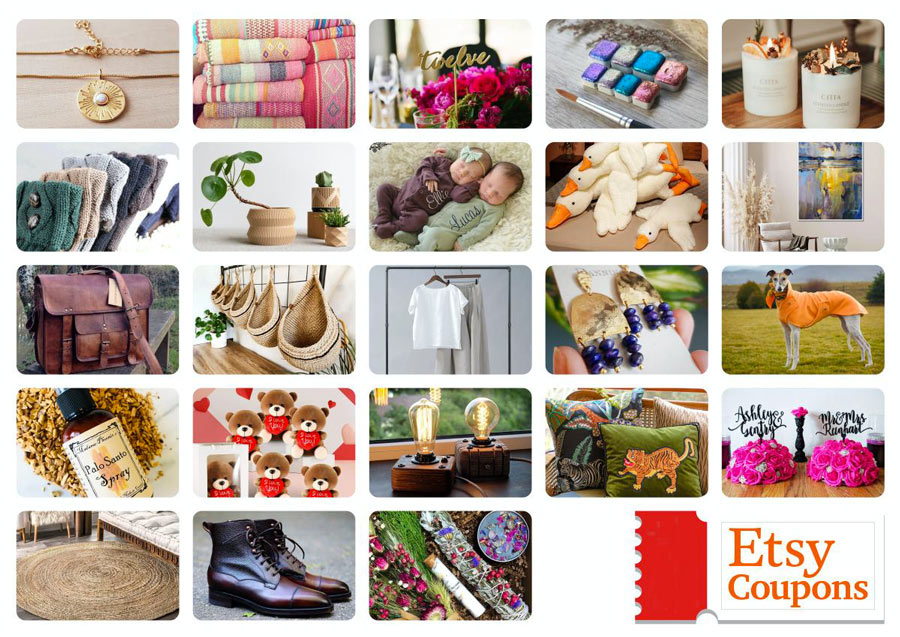 Are you someone who appreciates unique and handmade goods? Look no further than Etsy, the online marketplace that has become a go-to destination for one-of-a-kind finds. With independent sellers from across the globe offering everything from handmade jewelry to vintage collectibles and home decor, there's truly something for everyone. But with so much selection, navigating the site can be overwhelming. That's where this guide comes in – we've done the research and compiled everything you need to know about discounts, prices, shipping, and more. So, sit back, relax, and let us guide you through the world of Etsy.
Etsy truly is a goldmine for those looking for unique and personalized products. The site offers shoppers a diverse range of categories to peruse, from handmade jewelry to clothing and accessories, as well as home decor and art. If you're on the hunt for artisan-crafted necklaces, earrings, rings, or bracelets that showcase creativity and attention to detail, Etsy has got you covered. On the other hand, if you want to add a touch of individuality to your home with unique art prints, handmade ceramics, or personalized home goods, you'll definitely find something here. And let's not forget about the clothing and accessories section, which features a diverse selection of handmade items made with sustainable practices that are both stylish and original.
If you're looking for something unique and personalized, Etsy is the place to be. With its vast selection of vintage collectibles and personalized gifts, you're sure to find something that catches your eye. The vintage collectibles category is perfect for those looking for a touch of nostalgia or unique finds. Whether you're searching for retro clothing, accessories, home decor, or antique collectibles, Etsy has it all. On the other hand, if you're looking for a special gift for a loved one or yourself, the personalized gifts category won't disappoint. Etsy is known for its custom-made gifts such as engraved jewelry, custom portraits, and monogrammed items. So go ahead and explore the treasure trove of Etsy, you'll be sure to find the perfect item that speaks to your heart.
Shopping on Etsy is a unique experience that lets you discover one-of-a-kind items, often handmade with love. Prices on Etsy can vary depending on the type of product, its uniqueness, materials used, and the pricing strategy of individual sellers. While some products may be priced higher due to their rarity or craftsmanship, there are plenty of affordable options available as well. As a marketplace for independent sellers, Etsy offers a wide range of prices that cater to different budgets. When evaluating the price of an item, it's important to consider factors like quality, materials used, and the uniqueness of the product. Comparing prices across different sellers can help you find the best deal for your desired product on Etsy.
If you're an avid Etsy shopper like me, you know that shopping policies on this platform are set by each individual seller, including shipping policies. That's why it's essential to review the shipping information provided by the seller before making any purchase. Ensure that you're aware of delivery times, any additional charges, and the various shipping options available to you. While some sellers do offer free shipping promos, take note of the potential customs fees or import taxes that international orders may incur. To assess the reliability of a seller's shipping, it would be good to read reviews and ratings from previous customers. Keep these tips in mind to ensure a smooth and hassle-free shopping experience on Etsy.
As an avid Etsy shopper, I'm always on the lookout for ways to snag great deals on unique items. That's why I love browsing through Etsy's "Sales and Special Offers" section. It's the perfect place to find current sales and promotions being offered by Etsy sellers, including buy-one-get-one-free deals and percentage-off discounts. Some of my favorites include the "Save 20% on Bags & Accessories by GENIBAGS with promo code GENI20" and "Get 30% Off your order by FlowersPlusFromSara with coupon code PIN30." What's great about this section is that it's always updated with seasonal sales and holiday promotions, so there's always something new to discover. With discounts of up to 50% off and even free shipping, don't miss out on the opportunity to save on your next purchase. Plus, if you sign up for a seller's VIP club mailing list, you may even receive an exclusive coupon code for additional savings.In conclusion, Etsy has solidified its place as a go-to marketplace for those seeking unique and handcrafted goods. Its vast selection of products from independent sellers worldwide makes it a truly diverse and vibrant place to shop. Personalized gifts, stunning home decor, and artisan jewelry are just a few of the hidden treasures that can be found on Etsy. While shopping on Etsy, it's important to keep an eye out for discounts and promotions, evaluate prices, review shipping policies, and browse through various categories to find the perfect items. Overall, my verdict on Etsy is that it's a fantastic platform to discover and support small businesses while finding distinctive items. Happy shopping!