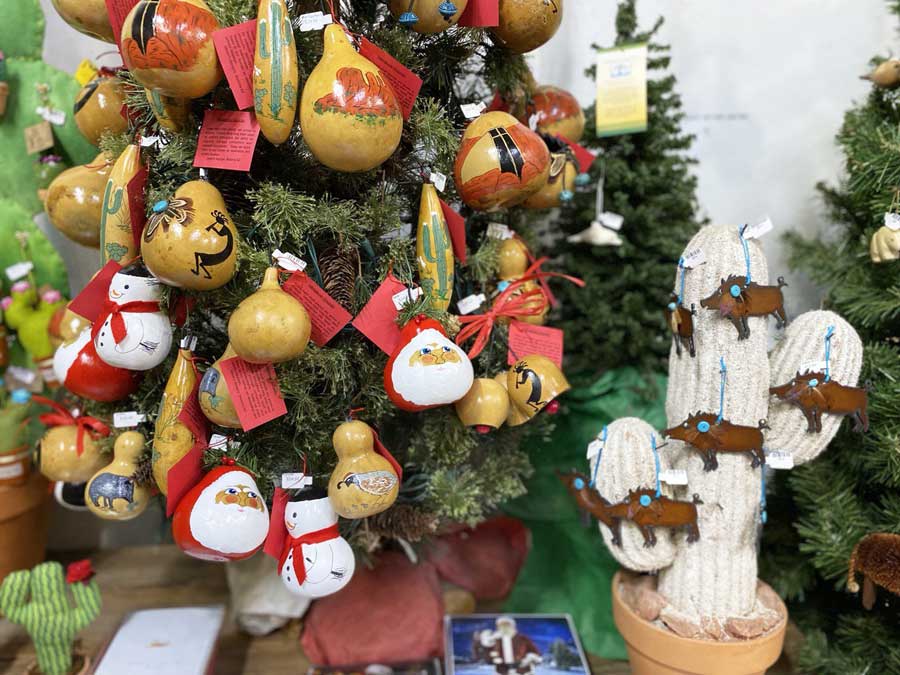 Now with the passion for getting everything handmade no wonder there is a trend for handmade Christmas ornaments as well. Living in Irvine, California, I couldn't find any handmade Christmas ornaments, let alone handmade Christmas Decorations in stores. But during my trip to Arizona I was lucky to come across a nice gift shop dedicated to handmade products. It is called Feliz Navidad Sedona which means Merry Christmas Sedona. The gift shop is located by the address: Tlaquepaque Marketplace: 336 S.R. 179A Ste., A116, Sedona, AZ 86336. There I found an amazing collection of wooden Christmas ornaments you will hardly find elsewhere.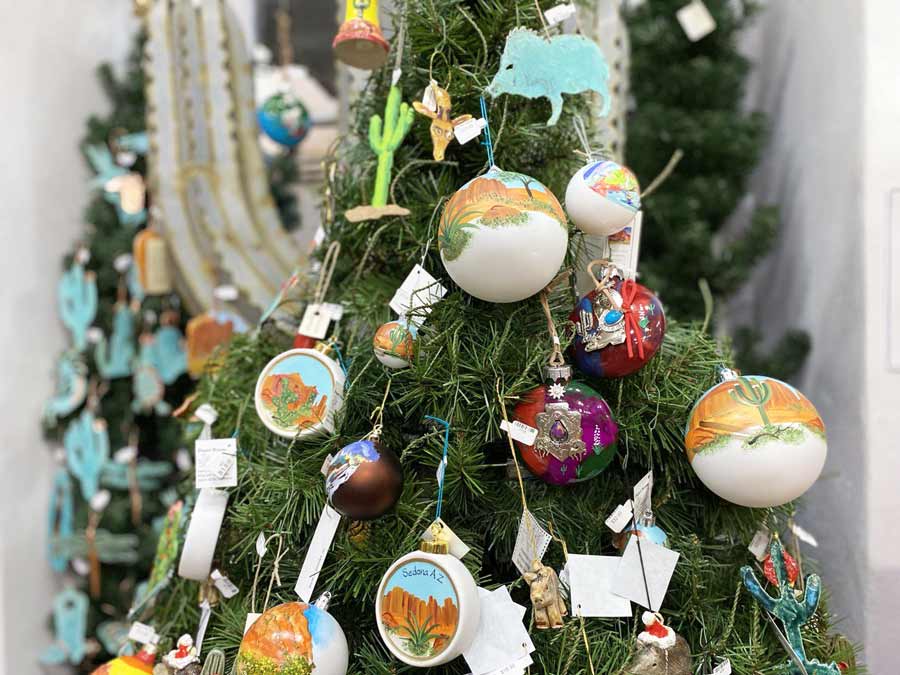 The tradition of making wooden Christmas ornaments goes back to the ancient times. Now seeing wooden Christmas decorations is not very common, that is why I was so happy to find these rare gems in the gift shop in Sedona, Arizona. The design of such ornaments is quite simplistic. These are typically circle wooden ornaments with hand painted picture of mountain views.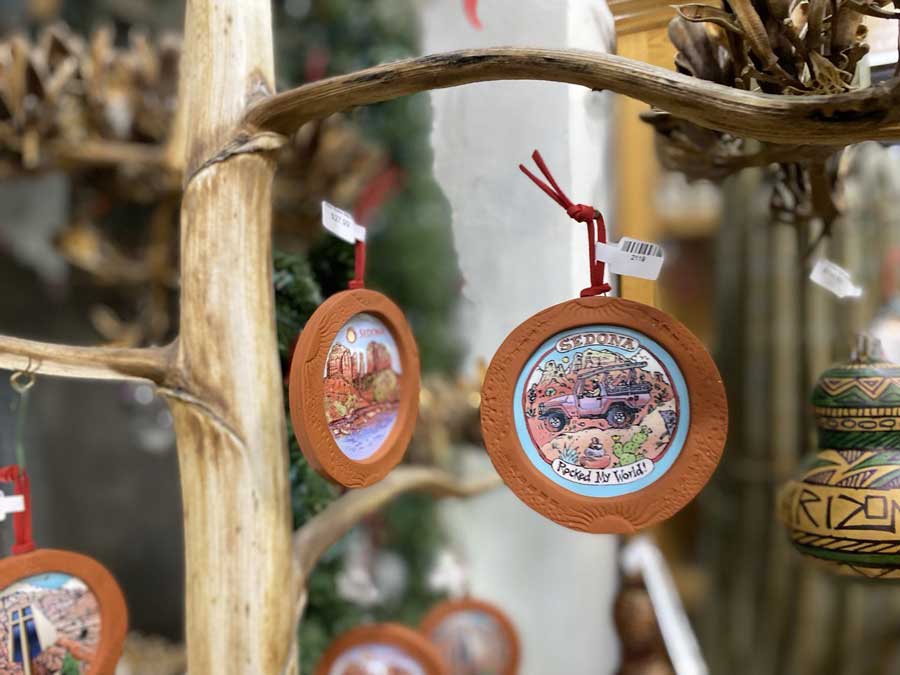 Another example of Christmas ornaments is Red Rock Medallion for $27.99, with hand painted picture of the mountains.There are also hand painted ceramic ornaments with images of red-rock mountains and other Arizona landmarks.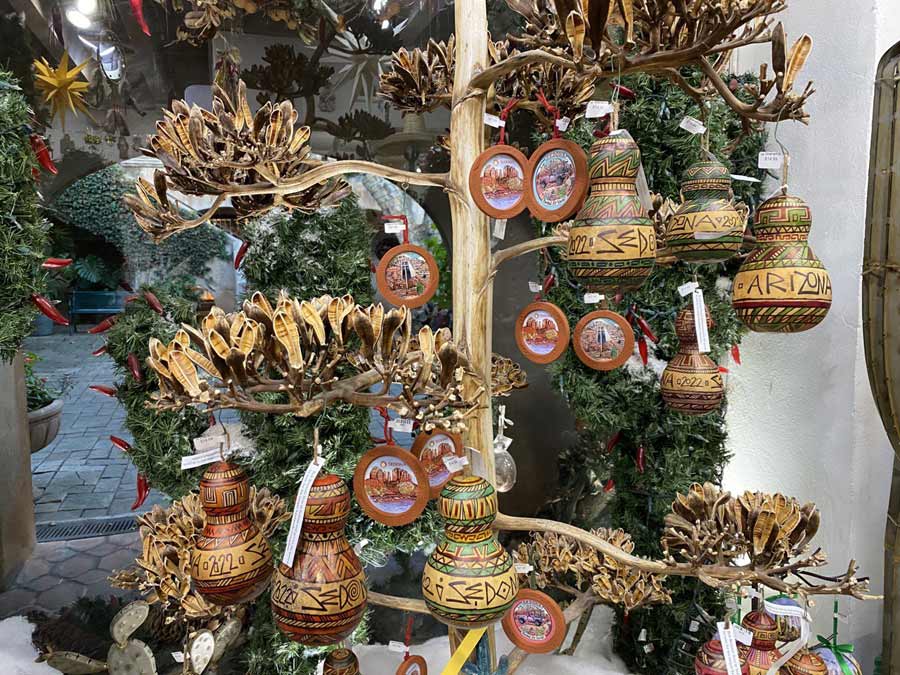 If you feel bored with traditional circle medallions have a look at these sphere-and bell-shaped wooden Christmas ornaments hand paintedin traditional Arizona colors: brown, yellow and green.These are Gourd ornaments that cost just $12.99 each. Some of thesedecorations are shaped like snowmen or Santa, others come with pictures of birds, ancient people and, of course, the mountains.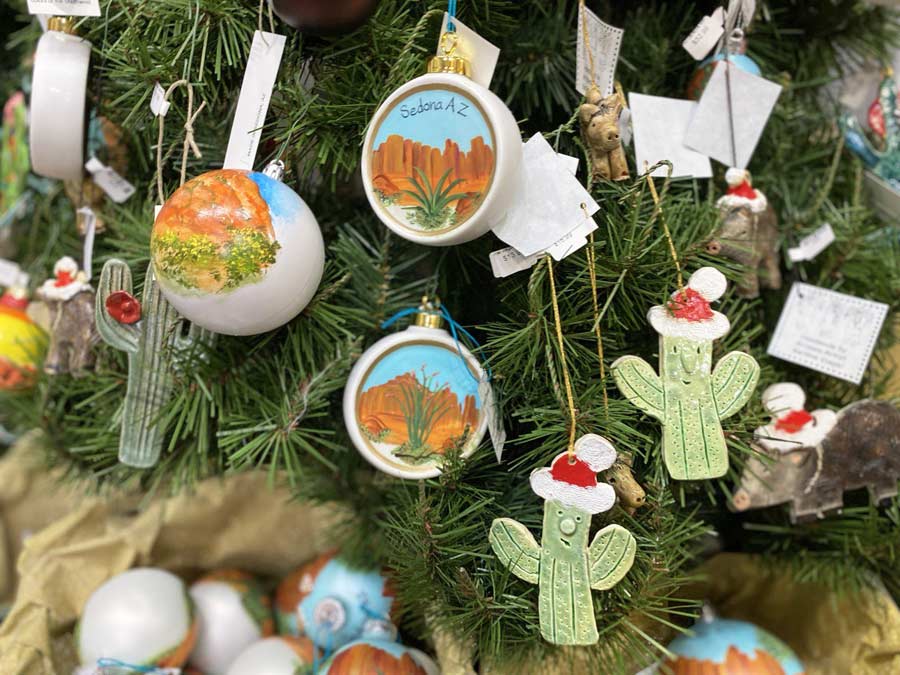 Another popular symbol of Arizona is cactuses. You can see cactuses with Santa hats as Christmas decorations too.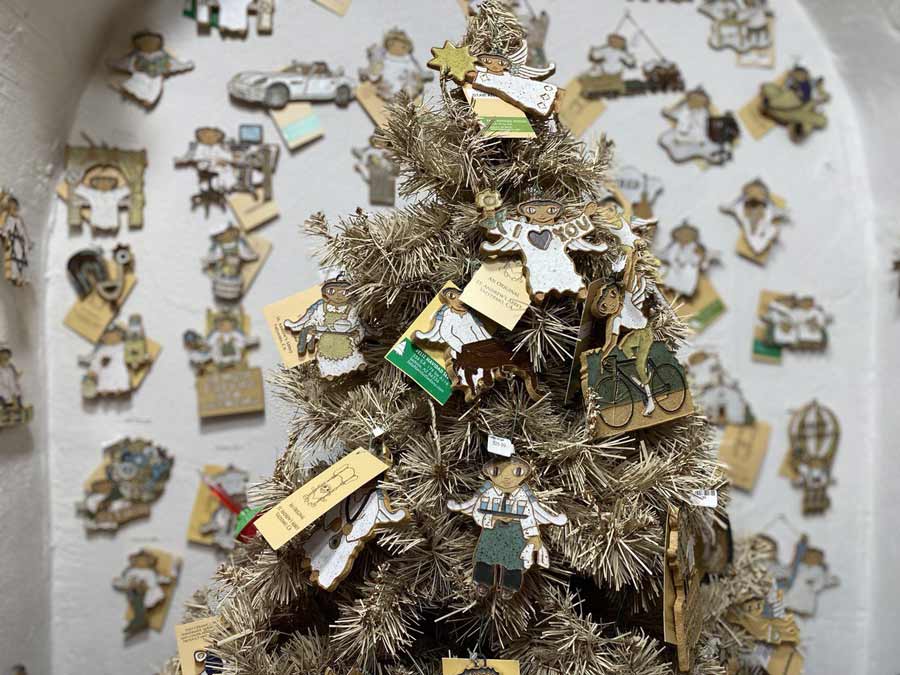 Also, there are quite unique wooden figurines of angels as handmade Christmas ornaments. Some of these angels perform unusual tasks: waiter angel serving drinks, a boy angel riding a bike, and many more. It would be so charming to decorate your Christmas tree with these one-of-the-kind angels doing people's jobs.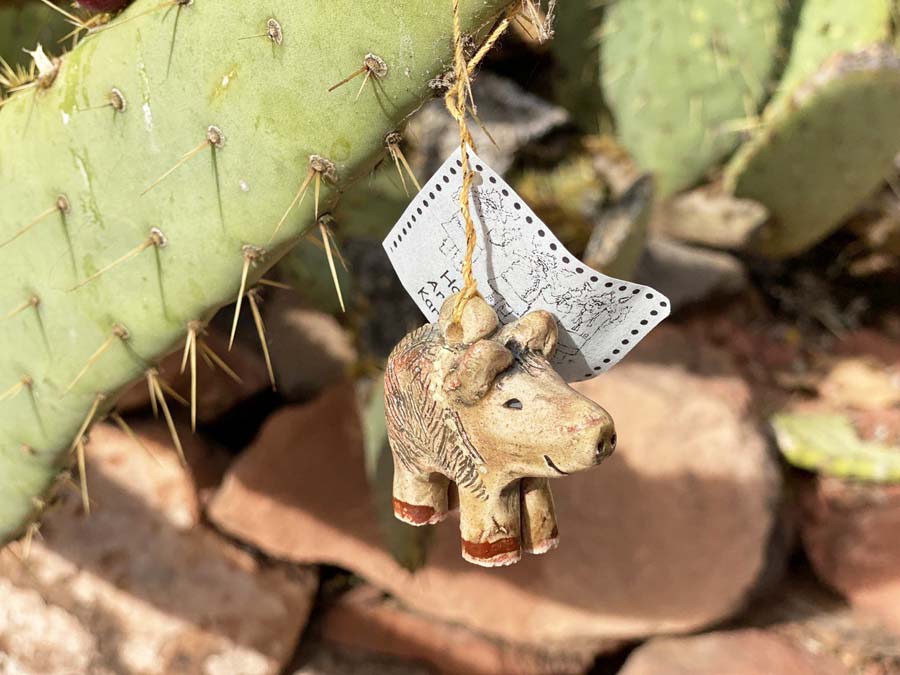 As for me the cutest handmade Christmas decorations are these Javelina pigs handmade by Arizona artist Karlene Voepel.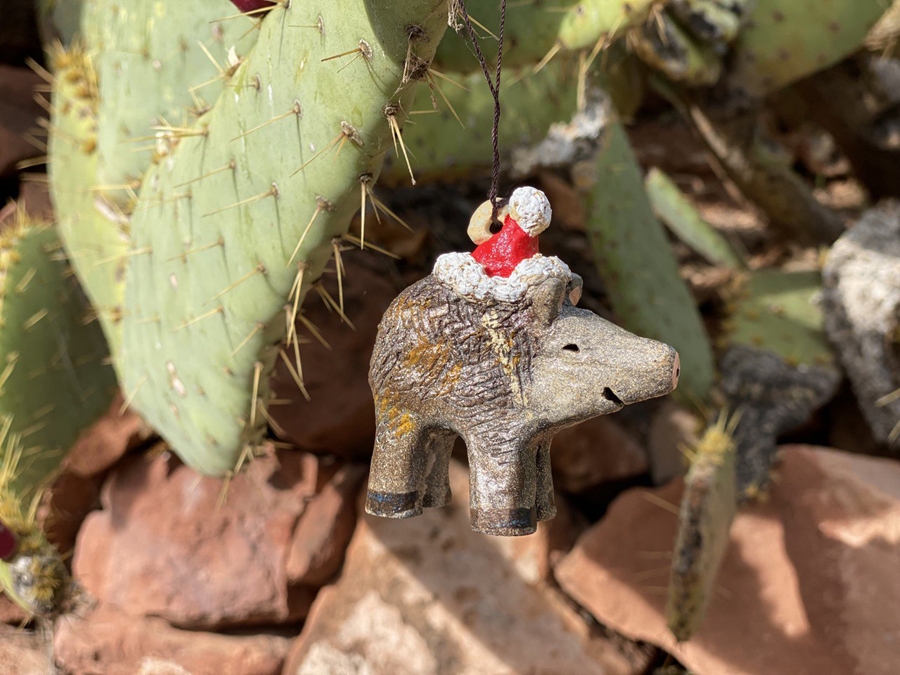 Some of them wear Santa Christmas hats and look so realistic.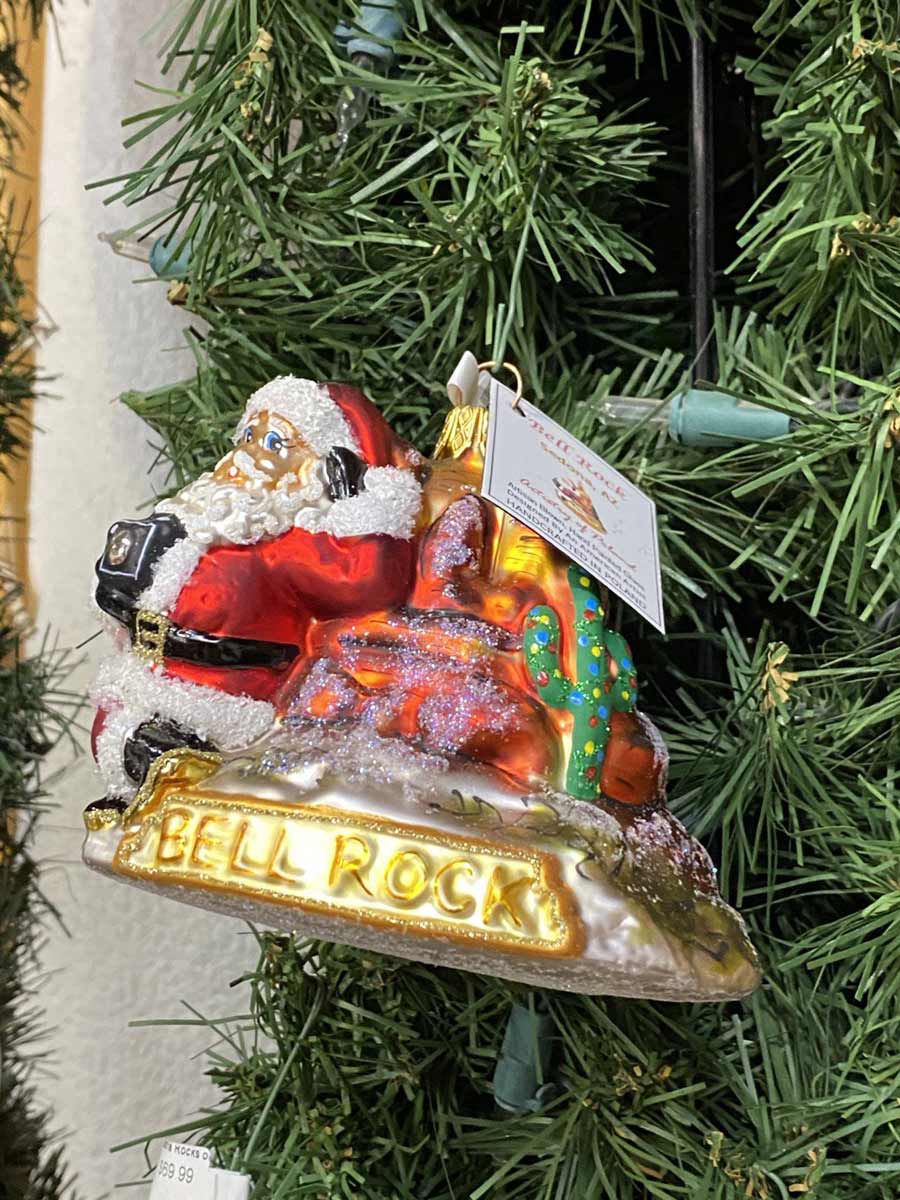 Merry Christmas Sedona features awesome glass Christmas ornaments too. The choices include hand painted glass ornaments showcasing the natural beauty of Arizona.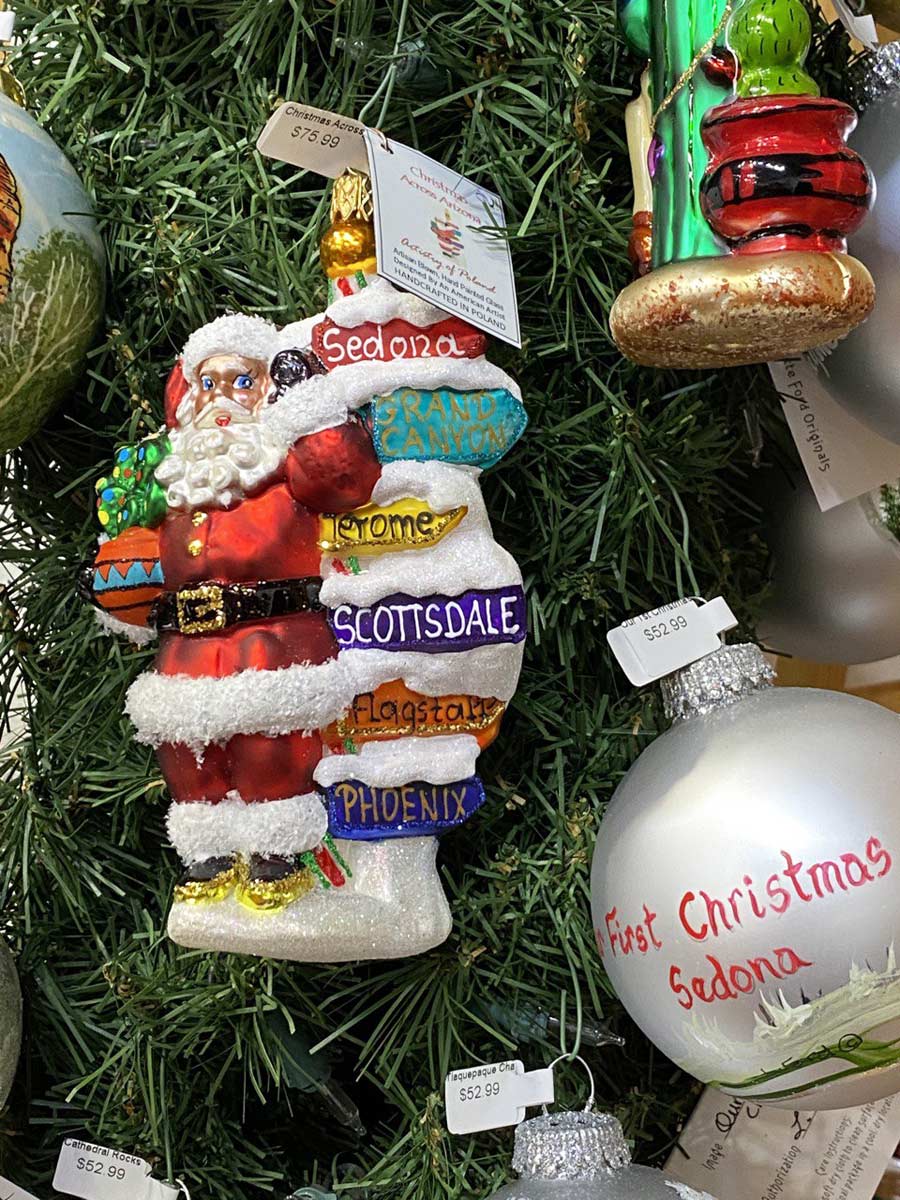 Handcrafted in Poland, this Santa carrying a cactus plant is sure to become the star of any collection. Christmas Across AZ Glass Ornament Polish is a classy old-world Christmas ornaments with distinct Arizona flair. It does cost a lot ($75.99), but it is worth it.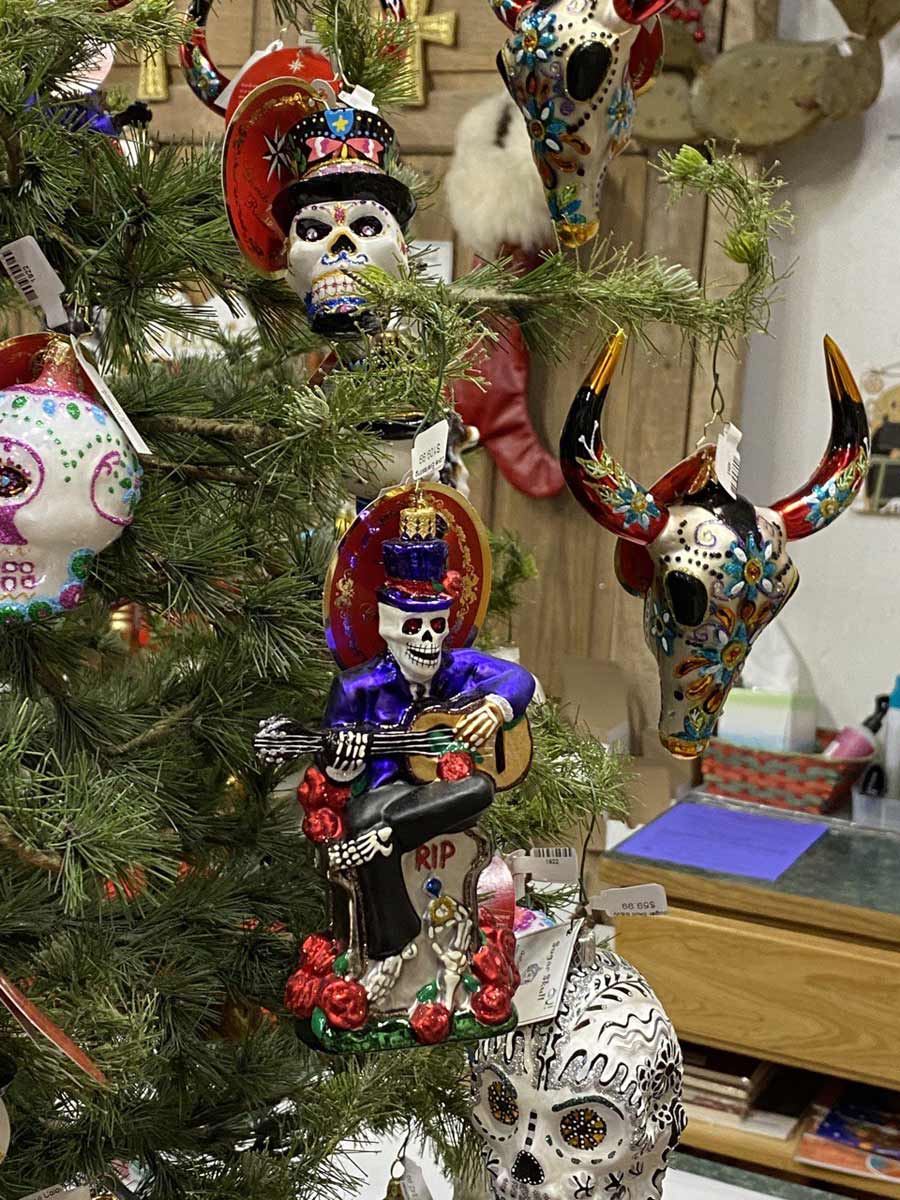 Day of the Dead scull glass ornaments also caught my eye. The skeleton playing the guitar is definitely my favorite from this collection.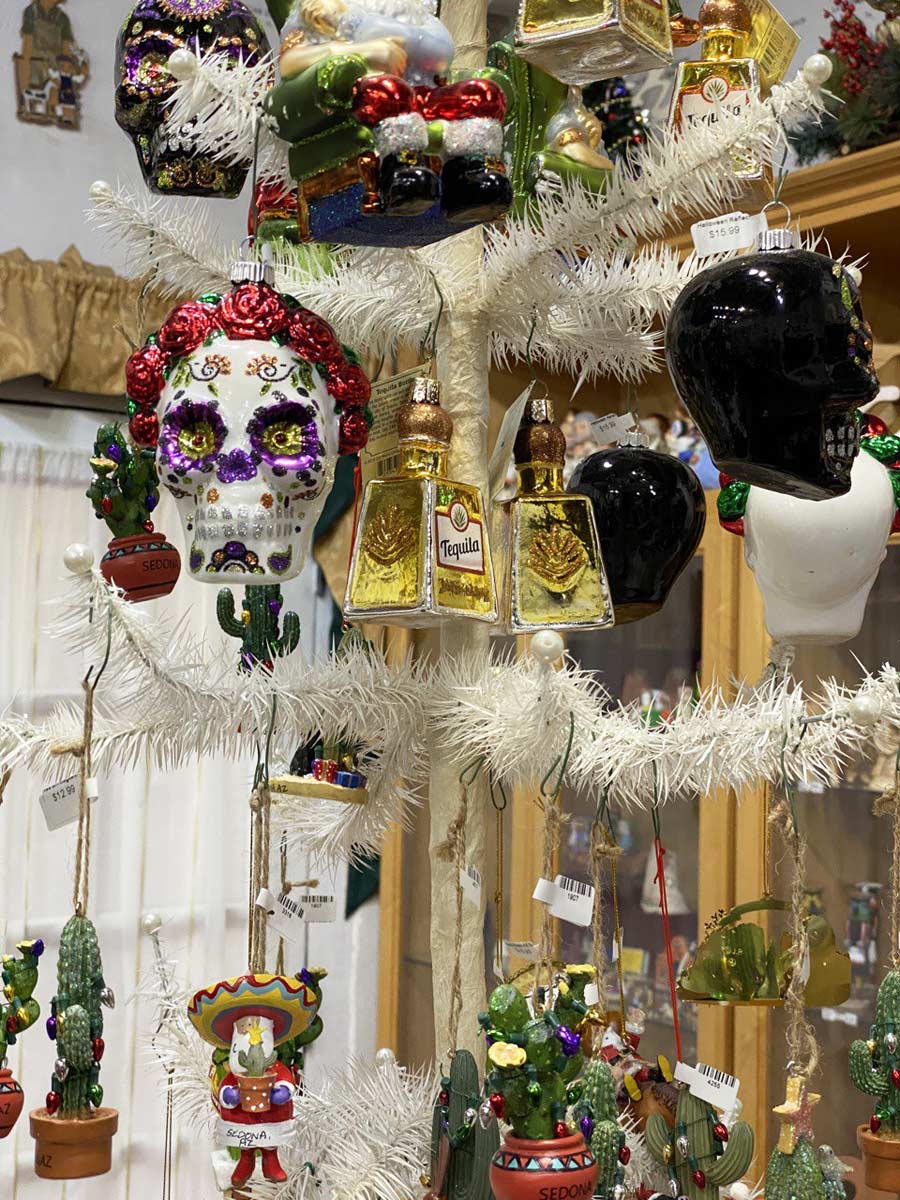 Brightly decorated sculls and skeletons are sure to add some splashes of color and a bit of humor to your Christmas tree.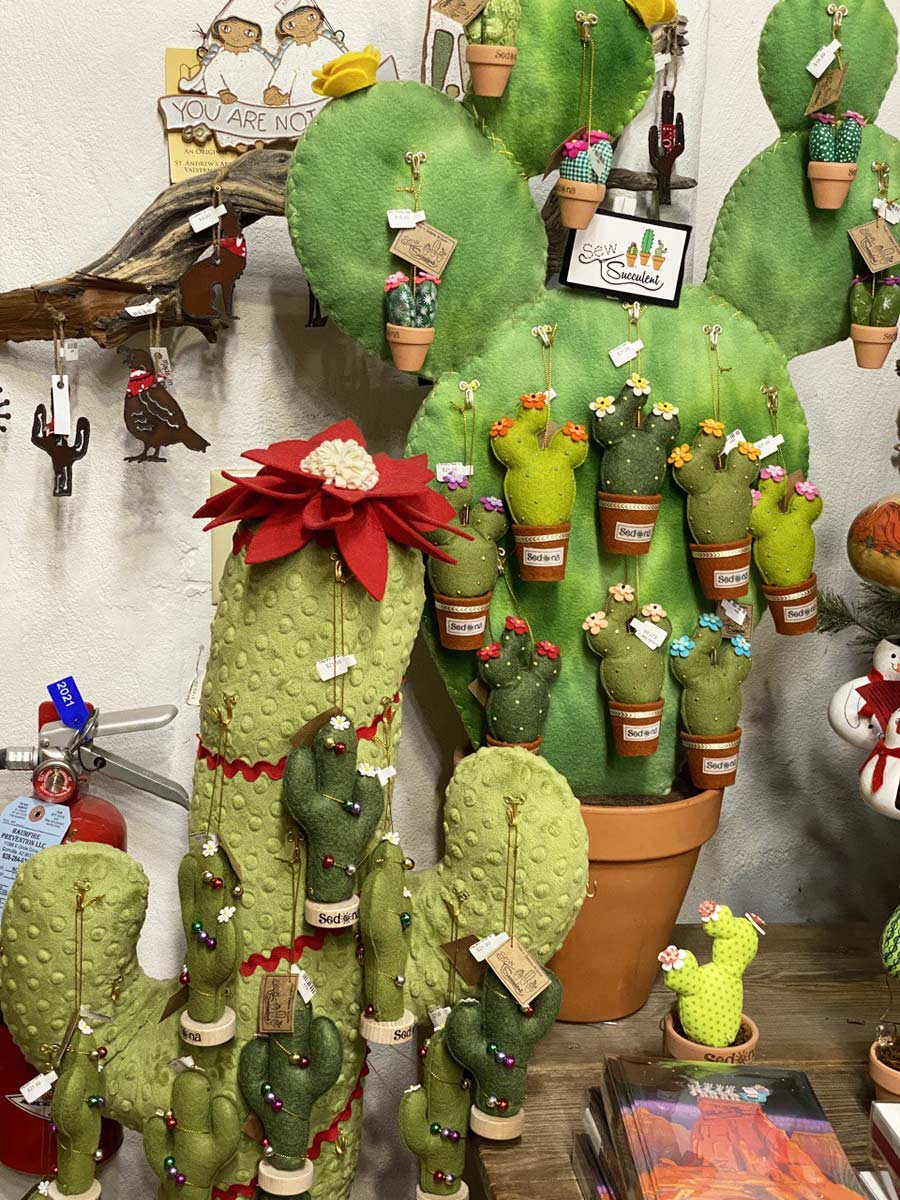 Among the most unusual handmade Christmas decorations I've ever seen are felt Christmas ornaments. They are a variety of cactus plant ornaments embellished by multicolored beads.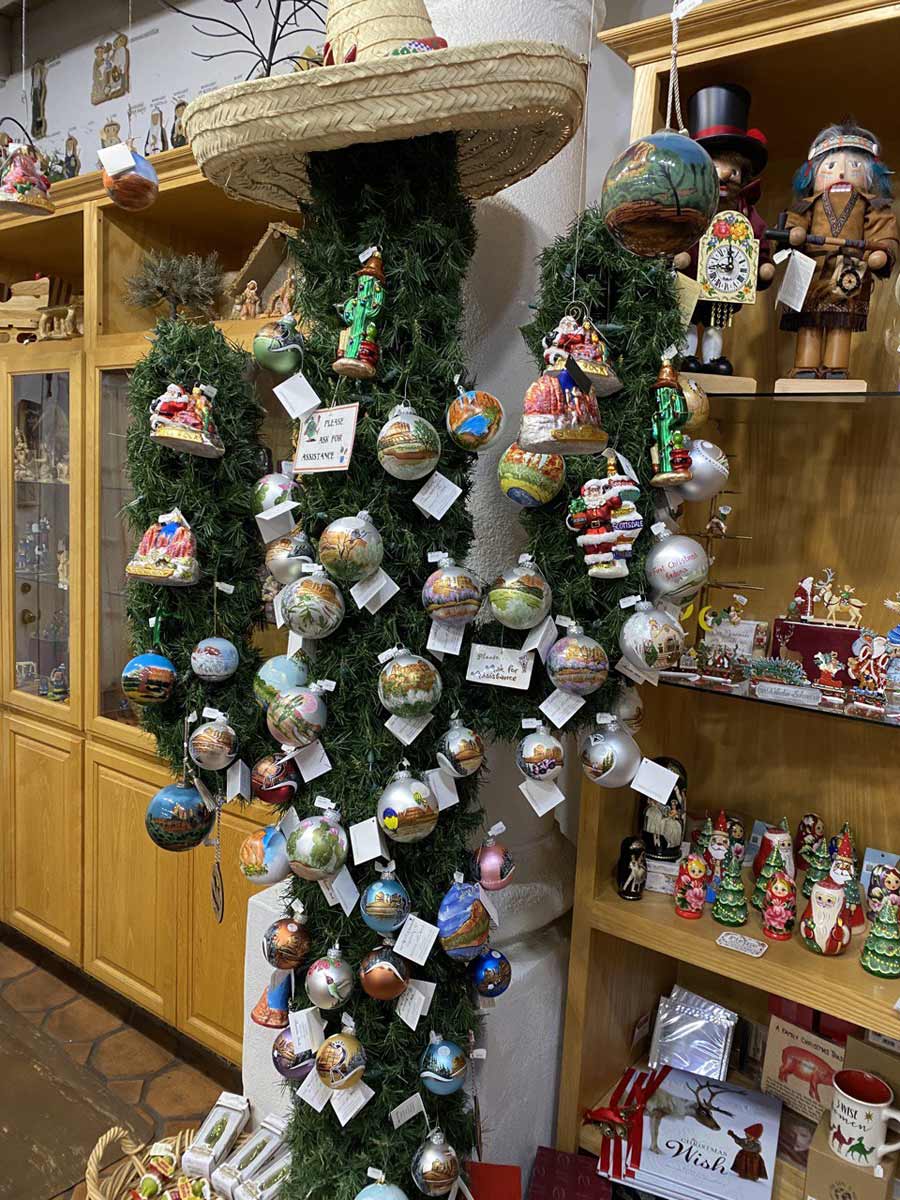 Merry Christmas Arizonais a unique store offering exclusive handmade Christmas ornaments and decorations. And you don't even need to travel to Arizona to get them. You can order decorations of your choice at their online store. If you are looking for more handmade Christmas decorations, consider checking out Etsy. There you will find a huge selection of hand-crafted hand painted Christmas decorations by artisans from all over the world.