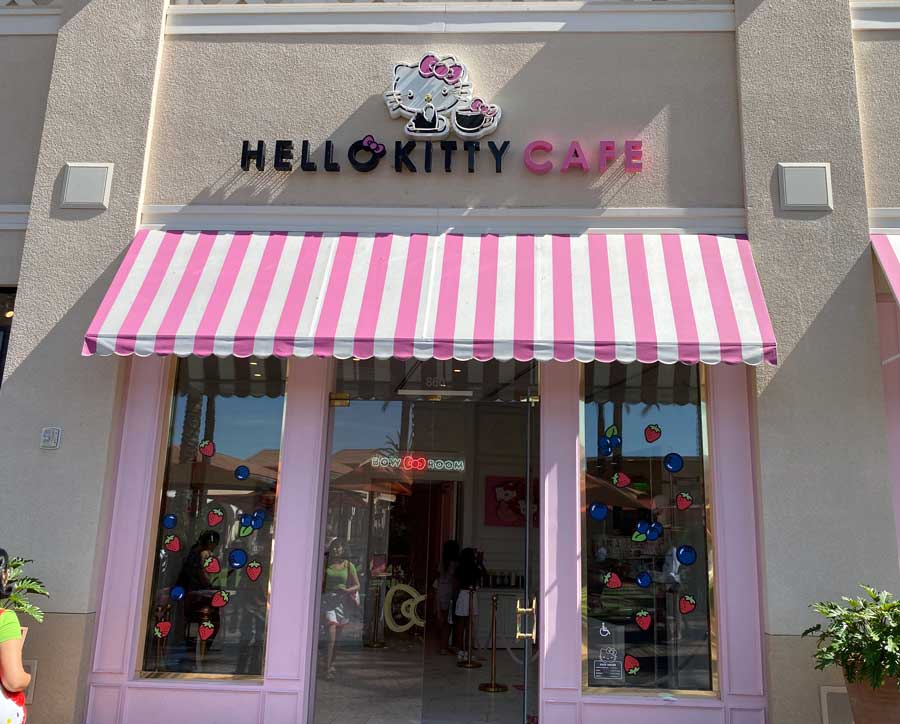 I have always wanted to visit Hello Kitty Cafe Las Vegas, but I haven't had a chance to travel to the Entertainment Capital of the World so far. Luckily, I live in Irvine and there is Hello Kitty Cafe near me in Irvine Spectrum Center.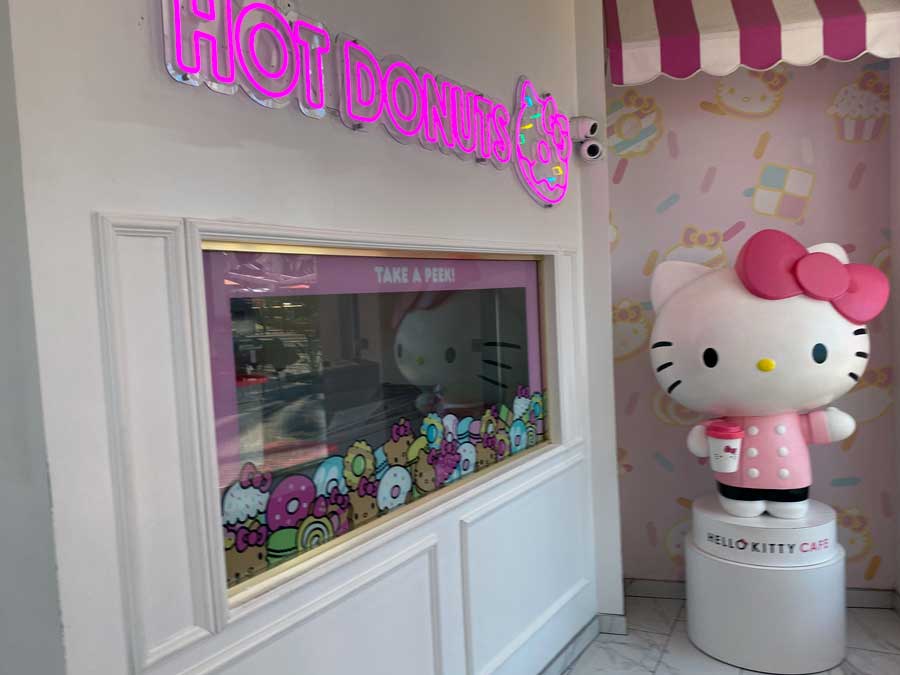 I have wanted to visit it since I moved here but long queues in front to its entrance seemed to be an impassible barrier. Still, I was intrigued to discover what's so special in that café that makes people patiently stand in line and I was waiting for a suitable moment. Fortunately, one sunny day mid-week in early September I managed to visit Hello Kitty Café (extreme heat at 2 PM is the obvious reason why there was no line) and I'm happy to share with you my opinion about it.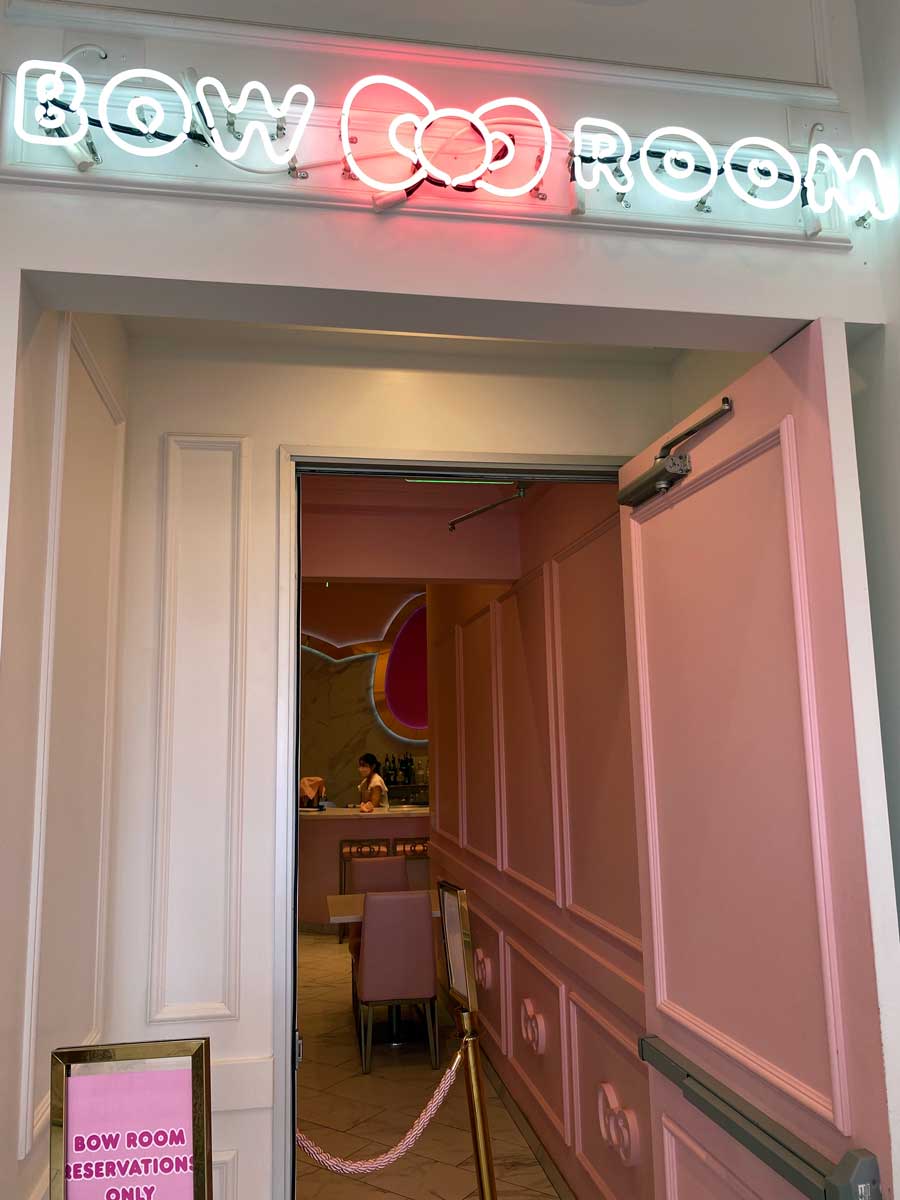 The color palette of interior decor is white and pink, with some dabs of gold, and there is a big Hello Kitty statue facing the front door. Near Hello Kitty statue there is a glass window enabling you to peek inside and see how your donut order is being made.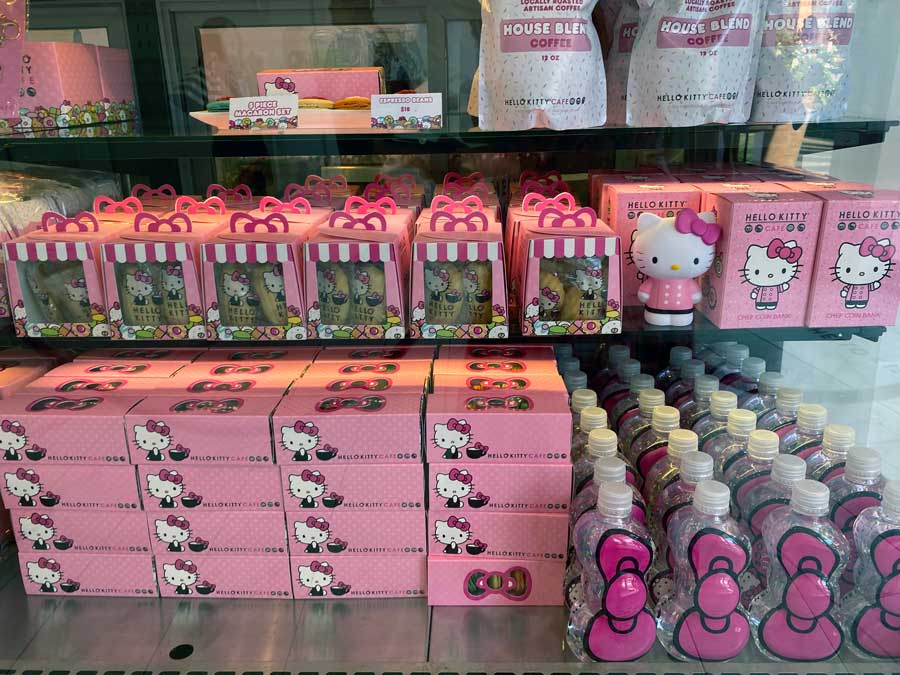 On the counter you can see a variety of products you can purchase here.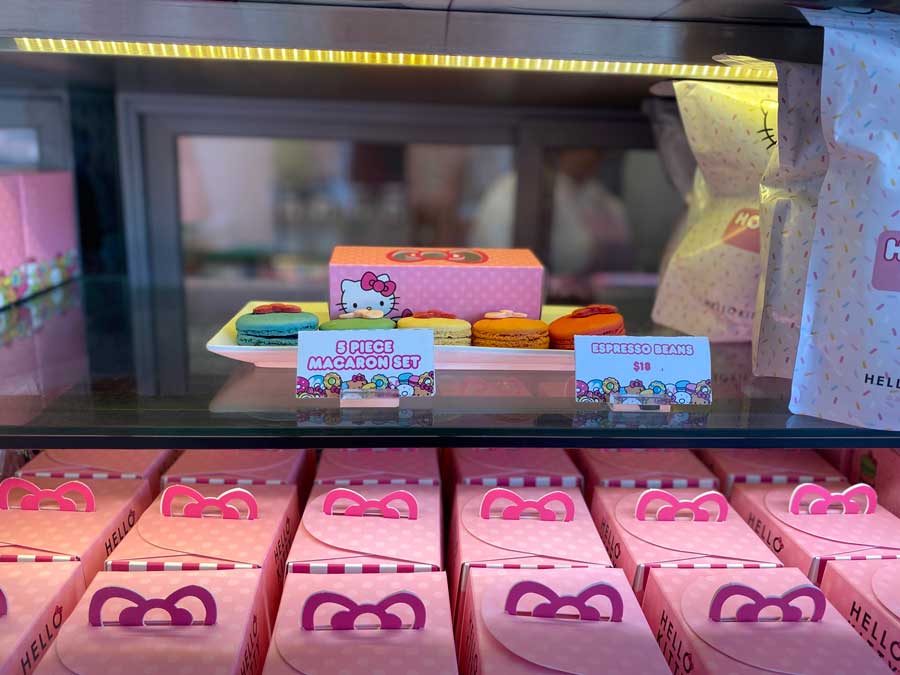 Hello Kitty Café menu includes house blend coffee, espresso beans, 5-piece macaron set, sugar cookies, donuts and more.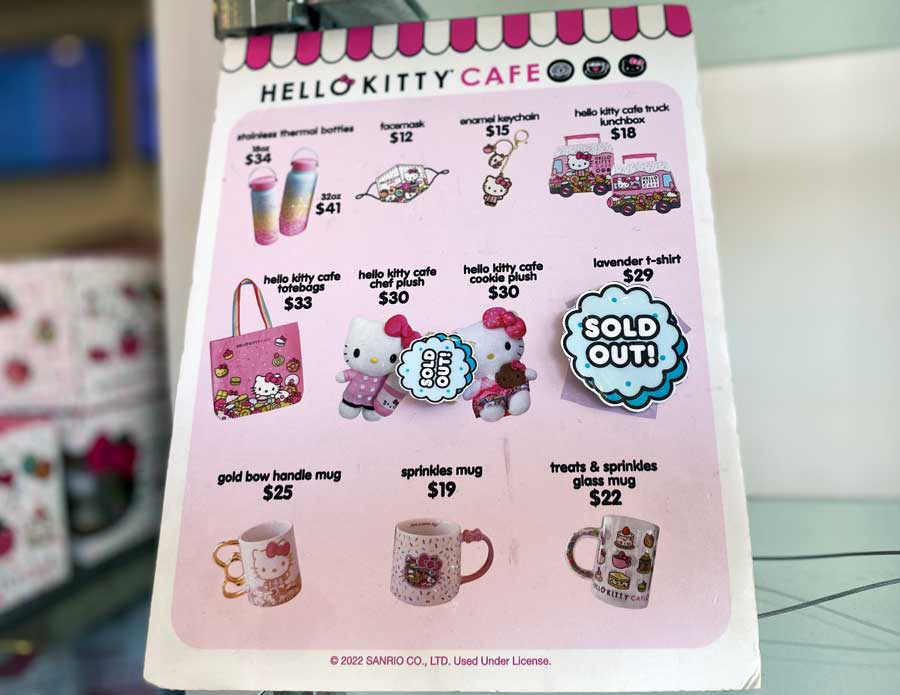 In addition to delicious foods and drinks you can buy here there are also their signature Hello Kitty Café merchandise like Hello Kitty Café chef coin bank, thermal bottles, mugs, tote bags, facemasks, enamel keychains, truck lunchboxes, lavender t-shirts and more.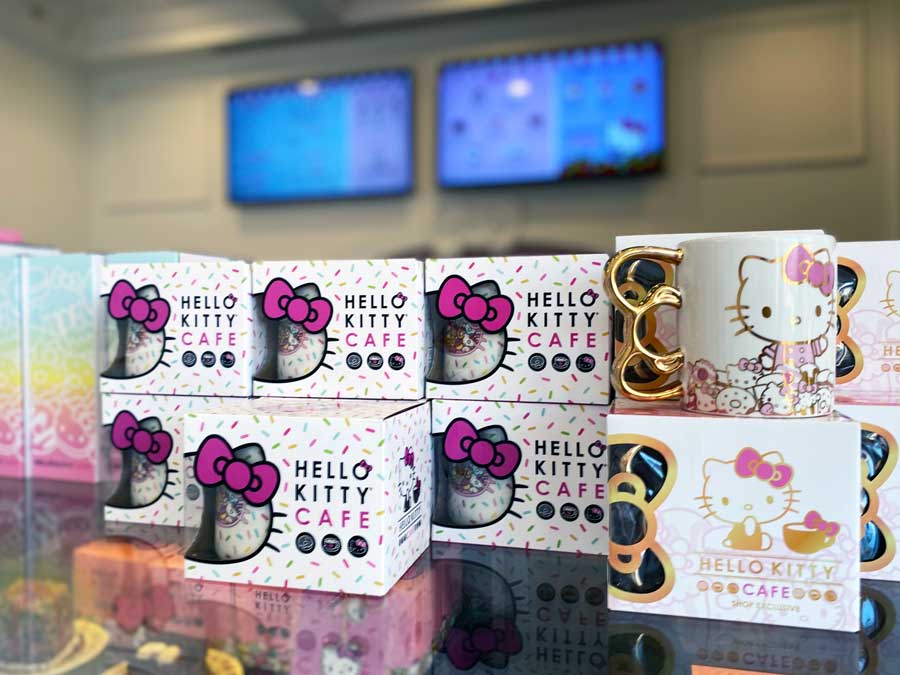 The dining room features peachy sofas and chairs that match the color of the wall with donuts painted on it.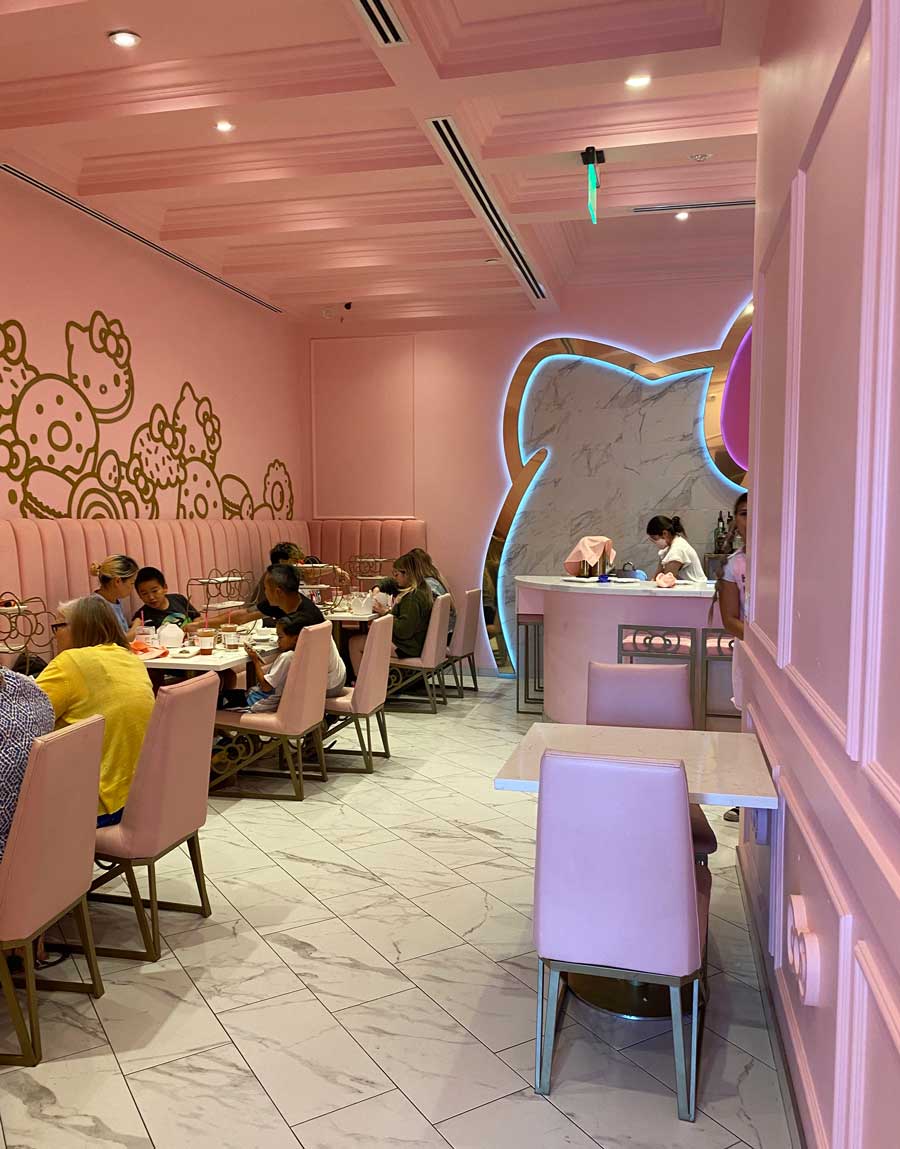 The bow element is dominating in the interior and can be found everywhere as a cute symbol of the trademark. The atmosphere is cute, girlish and sweet, and for a good reason, as the café serves mostly donuts, cookies, macarons and other sweet treats. The drinks available in the menu are plentiful too and include tea, coffee, shakes and juices.
I ordered three cups of donuts with different flavors: Cinnamon Sugar, Cookies 'n Cream and Rainbow. Now I've got it why there is always a line with people most days: your order is being made for you right away and it means that you always get the freshest donuts which are cooked while you are waiting for the order. You can even peek inside through the glass window to see your donuts being prepared.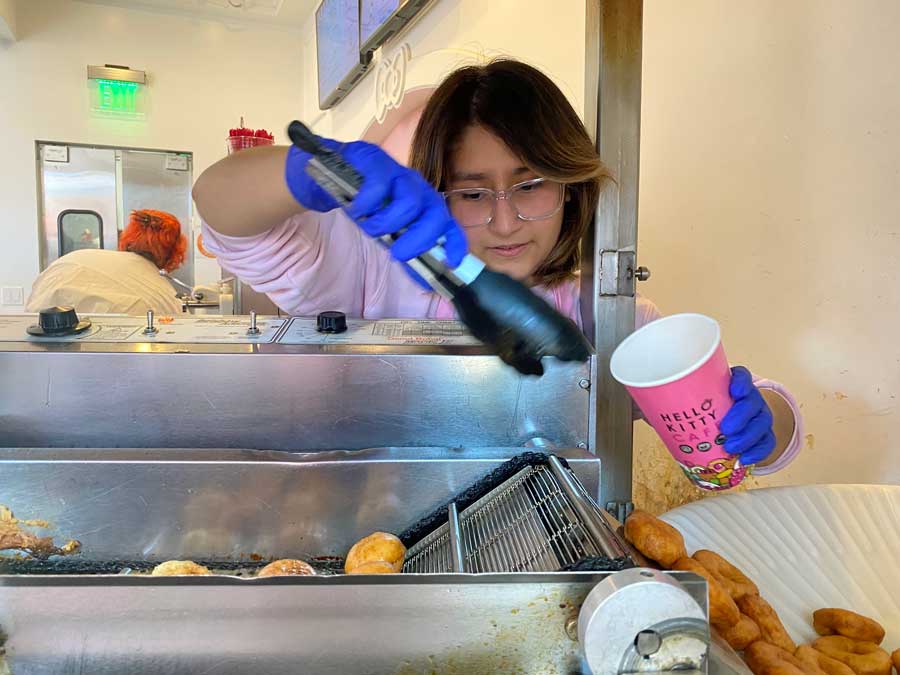 The best part about Hello Kitty Café donuts is that they really taste different. All three of them are super tender and just melt in the mouth, but the pastry is different. I liked Cookies 'n Cream most of all. They are the puffiest of all three and have the thickest pastry.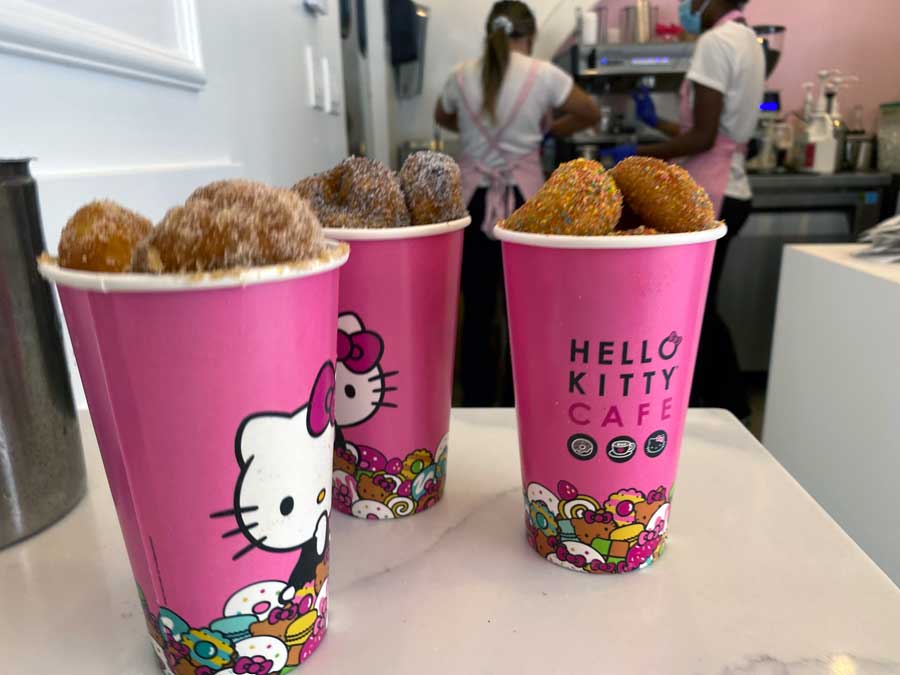 Rainbow donuts are sprinkled with multicolored topping which is my son's favorite, and my elder son liked Cinnamon Sugar best. All three have rich flavor and now I understand how different freshly made donuts taste from those cooked hours ago. Most bakeries have donuts delivered and are cooked several times a day. Here, in the café, they are made once the order is placed and nowhere will you find donuts fresher than these.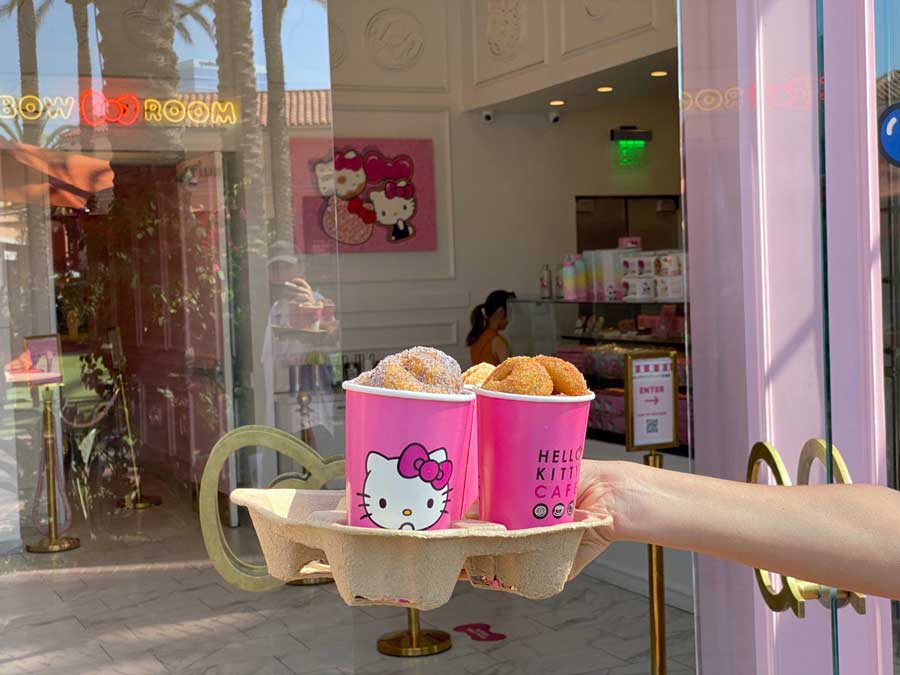 If you want to celebrate a special event, consider placing reservation at the Bow Room Hello Kitty Café during Afternoon Tea and Cocktail Service hours. I'm really looking forward to visiting this one-of-the kind café again to savor their signature cocktails and exclusive desserts.