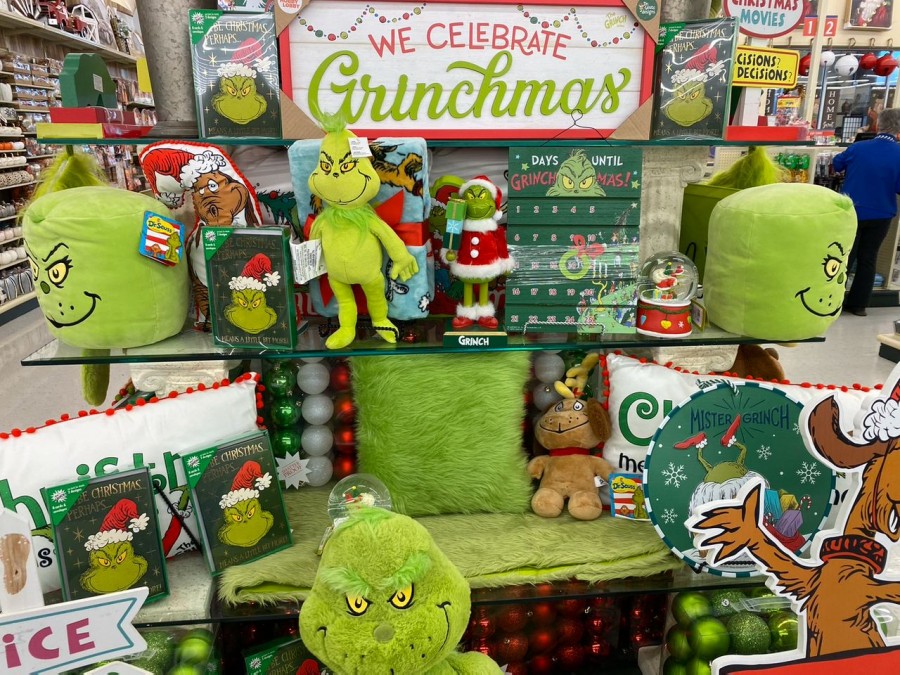 Every Christmas, the tale of How the Grinch Stole Christmas warms our hearts. Excited for the Holidays? Ready to Decorate? Why Not Choose Grinch Ornaments? Now, you can bring the magic of Whoville to your own home with these delightful Grinch ornaments! Whether it's the mischievous Grinch tiptoeing around, sweet Cindy Lou Who, or the loyal Max, these ornaments capture the essence of Dr. Seuss's classic story. Let's explore these charming finds that are sure to make your tree as festive as Whoville itself!
Every Who down in Whoville loved Christmas a lot, but the Grinch, who lived just north of Whoville, did not. However, this holiday season, the Grinch is here to spread joy and cheer with these enchanting Grinch ornaments. Join us on a journey through the magical world of Whoville as we discover these whimsical decorations that will make your heart grow three sizes!
1. The Grinch Tiptoeing Hanging Ornament:
Keep an eye on the sneaky Grinch as he tiptoes around, trying to steal presents. Will he succeed, or will the spirit of Christmas prevail? This ornament captures the Grinch's mischievous nature and adds a playful touch to your tree.
2. How The Grinch Stole Christmas 12-Piece Mini Ornaments:
Step into Whoville with this delightful set featuring Grinch, Max, Cindy Lou Who, and more! These pastel ornaments bring the beloved characters to life, creating a whimsical atmosphere on your Christmas tree.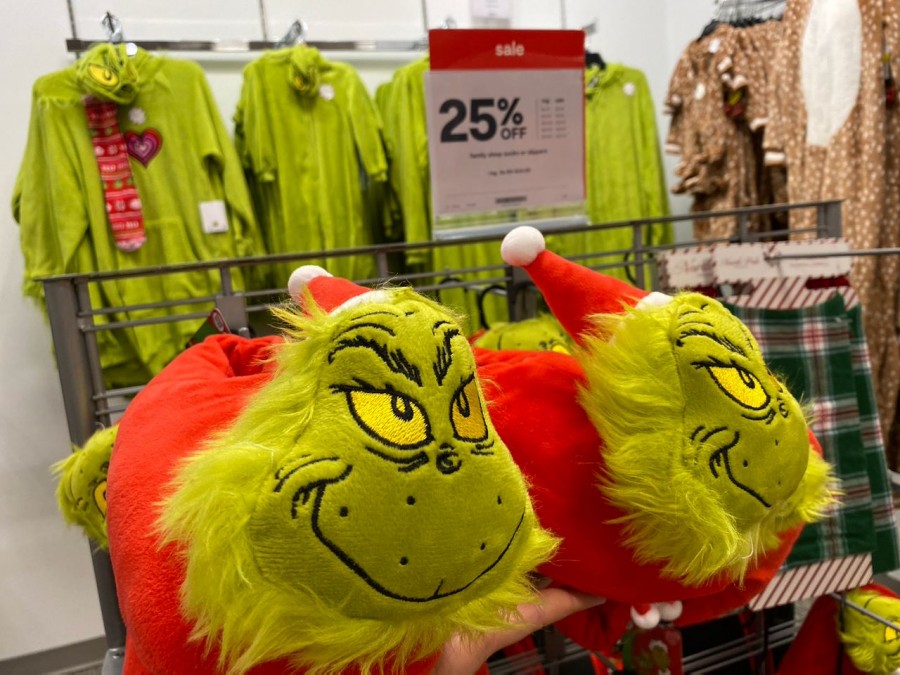 3. The Glittery Grinch Christmas Ornament:
Add a touch of glamour to your tree with this glittery Grinch ornament. His mischievous smile sparkles with holiday magic, making it a perfect addition to your Grinch-themed decor. Why settle for one when you can have a tree full of glittering Grinches?
4. Hallmark Merry Grinchmas Ornament: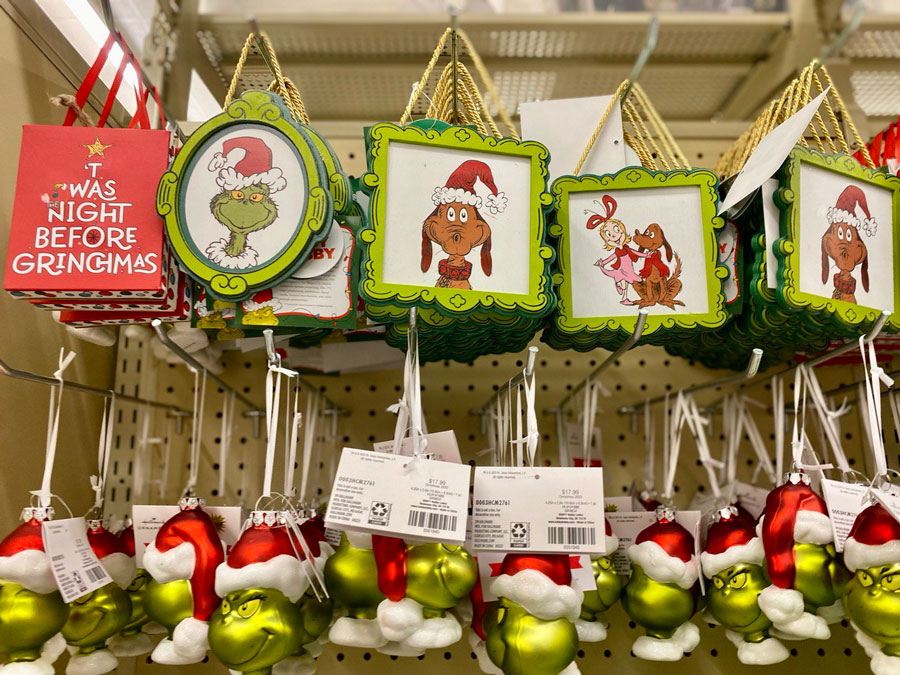 Wish everyone a Merry Grinchmas with this fun ornament featuring the Grinch in a Santa hat. The vibrant colors and high-quality design make it a favorite among Whos and Grinch fans alike. Hobby Lobby offers a delightful selection of Hallmark Grinch ornaments, perfect for adding a touch of whimsy to your holiday decor.
5. Dr. Seuss The Grinch Jumbo Cutouts:
Make a statement with these jumbo cutouts featuring key characters from Dr. Seuss's tale. From the Grinch himself to Cindy Lou Who, these large cutouts add a whimsical touch to your tree, creating a festive atmosphere for all.
6. Hallmark Blown Glass Grinch Ornament: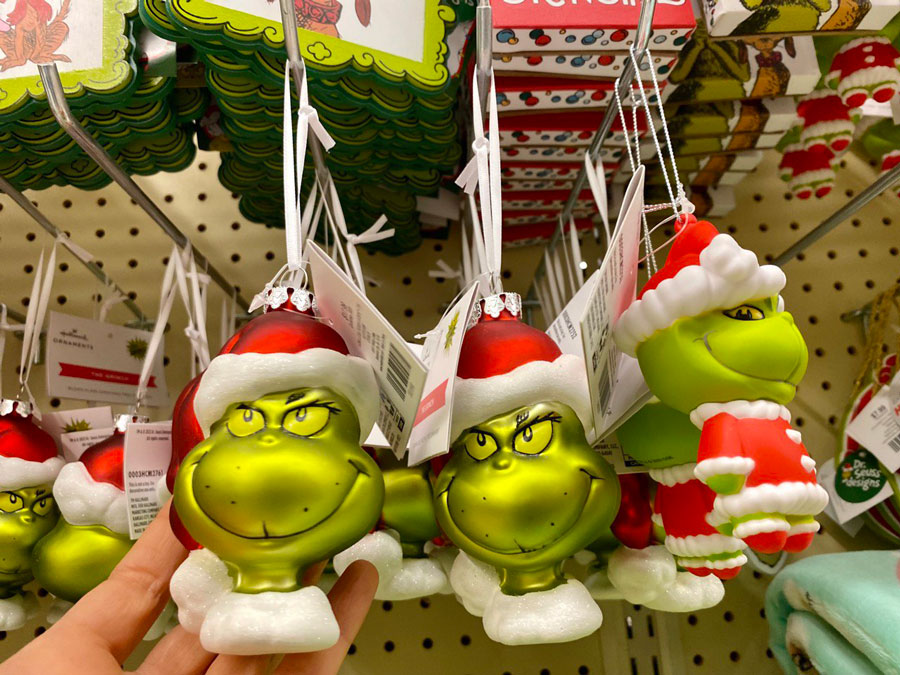 Crafted from blown glass, this Grinch ornament captures the Grinch's playful spirit. Whether he's wearing a Santa hat or holding a turkey, his antics are sure to bring smiles to your holiday celebrations.
7. Hallmark Grinch Classic Pose Christmas Ornament:
The Grinch contemplates his next move in this classic pose ornament. Will he steal Christmas, or will he discover the true meaning of the holiday? This ornament captures the Grinch's essence, adding a touch of suspense to your tree.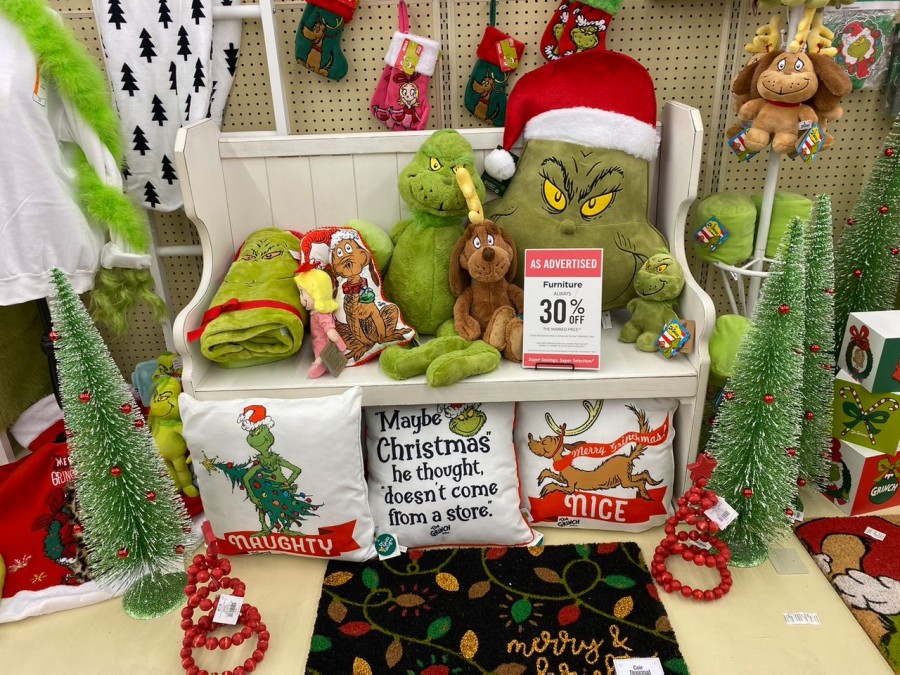 8. Hallmark Max in Wreath Blown Glass Christmas Ornament:
Max, the Grinch's loyal dog, takes center stage in this adorable ornament. Dressed as a reindeer and nestled in a colorful wreath, Max brings a heartwarming touch to your tree. Who can resist that cute face?
9. Grinch Stealing Christmas Tree Ornament:
Oh no! The Grinch is up to his old tricks, stealing a Christmas tree! This playful ornament captures the Grinch's naughty side, reminding us of his mischievous adventures in Whoville.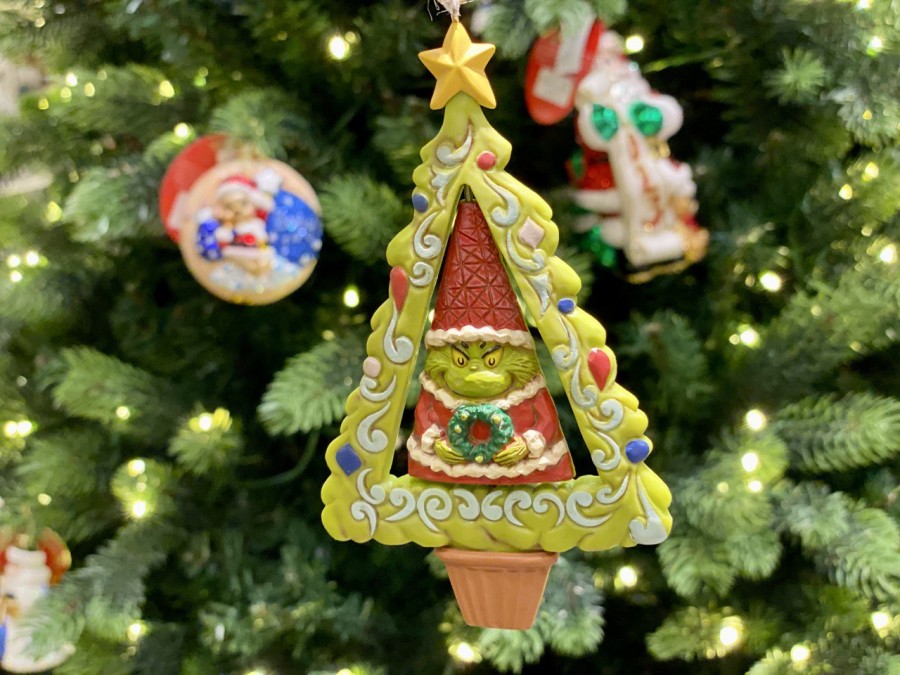 10. Grinch with Gift Christmas Ornament:
Is the Grinch stealing a gift, or is he ready to spread some holiday cheer? This ornament captures the Grinch in a moment of mystery, adding intrigue to your tree. The sparkly, beautifully wrapped present adds a festive touch to the decoration.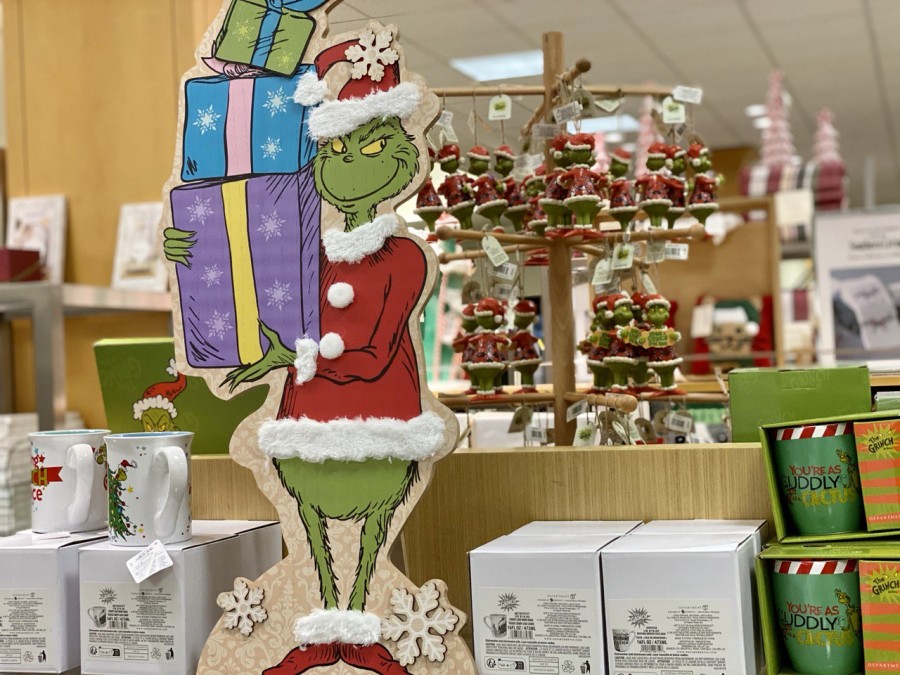 11. Welcome to Whoville Christmas Tree Decorations:
Transform your tree into Whoville with these charming paper signs. Direct your guests to Grinch Street, the Grinch's Lair, and other whimsical locations in Whoville. These signs create a festive atmosphere, inviting everyone to join in the holiday fun.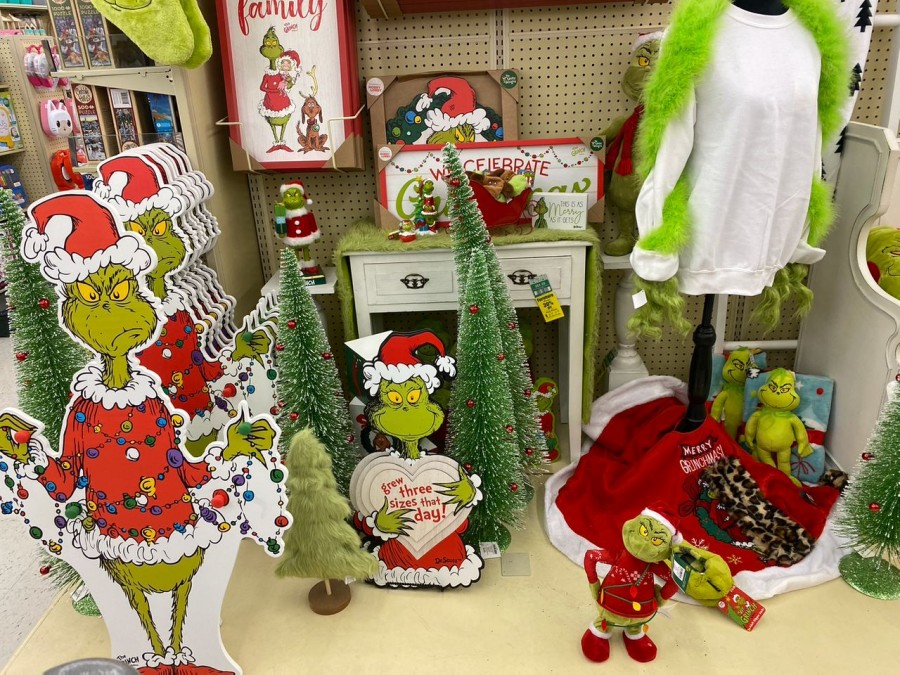 12. Lenox Cindy Lou Who Ornament:
Celebrate the innocence of Cindy Lou Who with this precious ornament. Holding candy canes and a present, Cindy Lou Who embodies the true spirit of Christmas. This ornament adds a touch of sweetness to your tree, reminding us of the kindness and joy of the holiday season.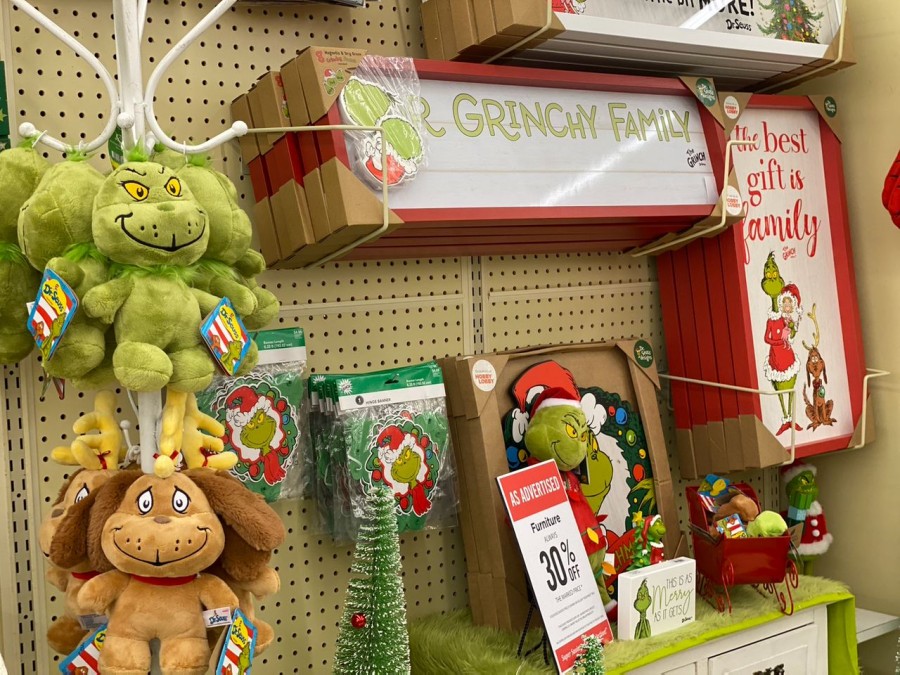 13. Hallmark Light-Up Grinch Christmas Ornament:
Light up your tree with this festive ornament featuring the Grinch, Max, and Cindy Lou Who. With a simple press of a button, watch as the decoration illuminates, creating a magical ambiance in your home. Batteries are included, ensuring your tree shines brightly all season long.
14. The Grinch Open Book Hanging Ornament:
Open the pages of Dr. Seuss's classic book with this adorable ornament. The Grinch stands atop a miniature version of "How the Grinch Stole Christmas!", capturing the essence of the beloved story. This ornament adds a nostalgic touch to your tree, reminding us of the timeless tale that continues to warm our hearts.
15. Grinch Blowmold Disc Ornament:
Embrace your inner Grinch with this playful ornament featuring the Grinch breaking a candy cane and wishing everyone a "Merry Whatever." Perfect for those who appreciate the Grinch's curmudgeonly charm, this ornament adds a humorous twist to your tree.
16. The Grinch with Heart Hanging Ornament:
Celebrate the heartwarming transformation of the Grinch with this adorable ornament. Depicting how "the Grinch's small heart grew three sizes," this ornament captures the essence of love and kindness. A perfect reminder of the true meaning of Christmas, this ornament adds a touch of warmth to your tree.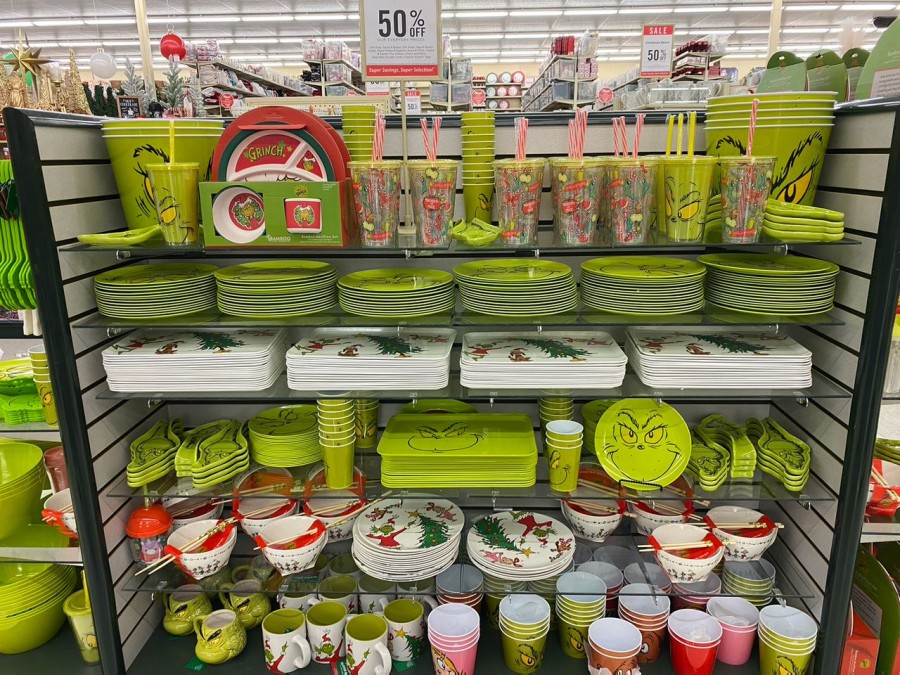 Now, where can you find these wonderful Grinch Ornaments? You can discover a fantastic selection of them at Hobby Lobby, your one-stop shop for all things Grinch. And if you're looking for crafty and handmade Grinch Ornaments, Etsy is the place to explore. Plus, here's a little holiday treat: You can get up to 50% Off and enjoy Free Shipping on a wide range of gifts at Etsy. Just imagine the joy of gifting these Grinch ornaments to your loved ones this holiday season!
But wait, there's more! If you're on the hunt for personalized Grinch Ornaments, look no further than Personalization Mall. And here's a little secret for extra savings: Get up to 50% Off on Personalized Gifts, plus an Extra 20% Off with Promo Code BPCM at Personalization Mall. Your Grinch-themed ornaments will be uniquely yours!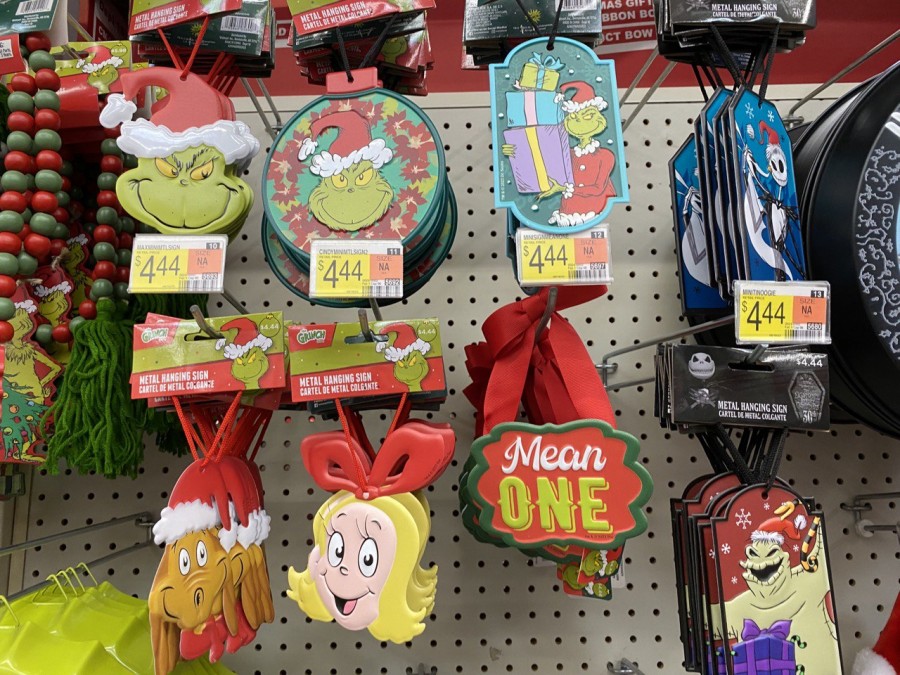 Whether you're a fan of the mischievous Grinch or the heartwarming spirit of Whoville, these ornaments bring the magic of Dr. Seuss's tale to life. From playful antics to heartfelt moments, each ornament tells a story, making your Christmas tree a canvas of holiday memories. So, embrace the festive spirit, hang these charming ornaments, and let the magic of the Grinch fill your home with joy and cheer this holiday season! Merry Grinchmas to all, and to all a whimsical night!