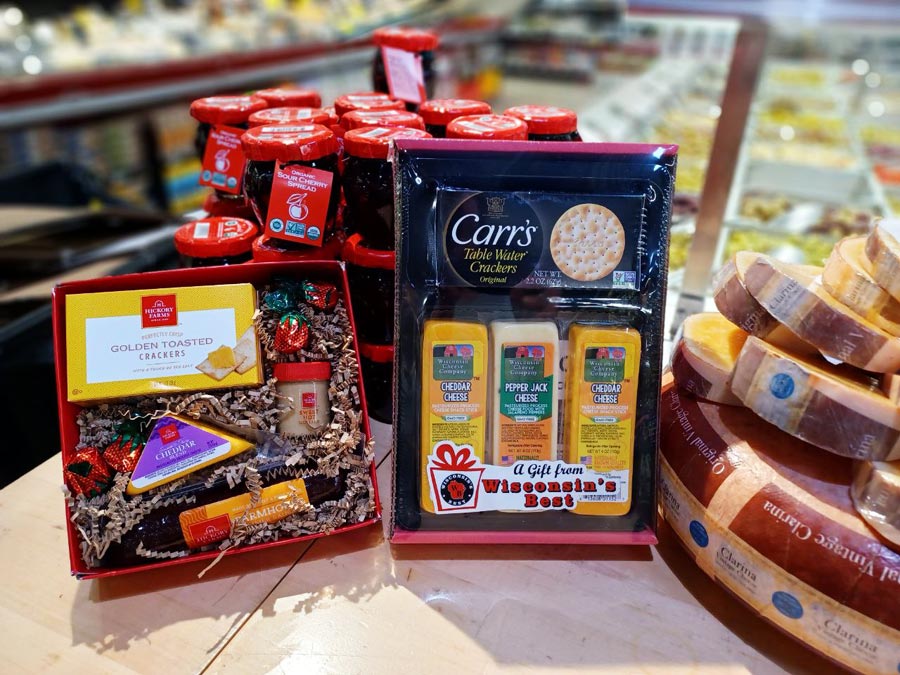 When you need a quick bike or want some gourmet snack cheese is the most traditional choice. To tell the truth I can hardly survive a day without a cheese sandwich and when you expect guests to come over cheese assortment is the must-have snack to serve with wine. Today I want to compare two popular brands Hickory Farms and Wisconsin and their products Hickory Farms vs Wisconsin's cheese. Is Wisconsin Best better than Hickory Farm? Let's figure it out.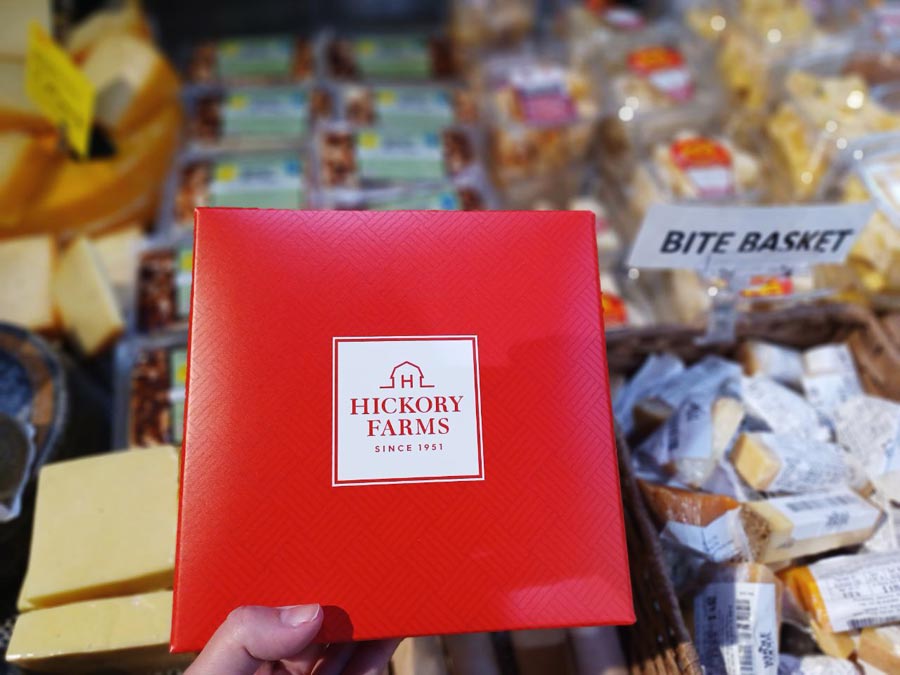 I will begin with an old-time classic gourmet gift baskets from Hickory Farms. The brand has been established in 1951 and since that time it has become the synonym for first-rate quality and refined taste. I have never tasted Hickory Farms cheese and sausage since I am new to the U.S., but I've read many positive Hickory Farms reviews, and was excited to try it. I ordered Hickory Farms Meat & Cheese Sampler Size Gift Box on Amazon. When I try a new product, I prefer to start with a sampler size gift box not to spend much money on product I don't like. Fortunately, I found this mini meat & cheese gift box on Amazon for $19.99 and purchased it from there as this item wasn't available at the official website hickoryfarms.com.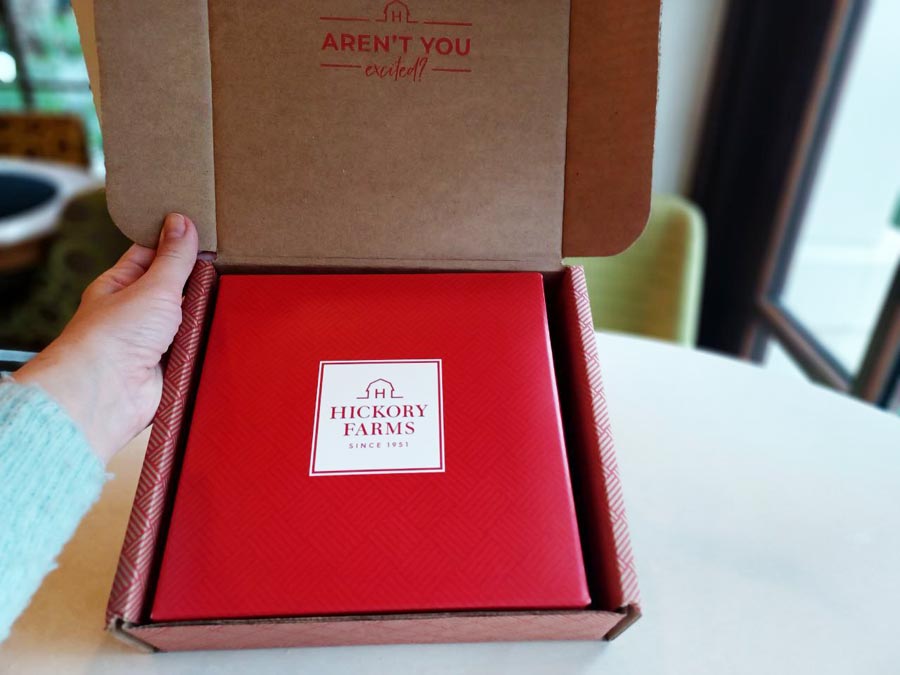 The bright red gift box is square shaped and arrived in a branded Hickory Farms mailer.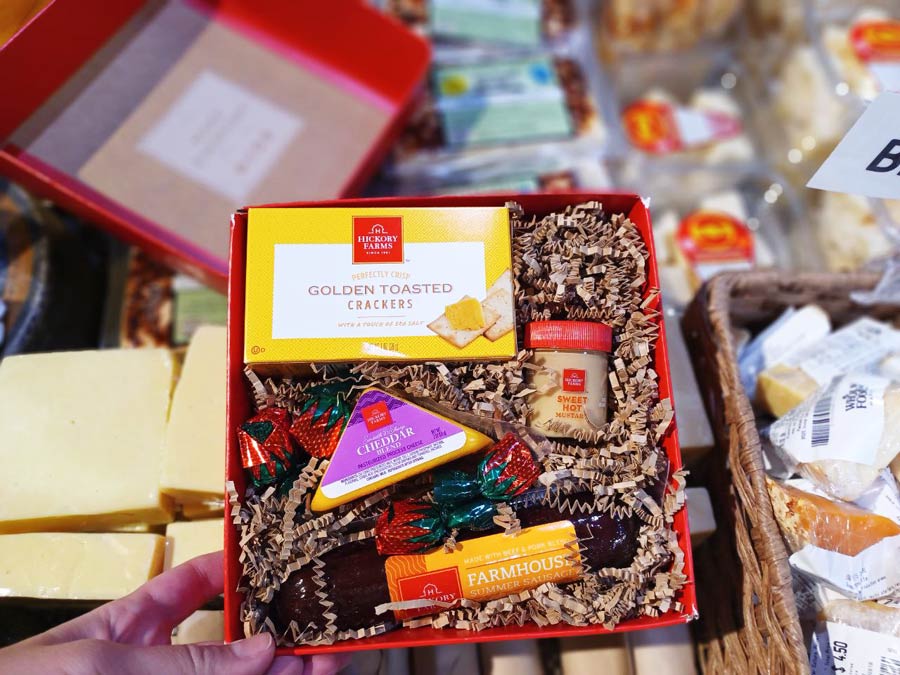 I opened it and saw 1 Summer sausage, 1 Smooth & Sharp Cheddar, 1 Sweet Hot Mustard, 1 Golden Toasted Crackers and 4 Strawberry Bon Bons inside.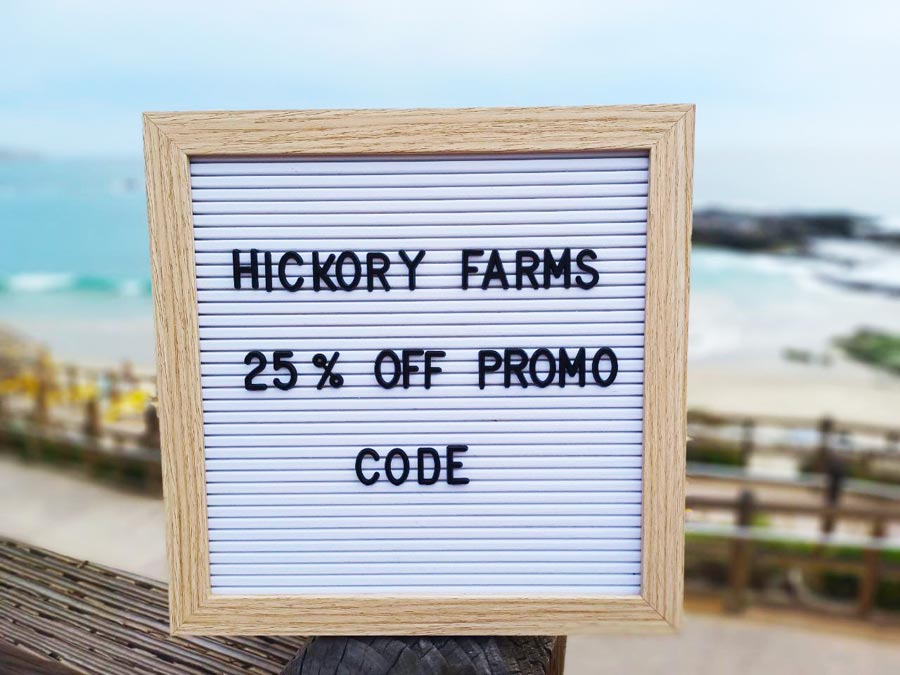 I was ordering from Amazon and paid the full price as this item was not discounted. But if you order from Hickory Farms directly, I recommend using Hickory Farms coupon to get Hickory Farms discount. The deals can differ from percentage off the regular price, dollar-amount discount or Hickory Farms free shipping. In most cases, if you apply Hickory Farms free shipping coupon other coupons wouldn't work.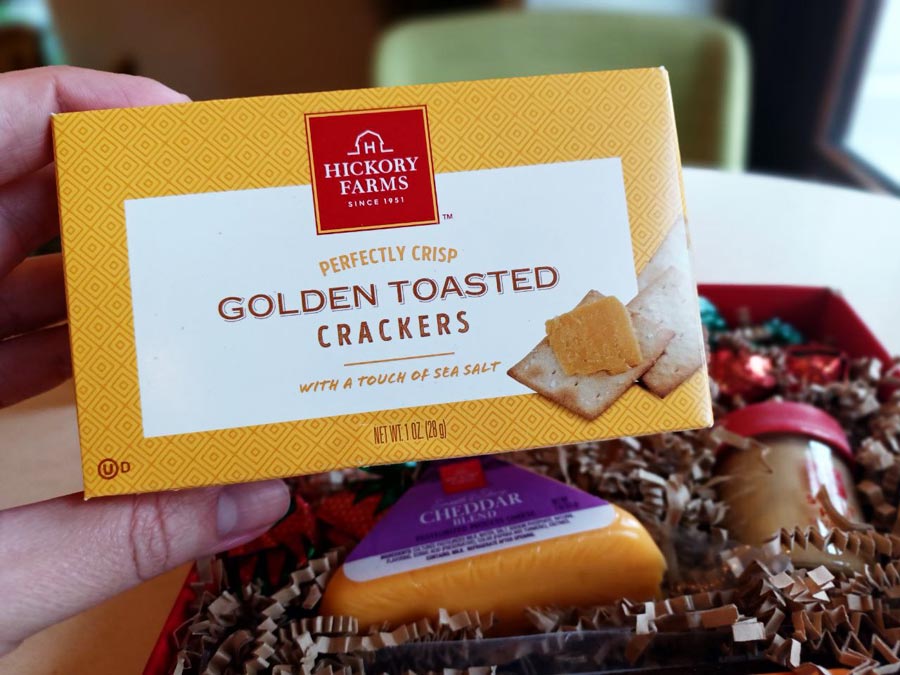 Let's return to Hickory Farms products themselves. Hickory Farms Golden Toasted Crackers are thin and crispy, sprinkled with sea salt.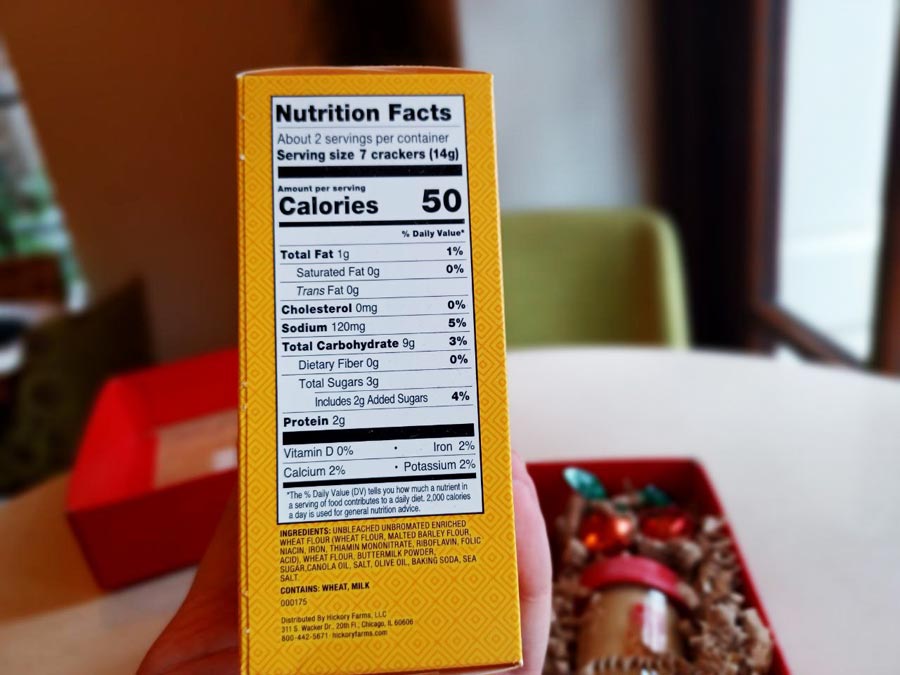 Among the ingredients are olive oil, wheat flower, baking soda and buttermilk powder.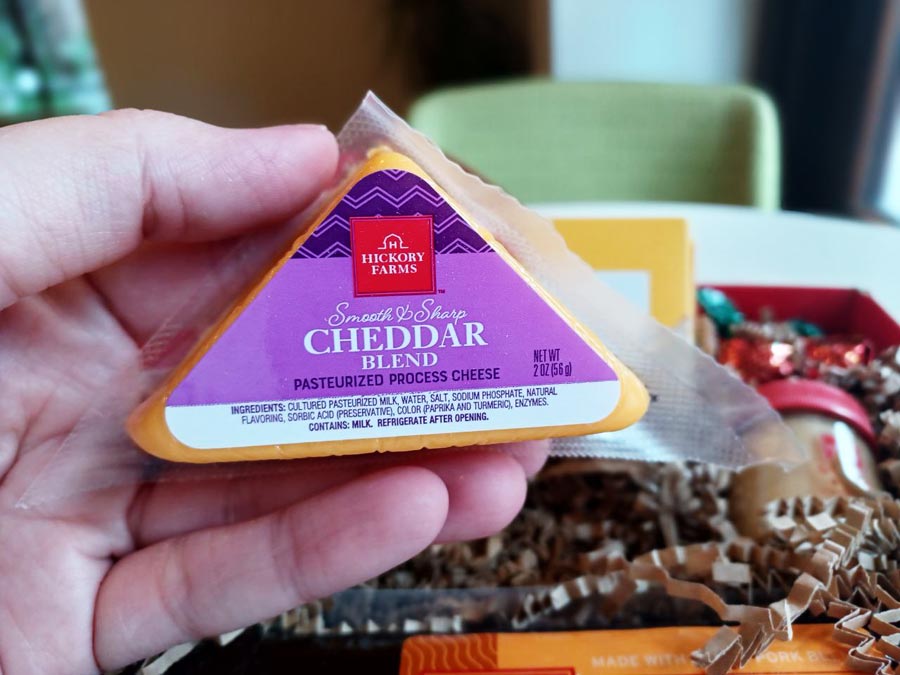 Hickory Farms Smooth & Sharp Cheddar Blend is made in accordance with pasteurized process and contains sorbic acid as preservative. Its taste is tender and a little bit sharp, but very pleasant. I liked it and even my kids had Hickory Farms Cheddar with great pleasure, even though they are very picky about cheese.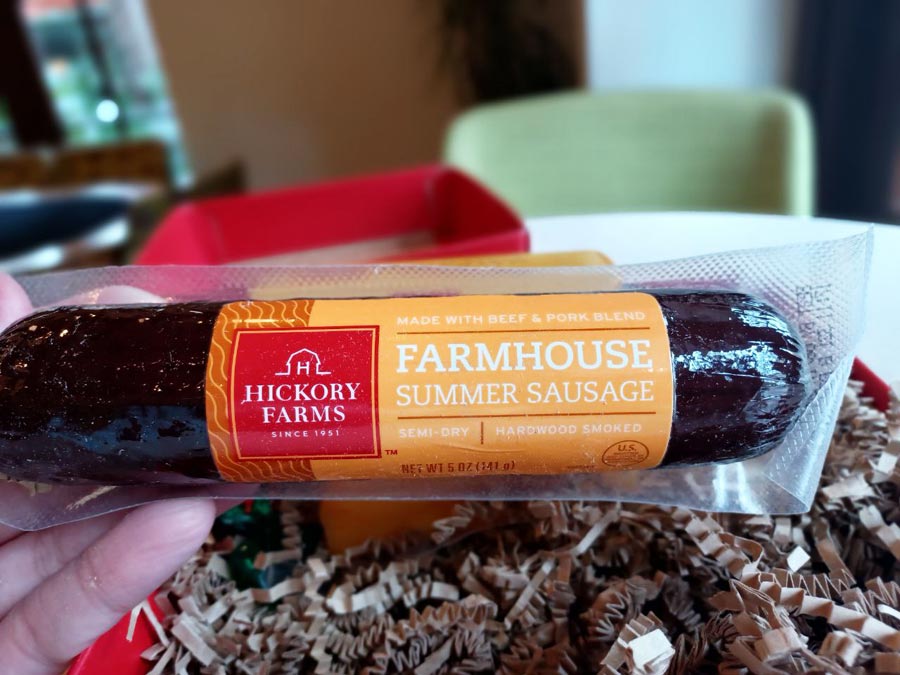 Hickory Farms Farmhouse Summer Sausage is made of beef and pork blend, and for me it's an ideal combination. The sausage does have some spices, but it's not hot and the taste is quite delicate, not to bold.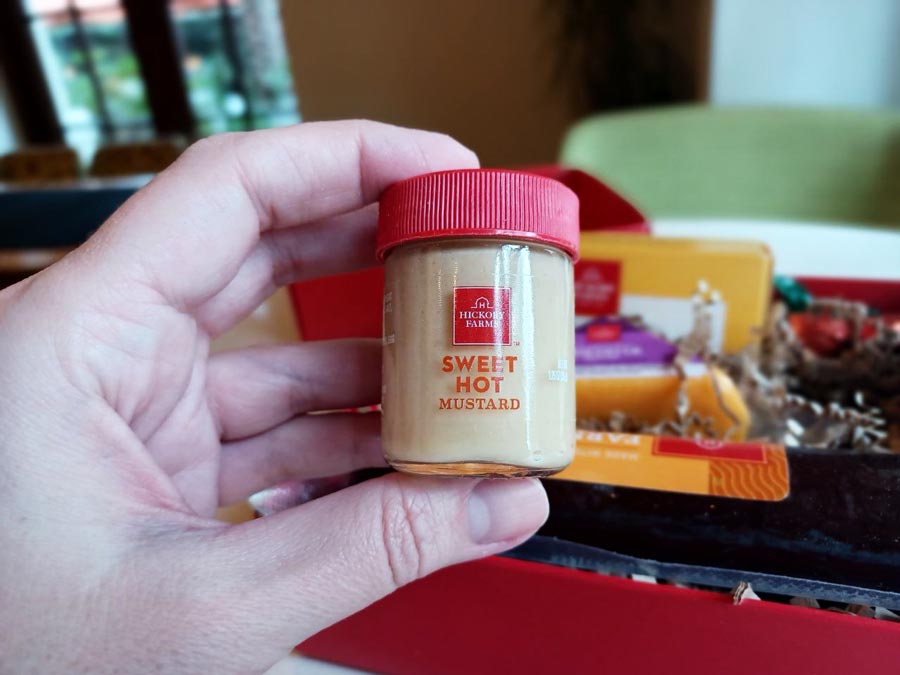 Hickory Farms Sweet Hot Mustard is just delicious. It's sweet and hot at the same time, with creamy consistency and nice flavor.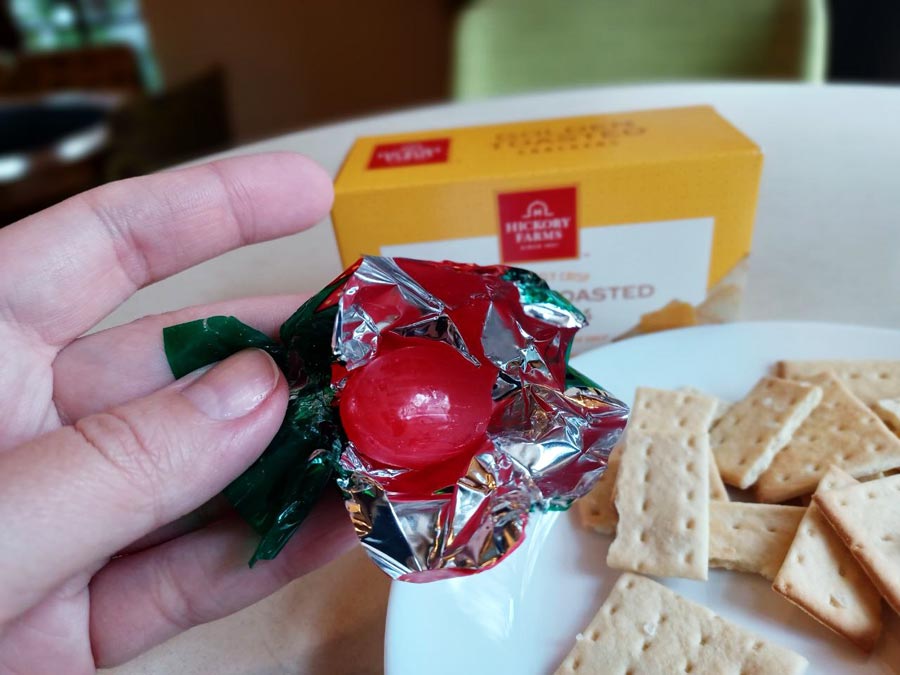 Finally, as the cherry on the cake, came Hickory Farms Strawberry Bon Bons. I ate one candy, and the younger son had the rest.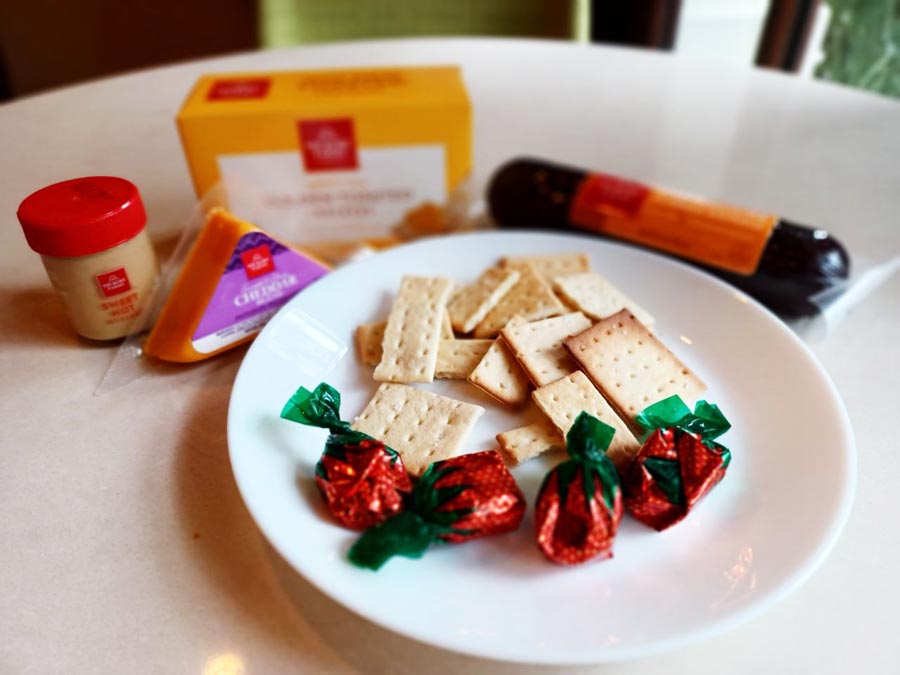 Strawberry flavor is his favorite so bon bons disappeared very quickly. Even though he has allergy, and we normally avoid candy of the red color, he had no allergy rush and it's the best proof of the product quality.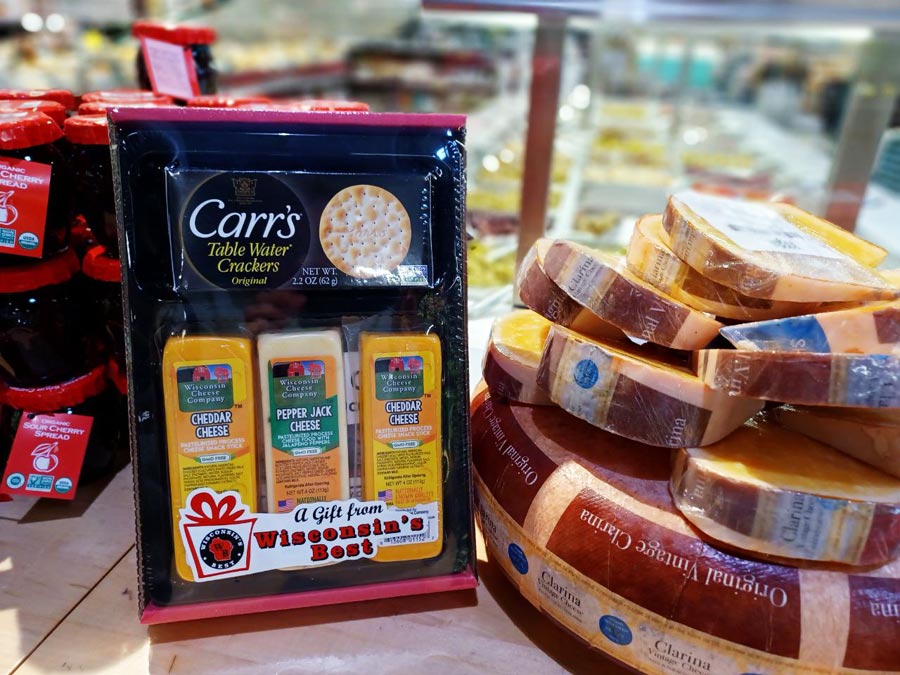 Now it's time to look into the contents of Wisconsin's Best gift box. It comes with Carr's Table Water Crackers and three cheese sticks: 1 Wisconsin's Pepper Jack Cheese and 2 sticks of the famous Wisconsin's Cheddar Cheese.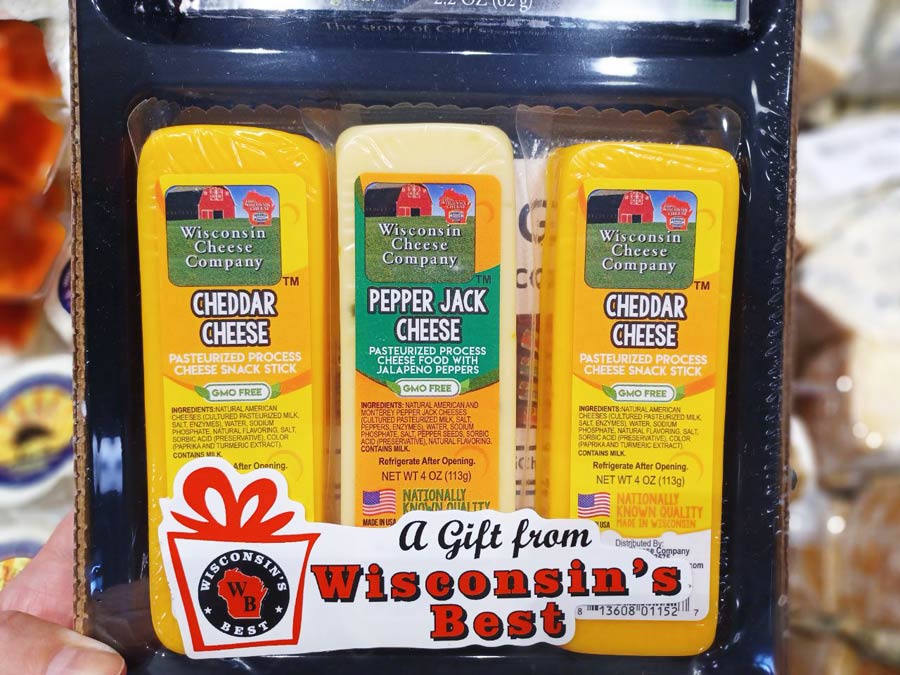 Known as one of the country's leaders in cheese production Wisconsin Cheese Company specialized in making gourmet cheeses that have become very popular.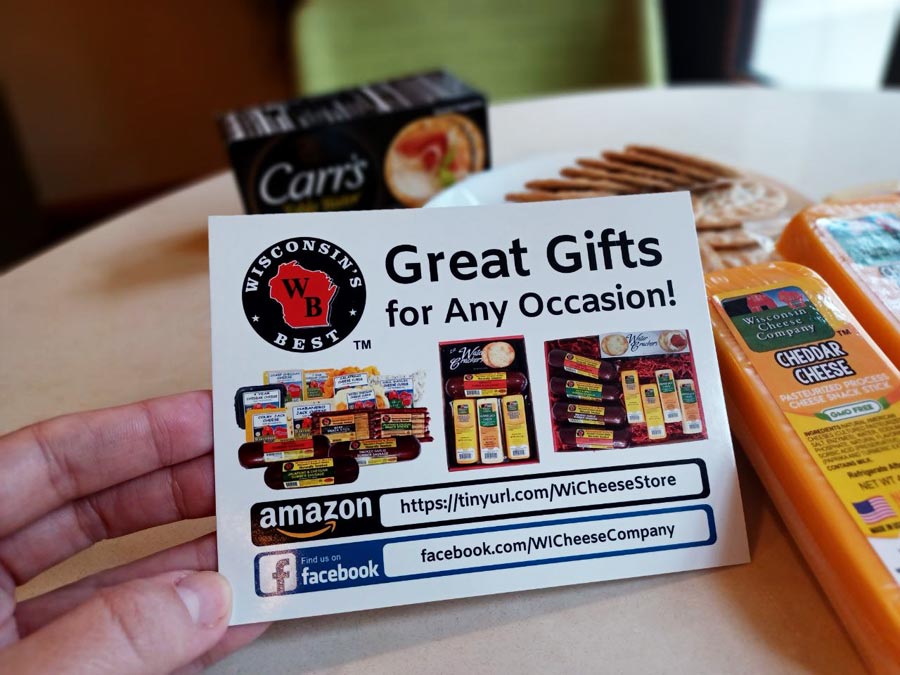 I purchased this gift box on Amazon too and it cost $24.99 Of course, Wisconsin Cheddar Cheese and Cracker gift box comes with different products.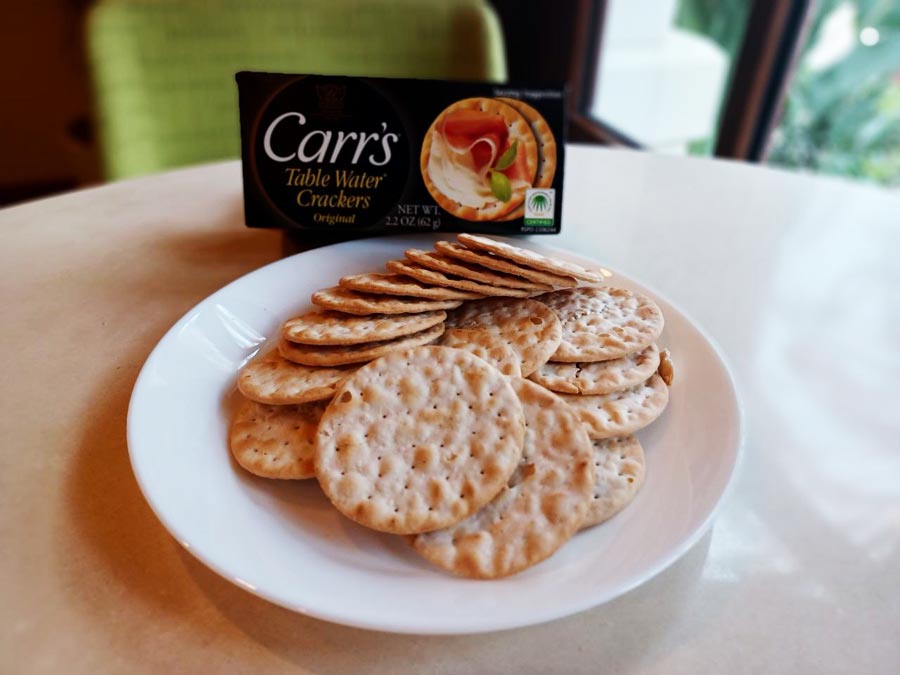 It only features two types of cheese and crackers and it's hard to compare Hickory Farms and Wisconsin Cheese gift boxes.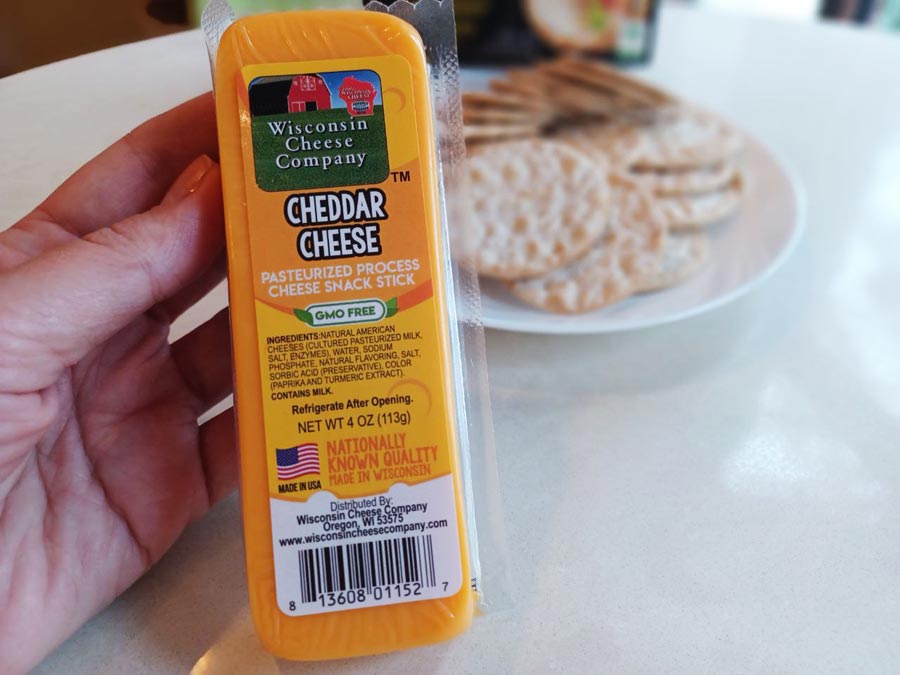 I can compare Cheddar though since both gift boxes feature this type of cheese. Wisconsin Cheddar is typically aged for 7 years, and it explains what it has such a rich creamy flavor. It's a little bit tangy and sharp, with very complex flavor palette.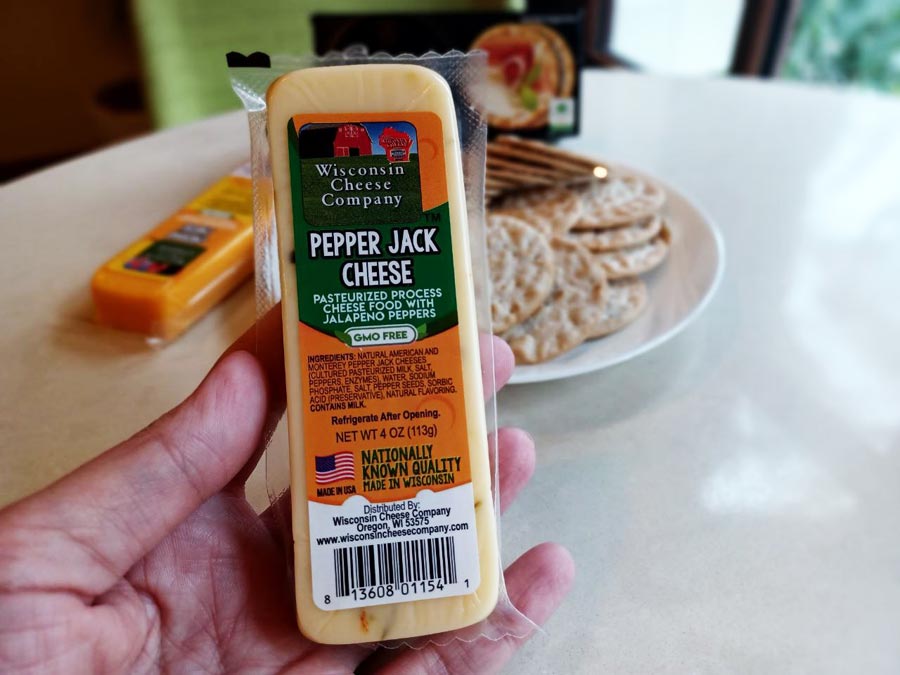 Comparing Hickory Farms Cheddar with Wisconsin Cheddar I can say that Wisconsin Cheddar has a richer flavor. Both Cheddars taste good when served with beer, wine or just on top of a sandwich. It's a matter of taste which Cheddar to choose and I would purchase both to be able to enjoy a variety of flavors.