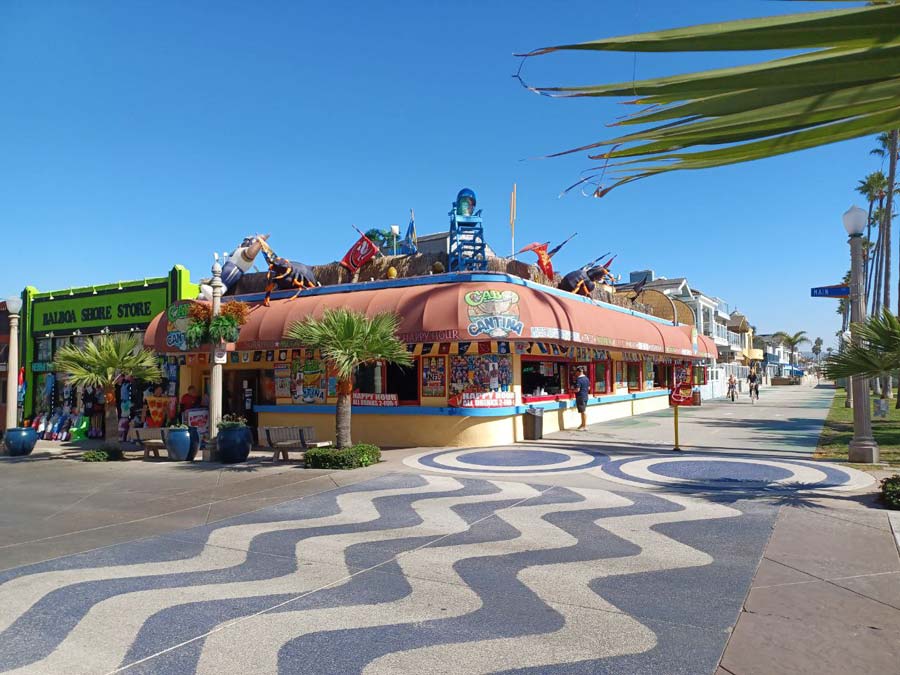 There is a place where my kids and I never feel bored – Balboa Island. There are so many things to do whatever the season is that everyone is sure to have lots of fun there.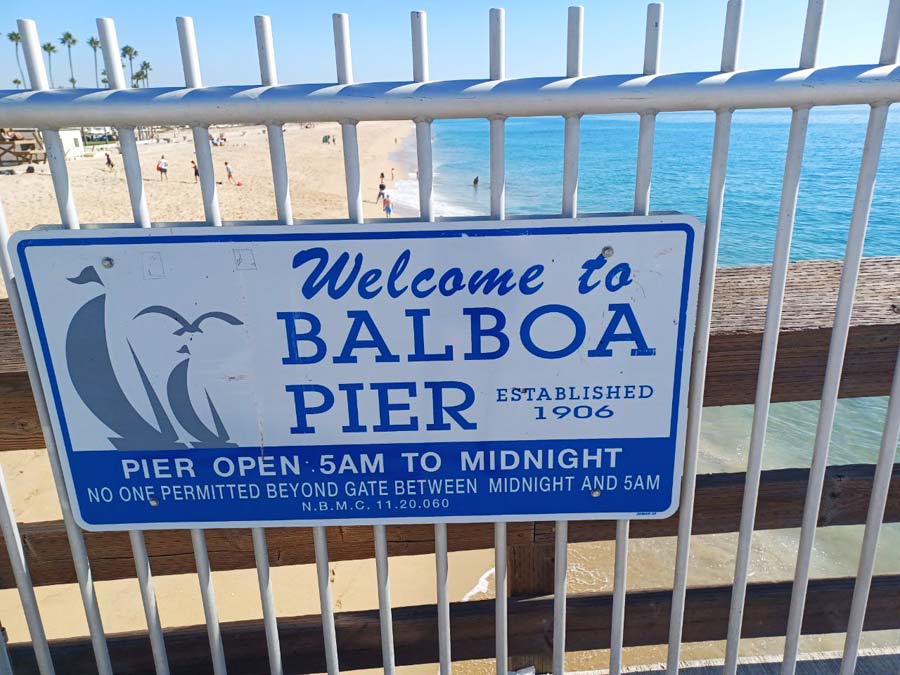 For me, the major attraction of Balboa Island is Balboa Pier and the beach. The golden sand beach has a crescent shape and is great for swimming and just walking along. During the summer months it is densely packed with people who soak in the sun, swim in the ocean and play beach volleyball.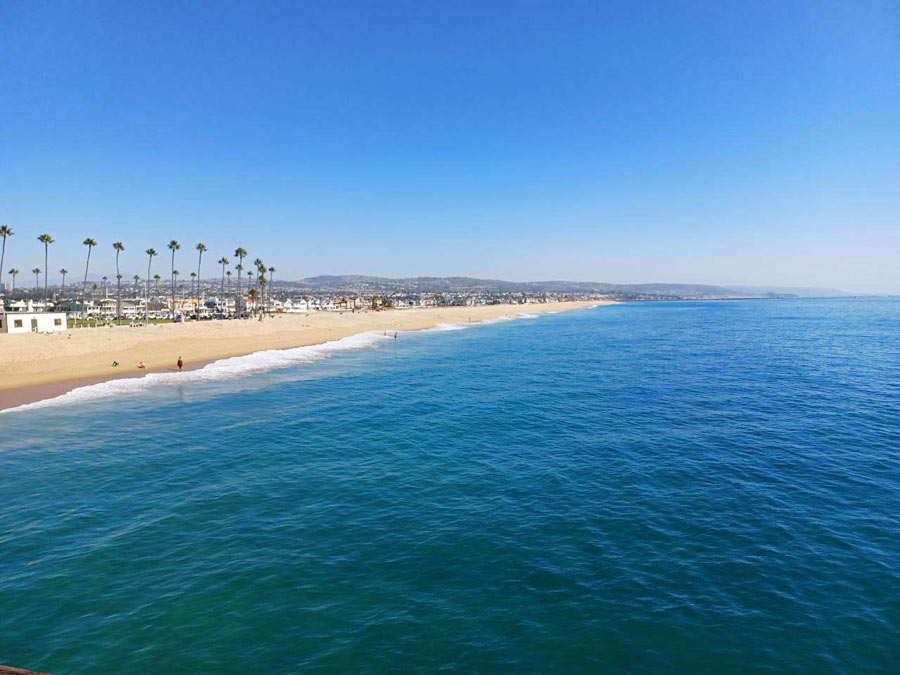 From the pier you can take in beautiful views and see boats and liners pass by in the distance. For 25 cents you can view the surroundings up close from the pier. Also, there are benches for those who want to make a pause and sit for a while observing the coastline and watching people fish right from the pier. There is even a small snack bar where you can get hot dogs, sandwiches, burgers and drinks.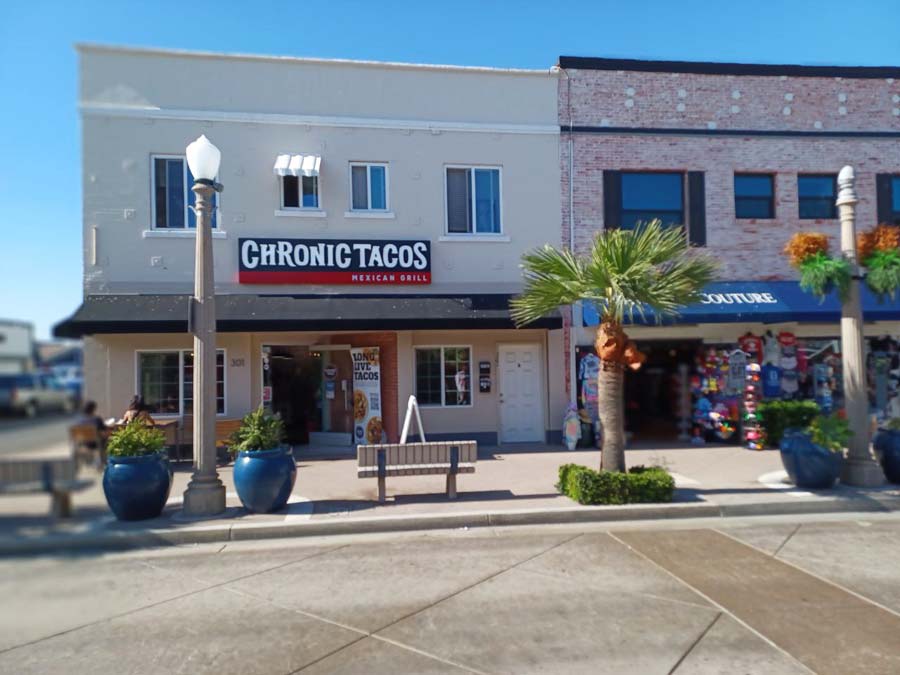 If you don't feel like hitting the beach, there are plenty of other attractions at Balboa Island. First of all, there are lots of restaurants, cafes and pubs, so this area is very lively at the weekends.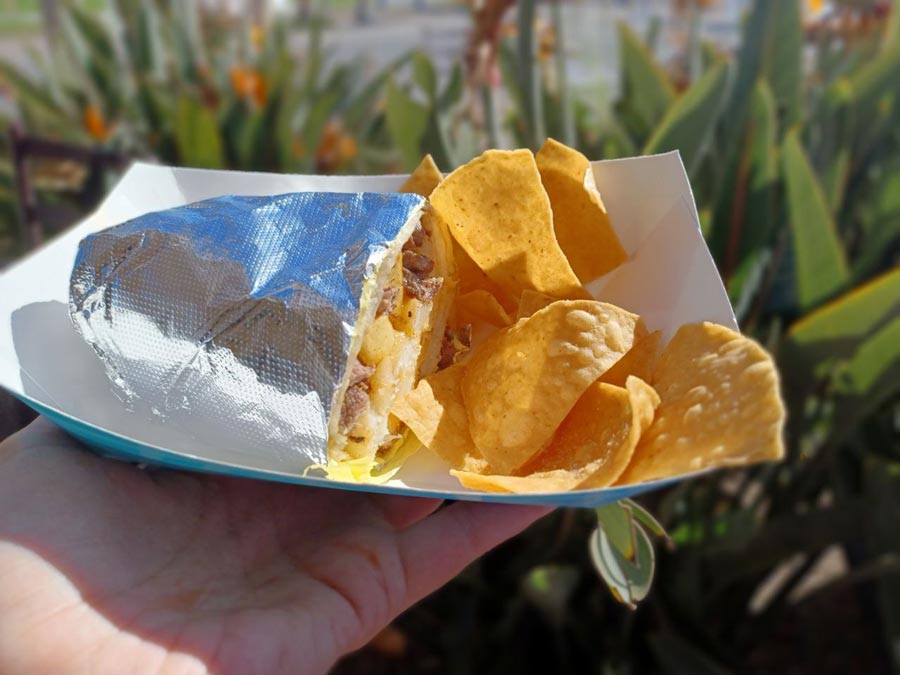 You can find a variety of foods offered there, from American to Japanese. And, of course, you will see many places to eat serving Mexican cuisine.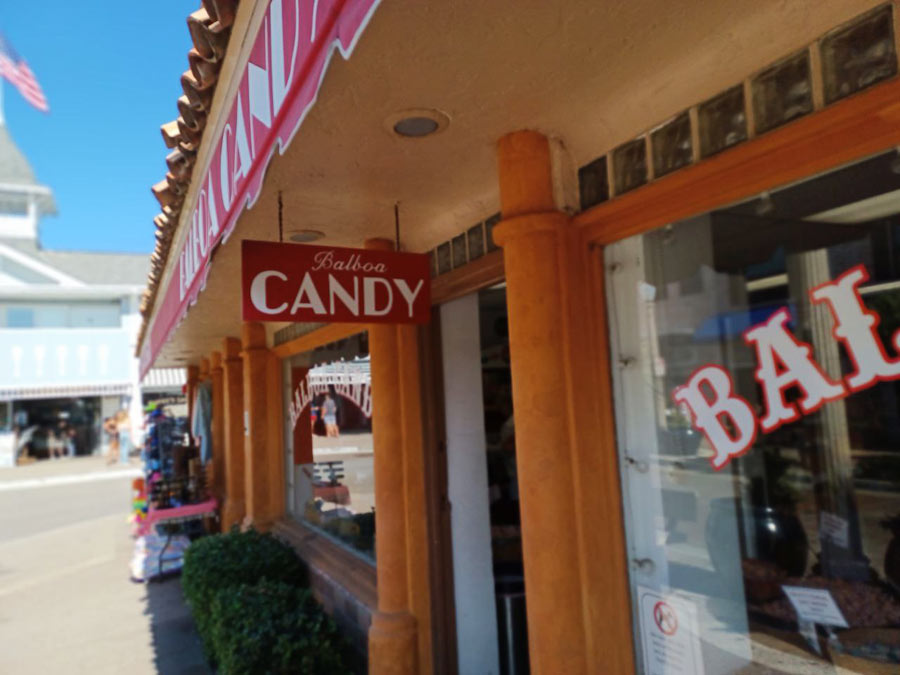 For the sweet tooth there is Balboa Bakery Donuts and Balboa Candy store.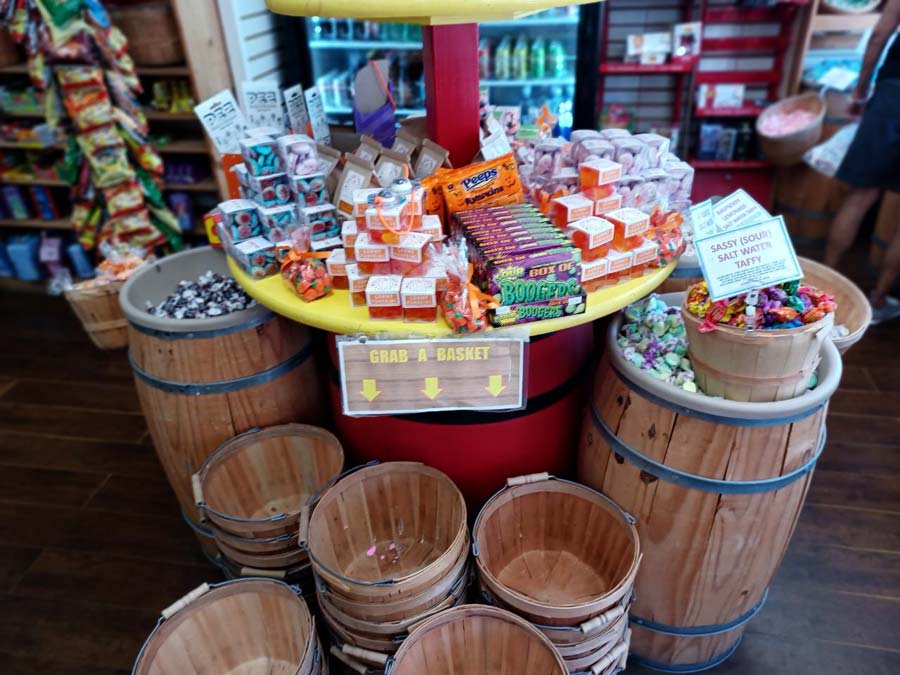 Balboa Candy located at 301 Marine Ave #1, Newport Beach, CA 92662 offers a variety of candy stored in huge barrels.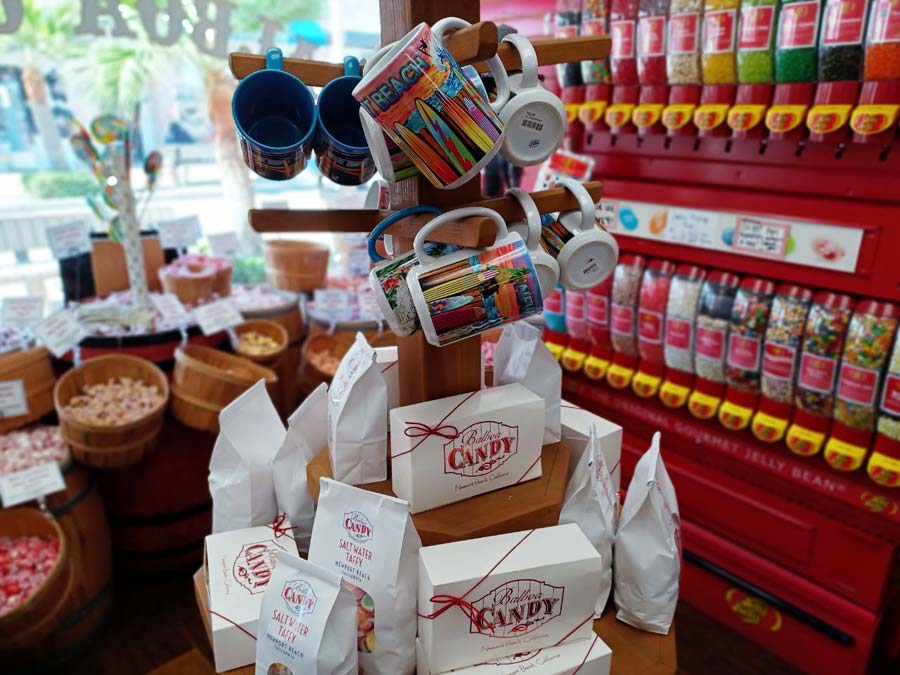 The assortment of candy is really great, plus you can purchase Disney lunch boxes and souvenirs like Newport Beach mugs and figurines made of shells.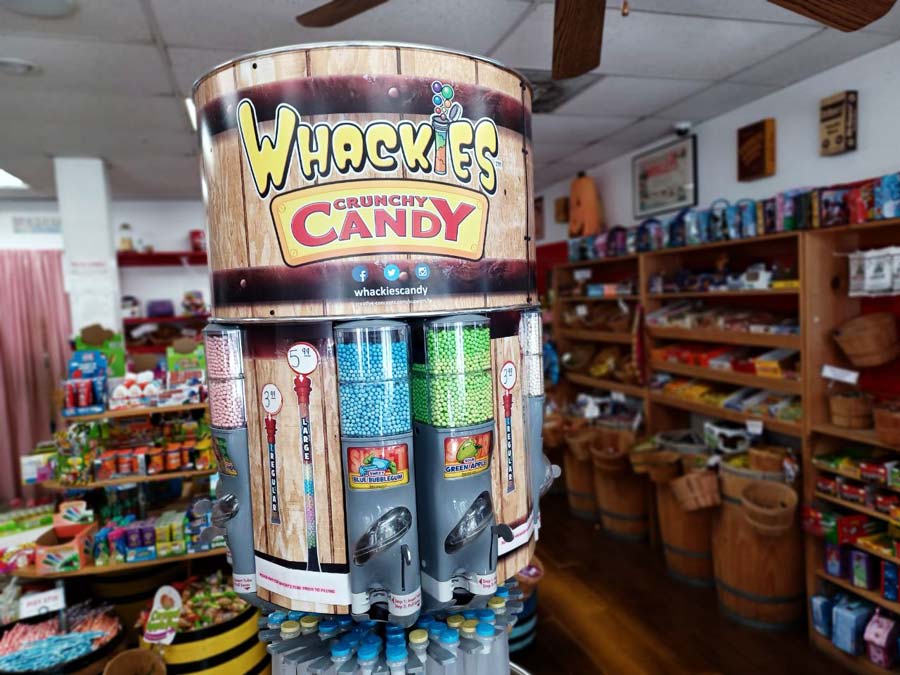 Whackies Crunchy Candy machine will help you get customized candy tubes with candy of different flavors of your choice.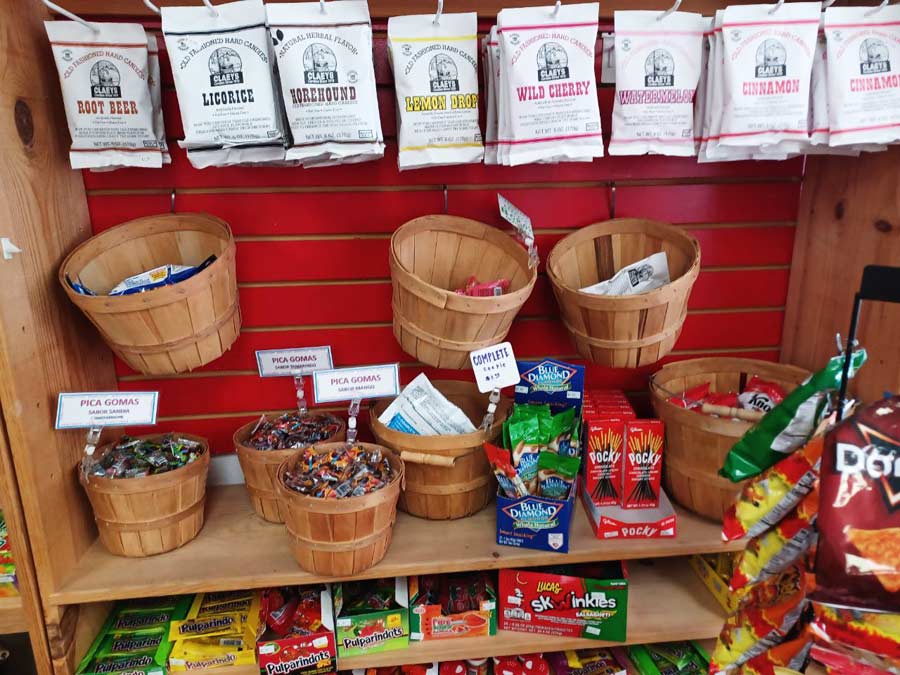 The cute thing about this store is that their shopping baskets are round and look exactly as vintage wood baskets of the 19thcentury.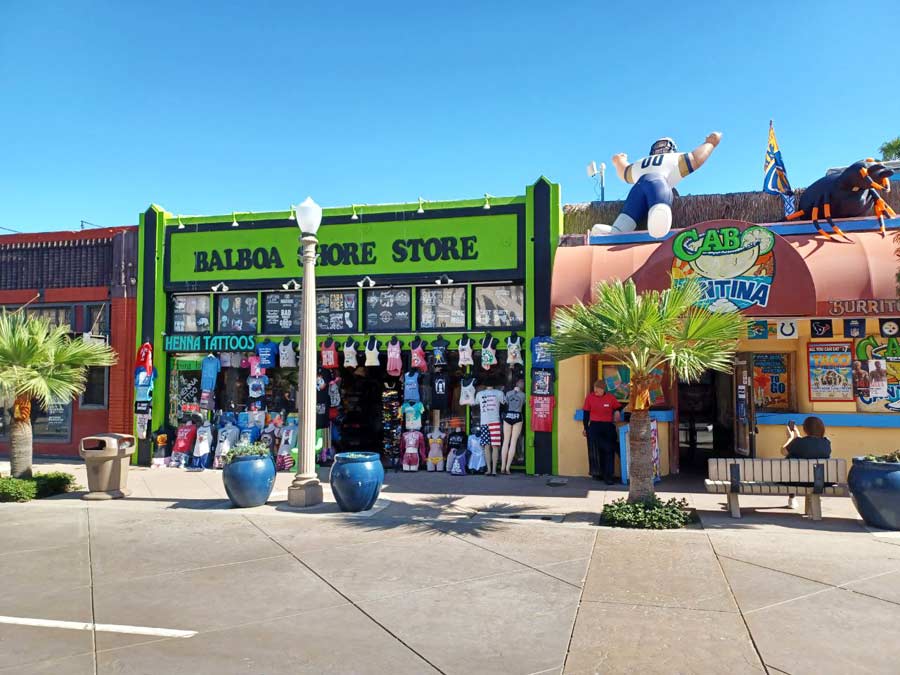 Shopping at Balboa Island is really unique. Here you will see lots of gift shops offering exclusive gifts, mostly connected with the beach lifestyle.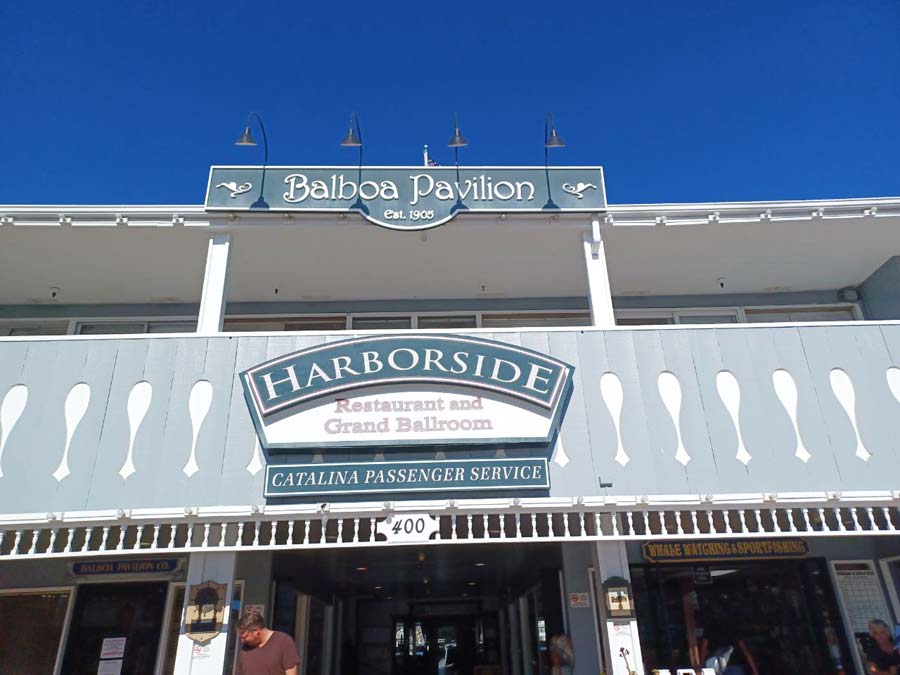 Balboa Pavilion (400 Main St, Newport Beach, CA 92661) is the center of shopping here. There are unique gifts like handmade jewelry, paintings, clothing and more. I only wish they had more personalized stuff there.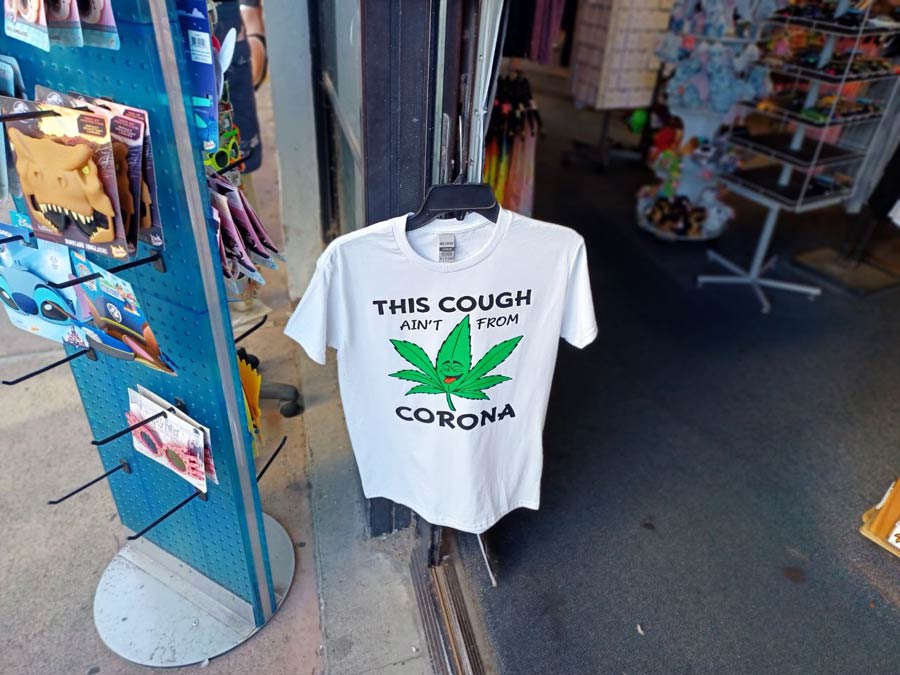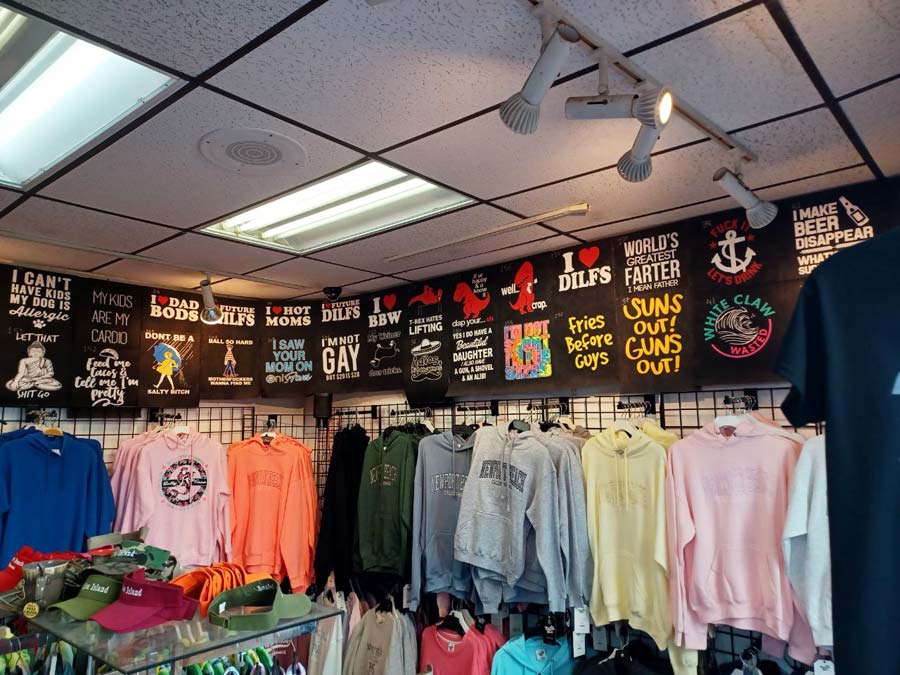 Apart from Fun N Sun store (307 Main St, Newport Beach, CA, 92661) where you can purchase customized t-shirts there is nothing that can be personalized. For a wide selection of personalized gifts consider checking out Personalization Mall.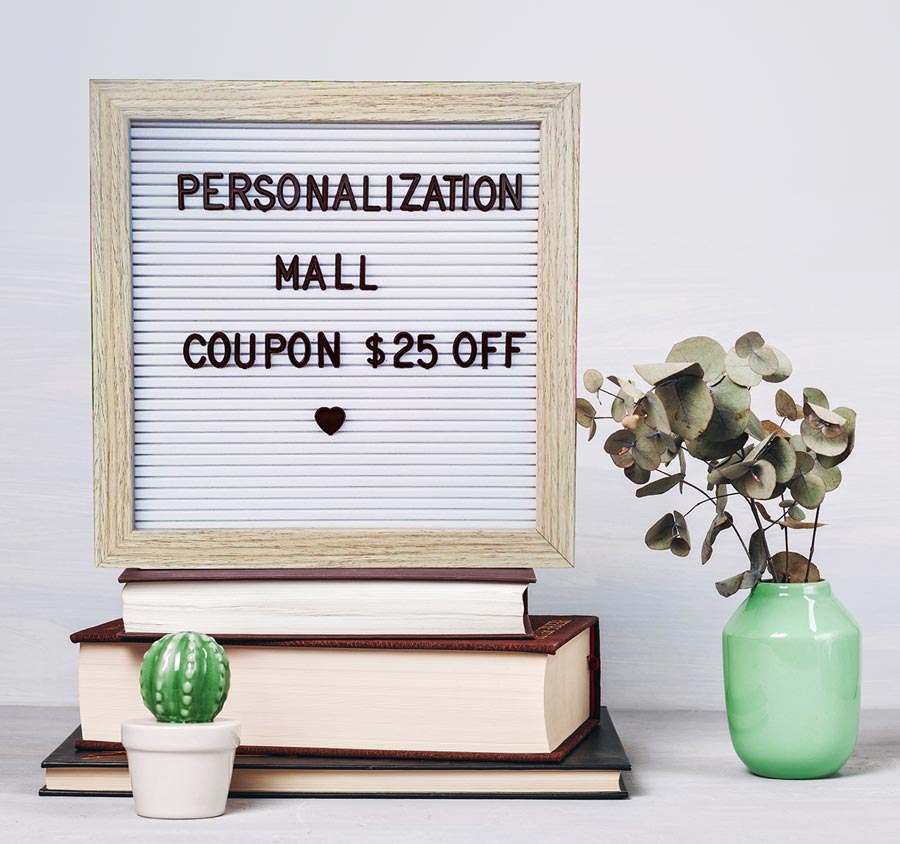 This is my favorite store of customized products and I always save on my online orders with Personalization Mall coupons.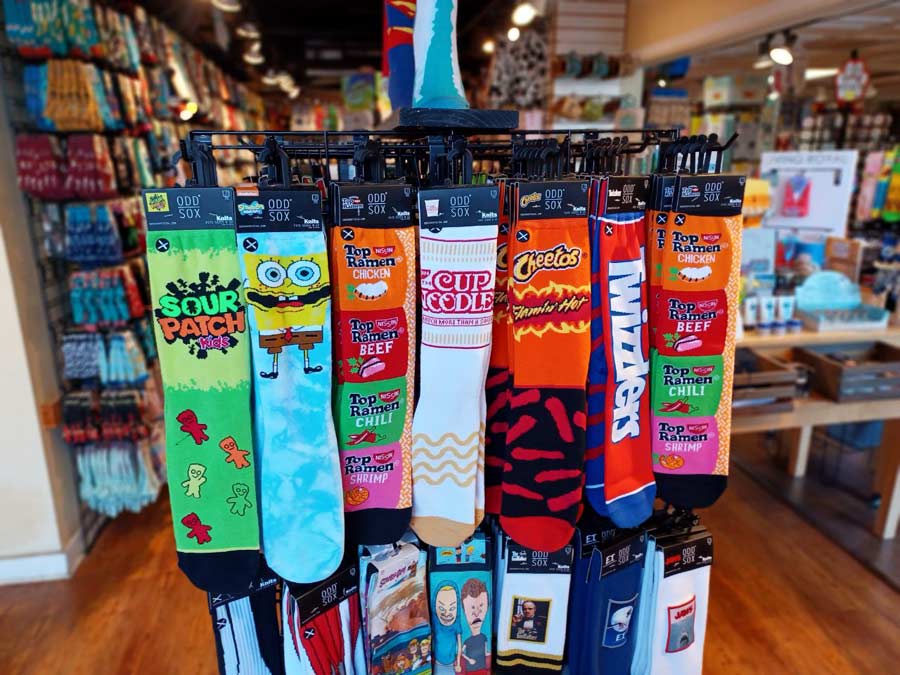 Sock Harbor store (309 Palm St Suite F, Newport Beach, CA 92661) is worth visiting if you are looking for a pair of "crazy" socks.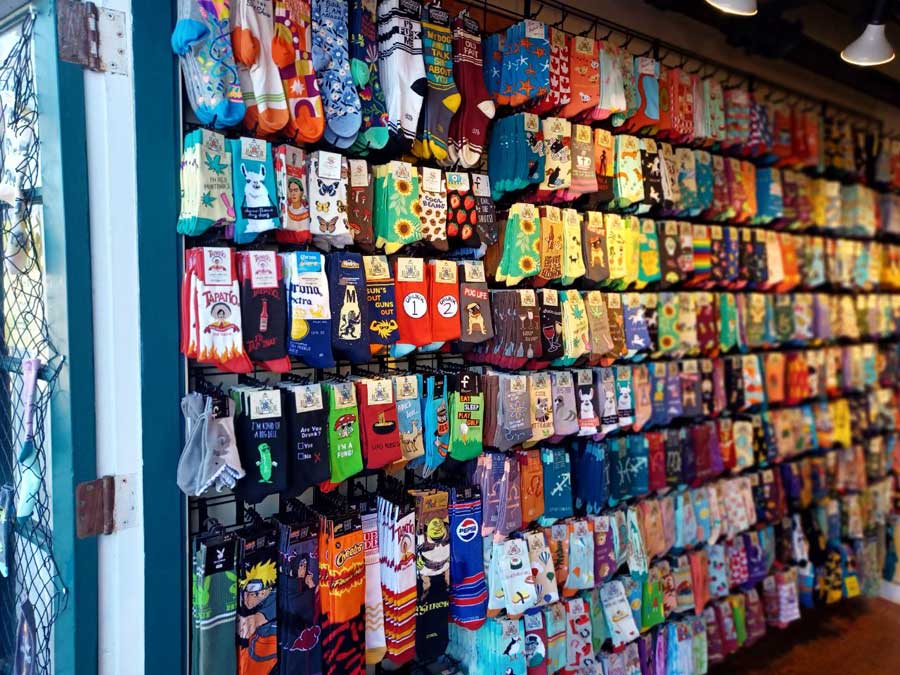 I have never seen such a vibrant collection of socks with the most unusual prints. Here you are sure to find something you will like or a pair of socks that will show off your hobbies and passions.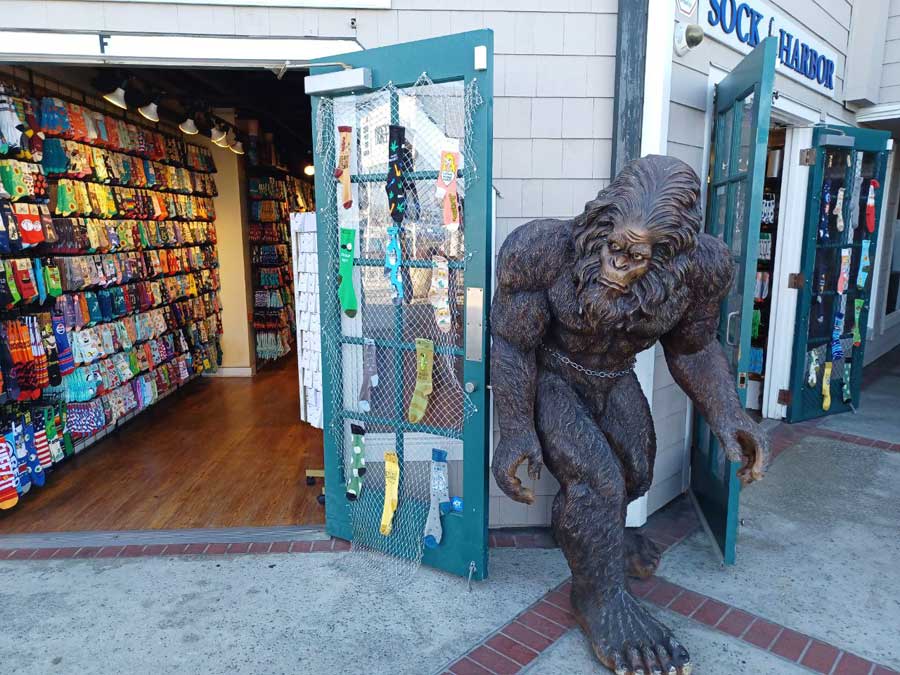 A huge ape-like figure guards the entrance to the store and people would often stop by to take a photo of it.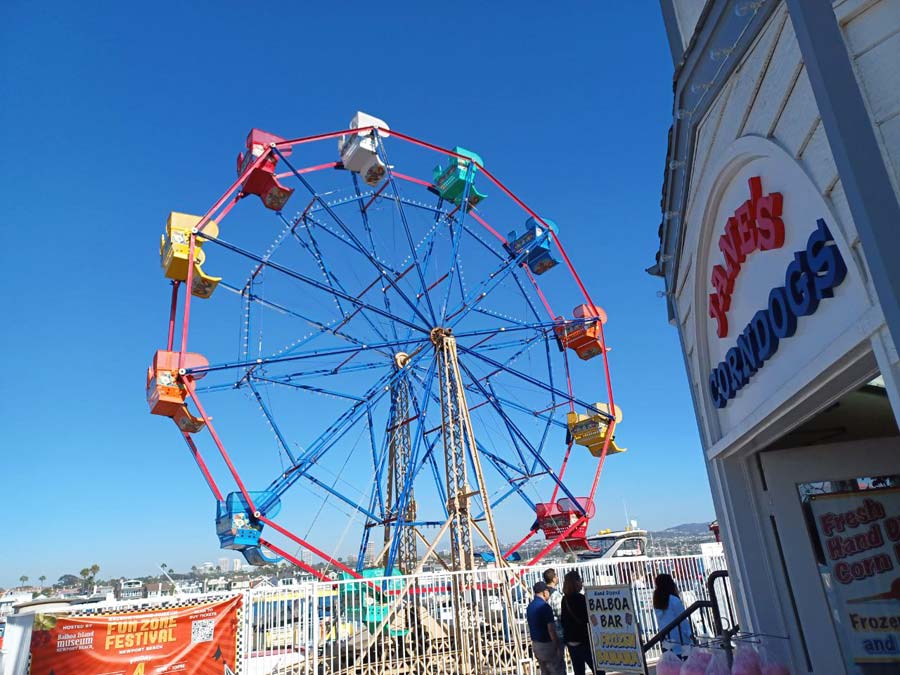 But Balboa Island is not only about dining and shopping. There are many things to do for kids as well. From the Giant Wheel to rides and arcade gallery Balboa Fun Zone attractions for children promise endless fun. In addition to taking rides kids can enjoy delicious treats. For example, at Balboa Bar hand dipped frozen bananas, popcorn and other snacks are served.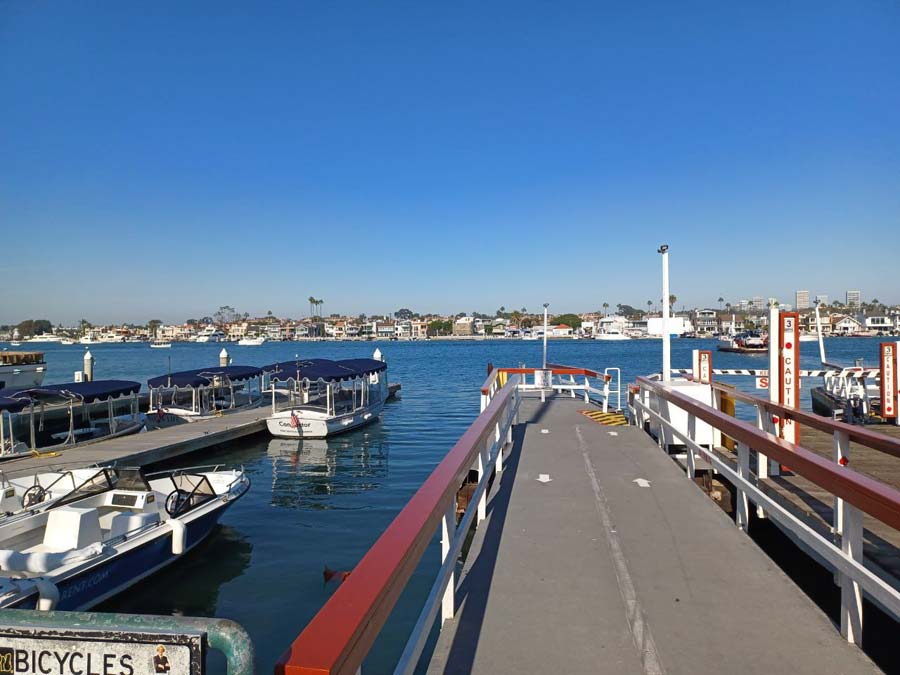 For our family Balboa Fun Zone (600 E Bay Ave, Newport Beach, CA 92661) is one of the most popular places to hang out at the weekend. Kids have fun while parents can enjoy marine views with boats sailing by, do some shopping and eat delicious food. Balboa Bar-B-Que is our favorite place to eat because of their great kid's menu.
Taking an auto ferry is an attraction too because every time we take it children are as excited as they were the first time we took it. Overall, the atmosphere in Balboa Island is very relaxed and laidback. There are many people who go biking along the coastline, driving retro cars with loud music and enjoying the moment. Balboa Island is all about the joy of life and I always feel cheered up and happy when we go there. There is something inexplicably charming about that place, words lack to describe the feelings, you've just got to experience it yourself.