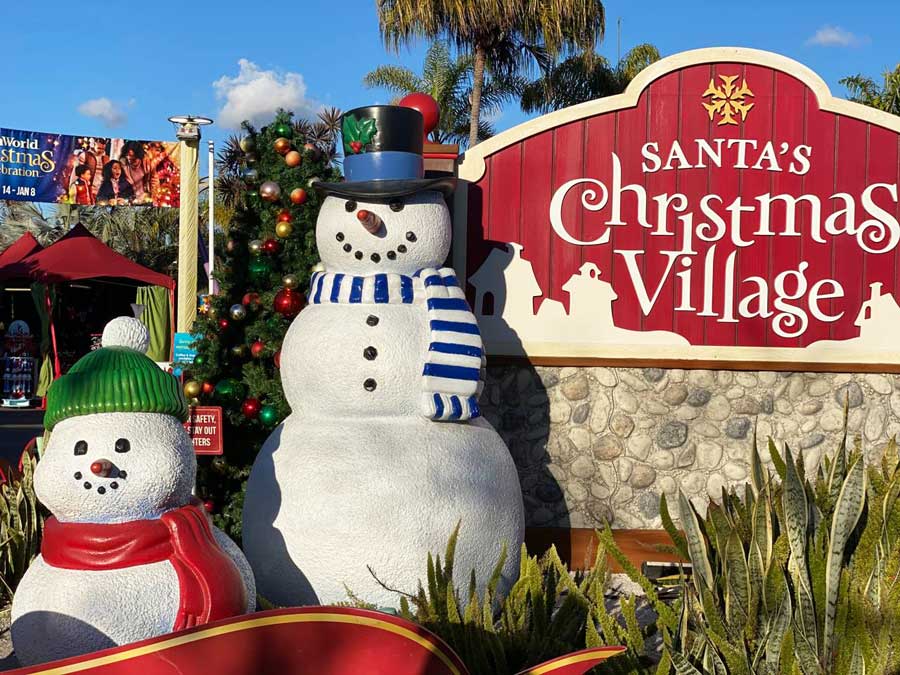 Even if you have been to SeaWorld San Diego (500 Sea World Dr., San Diego, CA 92109) many times visiting it before Christmas is a must. Not only will you see spectacular shows with a holiday flair but will be able to join many holiday events and Christmas celebrations. And, of course, you will appear in the fairy-tale atmosphere with beautiful Christmas lights and decorations.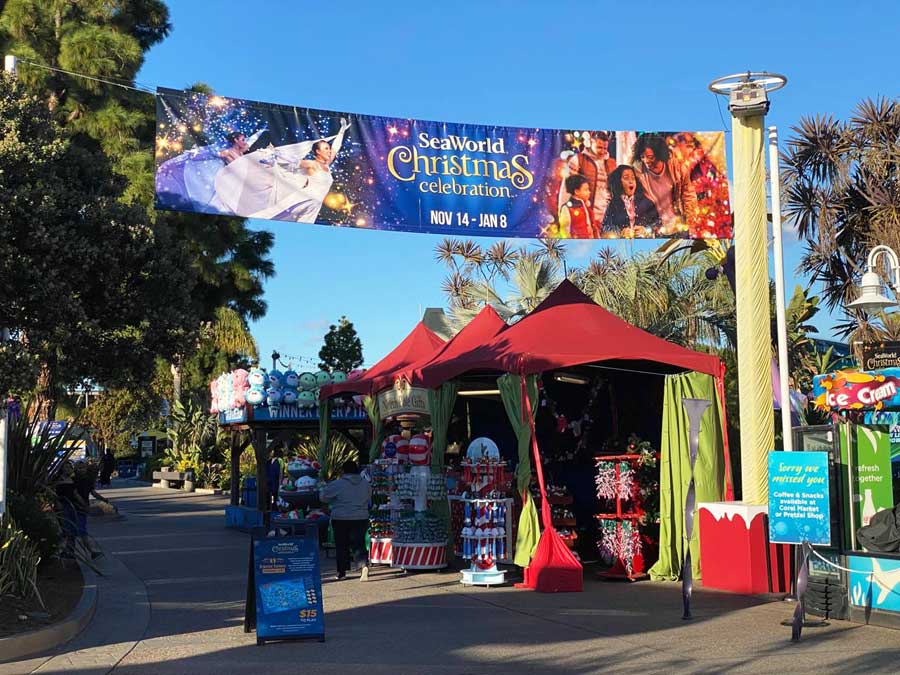 My family and I visited the park mid-week to avoid crowds of people, but we still had an opportunity to join numerous Christmas activities. But if you decide to visit SeaWorld San Diego on Saturday or Sunday you will be able to see new Christmas Wish Fireworks Show. This spectacular show will begin at 5:30 PM and starting December 23 and through New Year's Eve Christmas Wish Fireworks Show will delight the park guests every day.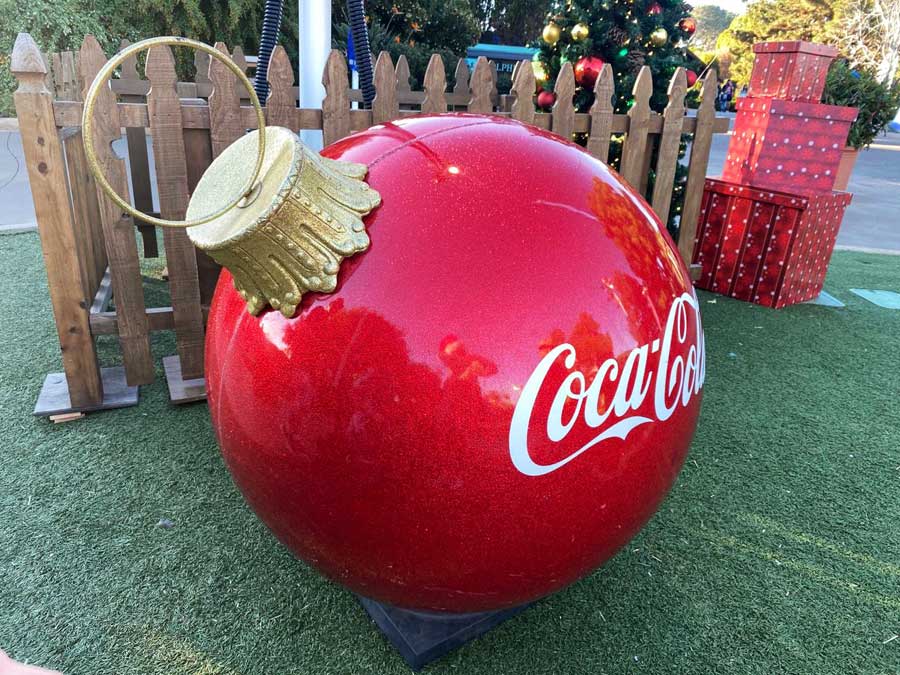 So, what Christmas fun can you expect to have at SeaWorld San Diego before the holiday? First, you are sure to see Mrs. Claus Christmas Cavalcade accompanied by the band of jolly elves.
Second, near the park entrance there is new Donner and Blitzen's Lazer Light Show showcasing colorful lazer rays under the sound of holiday music. To tell the truth, you will enjoy lots of dancing and music performances, especially on Fridays, Saturdays and Sundays.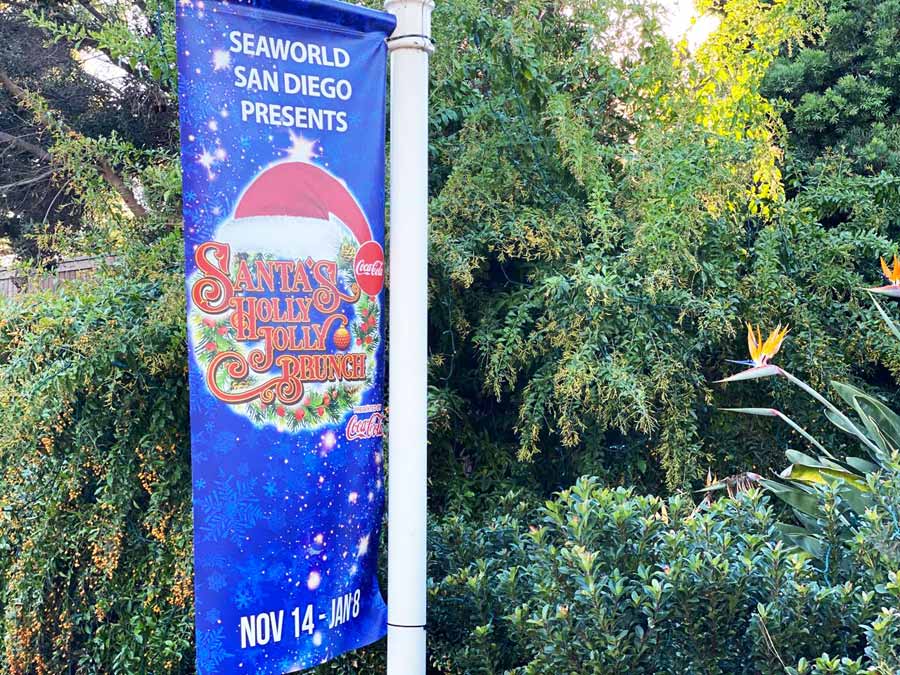 Music shows are held at Mission Bay Theater and this season the star of "America's Got Talent" Bryan Cheatham and his friends will entertain the guest in "Stocking Full of Soul" program.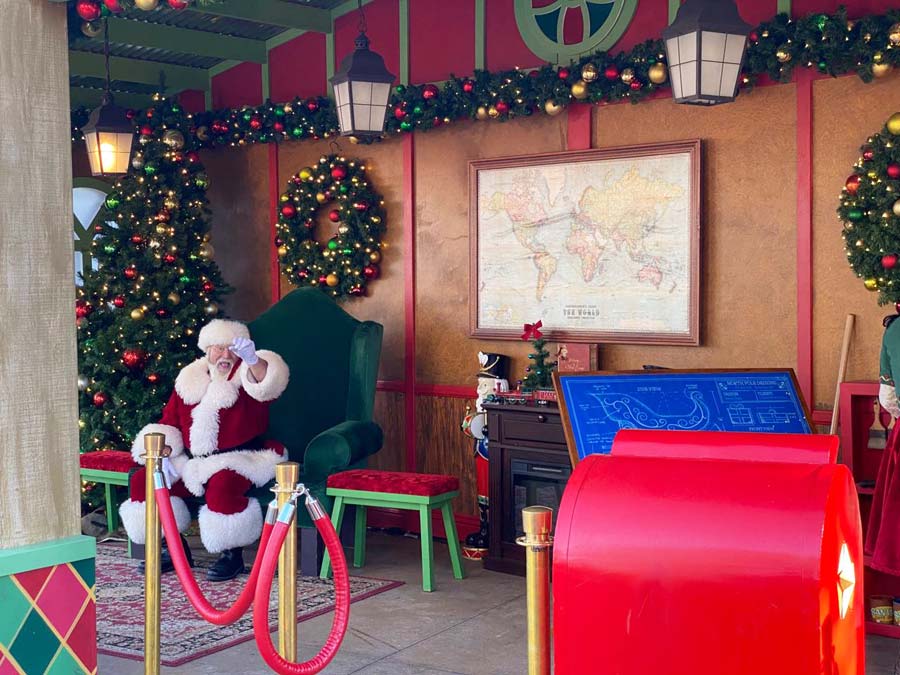 For families with kids visiting Santa's Village is a must.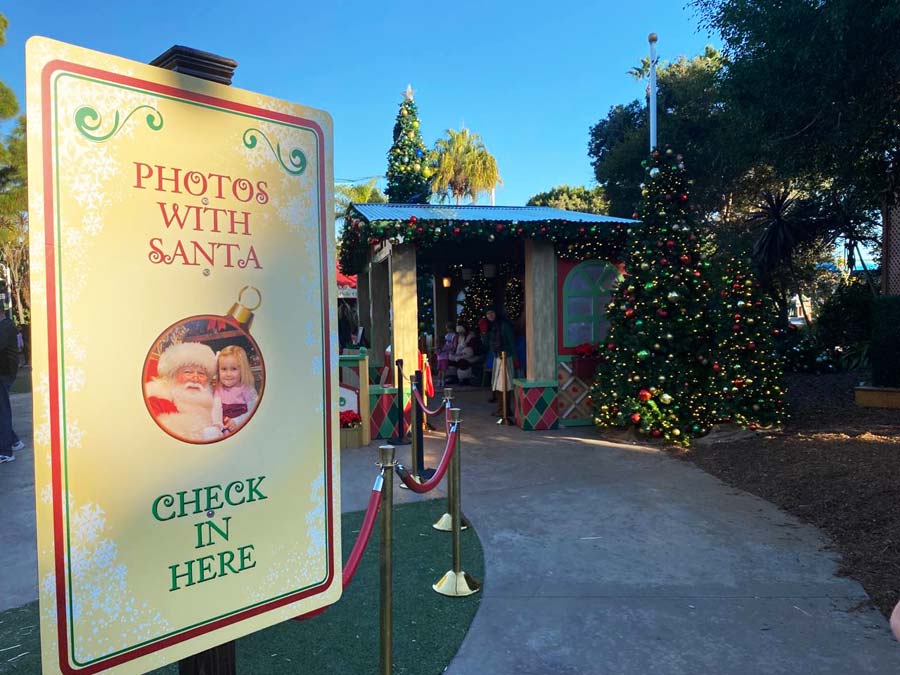 Here you will meet Santa, tell him your most coveted wishes and take a photo with him.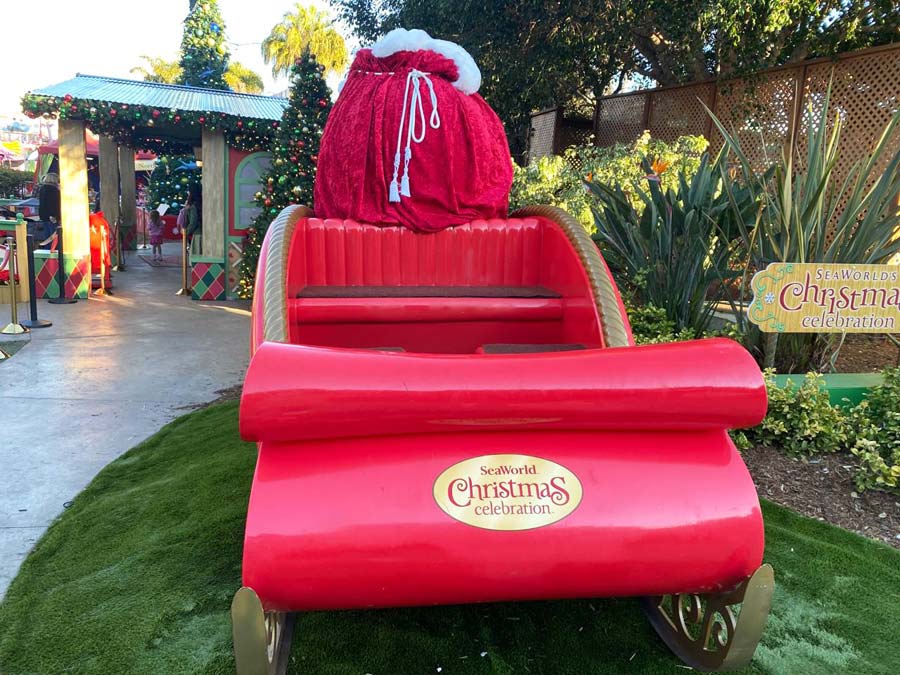 You can even sit in Santa's Sleigh standing right outside Santa's Cottage.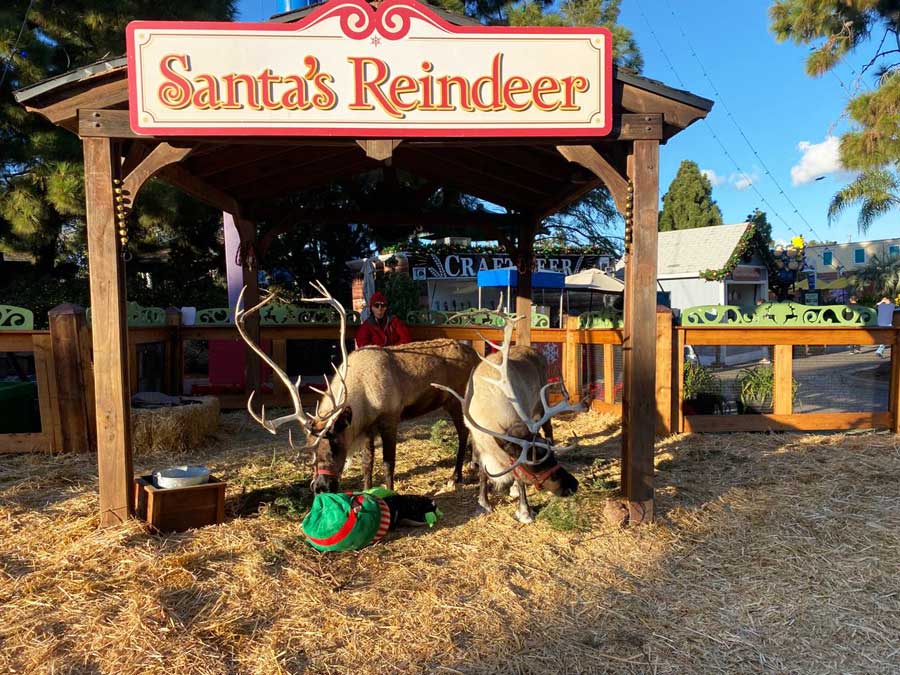 After talking to Santa head to see two Santas's Reindeer, Donner and Blitzen, grazing at the North Pole. There children can write their letters to Santa with all their Christmas wishes.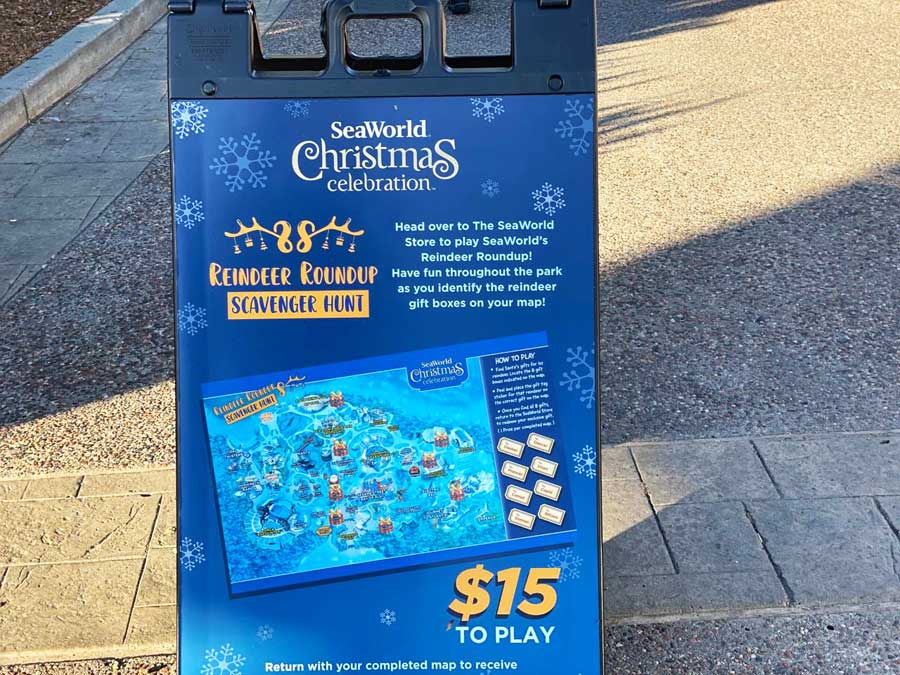 Active children will have lots of fun if they join Reindeer Roundup Scavenger Hunt. To play it you should go to he The SeaWorld Store and your kids will get the map with the assignment to find all reindeer boxes in it. It costs $15 to play the game.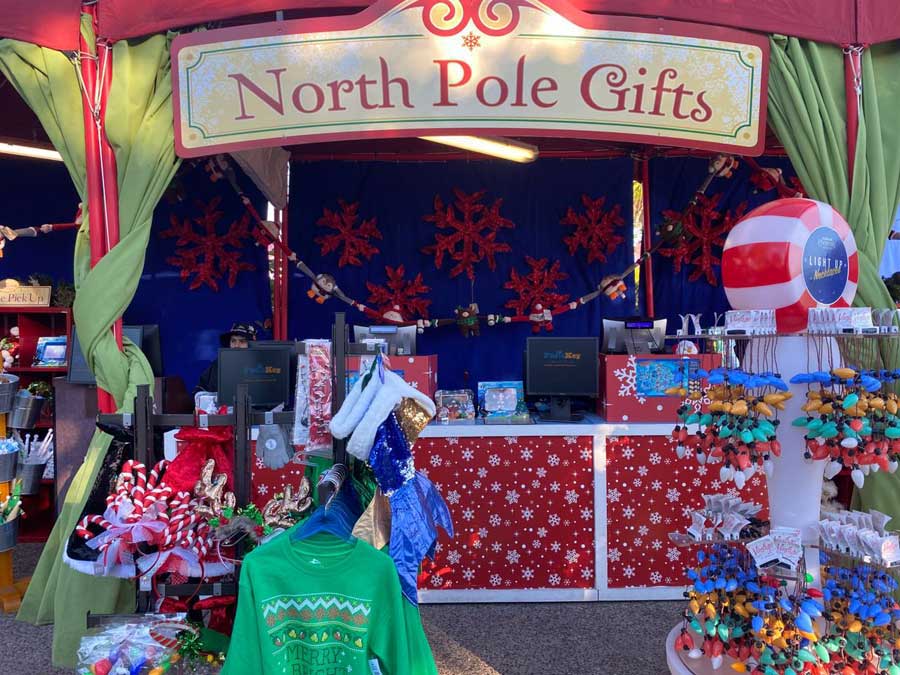 No Christmas celebration is complete without Christmas gifts. There are several places where you can get exclusive Christmas gifts at SeaWorld San Diego. One of them is North Pole Gifts. From Christmas clothing and accessories to candy, toys and souvenirs, there is something for everyone.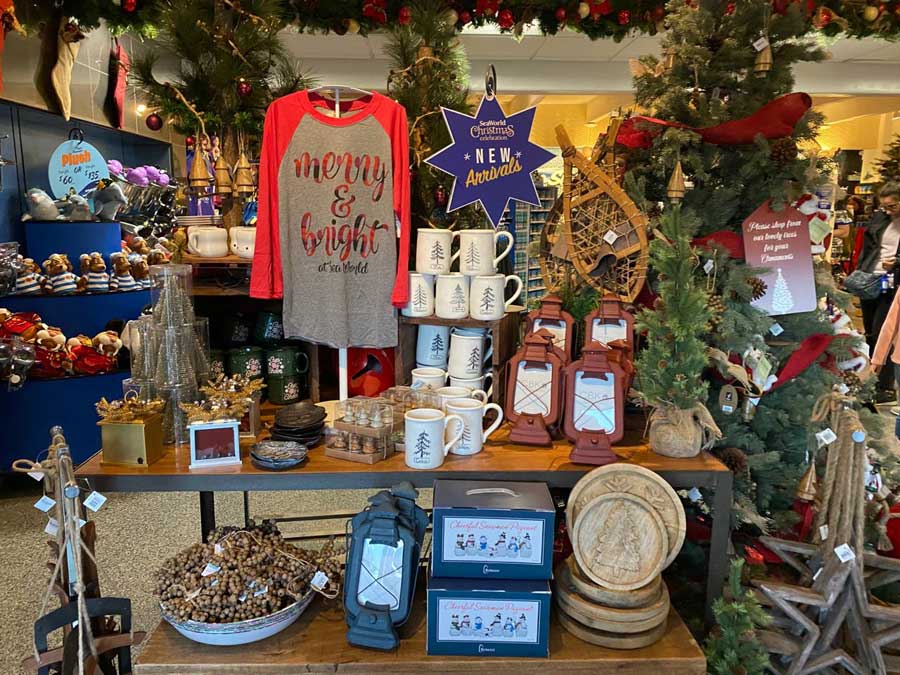 The SeaWorld Store is an attraction itself. If you haven't purchased all the gifts from your list you have a chance to do it right there, at SeaWorld.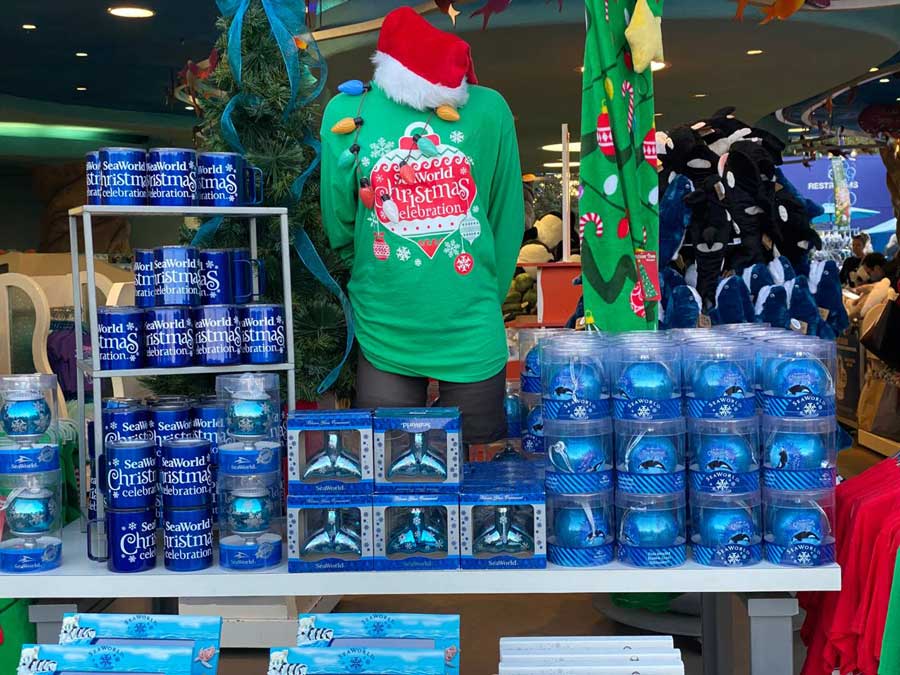 Check SeaWorld Christmas Celebration New Arrivals for nice holiday t-shirts, toys, souvenirs and more.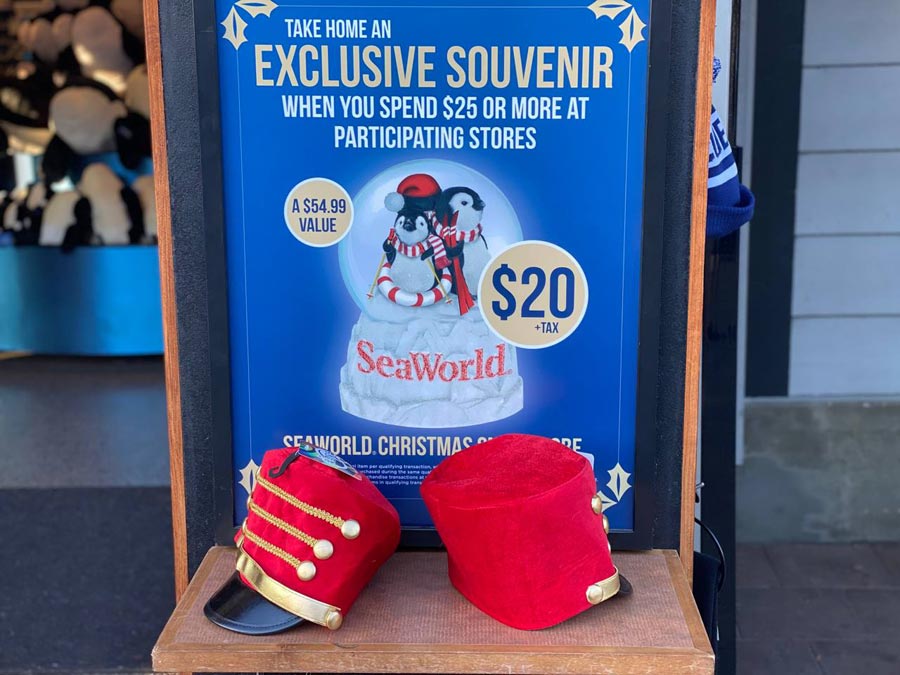 You will get an exclusive gift with your purchase of over $25 at participating stores.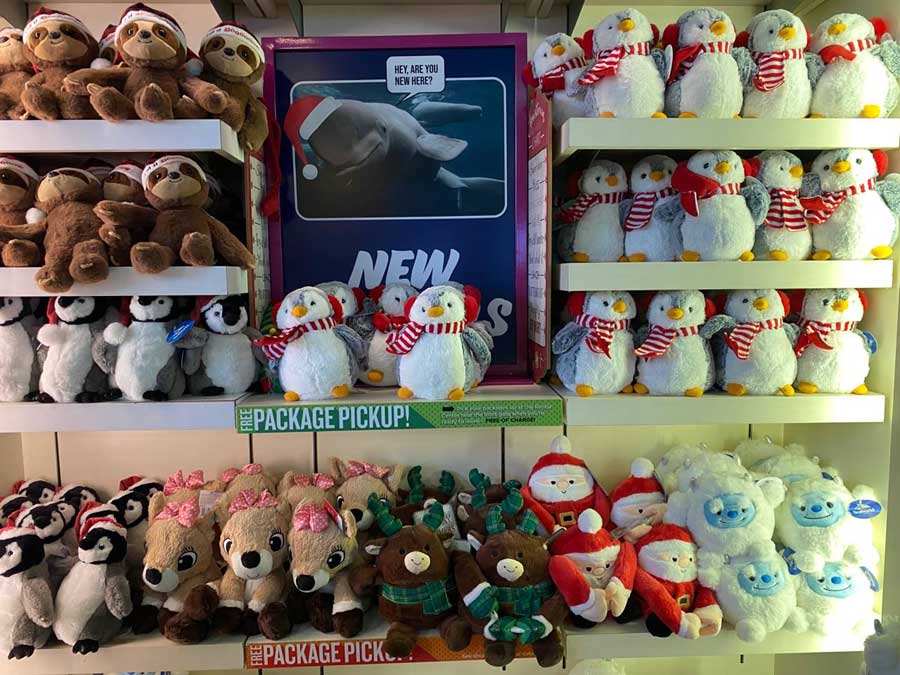 SeaWorld is known for its beautiful plush toys of sea creatures.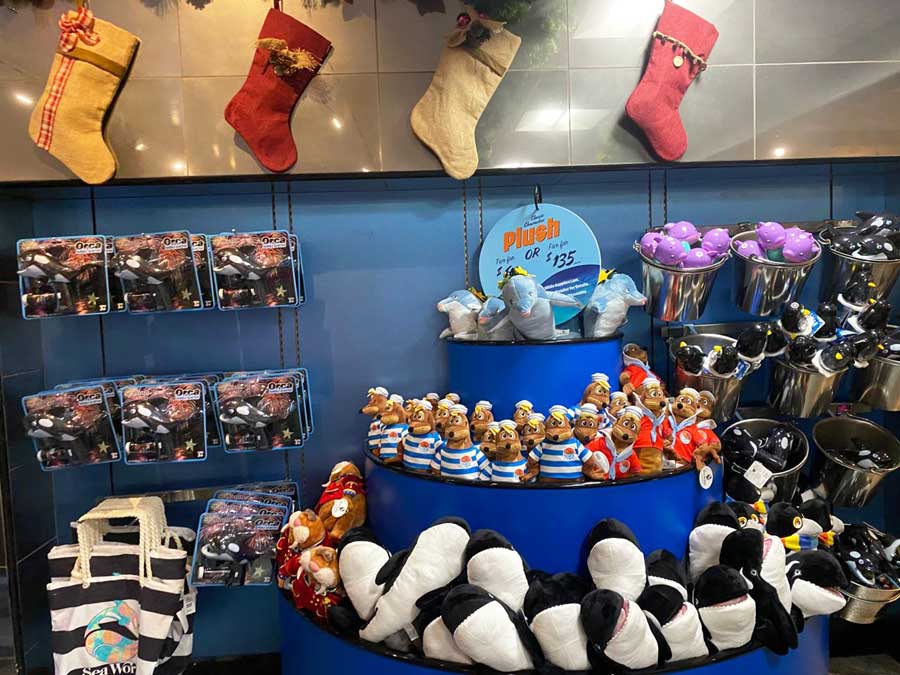 Plush orcas, whales, dolphins and sharks are only some of the toys kids can get as beautiful reminder of their visit to the amusement park.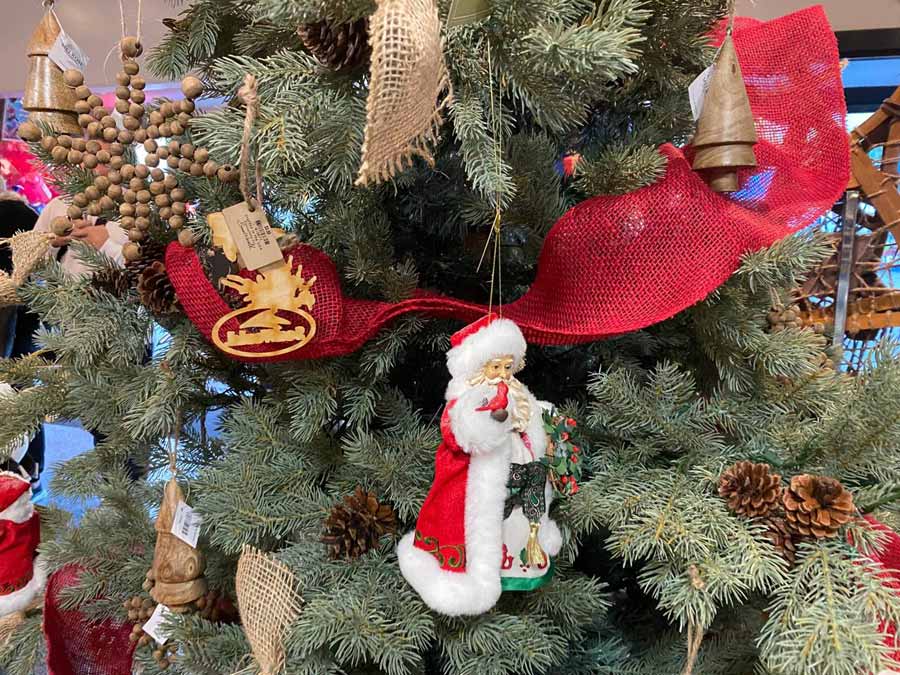 Beautiful Christmas ornaments at SeaWorld deserve special mentioning. Here you will see ornaments with marine twist, of course.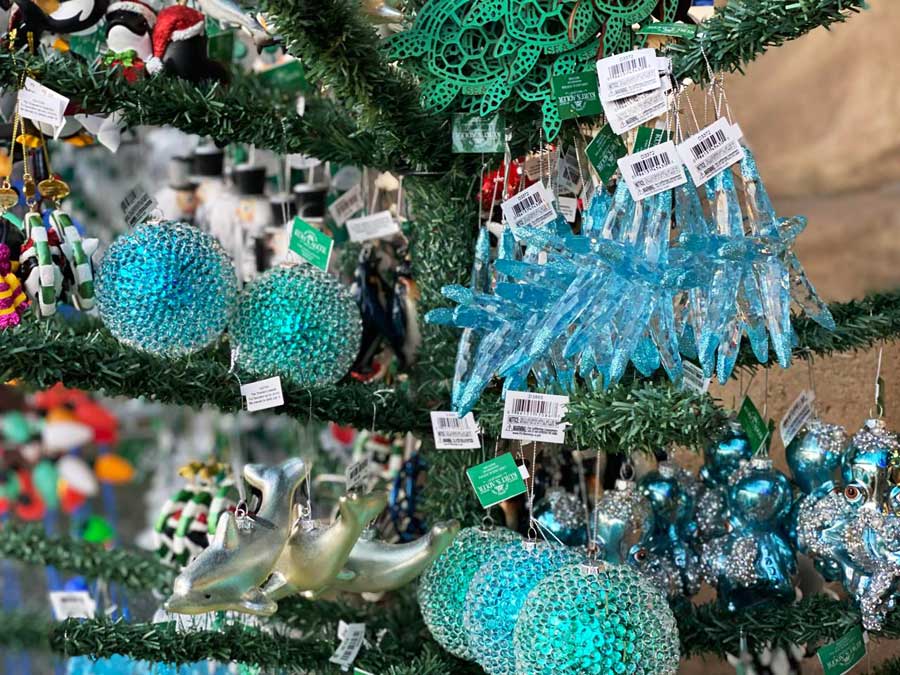 From classic Santas, glass balls of aqua blue and light blue stars to dolphins, orcas, penguins and more.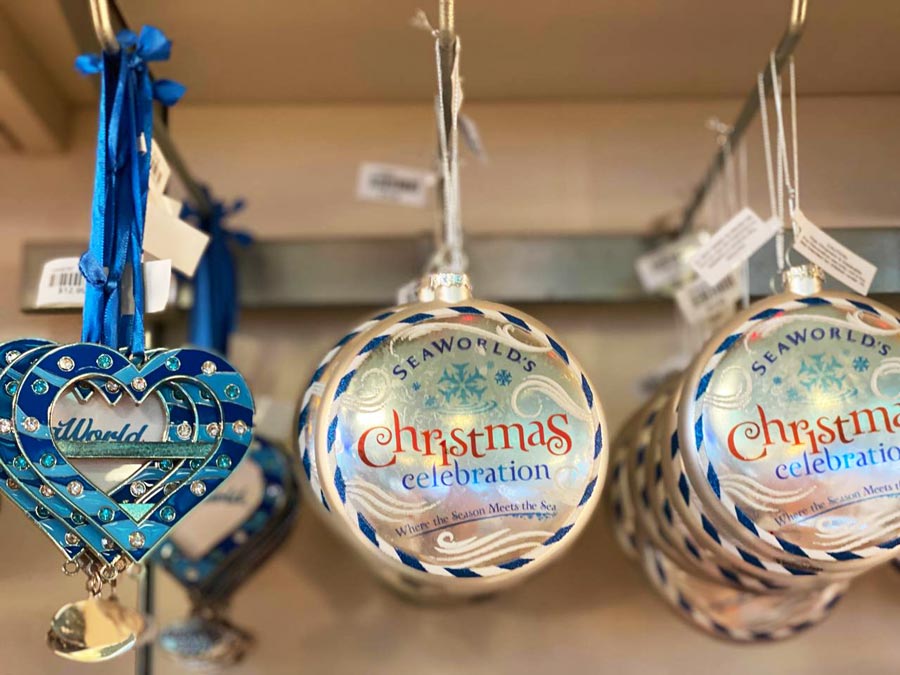 Heart-shaped and circle SeaWorld Christmas Celebrations look really cute too.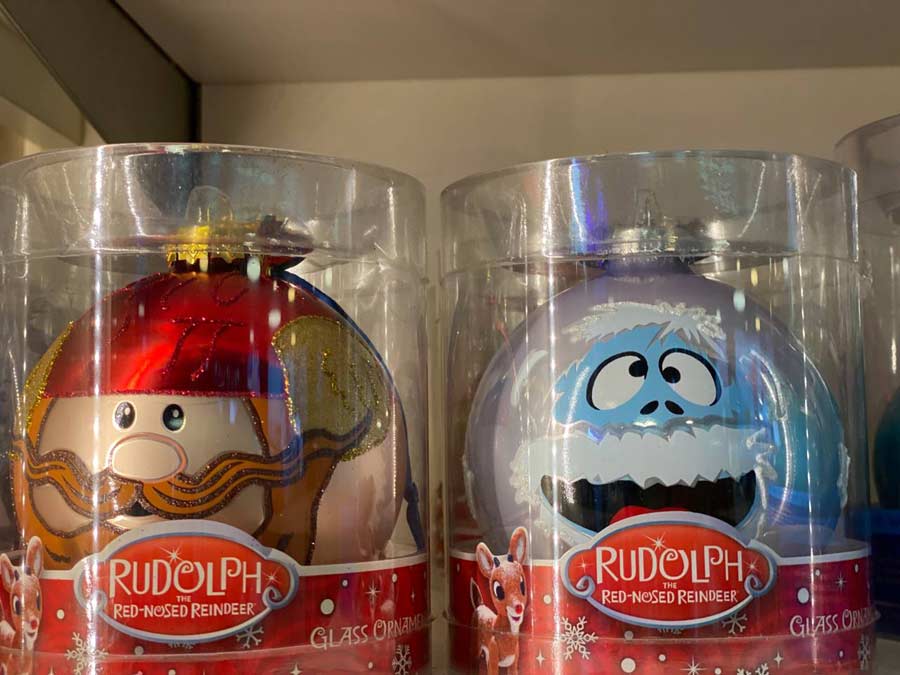 Rudolph the Red Nosed Reindeer ornaments are sure to draw the attention when put on the Christmas tree.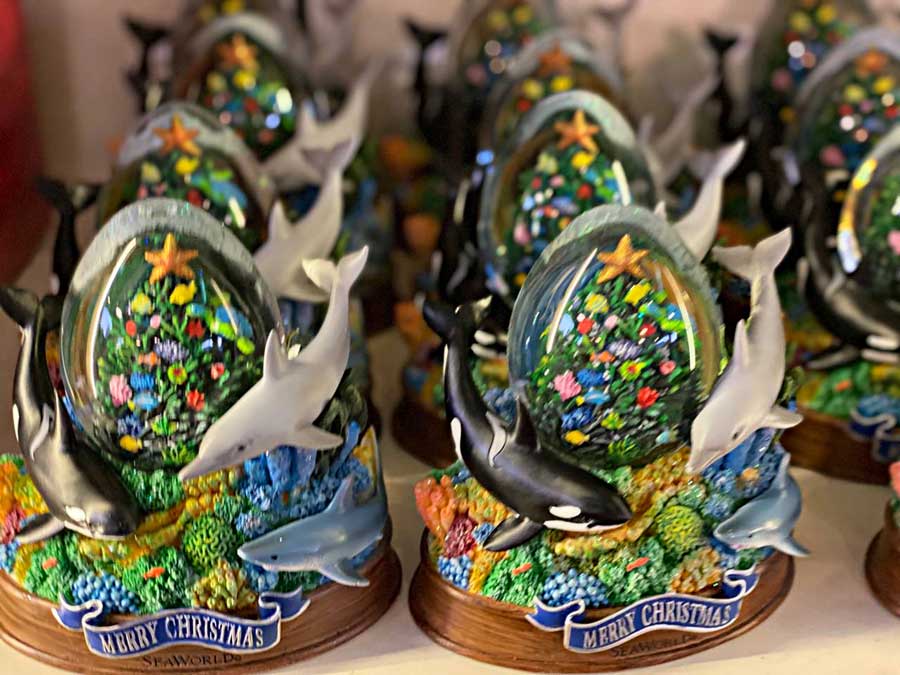 I also liked these beautiful Merry Christmas souvenirs with Christmas tree inside the glass surrounded by a shark, dolphin and orca.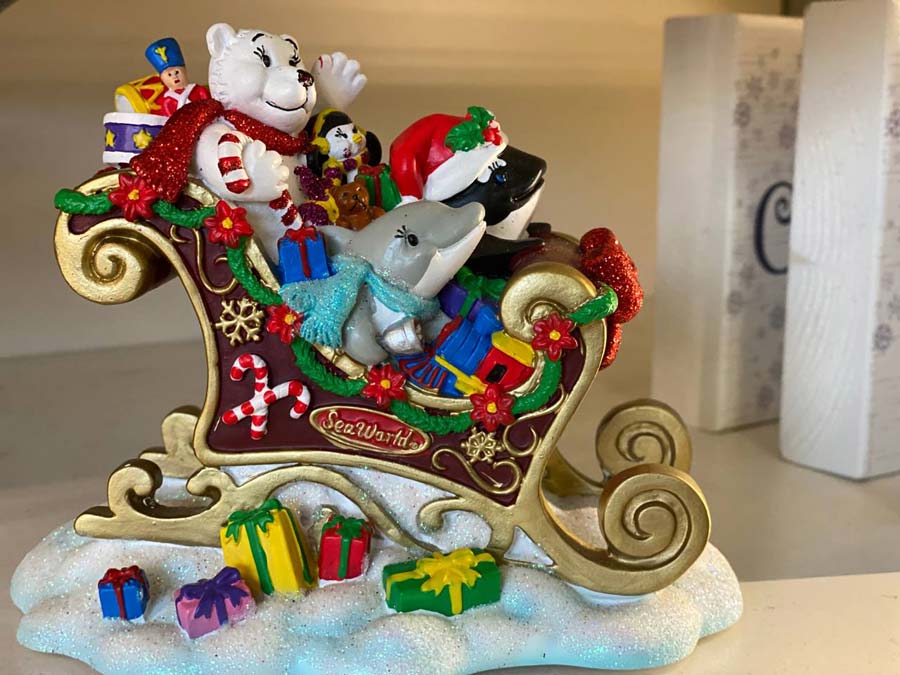 Santa's Sleigh with sea creatures and packed with Christmas gifts will look great in any home interior and will make a great gift as well.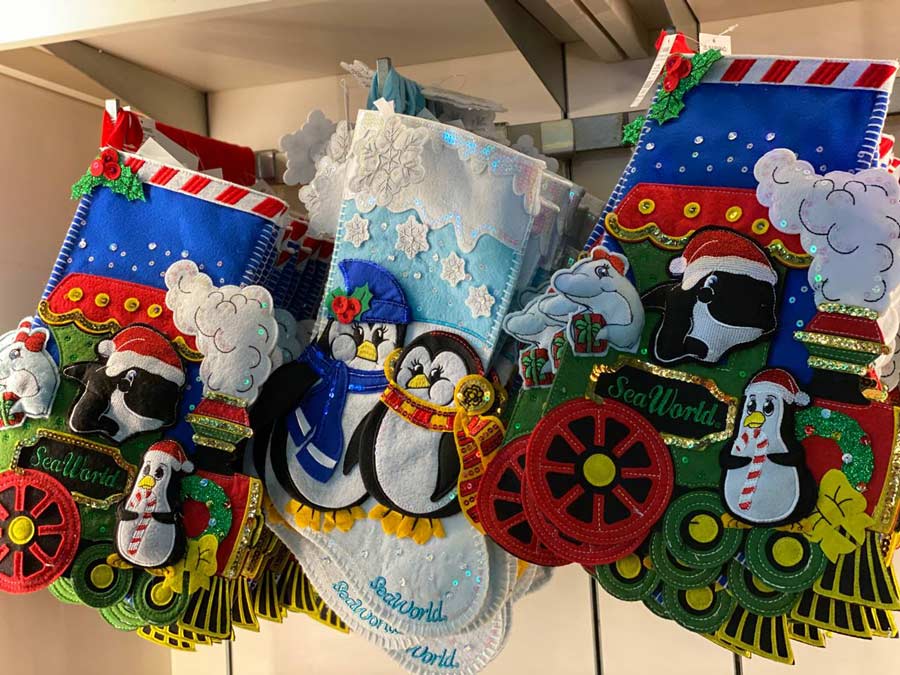 SeaWorld Christmas stocking are unique because they feature sea animals. They are so cute and are just perfect for smaller children.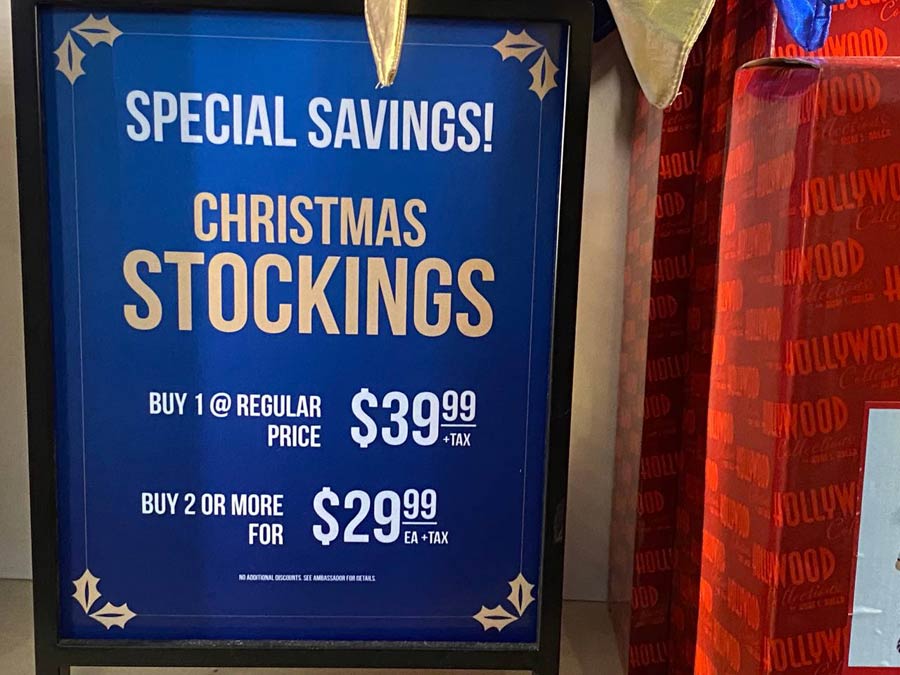 There was a special offer on Christmas stockings: when you buy two or more Christmas stockings the price of each is $10 less. I would definitely purchase them if I hadn't bought Christmas stockings before.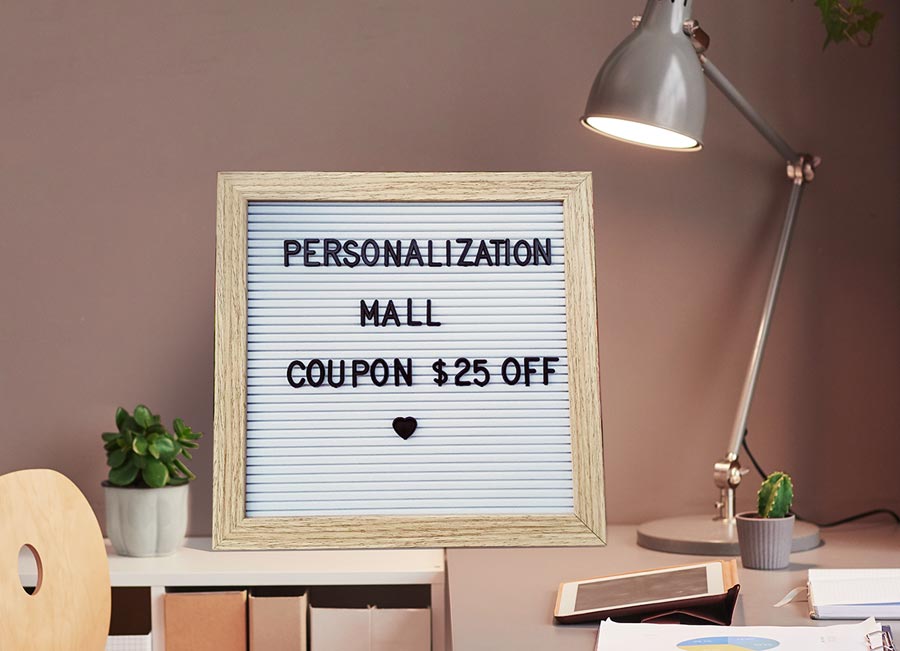 I prefer personalized Christmas stockings and this time I ordered them at Personalization Mall. I took advantage of Personalization Mall Coupon and saved on my purchase, plus the store ran a big sale on Christmas ornaments and stockings.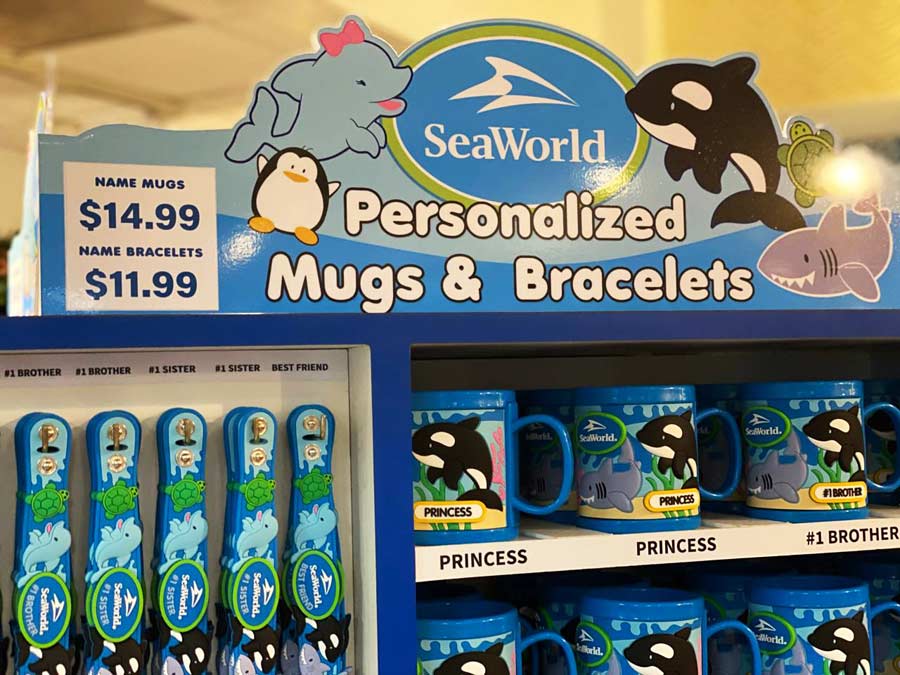 SeaWorld San Diego also offers personalized stuff. Park guests can purchase personalized mugs for $14.99 and bracelets for $11.99.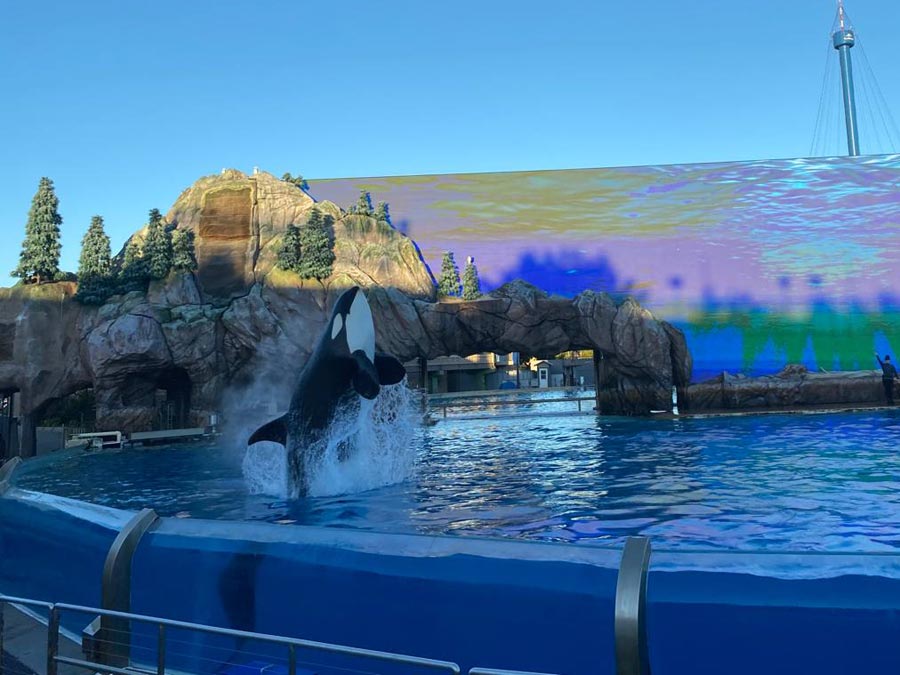 It's the first time we watched these magnificent creatures perform at Orca Encounter.
The show was spectacular!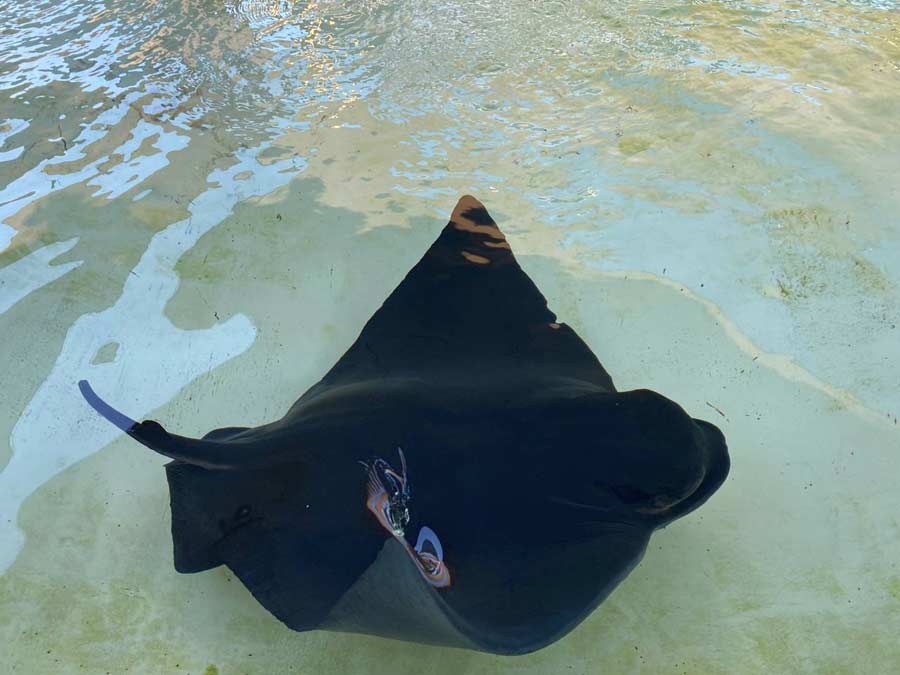 SeaWorld is not only about celebrating Christmas, but it's a chance to see sea animals up-close. Feeding bat rays is the activity we never skip when in SeaWorld.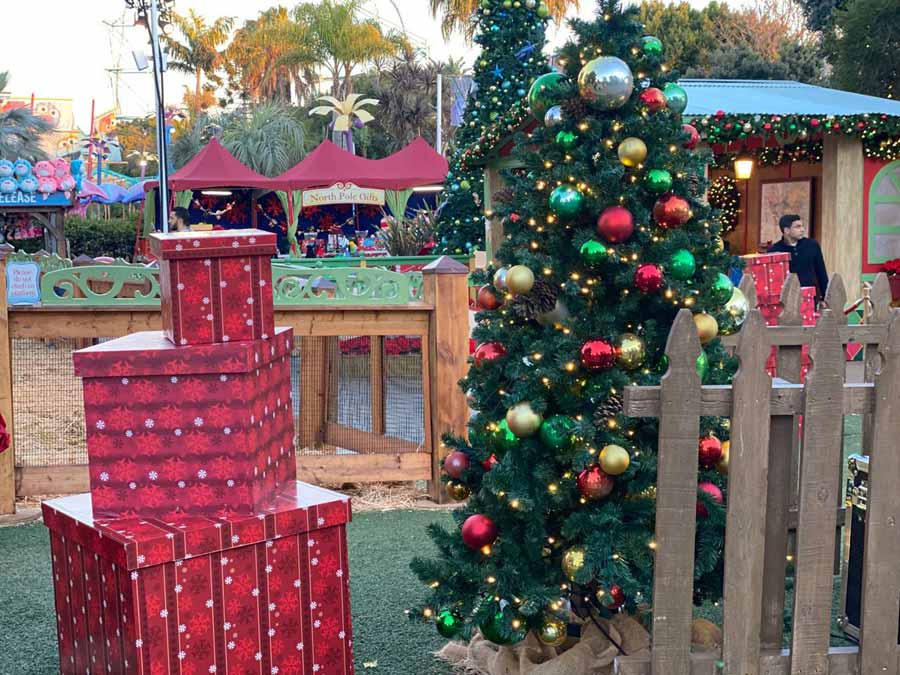 Visiting SeaWorld before Christmas is a unique experience. Only then you can see snow falling in California during the night show and walk under Tunnel of Lights – a canopy of thousands of Christmas lights with holiday music playing. Meeting Santa and taking rides surrounded by festive holiday decorations make the day spent at SeaWorld unforgettable.