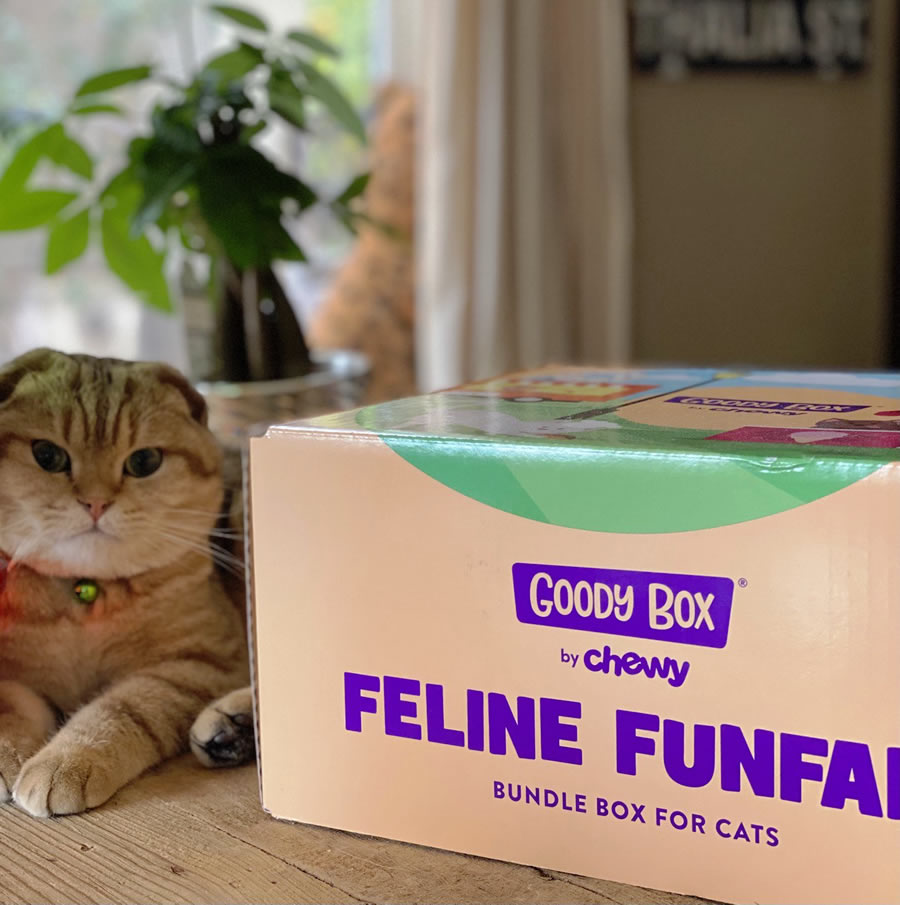 If you're searching for a special treat for your beloved feline companion, the Chewy Goody Box Foodie Cat Toys & Treats might just be the perfect choice. In this comprehensive review, we will delve into the delightful contents of this box, including plush toys and mouthwatering treats, all designed to bring joy and satisfaction to your kitty, Oliver.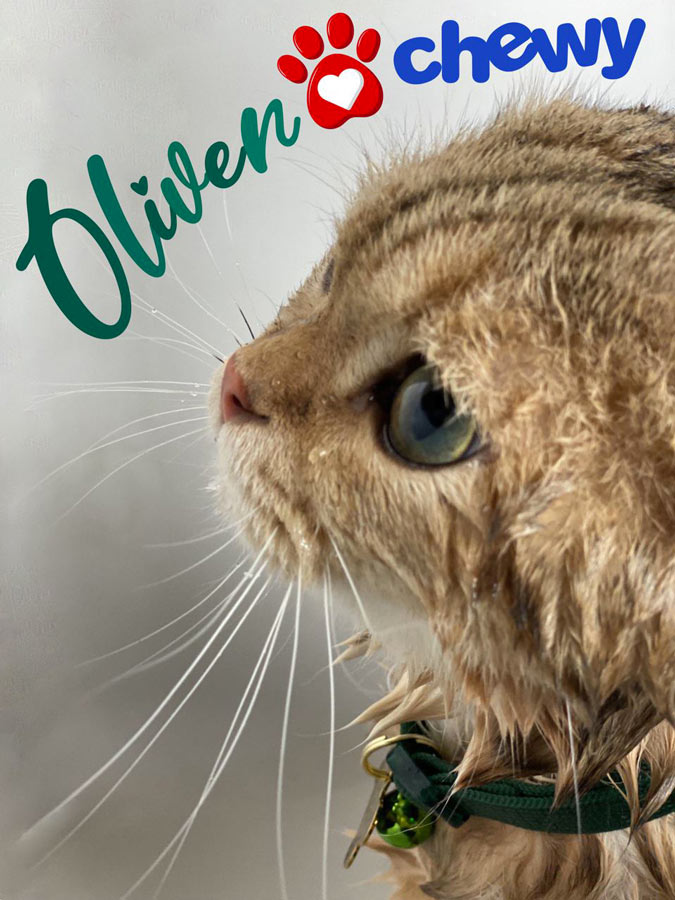 As a proud cat owner, it's always a joy to find new treats and toys for my furry companion. Recently, I stumbled upon the Chewy Goody Box Foodie Cat Toys & Treats Feline FunFare and decided to give it a try for my kitty Oliver. The box came filled with a delicious assortment of treats and interactive toys that kept Oliver entertained for hours. Not only were the treats a hit with my feline friend, but they were also made with quality ingredients and were nutritionally balanced. The toys included in the box were designed to stimulate Oliver's natural instincts, providing a fun and engaging experience for both of us. And the best part? The box was on sale for $24.99, which is 42% off the regular price of $43.03. But that's not all: I also discovered the current Chewy coupon that allows new customers to get $20 off and free shipping on orders over $49 when using the code WELCOME. So if you're looking for ways to spoil your furry friend while saving some money, be sure to check out Chewy discounts today!
Here is a closer look at what you can expect to find in this box:
1. FRISCO PLUSH TACO CAT TOY WITH CATNIP: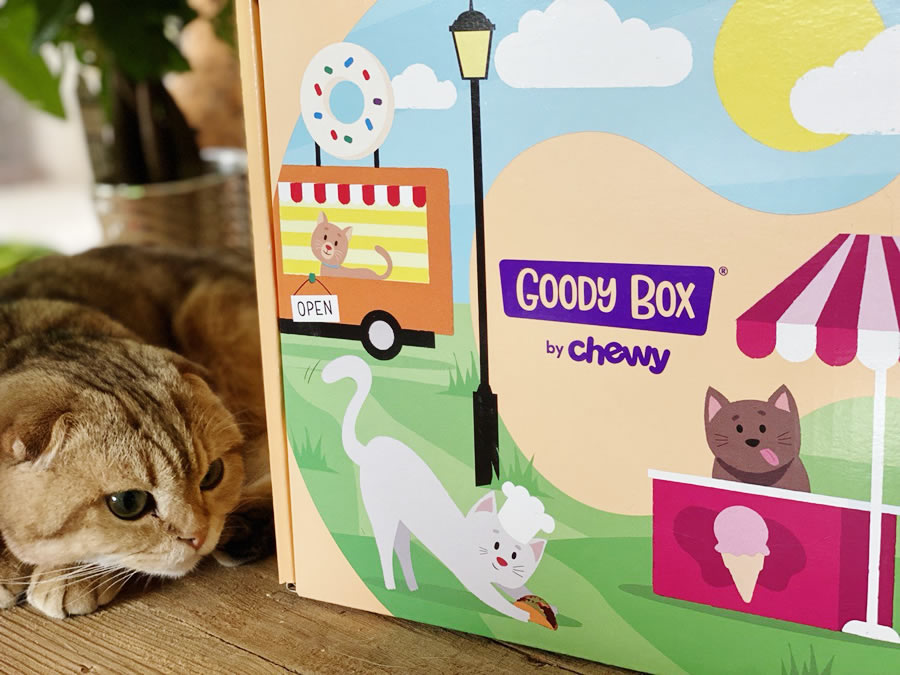 The Frisco Plush Taco Cat Toy is an adorable addition to Oliver's toy collection. Crafted with soft and durable materials, this toy is designed to withstand vigorous play. Infused with enticing catnip, it will captivate Oliver's attention and provide hours of entertainment.
2. FRISCO MAPLE BACON DONUT PLUSH CAT TOY WITH CATNIP:
The Frisco Maple Bacon Donut Plush Cat Toy is another irresistible toy in the Goody Box. Shaped like a delicious donut, it features a delightful combination of softness, durability, and an infusion of catnip to entice Oliver's senses. This toy is sure to keep him engaged and entertained.
3. FRISCO BRUNCH AVOCADO TOAST & EGG PLUSH CAT TOY WITH CATNIP, 2 COUNT: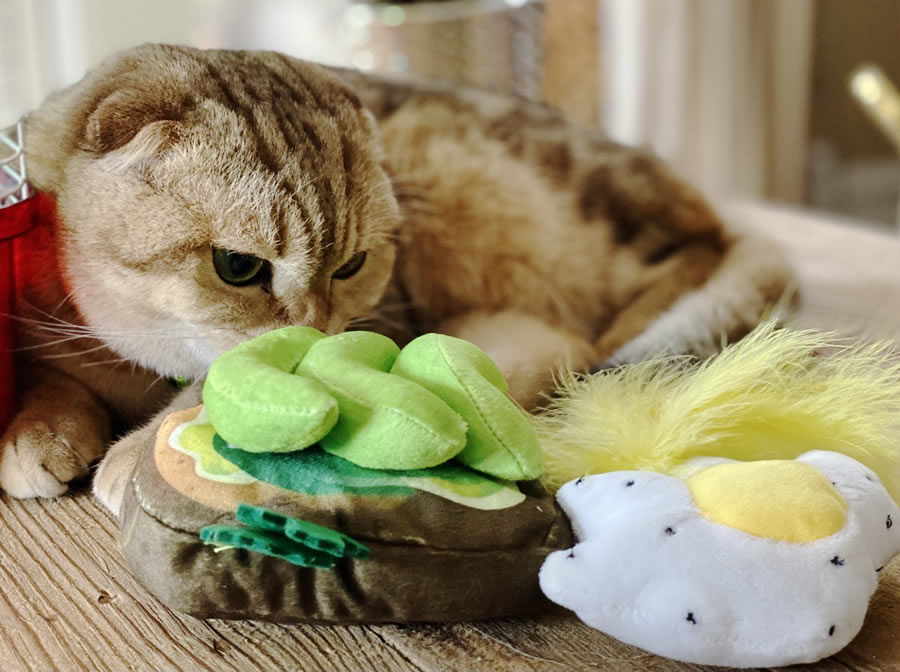 The Frisco Brunch Avocado Toast & Egg Plush Cat Toys are a delightful addition to Oliver's playtime routine. These plush toys, shaped like the trendy avocado toast, are enhanced with catnip to stimulate Oliver's natural instincts. With two toys included, Oliver can indulge in solo play or share the fun with a feline friend.
4. MADE BY NACHO CAGE FREE CHICKEN RECIPE CUT IN GRAVY WITH BONE BROTH WET CAT FOOD, 3-OZ POUCH:
The Made by Nacho Cage Free Chicken Recipe Cuts In Gravy provides Oliver with a delectable mealtime experience. This wet cat food features tender cuts of chicken in a savory gravy infused with bone broth. The high-quality ingredients ensure a nutritious and flavorful meal that will leave Oliver purring with satisfaction.
5. MADE BY NACHO SUSTAINABLE CAUGHT SALMON RECIPE CUTS IN GRAVY WITH BONE BROTH WET CAT FOOD, 3-OZ POUCH: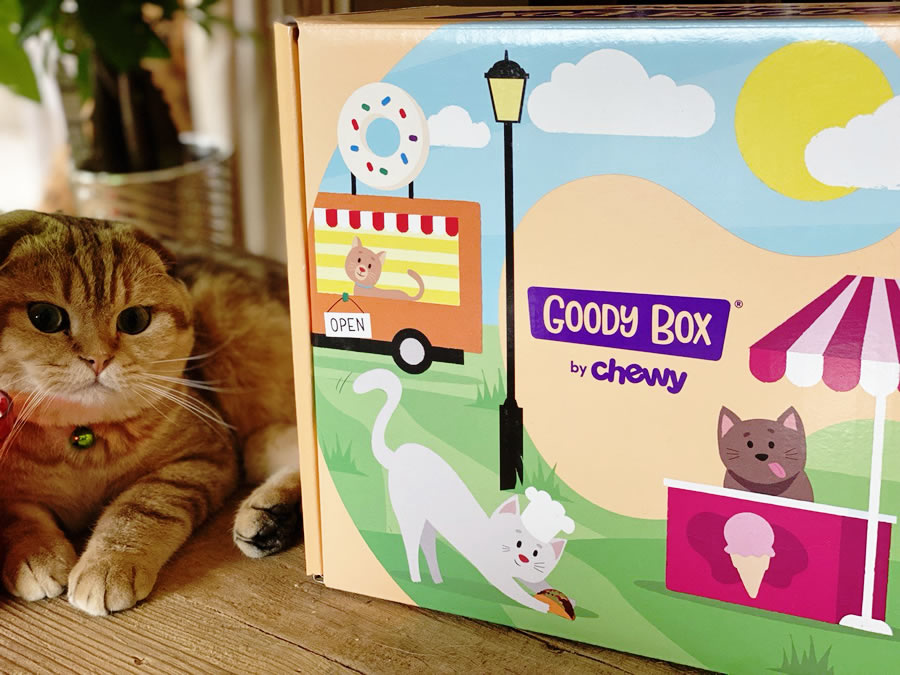 For a delightful seafood twist, the Made by Nacho Sustainably Caught Salmon Recipe Cuts In Gravy is a treat Oliver will adore. This wet cat food features sustainably caught salmon in a delectable gravy enriched with bone broth. It provides a healthy source of omega-3 fatty acids and irresistible flavor to please Oliver's palate.
6. LUCY PET KITTY LICKIES MOUSSE CAT TREAT SALMON & CHICKEN RECIPE OR SARDINE & TUNA RECIPE:
The Lucy Pet Kitty Lickies Mousse Cat Treats add an extra touch of indulgence to Oliver's snacking experience. Available in either a Salmon & Chicken Recipe or a Sardine & Tuna Recipe, these mousse treats offer a creamy and luscious texture that will leave Oliver eagerly anticipating his next treat time.
7. MADE BY NACHO FREEZE-DRIED TURKEY CAT TREATS: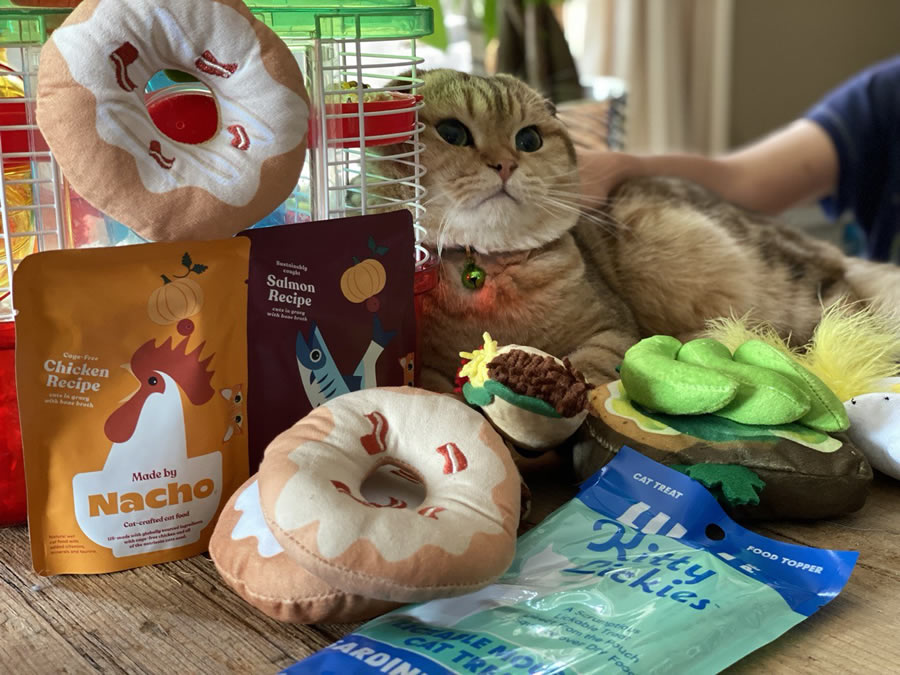 The made by Nacho Freeze-Dried Turkey Cat Treats are a nutritious and flavorful addition to Oliver's treat collection. These high-protein treats are made from real turkey and undergo a special freeze-drying process to preserve their natural flavors and nutrients. They are the perfect reward for Oliver's good behavior or a delightful snack to brighten his day.
After trying out the Chewy Goody Box Foodie Cat Toys & Treats, I can confidently say that it's a paw-some choice for my feline friend, Oliver. The assortment is not only entertaining and engaging for your kitty with plush catnip toys but also offers an array of mouth-watering flavors that your cat will love. The wet food pouches tasted exceptionally good, and the Crunchy treats were irresistible. I highly recommend the Chewy Goody Box Foodie Cat Toys & Treats Feline FunFare because it's not only a great source of entertainment but also a nutritious addition to your cat's diet. Plus, the added bonus is that you can save money on the purchase by using the Chewy coupon. All in all, an experience well worth your investment!