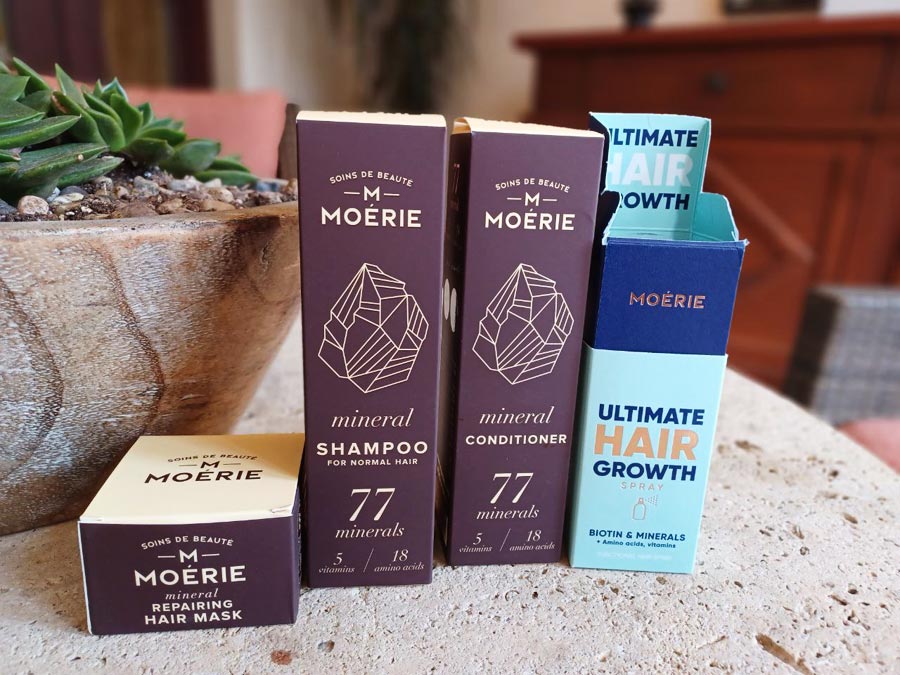 With age most people start losing hair and if men don't seem to care much about this fact women get very upset when they see their hair left on the brush. Is it possible to slow down the process of losing hair? I believe so, and keep looking for the ideal hair growing solution that will help me keep my hair as long as possible.
My latest discovery is Moerie Beauty brand, headquartered in Newark. It has an interesting line of hair products that target hair loss. I purchased their haircare set and have been using it for 2 months. I think it's enough time to make an opinion about this product, and this is what I think about it.
First of all, Moerie Beauty positions itself as the brand that offers natural haircare that helps fight hair loss and facilitates hair growth. Facing these two problems I decided to give this product a try. Let's look into it in more detail and I'll start with the list of ingredients.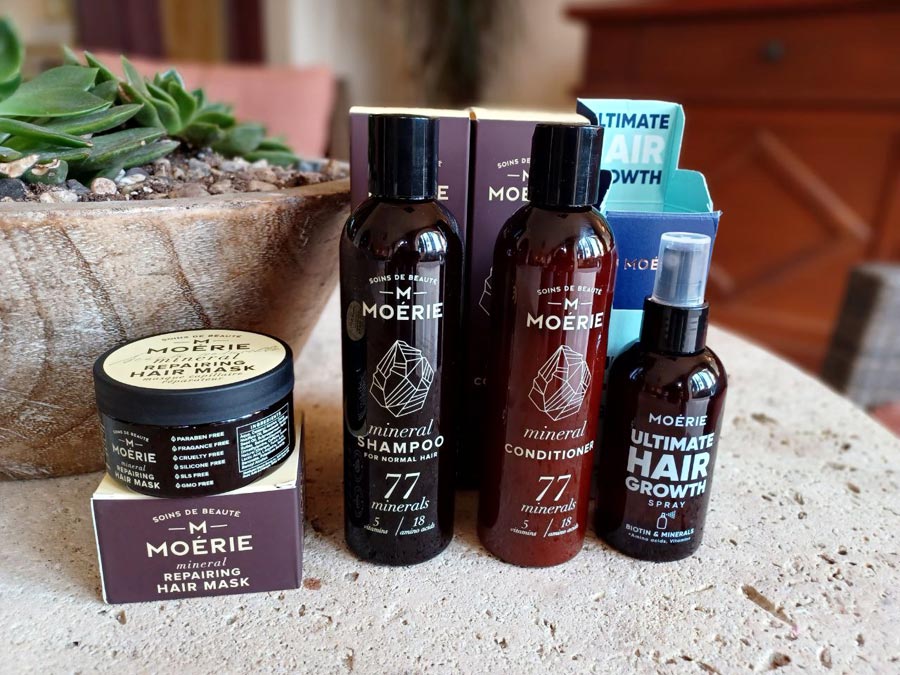 I purchased Moerie hair growth set that includes mineral shampoo, hair conditioner, air mask and a spray for hair growth. So, what can you learn about these products from their website? Due to natural and organic ingredients, biotin and over 70 minerals and amino acids Moerie Beauty haircare is effective and safe to use to enhance hair growth.
You can see three bundles on their website: Moerie Ultimate Growth and Repair ($139.99) that I bought with shampoo, conditioner, mask and spray, Moerie Ultimate Growth set ($104.99) with shampoo + conditioner + spray and Moerie Essential Starter set ($ 56.99) with just shampoo + conditioner.
The site offers subscription and now you can save as much as 50% on Moerie Beauty set if you subscribe. I think it's the most cost effective way, as the bottles of shampoo and conditioner are just 250 ml and if you wash your hair often it will finish pretty soon. In case you want to try and don't want to risk there is also one-time Moerie Beauty order option. Currently you can save 26% on your one-time purchase of Moerie Beauty hair products. This offer is part of Moerie Beauty spring sale promo campaign and will finish soon, so you had better hurry up.
Moerie Beauty hair products are also available at Amazon, but unfortunately the brand discounts can't be applied to your Amazon purchase. As I mentioned before, you will get the best price on Moerie Beauty hair care with Moerie Beauty subscription. It would be a good idea if you plant to use Moerie Beauty products for at least 3 months.
I made a one-time purchase as I wanted to test the product first. I have a very dry scalp skin which can be itchy with the wrong shampoo. This is one of the reasons why I can't use haircare loaded with sulfates. Knowing that Moerie Beauty is vegan, silicon, paraben and sulfates free, I decided to give it a try. The list of ingredients is of great importance to me. All Moerie Beauty products are free from artificial fragrances, colors and GMO. Their products are not tested on animals.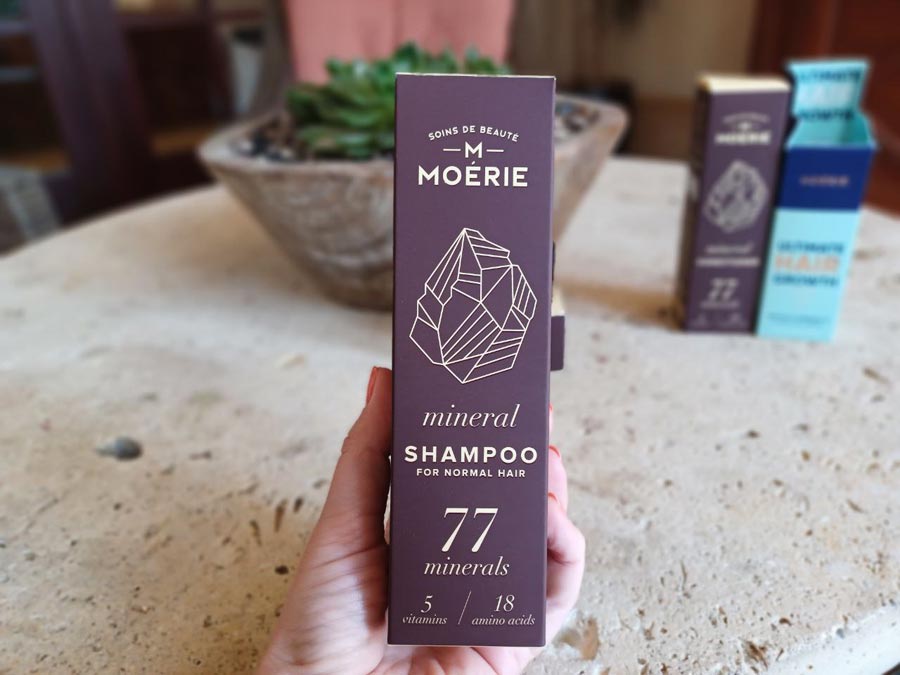 Every haircare starts with shampoo. Its main purpose is to remove dirt and oils, preparing hair for the next stage. What I need from shampoos is to delicately wash my hair, without leaving itchy scalp and making my hair greasy the next day.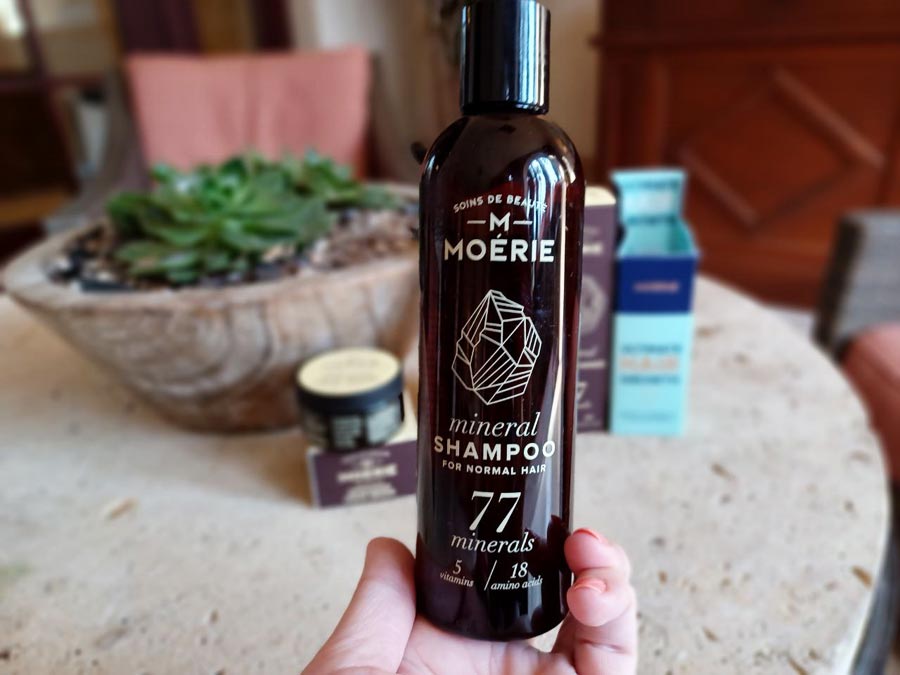 I have normal hair, so I wash it 2 times a week. Moerie Beauty shampoo copes with these tasks perfectly.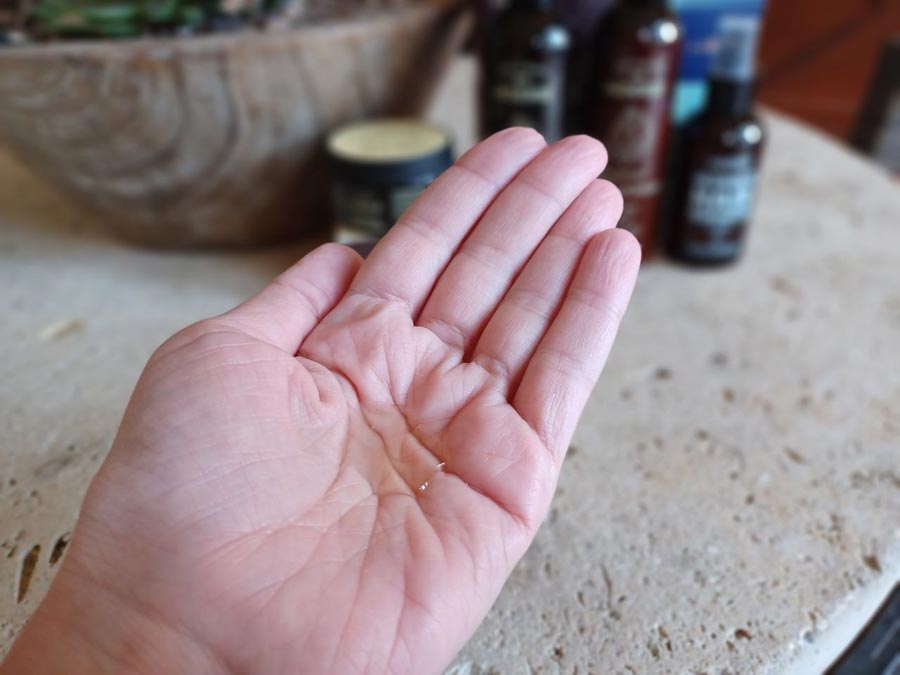 It has a delicate and natural smell of orange, has no color at all and is nearly transparent.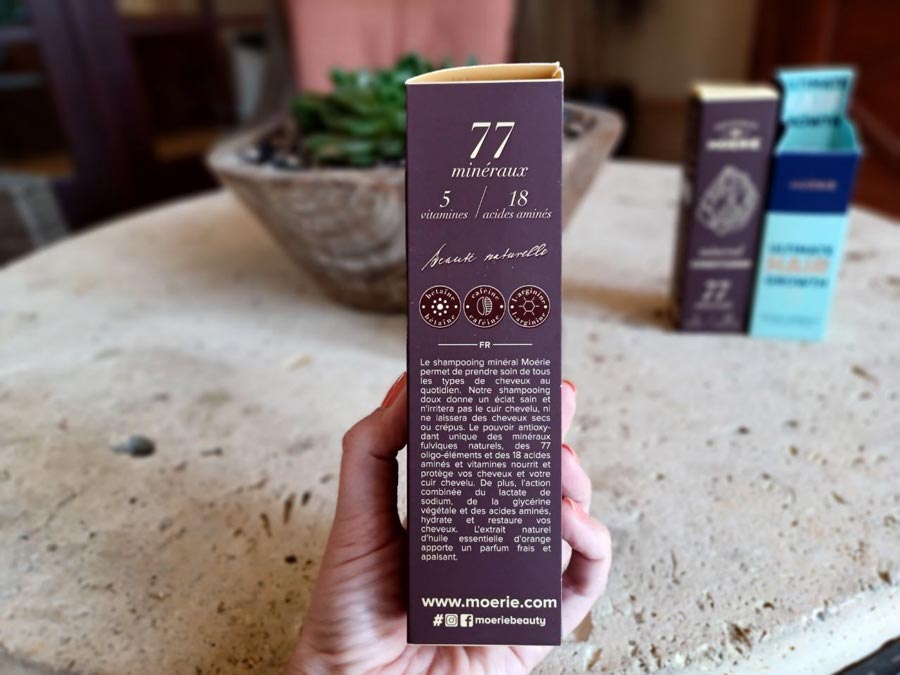 If you look at Moerie Beauty mineral shampoo ingredients, you will see that it contains 5 vitamins and 18 amino acids. It's key working ingredient is Fulvic Acid which is very good for the body and hair in particular.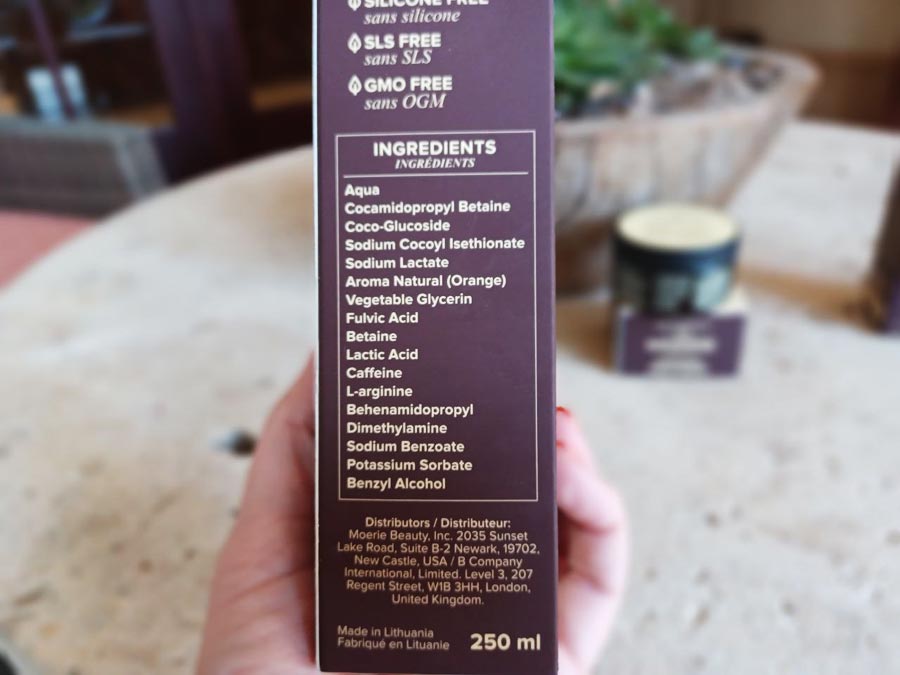 In fact, Fulvic Acid is known to decrease inflammation, enhance immunity, and improve brain function. Fulvic Acid helps absorb various vitamins and minerals as well as helps decrease hair loss. So, no wonder Fulvic Acid is also used in haircare products, and Moerie Beauty is one of the brands that uses this ingredient. To be honest I haven't heard of Fulvic Acid before and was very excited to try to check by myself how effective it can be. Other useful ingredients of Moerie Beauty shampoo include Lactic Acid, Caffeine, L-arginine to name just a few.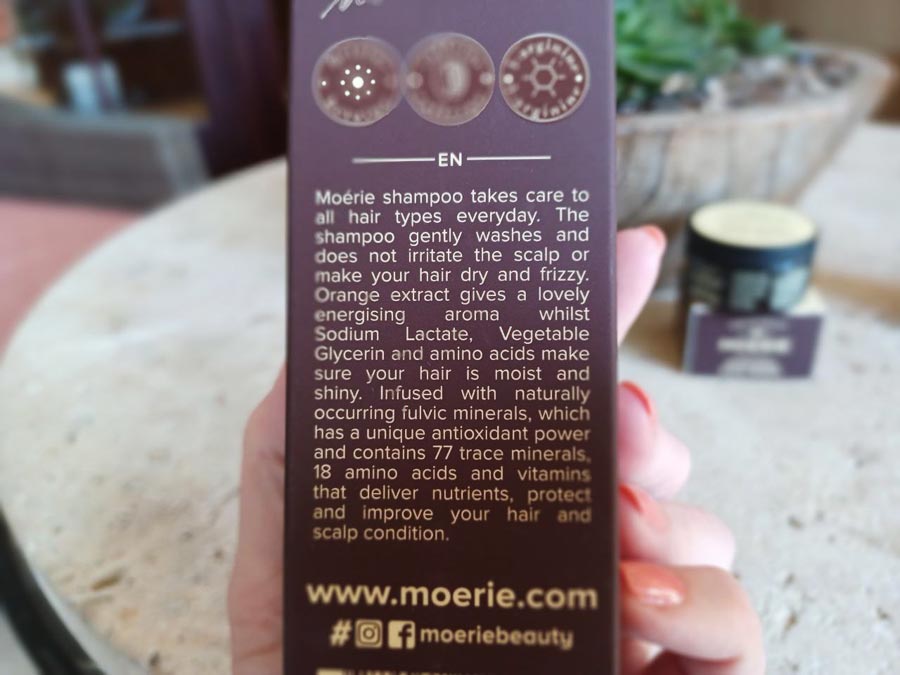 Well, I like Moerie Beauty shampoo because of its natural safe ingredients. It foams well, and I don't need much shampoo to get my hair clean. I have no scalp irritations and the hair is not dry.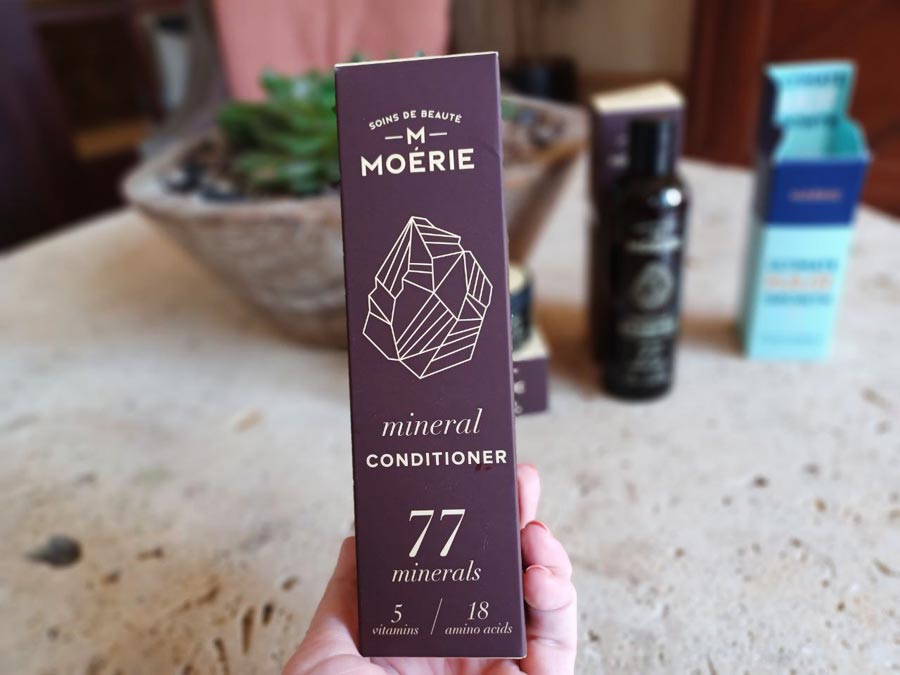 Of course, I use Moerie Beauty conditioner after washing my hair. And the conditioner is something that makes the difference in my haircare routine.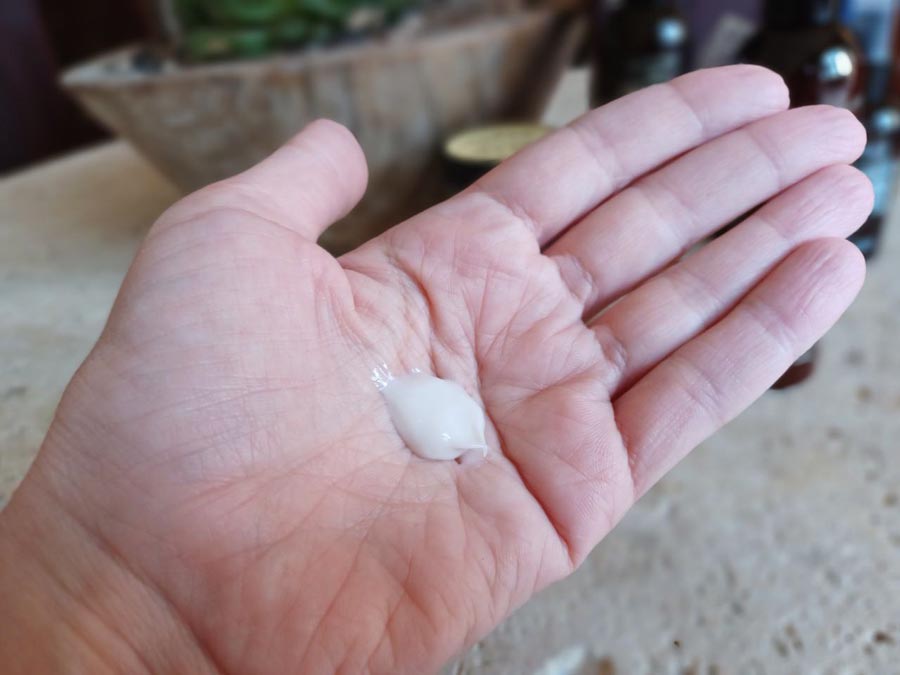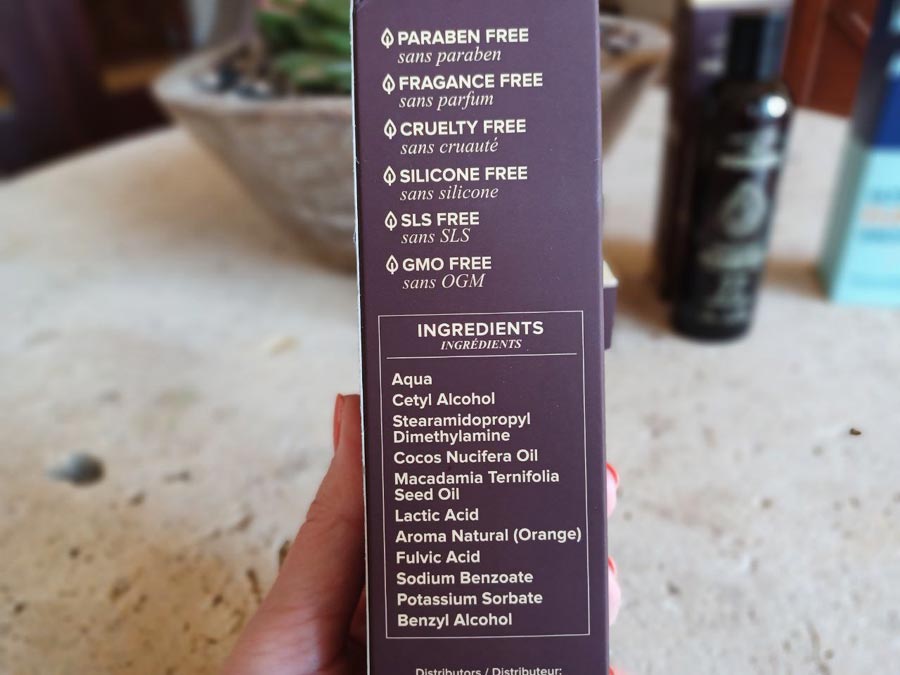 Moerie Beauty hair conditioner is rich in Cocos Nucifera Oil, Macadamia Ternifolia Seed Oil, Lactic that and Fulvic Acid. It does contain some alcohol, but I am OK with that.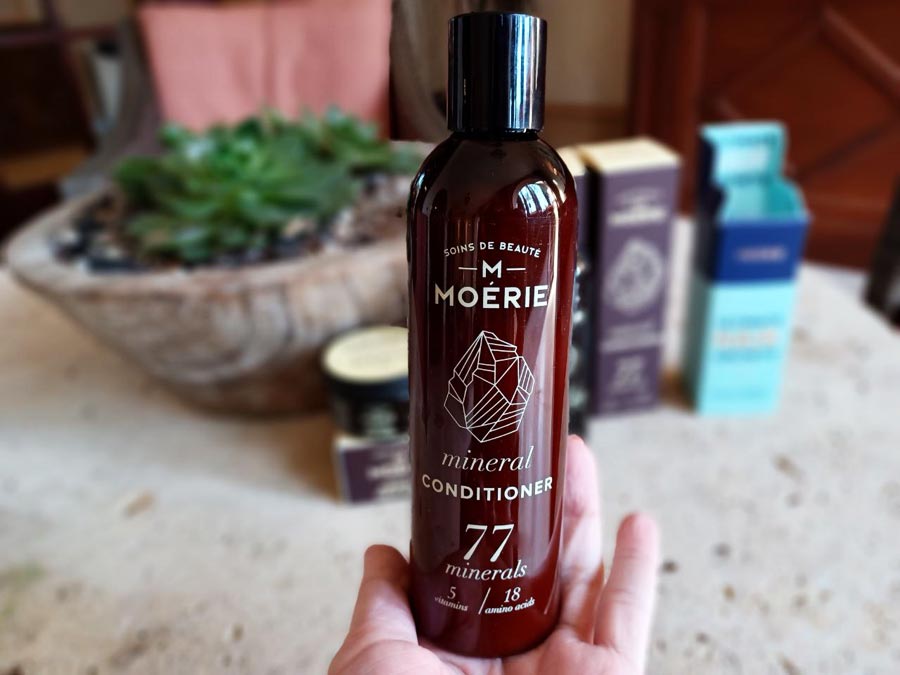 I noticed that it is the conditioner that makes hair soft and shiny without being greasy. My hair looks gorgeous with it.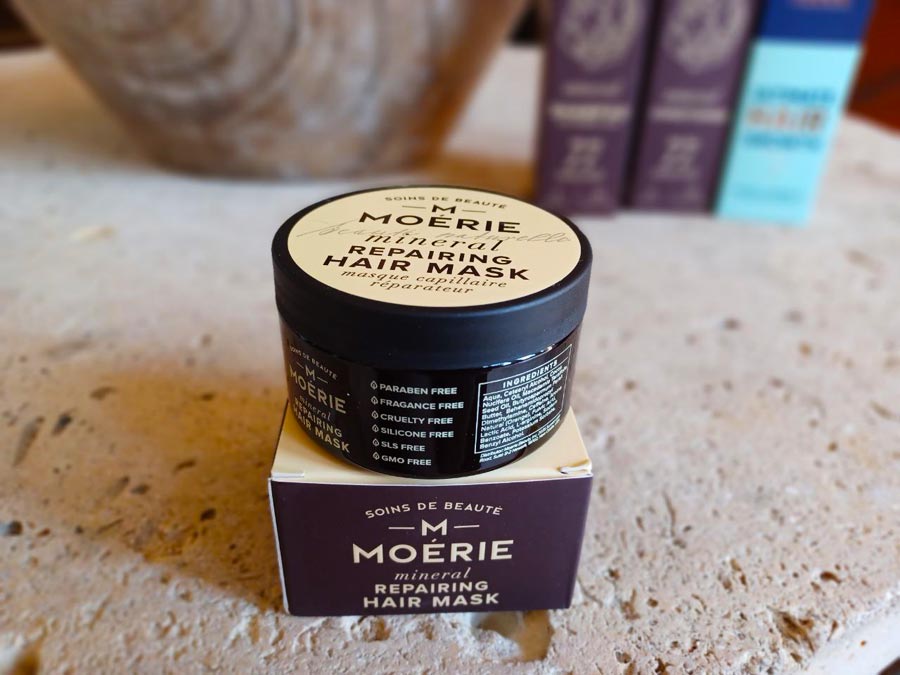 To enhance the effect of Moerie Beauty essential haircare I also purchased Moerie Beauty hair mask. It should be applied after shampoo and conditioner for 5-10 minutes and then washed away with warm water.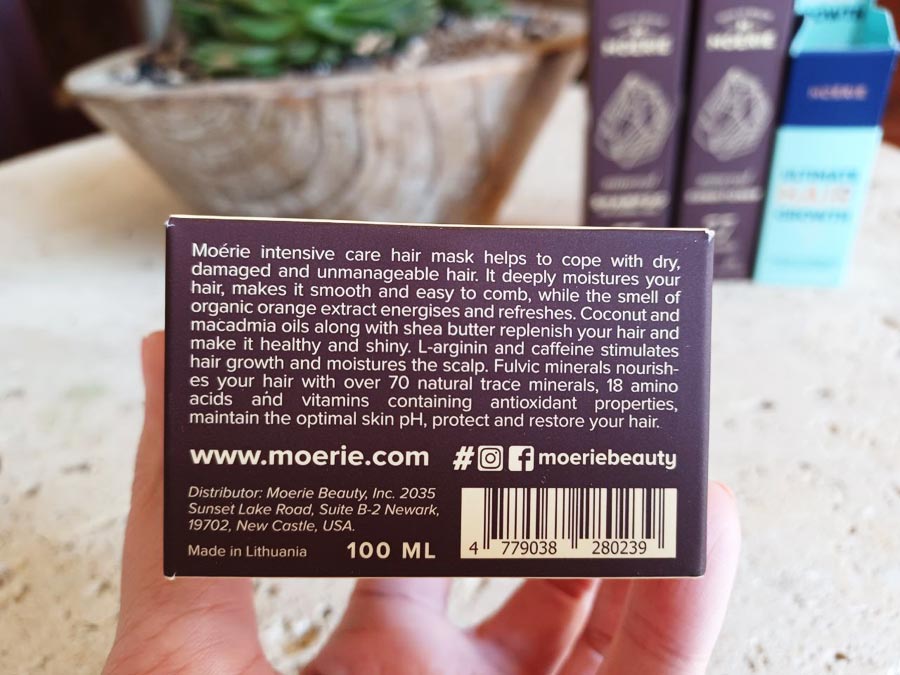 The mask also contains Coconut and Macadamia Oils, Shea Butter, Caffeine, L-arginine Lactic that and Fulvic Acid.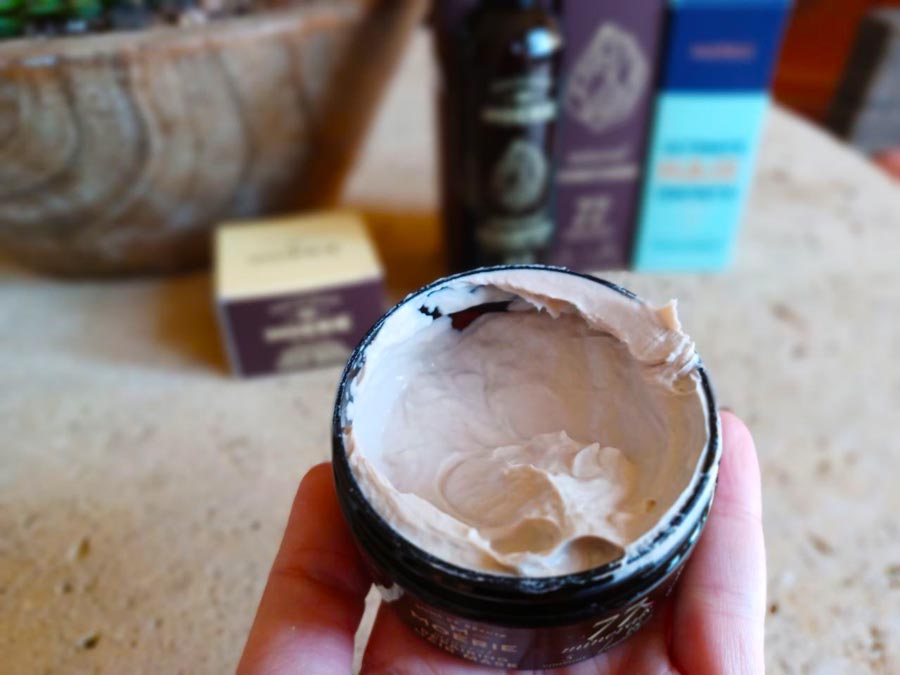 Moerie Beauty mask adds to the conditioner effect, making hair smooth and shiny. My hair definitely looks healthier with Moerie Beauty hair product.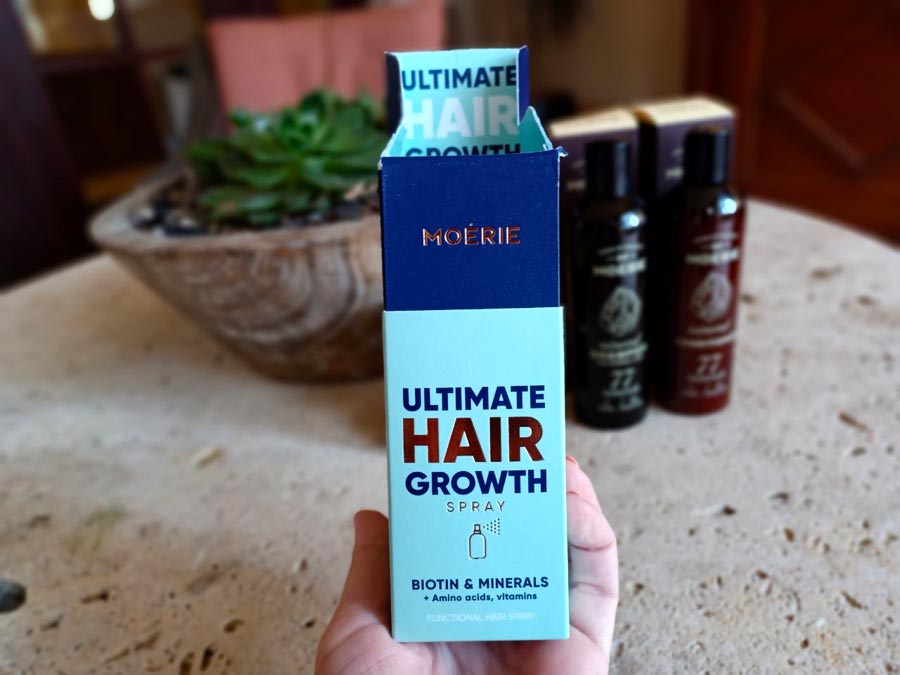 The last product of my Moerie Beauty set is Moerie Beauty Ultimate Hair Growth Spray.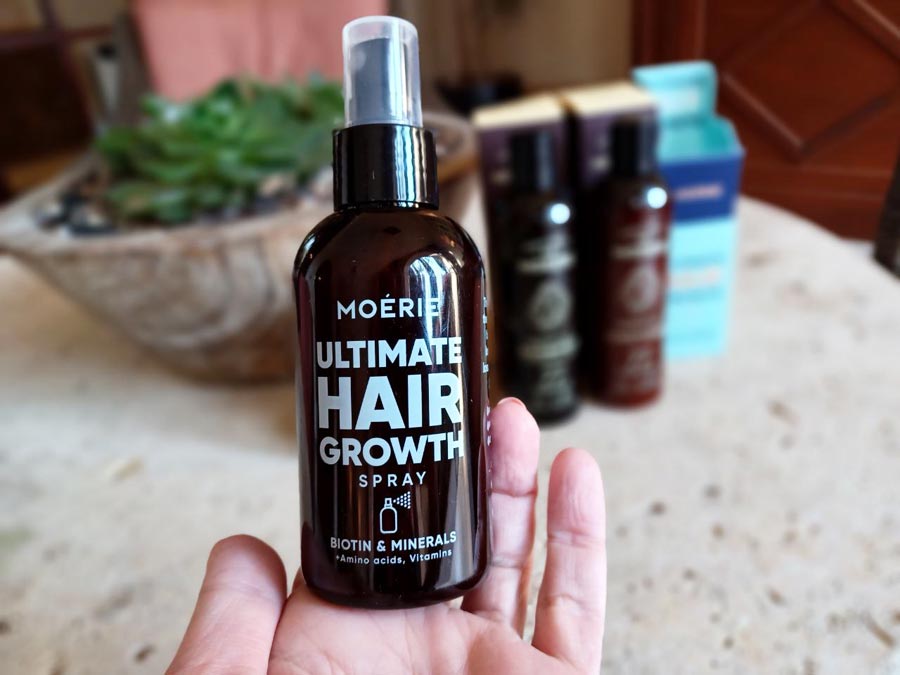 This product is recommended to use every time you wash your hair, and it is the last one to be applied on wet hair.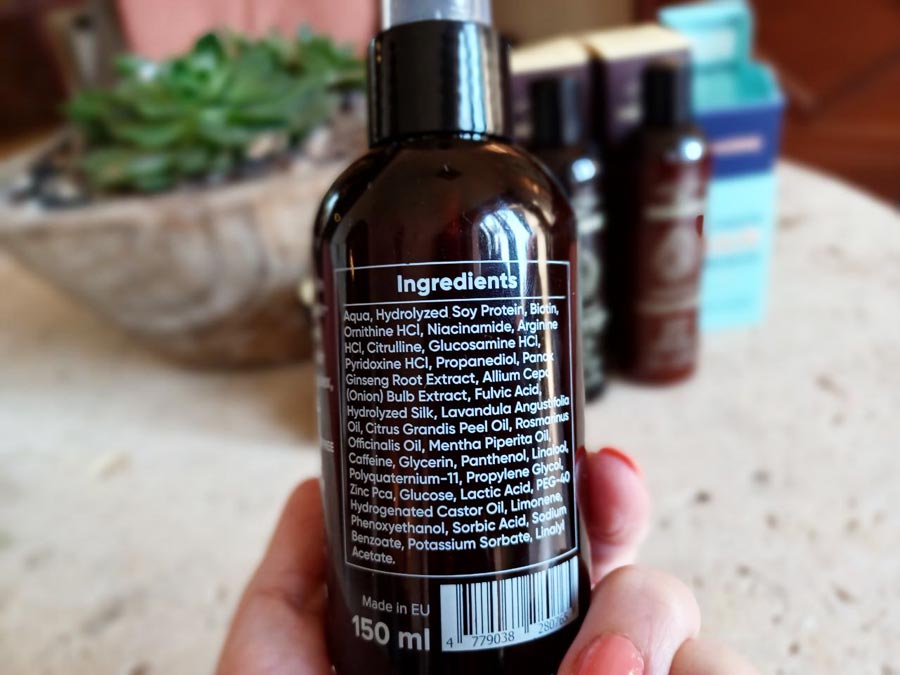 It's list of ingredients is huge and includes Vitamins B5, B3, Arginine, Panax Ginseng Root Extract, Onion Bulb Extract, Biotin, a number of oils, including Castor Oil, Caffeine and Fulvic Acid.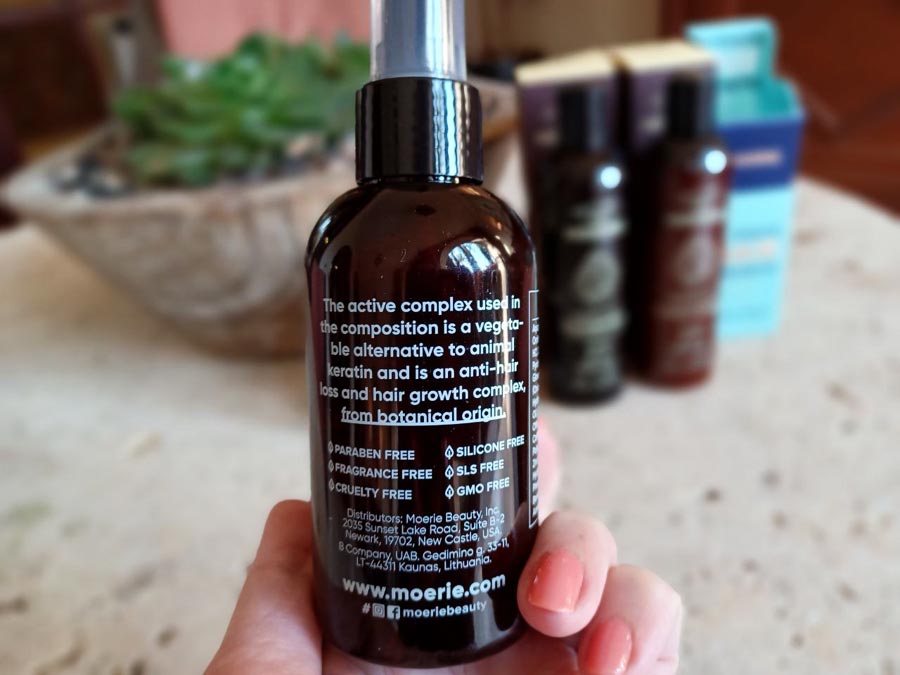 The spray smells nice and not very strong. I spray it on the hair roots and my scalp with special attention given to zones with sparse hair. After two months of using it I noticed short hair appear near my forehead making my hairline thicker and healthier.
I can say for sure that Moerie Beauty haircare products make the difference for my hair as it now looks shiny and sleek. I am not going to stop using Moerie Beauty and the only thing that make sense to me is get Moerie Beauty subscription to save the most.