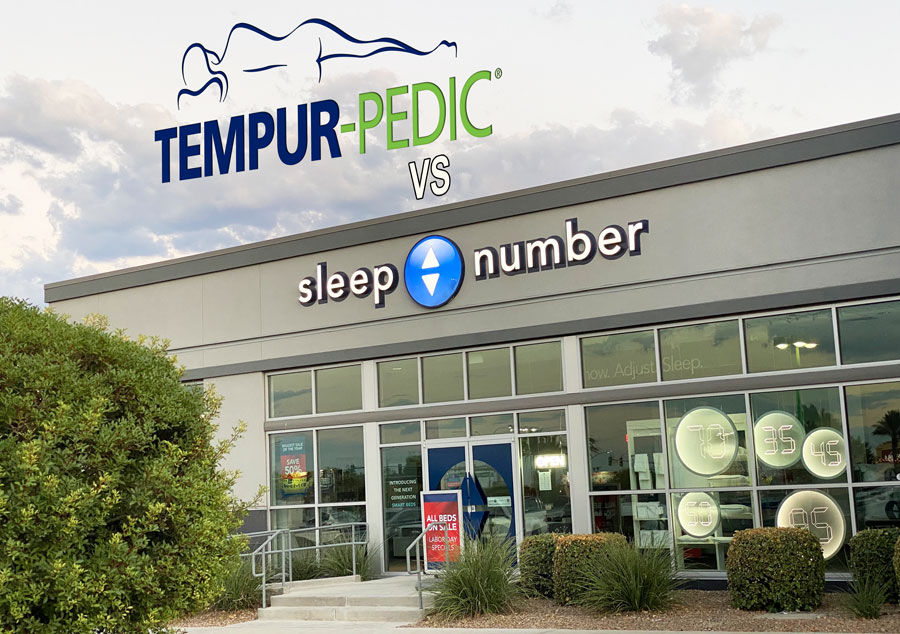 Get ready to discover the perfect mattress for your sleep needs! In this comprehensive comparison, we delve into the differences between two top contenders: Sleep Number and TEMPUR-Pedic. From firmness and feel to adjustability and price, we leave no stone unturned. So let's dive right in and find the mattress that will revolutionize your sleep experience!
While both brands offer high-quality mattresses, they are designed to cater to different preferences. The key distinction lies in adjustability – Sleep Number beds are customizable, while TEMPUR-Pedic mattresses are not. With Sleep Number, you have the power to alter the firmness on each side of the mattress using air chambers at the bottom. As for TEMPUR-Pedic, you can complement their mattress with an adjustable base to raise or lower the foot of the bed, but the firmness level remains stationary.
Who Should Choose a Sleep Number Mattress?
Those who desire personalized firmness options for their sleeping surface;
Couples with differing mattress preferences who want to find the perfect compromise.
Who Would Benefit From a TEMPUR-Pedic Mattress?
Individuals seeking a conventional mattress without any customization features;
Couples with varying mattress preferences;
Those who appreciate the unique sensation of slow-moving memory foam.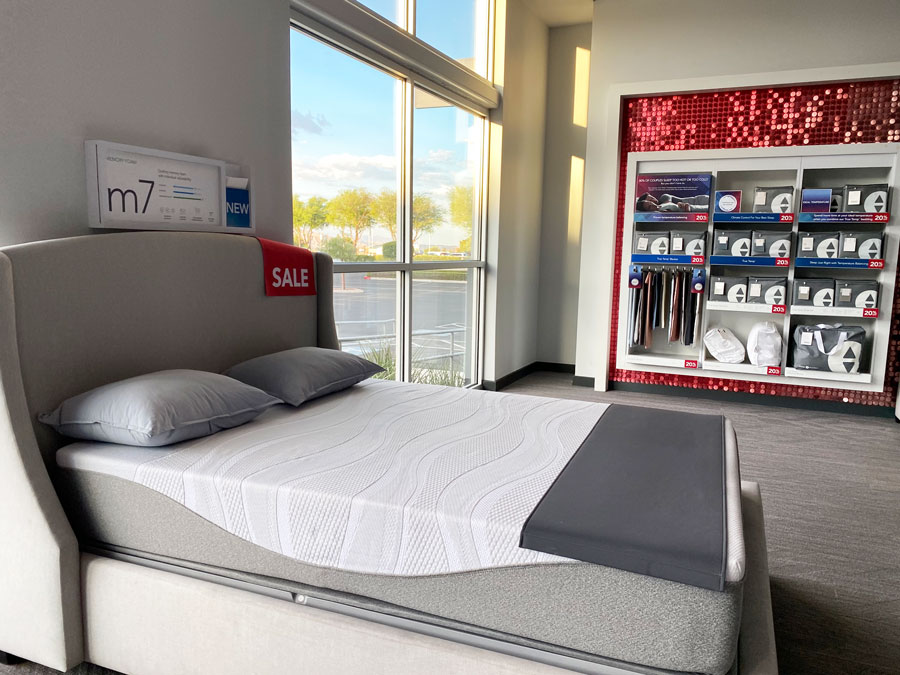 Sleep Number vs TEMPUR-Pedic: A Comparison
Here, we'll break down the similarities and differences between these two mattress brands. Let's find out what they have in common and what makes them different!
How are Sleep Number and TEMPUR-Pedic similar?
Both brands offer a variety of models for every budget, from affordable to luxury;
Both brands have comfortable adjustable bases that allow you to adjust your comfort while you sleep.
How are Sleep Number and TEMPUR-Pedic different?
Sleep Number beds utilize air chambers for support, while TEMPUR-Pedic beds feature base foam or coils;
Tailor your comfort with a customizable firmness option on Sleep Number mattresses, whereas TEMPUR-Pedic beds are not adjustable;
For those seeking luxury, keep in mind that high-end Sleep Number mattresses come at a higher price point compared to the most opulent TEMPUR-Pedic models.
The Difference in Firmness and Feel
At SuperMall, we understand the importance of finding the perfect level of firmness for your mattress. That's why we use a firmness scale from 1-10.
In this section, we'll take a closer look at two popular choices: the Sleep Number p5 Smart Bed and the TEMPUR-Cloud mattress. Both of these mattresses fall within the same price range (around $2,000 for a queen size), making them compelling options for consumers.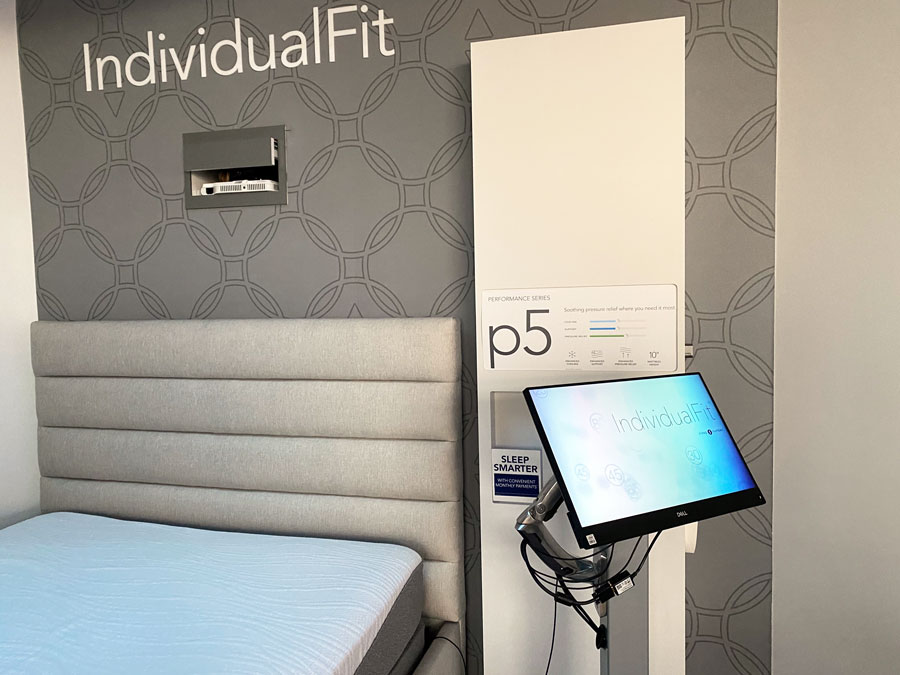 The Sleep Number p5 Smart Bed offers customizable firmness thanks to its adjustable air chambers. Whether you prefer a soft, joint-cushioning mattress or a firm, spine-supporting one, the Sleep Number has you covered.
On the other hand, the TEMPUR-Cloud mattress has a classic medium-firm feel, measuring at 6.5/10. However, it's important to note that firmness is subjective. Lightweight individuals may not compress the foam as much, which could make the mattress feel firmer.
Sleep Experience on Sleep Number and TEMPUR-Pedic Mattresses
Discover the versatility of the Sleep Number mattress – perfect for all sleeping positions. Side sleepers will appreciate the gentle support that cushions their joints and relieves pain. Meanwhile, back and stomach sleepers can adjust the firmness to achieve optimal support.
Curious about the firmness options? Sleep Numbers range from one to 100, with higher numbers indicating a firmer feel. Most individuals find their sweet spot within the 35-40 range. You can easily fine-tune the firmness using the convenient Sleep Number app on your smartphone.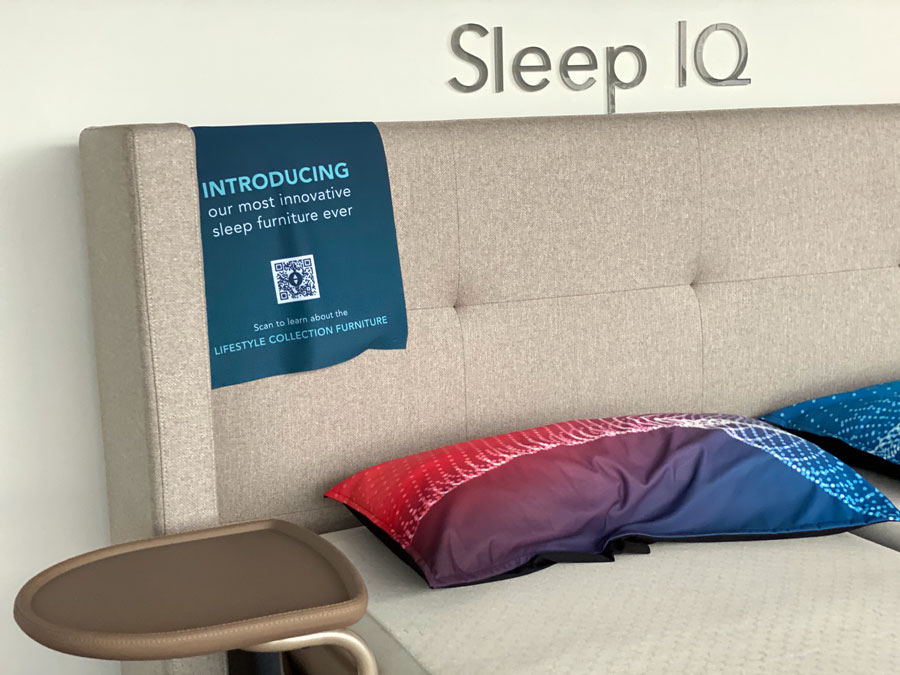 If you're a back or side sleeper, the TEMPUR-Cloud mattress is a fantastic choice. With its medium-firm feel, it strikes a harmonious balance between comfort and support – ideal for those who occasionally switch positions.
What are the Impressions of the Sleep Number and TEMPUR-PEDIC Mattresses?
The Sleep Number p5 Smart Bed boasts a balanced feel. It offers a luxurious tufted pillow top and soft comfort layers that surround you, providing ultimate comfort. While it's not particularly bouncy, you won't feel like you're sinking inside the mattress when you lie down.
On the other hand, the TEMPUR-Cloud mattress has a classic, slow-moving feel that is characteristic of memory foam. It features proprietary TEMPUR material in its top layers, which many people associate with memory foam. When you press your hand into the foam, you'll notice your handprint linger for a few seconds. However, some individuals might find it slightly challenging to move around on the mattress due to its slow-moving nature.
The Key Distinctions in Mattress Construction
Let's explore the composition of these mattresses in detail. In this section, we will specifically examine the materials used in the Sleep Number and TEMPUR-Cloud mattresses.
Support
The Sleep Number Smart Bed features two adjustable air chambers, this innovative bed allows couples to set the perfect level of firmness on each side.
The TEMPUR-Cloud mattress consists of two support layers, including a strong TEMPUR material for optimal pressure relief and a premium base foam for durable and reliable comfort.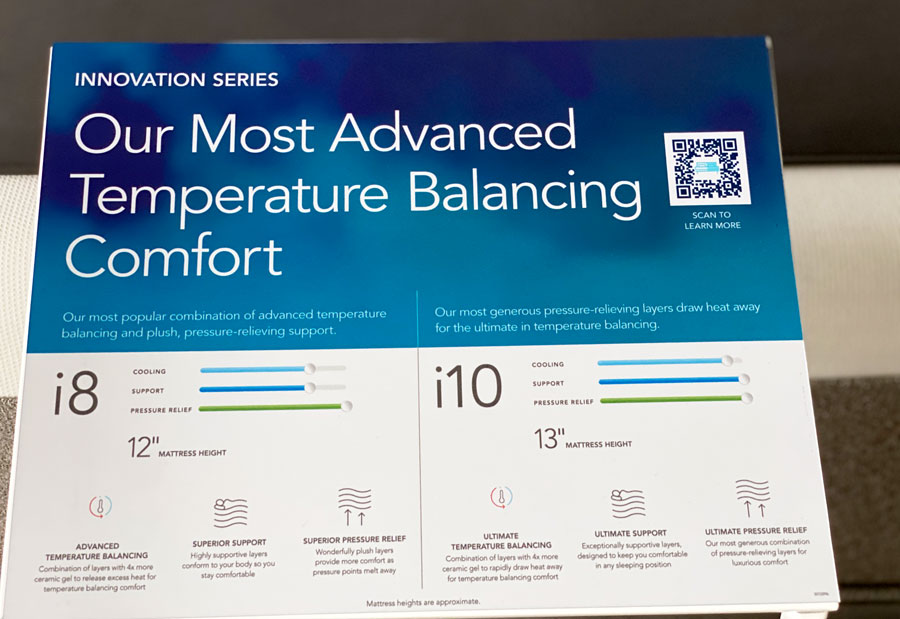 Cover
Introducing the Sleep Number mattress with its plush, breathable cover. Experience the ultimate pressure relief that's perfect for side sleepers.
Discover the TEMPUR-Cloud mattress featuring a sleek 360° stretch cover. Stay cool and dry throughout the night with its moisture-wicking technology.
Layers
Experience ultimate comfort with the Sleep Number Bed's innovative comfort layers. The two-inch pillow top provides unparalleled cushioning, relieving pressure on your joints. And with two inches of PlushFit foam featuring five different zones, your body will enjoy varying levels of firmness and support, ensuring proper spinal alignment. Say goodbye to back pain and hello to a restful night's sleep.
For a luxurious feel, the TEMPUR-Cloud's comfort layer boasts a thick piece of TEMPUR material, exclusively designed for optimum joint cushioning. This durable and slow-moving foam guarantees long-lasting comfort that truly stands the test of time.
Mattress Height
Both mattresses have an ideal height of 10 inches.
What is the Difference in the Performance of Sleep Number and TEMPUR-Pedic Mattresses?
When choosing a mattress, it's not enough to consider just construction and feel. It's crucial to also look into its performance features.
Temperature matters: Sleeping Hot or Cold
Are you someone who tends to get hot at night? If so, you might not be a fan of the Sleep Number or TEMPUR-Cloud mattresses. These mattresses have received complaints from many customers about trapping body heat, leaving them feeling uncomfortably warm.
In our own testing, we found that the TEMPUR-Cloud mattress also holds onto body heat, leading to a stuffy and uncomfortable sleep experience for some individuals.
However, if you're in search of a mattress that can help regulate your body temperature, the TEMPUR-Breeze might be a better fit for you. With its cooling cover and innovative cooling infusions, this mattress could be just what you need for a cooler and more comfortable night's sleep.
Motion Isolation
Easily sleep undisturbed with a partner using a motion-absorbing bed. No more waking up from your partner's movements throughout the night. Sleep Number and TEMPUR-Cloud mattresses, known for effectively isolating motion transfer.
Mattress Lifespan
While both options feature top-notch materials, it's important to note that the Sleep Number mattress takes the crown for longevity. Made with a combination of foam and other components, the TEMPUR-Cloud may not have the same lifespan. Sleep Number beds are built to go the distance, with an expected minimum lifespan of 10 years. Meanwhile, the TEMPUR-pedic mattresses are estimated to remain in peak condition for a solid seven to 10 years.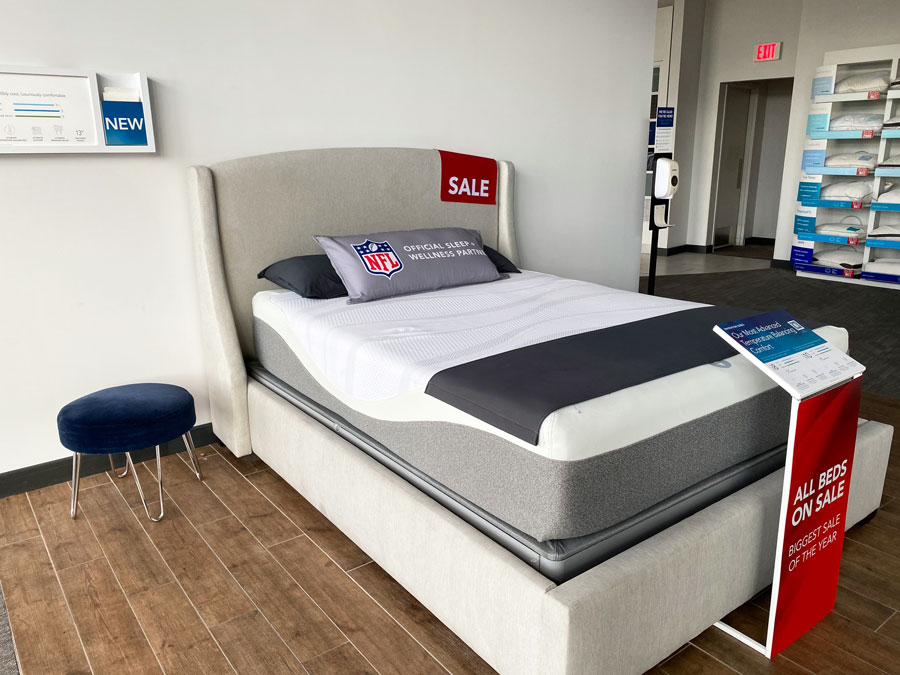 Mattress Noise
Say goodbye to noisy mattresses! Unlike traditional mattresses, Sleep Number and TEMPUR-Cloud mattresses are designed without innersprings, ensuring a quiet night's sleep. Whether you're shifting positions or enjoying years of use, these mattresses remain silent and undisturbed.
Comparison of Mattress Prices
We will compare the prices of two popular mattress options – Sleep Number p5 and TEMPUR-Cloud.
Size
Sleep Number
p5 smart bed
TEMPUR-Cloud
Twin
$2,149
$1,699
Full
$2,574
$1,899
Queen
$2,699
$1,999
King
$3,199
$2,399
Split King
$3,799
$3,398
Where to Buy Sleep Number and TEMPUR-Pedic Mattresses?
Discover the exclusive Sleep Number experience at over 650 company stores nationwide. Unlike other mattress manufacturers, Sleep Number doesn't rely on other retailers to sell their beds. Plus, you have the convenience of ordering online.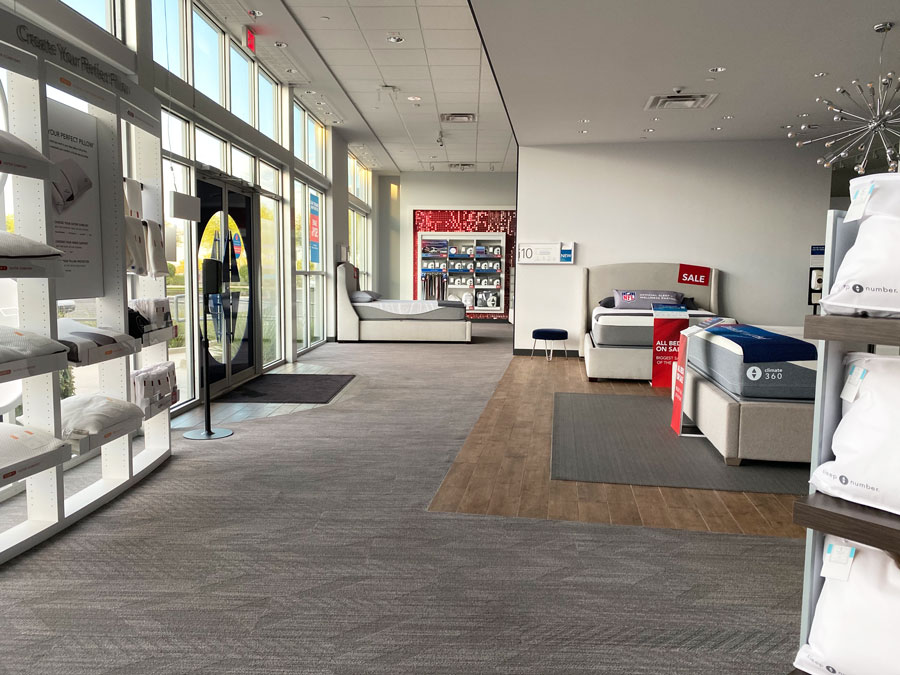 In contrast, TEMPUR-Pedic partners with popular retailers such as Jcpenney and Mattress Firm. You can easily find and purchase TEMPUR-Pedic mattresses at hundreds of stores across the United States. One of the biggest benefits of shopping at JCPenney is that they often offer great deals and discounts on mattresses. Throughout the year, you can find promotions that can save you hundreds of dollars on your purchase – something that Sleep Number stores typically don't offer. This means you can get a top quality mattress from the best brand at an affordable price.
Warranty Information
Choose Sleep Number mattresses and enjoy peace of mind with their 15-year limited warranty. They've got you covered with repair, replacement, or refund options if any issues arise. Please note, there is no trial sleep period provided by Sleep Number. For more details, visit their website.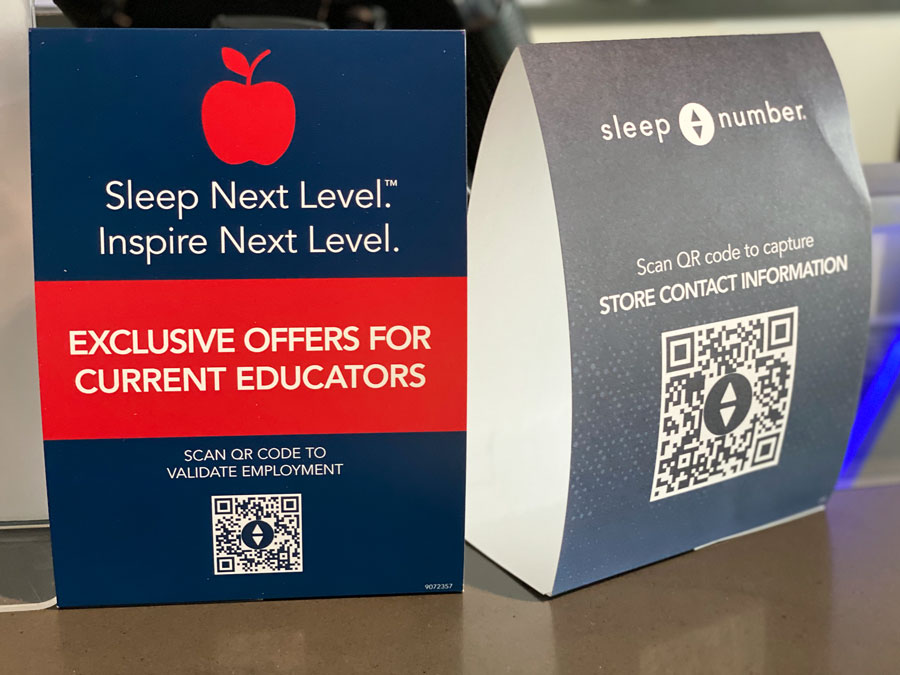 TEMPUR-Pedic mattresses come with a 10-year limited warranty. They will fully cover the cost of certain defects during this period. Just make sure your TEMPUR-Pedic mattress is placed on a firm base with enough center support to maintain your warranty. Plus, enjoy a 90-day sleep trial to test it out from the comfort of your home. If the bed doesn't fit, you can easily return the mattress during this time.
When it comes to getting a good night's rest, there are many mattress options to choose from. However, sometimes it is difficult to find the one that suits you best. With these two great mattress brands, it's easy to make an informed decision, and we hope we've helped you with that. So, no matter which option you choose – Tempur-Pedic or Sleep Number – you can throw anxiety out the window and enjoy a sweet sleep every night!