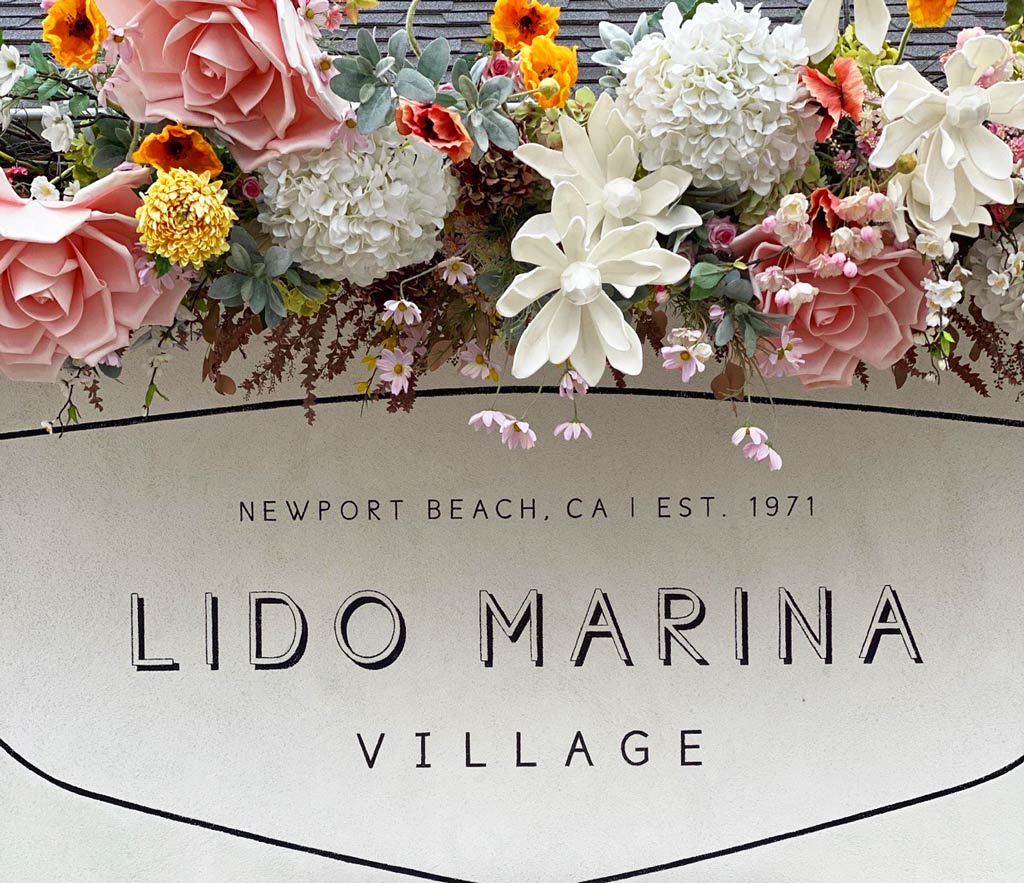 Strolling along Lido Marina Village in Newport Beach I came across a nice stylish store in pastel colors – Stoney Clover Lane. Near the door I spotted an advertisement of their new Pastel Picnic Collection featuring coasters and placemats.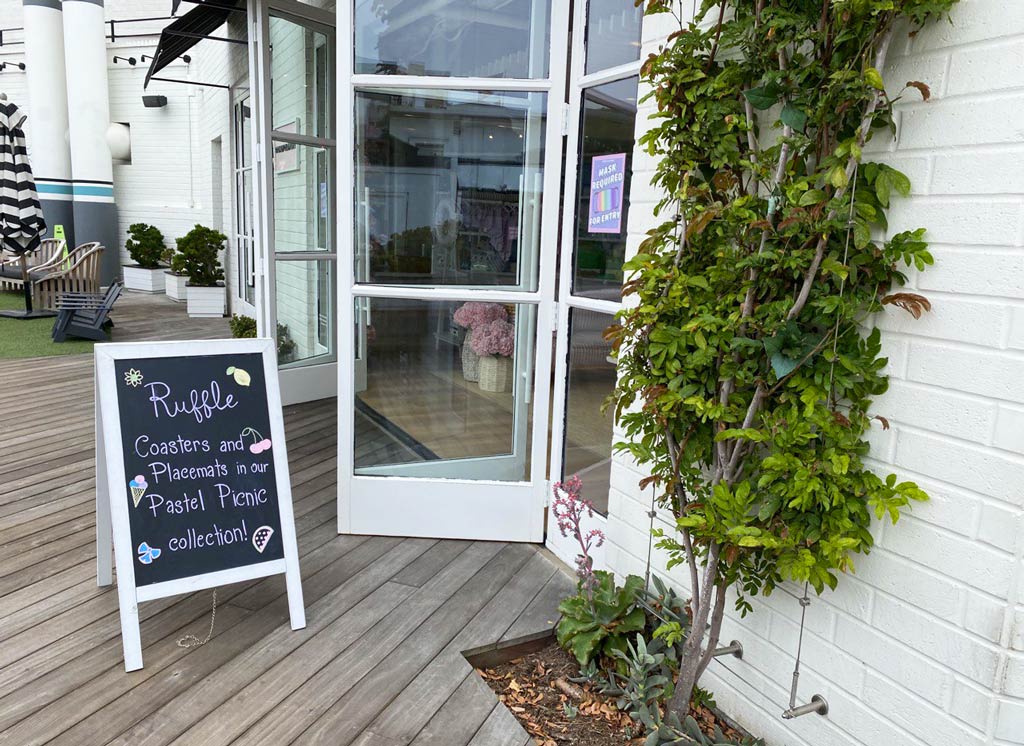 It looked like the store was offering home decor and accessories and everything looked so cute there that I decided to come in and look around. Wow! What a beauty inside! On the round table right facing the entrance door there is an assortment of textile home decor, such as textile coasters of pink and golden color, ruffle trim check patterned placemats and a variety of heart shaped pouches, small backpacks, tote bags and duffle bags of the matching colors. The pouches come in mini size, small, large, flat, open top and even pencil cases for young ladies. The bags are embroidered with patchwork and pearl beads and look really elegant.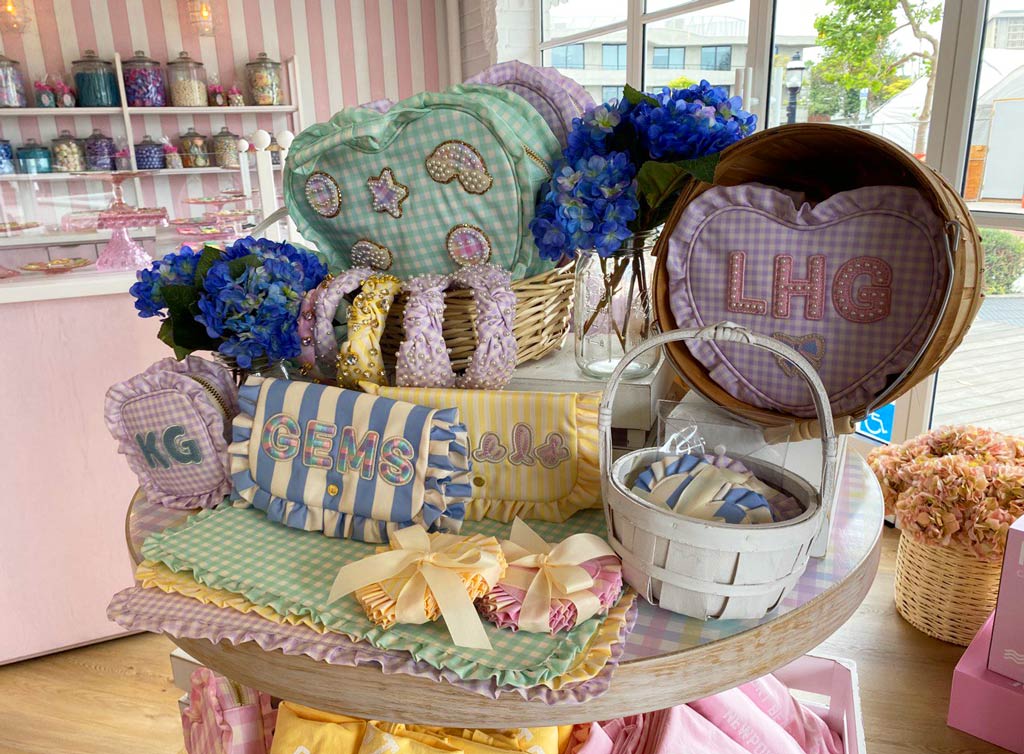 Near the wall there are shelves filled with a wide variety of bags of various styles. And the shelves are arranged in a nice way showcasing pouches and bags of the same color. One series of bags is of all shades of pink while the other is in golden yellow and purple.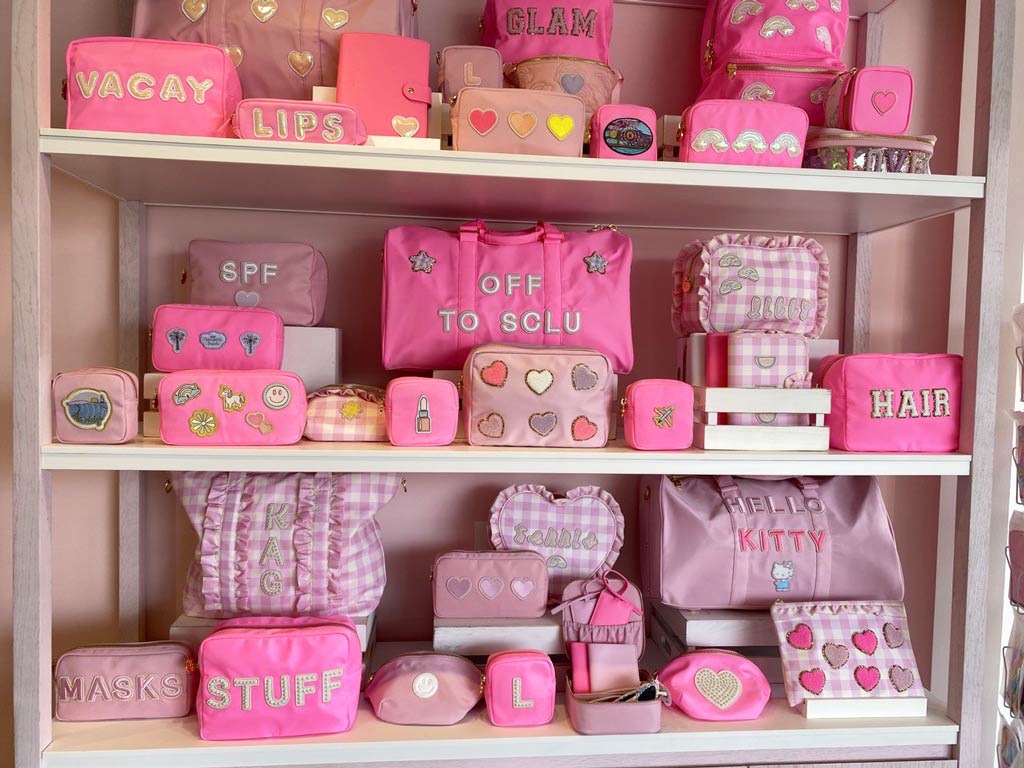 There are bags of light blue, various shades of green and powder color. All the colors, shapes and designs you can only think of! Plus, there are some nice jewelry and swimwear for girls to choose from. I fell in love with this store. I was love at first sight!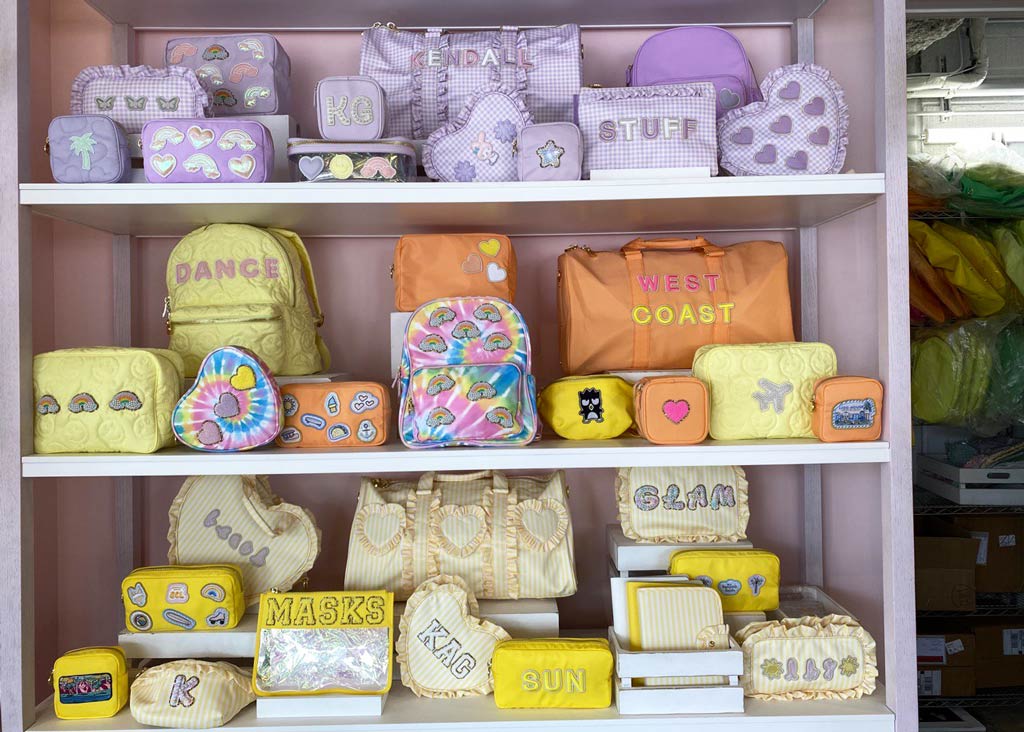 I found out that all this textile decor and bags can be personalized with letters or any writing. The store offers a great variety of letter designs all ready to be sewn onto the pouch of your choice. Just select letter design that appeals to you most, decide on the phrase you want to be added and the employee on site will sew it on the pouch or bag that you choose. Customization is not free and the cost of the patch starts from $12 and customization fee is $15.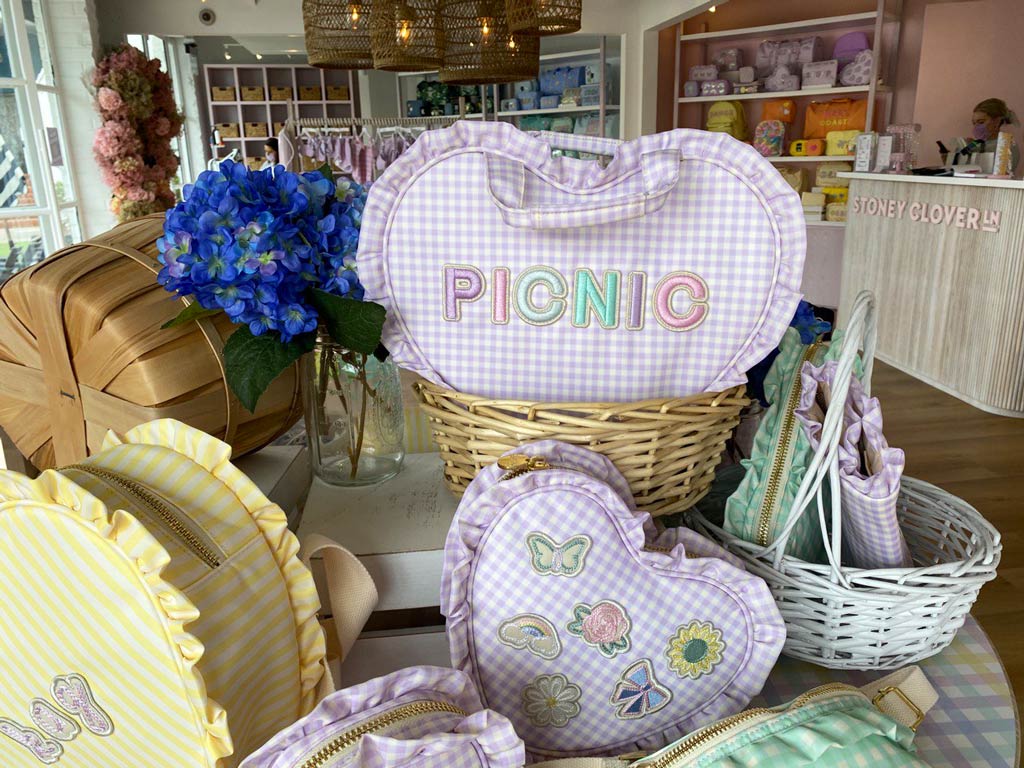 In the store a nice lady said that they also have an online platform where customers can buy products and get them personalized too. Indeed, I checked their website and found there all the products available at their physical store in Newport Beach. Online customers who sign up with them receive 10% OFF their first order at Stoney Clover Lane. The service of personalization is also available online as well as the Star Wars collection of bags inspired by this movies series. At the site you can easily order your own customized pouch, backpack or tote bag made exclusively for you. You can choose the color, materials, prints, patches and design elements to get individually design accessory that would perfectly reflect your style and match your latest looks.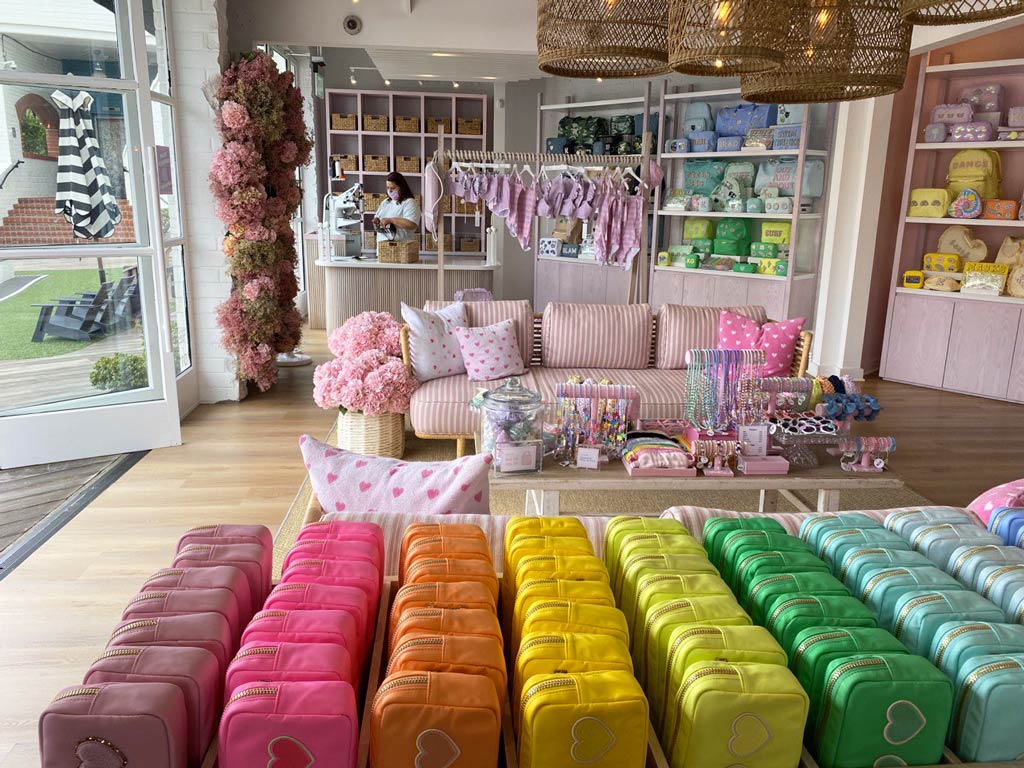 So, it's up to you to choose whether to shop online on in the store. If you live in Newport Beach I recommend visiting the store in person to feel the unique atmosphere of this place and feel the texture, enjoy the colors. But if you are located far from their physical locations your only option is placing an online order. It usually takes up to 4 business days to get your non-custom order delivered while customized order will be shipped within two weeks. The store offers free ground shipping on your order of $250 or more.